Artur Beterbiev vs Anthony Yarde Results LIVE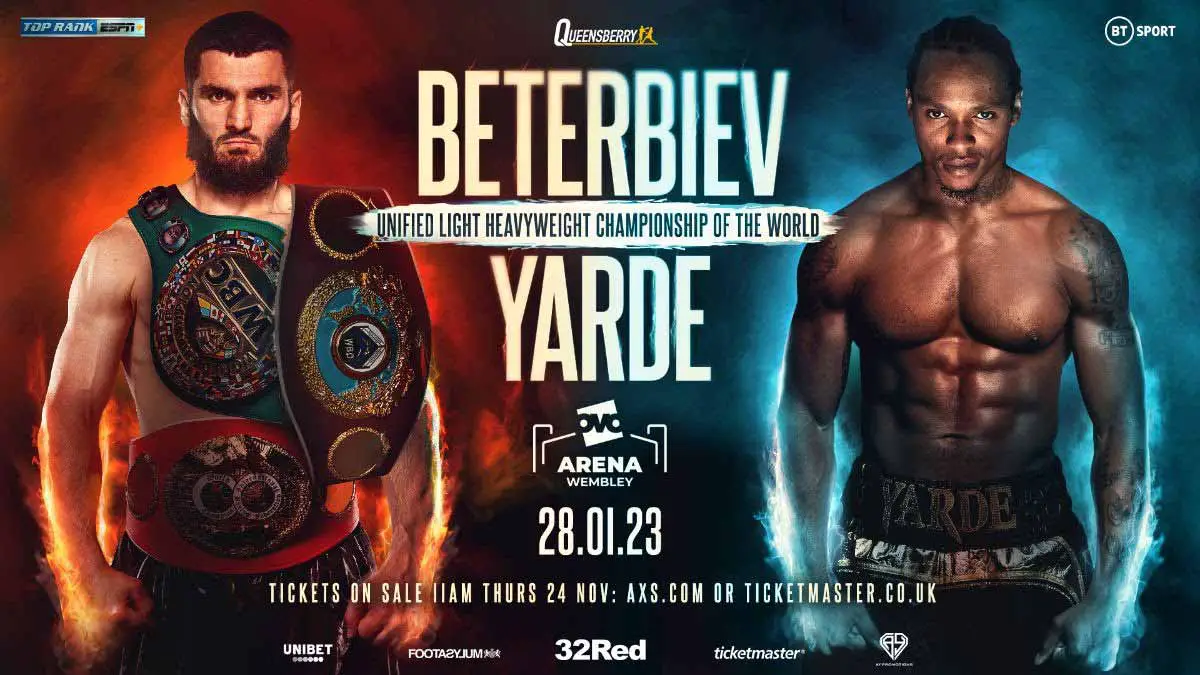 Artur Beterbiev vs Anthony Yarde bout headlined Queensberry Promotion & Top Rank Promotion's boxing event at the OVO Arena in London, UK.
Beterbiev and Yarde are both known for their knockout prowess. Heading to this bout, Beterbiev had an 18-0 record with all of his wins coming via knockout. On the other hand, Yarde also had 22 of his 23 wins come via knockout. Who came out of the top with unified WBC, WBO & IBF Light Heavyweight World titles on the line?
In the co-main event, Artem Dalakian defended WBA World Flyweight title against David Jimenez. Dalakian, undefeated with a 21-0 record, has held onto the title since 2018. Did Jimenez upset him in his first title bout?
Karol Itauma and Ezequiel Osvaldo Maderna clashed over WBC International Light Heavyweight title while a young heavyweight prospect in Moses Itauma made his debut at the event. The event started at 12 PM ET with untelevised prelims while the main card started at 2 PM ET(from 2:30 PM ET in US).
Tune in as we post results live from Artur Beterbiev vs Anthony Yarde boxing event.
RESULTS
Prelims
Masood Abdulah def. Lesther Lara via points (60-54) – 6 Round, Super Featherweight Bout
Joshua Frankham def. Joe Hardy via points (60-54) – 6 Round, Welterweight Bout
Charles Frankham def. Joshua Ocampo via points (60-54) – 6 Round, Super Featherweight Bout
Sean Noakes def. Santiago Garces via TKO at 3:00 of round 5 – 6 Round, Welterweight Bout
Khalid Ali def. Ivica Gogosevic via RTD at 3:00 of round 1 – 6 Round, Super Welterweight Bout
Umar Khan def. Sandeep Singh Bhatti via Points- 6 round, Featherweight Bout
Main Card
Artem Dalakian def. David Jimenez via unanimous decision (115-113, 115-113, 116-112) – 12 Round, Dalakian's WBA Flyweight Championship Bout
Ezequiel Osvaldo Maderna def. Karol Itauma via KO at 1:04 of round 5 – 10 Round, Vacant WBC International Light Heavyweight Championship Bout
Tommy Fletcher def. Darryl Sharp via points (60-54) – 6 Round, Cruiserweight Bout
Moses Itauma def. Marcel Bode via KO at 0:23 of round 1- 4 Round, Heavyweight Bout
Artur Beterbiev def. Anthony Yarde via TKO at 2:01 of round 8 – 12 Round, Beterbiev's WBO, WBC, and IBF Light Heavyweight Championship Bout