12 Major Points on WWE Being Sold to Saudi Public Investment Fund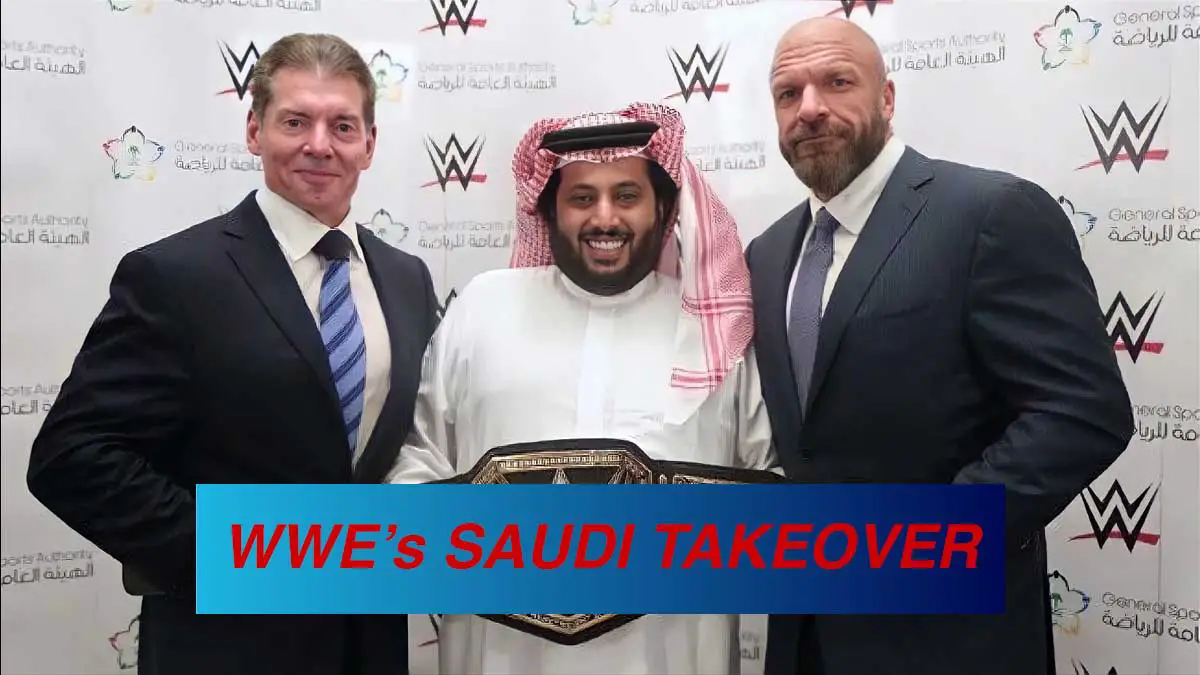 It is heavily speculated that WWE, world's leading pro-wrestling promotion, has been sold to Saudi Public Investment Fund. Several wrestling journalists have reported that a deal is struck between the two sides and it will be made public in due time.
The company has been a news-churning machine ever since Chairman and Owner Vince McMahon's Hush Money Scandal came out earlier in the year. McMahon's retirement and Triple H taking over creative with Stephaine and Nick Khan being CEOs signalled a new page in WWE history. However, it was short-lived as McMahon returned to the board last week threatening to block any media rights approval or sale negotiations.
After McMahon was elected as the Chairman of the Board once again on Tuesday, the rumors about WWE's Saudi Takeover started coming out. Check below for the complete story and key points as Saudi Public Investment Fund takes over WWE.
---
#1- Several noted journalists have reported that the process for WWE's sale to Public Investment Fund of Saudi Arabia has started. Steven Muehlhausen of DAZN was among the first ones to report that the deal is being finalized. Later, Cassidy Haynes of Bodyslam(tweet above) also confirmed that the deal is not complete because WWE must provide notice to shareholders & other parties among other legalities. Comcast, Disney, Fox, Netflix, Warner Bros Discover, and Endeavor were some of the companies in the race to buy WWE.
---
#2- It is also reported that WWE will return to become private again and will be taken off the Stock Exchange. the company became public in October 1999 with its IPO offering 11,500,000 shares at $17 apiece. The stock is currently trading at around $90 at the news of the sale, up from around $68 last week.
---
#3- On Wednesday morning, MMA Reporter Ariel Helwani and Wrestlenomics' Brandon Thurster denied the reports on WWE's sale to PIF. Helwani said that there is no deal in place and WWE is still exploring all the options.
#4- The sale process picked up after Vince McMahon Jr. returned to the Board of Directors. On Friday, January 6, WWE put out a press release to announce Vince McMahon's return to the board. McMahon resigned from the board and his position as its Chairman in June 2022. Later, he retired from WWE, leaving "Triple H" Paul Levesque to be the head of creative.
---
#5- On Tuesday, Stephaine McMahon resigned from her position as the Chairman of the WWE board and company's co-CEO. She took these positions in June 2022 after Vince's removal from the board. Vince McMahon was then elected as the new Executive Chairman of the Board. Nick Khan, earlier co-CEO with Stephaine, will continue as the CEO while Paul Levesque will remain in charge of WWE Creative(for now).
---
#6- Dave Meltzer reported on Wrestling Observer Radio that the sale talks did not happen in just last week or so. Meltzer says that Vince McMahon actually started the sale talks when he was "ousted" in July 2022. He also added that Triple H and Nick Khan are just trying to save their "long term future" in the company and therefore voted on bringing McMahon back to the board.
---
#7- Saudi Arabia Public Investment Fund(PIF) holds stakes in several companies in United States. The fund has a 5% stake in Uber, a 38% stake in construction company Posco, and around $500 million stake in each of Facebook, Disney, and Bank of America among several other investments. PIF also owns English Premier League's Newcastle United Football Club and established LIV Golf Super League. PFI's total estimated assets are over $600 billion.
---
#8- WWE already has a relationship with the Kingdom of Saudi Arabia as it holds 2 Premium Live Events every year in the country with a 10-year deal with Saudi Sports Authority. PIF is also controlled by the Kingdom of Saudi Arabia and its de facto ruler Crown Prince Mohammed bin Salman.
---
#9- WWE's events in Saudi Arabia have always been criticized by a large portion of its fanbase and media. Similar reactions are coming out from the fans on the promotion's prospective sale to PIF.
---
#10- On Tuesday, PWInsider reported on backstage morale on the news of WWE's sale. The report says there is far more feeling of worry and of unease among the wrestlers and employees due to a lack of clarity. There is also fear that a new corporate takeover might lead to more releases and sacking.
---
#11- There are also fears of McMahon's return as the Creative Head which might become a possibility if the company becomes private again. Several wrestlers fear for their place in the company if Triple H is removed as the Creative Head and the company's product and direction change. While he is the Creative Head for now, Triple H's position remains unclear.
---
#12- Sean Ross Sapp has also reported that they will leave WWE if the company is sold to PIF. Wrestlers like John Cena, Kevin Owens, Sami Zayn and Daniel Bryan(not with WWE anymore) have refused to work on WWE's Saudi events in the past.