Cody Rhodes Defeats Brock Lesnar in a Bloody Battle at WWE Backlash 2023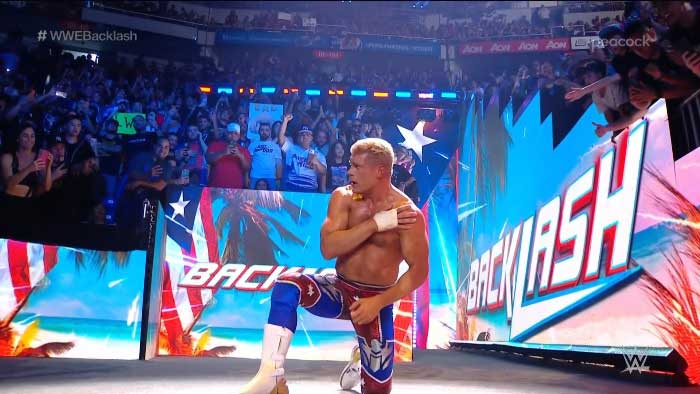 Cody Rhodes attacks Brock Lesnar before the match and manages to beat him somehow in a bloody battle at WWE Backlash 2023 event.
Storyline
Cody Rhodes was looking for a rematch against Roman Reigns, but when Roman did not agree, he proposed a tag team match on RAW after WrestleMania episode. Brock Lesnar offered to be Cody's partner but turned on Cody just before the match was about to start. What followed as a brutal beatdown of Cody from Brock, which was immediately compared to that of John Cena at Backlash 2012.
Cody then chased for a match against Brock, which was granted immediately as Lesnar did not have any problem accepting the challenge. These two men are however kept apart by the security two times they were on the same show. Cody has just got a kick at Lesnar earlier this week on RAW to left him with a bloodied nose. Will the match be any different from how it went down between Lesnar and Cena at Backlash 2012? Join us below to find out.
Live Updates
The American Nightmare Cody Rhodes makes his way to the ring first. The Beast Incarnate Brock Lesnar is the second to walk down the aisle. 
Cody Rhodes hits suicide dive outside the ring even before the bell rings. Cody assaults Brock Lesnar and hits him with three back-to-back shots from the steel steps. However, it wasn't enough as he hits Brock with several steel chair shots. 
The two get inside the ring, and the referee finally does the sign to ring the bell. Cody tries to attack Brock but the latter overpowers him. Cody connects a disaster kick, and he is trying to hit Cody cutter but Brock catches him and hit a suplex. 
Cody goes to the top rope and tries to hit a crossbody but Brock catches him again and hit the fallaway slam. Brock is smiling now as he hits Cody Rhodes with two back-to-back German suplexes. 
Brock casually kicks Cody as the crowd chants Suplex City. Lesnar listens to the crowd and hits another German suplex. Brock is in control and now he hits Cody with two back-to-back suplexes. 
Cody exposed one of the turnbuckles before Brock tosses him with another German suplex. Lesnar puts Cody in a bear hug and then hit him with a belly-to-belly suplex. Brock takes Cody to the corner and then hit him with the shoulders. Brock measures Cody and goes for another attack, but Cody ducks and Brock hits his face on the exposed turnbuckle. 
Brock Lesnar's face is busted open and blood is dripping out of his face. Cody hits Brock with a Cody cutter followed by two disaster kicks and another Cody cutter. Cody then connects two back-to-back Crossrhoades, but Brock Lesnar still kicks out. 
Cody tries to hit the third Crossrhoades but Lesnar picks him up and hits the F5 for a near fall. The two trade punches before Brock puts Cody in the Kimura lock. Cody pushes Brock while in the Kimura lock and pins him to win the match. Cody quickly leaves the ring after pinning Lesnar.