WWE Survivor Series 2020 Preview, Predictions, Start Time
Check out the preview, predictions, start time and more details for WWE Survivor Series 2020 PPV.
6 matches – RAW vs SmackDown. The champions from both sides going against each other and the traditional 5-on-5 tag team elimination matches for the men and women's team between brands. That's basically the match card for Survivor Series 2020. Plus The Undertaker's Final Farewell ceremony will also take place on the show. Let's preview each of the match and predict the winner.
Date – 22 November 2020
Location – Amway Center, Orlando, FL, US
Start Time – 7 PM EST(23 November 2020 12 AM GMT/5:30 AM IST)
Pre-Show at 6 PM EST
WWE Champion Drew McIntyre(RAW) vs Universal Champion Roman Reigns(SmackDown)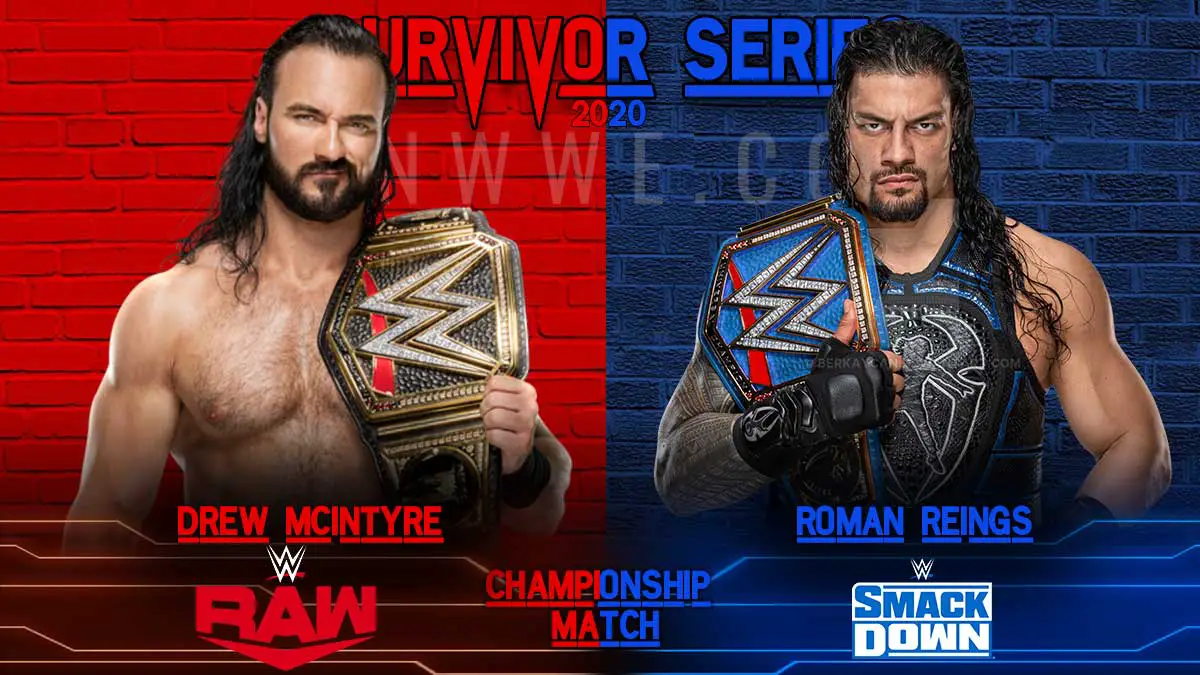 Preview – Randy Orton vs Roman Reigns seemed a dud as the main event match since it was too easy to predict Roman as the winner. But that all changed when Drew McIntyre walked into SmackDown to confront the Big Dog.
With McIntyre winning the WWE Championship back, the main event has suddenly got its mojo back. We have earlier seen their extended rivalry in 2018 and then their face-off at WrestleMania and Stomping Grounds. But the dynamics are very different now. McIntyre is no longer a heel. Roman is no longer a Superman.
But the fact remains that Drew McIntyre has never defeated Roman Reigns in a singles match. Will that change at Survivor Series?
Predictions – Roman Reigns is on such a path that he will do anything to get his way. And that might turn out to be the case at Survivor Series also.
RAW Women's Champion Asuka(RAW) vs SmackDown Women's Champion Sasha Banks(SmackDown)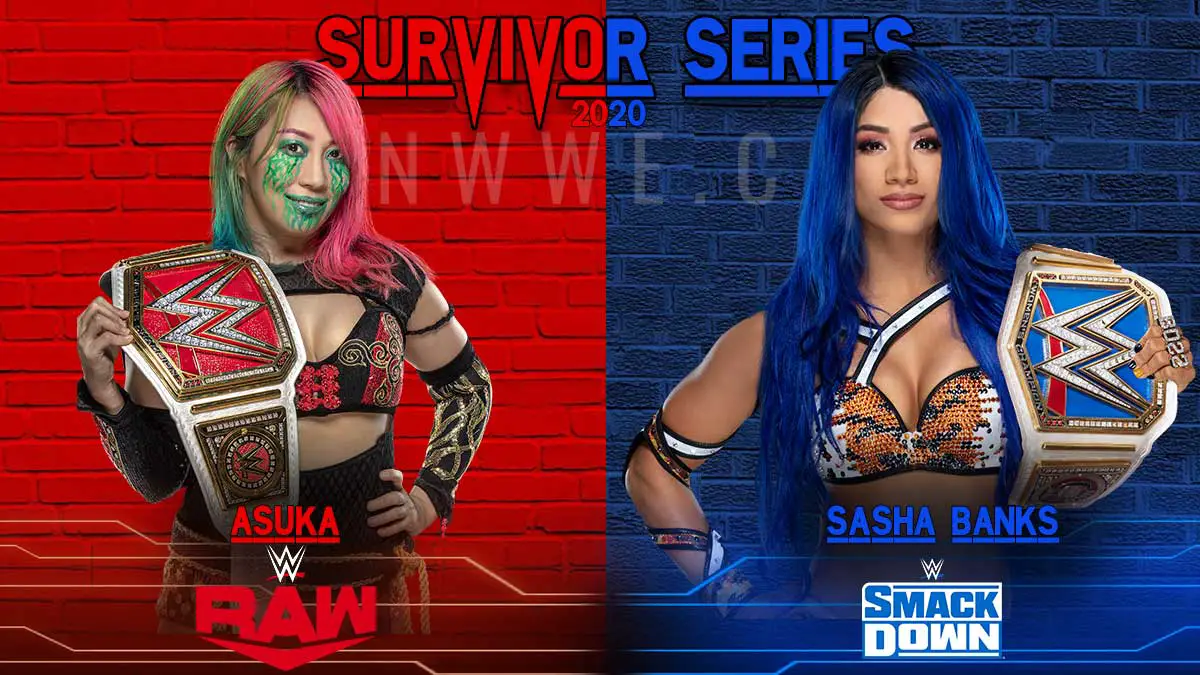 Preview – With Sasha busy with Bayley, there has been actually no buildup around this match whatsoever. That is despite both of them coming out of a rivalry at SummerSlam. Despite that, we are getting two incredible wrestlers going up. So, the match will be good regardless.
Predictions – Sasha Banks is currently in red hot form and it will be hard to think that she gets beaten by Asuka here.
United States Champion Bobby Lashley(RAW) vs Intercontinental Champion Sami Zayn(SmackDown)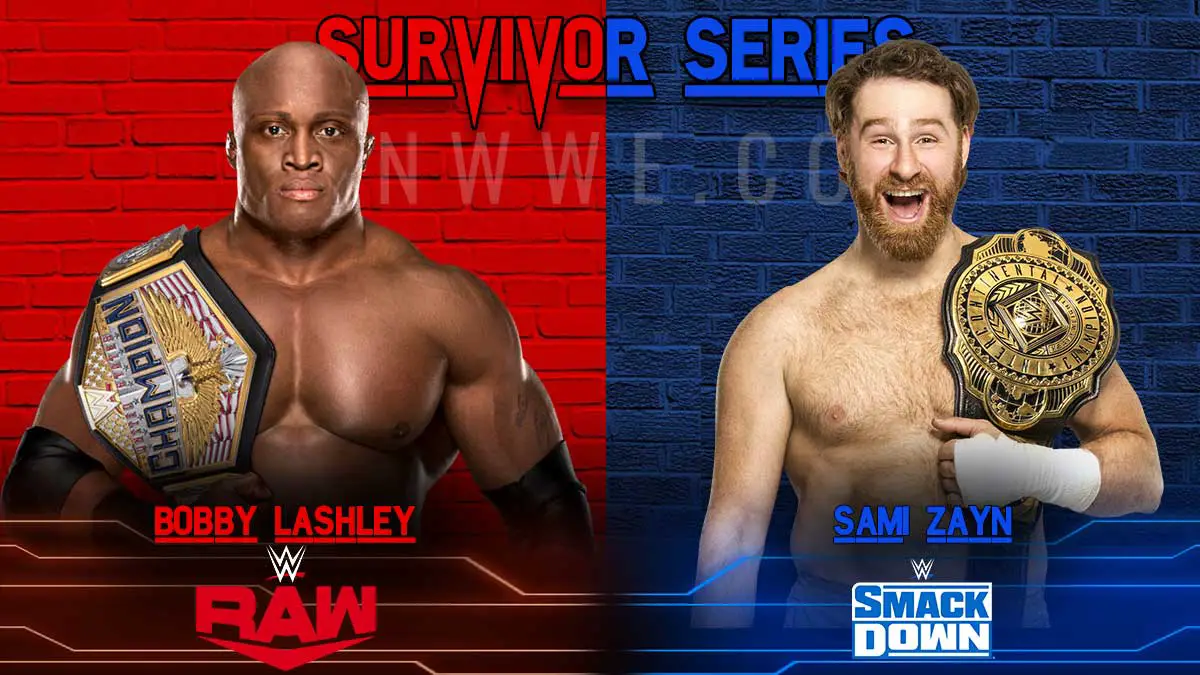 Preview – Both Bobby Lashley and Sami Zayn are working as heels on their respective brands. However, their character is very different. Lashley has been a dominant performer and rarely had to resort to any unfair tactics. On the other hand, Zayn often had to resort to desperate ways to win a match. Which one will triumph at Survivor Series?
Predictions – Bobby Lashley has been pretty good since getting the belt and Sami Zayn's character allows him to take a loss here. Lashley to win.
New Day(RAW) vs The Street Profits(SmackDown) – Tag Team Match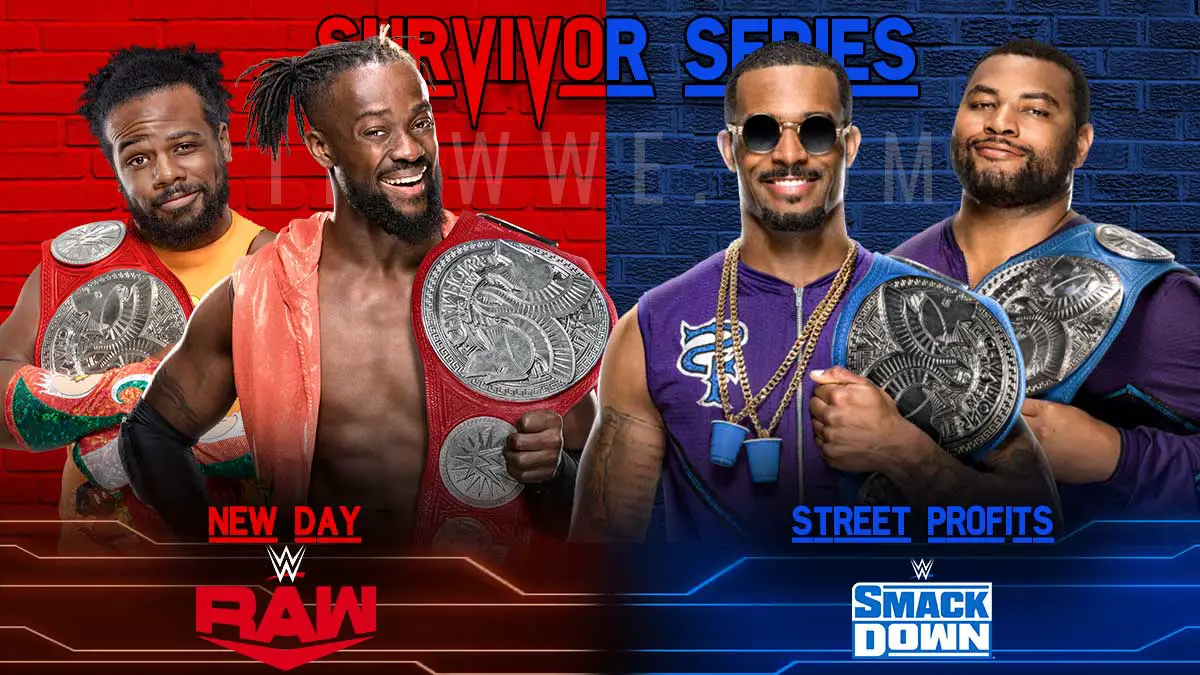 Preview – New Day and Street Profits exchanged the tag team titles when they were drafted to other brands back in October. The Street Profits has been mocking SmackDown's New Day member Big E. New Day themselves have been bullish over their chances to win this match coming off from a win over Hurt Business.
WWE has tried to sell this match as the match between the two best tag team matches on the planet. That would be a bit of stretch. However, these teams are certainly the best tag teams in WWE.
Predictions – Street Profits to raise their status as the best tag team in WWE.
RAW vs SmackDown – Men's 5-on-5 Elimination Match
Team RAW – AJ Styles, Keith Lee, Braun Strowman, Matt Riddle & Sheamus
Team SmackDown – Jey Uso, Kevin Owens, Baron Corbin, Seth Rollins
Preview – Team RAW has been suffering from clashes within the team over becoming the team captain. Team SmackDown has hardly ever been seen a little bit of animosity as Jey Uso beat up Kevin Owens. Nothing much to add here.
Predictions – Team RAW looks to dominant to be defeated here.
RAW vs SmackDown – Women's 5-on-5 Elimination Match
Team RAW – Nia Jax, Shayna Baszler, Lacey Evans, Peyton Royce, Lana
Team SmackDown – Bianca Beliar, Liv Morgan, Ruby Riott, + 2 more
Preview – Same story like the men teams. Team SmackDown is still forming a shape. The so-called co-captains of Team RAW are busy bullying Lana.
Predictions – Team RAW to win this one.