List of Sami Zayn WrestleMania Matches & Win-Loss Record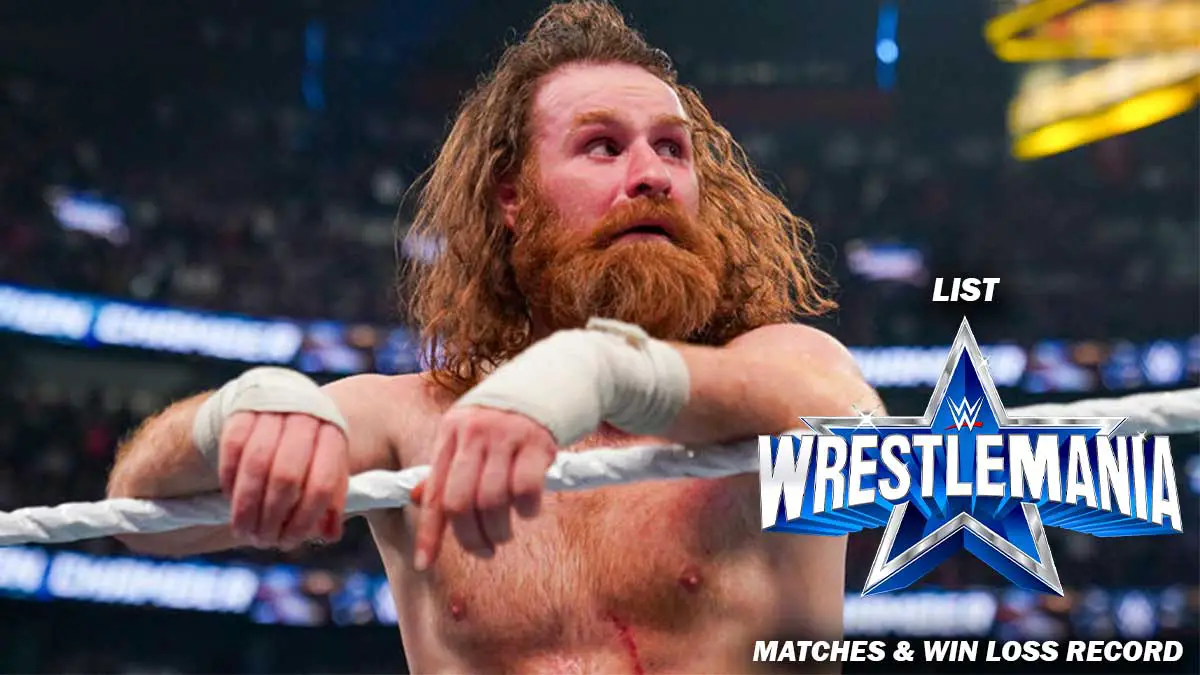 Sami Zayn is one of the rare wrestlers who have provided fans with exciting stuff both as baby face and heel. His storyline with the Bloodline turned out to be a game-changer for Zayn and has brought fans behind him rarely seen before for any star.
Sami has already been a part of several WrestleManias, but his record at the event has not been that great. However, just like his whole wrestling career, Kevin Owens has been a significant part of his WrestleMania matches as well. So, which are these matches? Here is the list of Sami Zayn's all WrestleMania matches along with his win-loss record. 
Sami Zayn WrestleMania Win-Loss Record
Sami Zayn has been part of 7 matches at WrestleMania so far and has just 2 wins. When it comes to singles matches, Sami has 1 win in 3 matches.
| Matches | Wins(%) | Losses(%) |
| --- | --- | --- |
| 7 | 2 | 5 |
1- Sami Zayn vs Kevin Owens vs Zack Ryder vs Sin Cara vs The Miz vs Stardust vs Dolph Ziggler – Intercontinental Championship Ladder Match – WrestleMania 32
Sami Zayn's first WrestleMania appearance came in 2016 when he was one of the participants in the Intercontinental Championship ladder match. This was also the first match Kevin Owens at WrestleMania, who entered the match as the champion. Sami Zayn, The Miz, and Dolph Ziggler challenged Owens for a title match. Owens assured them that he would talk to the authority about the #1 contender triple-threat match. However, that triple-threat match featured Sin Cara, Zack Ryder, and Stardust instead. It made Zayn, Miz, and Ziggler furious and they interfered in the match. As a result, WWE announced a ladder match for the title with seven participants. 
This match opened WrestleMania 32 and more or less stole the show. It has several memorable moments, and every single superstar got a chance to shine. The rivalry between Owens and Zayn was one of the highlighting parts of this match. Sami even suplexed Owens onto the ladder. One of the spots featured Sami Zayn diving through a ladder on the wrestlers outside the ring. In the ending moments, The Miz almost cleared the ring and decided to celebrate instead of getting the title. It resulted in Zack Ryder shoving him off the ladder and winning the match. 
Winner – Zack Ryder(Wins – 0, Losses – 1)
2- Andre the Giant Memorial Battle Royal – WrestleMania 33
Sami Zayn had to qualify for Andre the Giant Memorial Battle Royal with his job on the line. He defeated Kevin Owens a week before WrestleMania 33 to qualify for the match. This match also ended their feud. 
Sami Zayn was quite impressive in the match, and he lasted for a fairly long time. He was the last third participant to be eliminated and finished fourth in the match. In the ending moments, Jinder Mahal provoked Rob Gronkowski who was present at the ringside. As a result, Gronkowski entered the ring and shoved Mahal, which allowed Mojo Rawley to eliminate Mahal and win the match. 
Winner – Mojo Rawley(Wins – 0, Losses – 2)
3- Sami Zayn & Kevin Owens vs Daniel Bryan & Shane McMahon – WrestleMania 34
This match was a result of the very long build. The feud started when Kevin Owens started asking questions to SmackDown Commissioner Shane McMahon. The two faced each other at the Hell in a Cell where Owens defeated Shane after Sami Zayn came to his rescue. The latter stated that Kevin was right all along about getting the opportunities. SmackDown General Manager Daniel Bryan favored them and provided them with some opportunities. However, they failed to capitalize on them and later attacked Shane McMahon. Daniel Bryan fired them, leading to Sami & KO attacking Bryan also. As a result, Daniel Bryan announced that he got cleared to compete once again and will be in a tag team match at WrestleMania 34. Also, a stipulation was set that if Zayn and Owens won the match, they would be re-hired. 
The match was built as the huge returning moment of Daniel Bryan who temporarily retired from in-ring action due to injury. However, he was attacked by Owens & Zayn before the match even began. As a result, Shane McMahon had to start the match alone. Owens & Zayn pretty much dominated the match until Bryan recovered from the attack. Shane displayed some great endurance as he kicked out of moves like Blue Thunder Bomb. Daniel Bryan finally received a hot tag and ran riot. The team of Zayn & Owens managed to get the upper hand after some time. However, Daniel Bryan survived the Helluva Kick and Pop-up Powerbomb from Zayn and Owens, respectively. In the ending moments of the match, Daniel Bryan put Sami Zayn in the Yes Lock and forced him to submit to win the match. 
Winner – Daniel Bryan & Shane McMahon(Wins – 0, Losses – 3)
4- Sami Zayn vs Daniel Bryan – Intercontinental Championship Match – WrestleMania 36 Night 1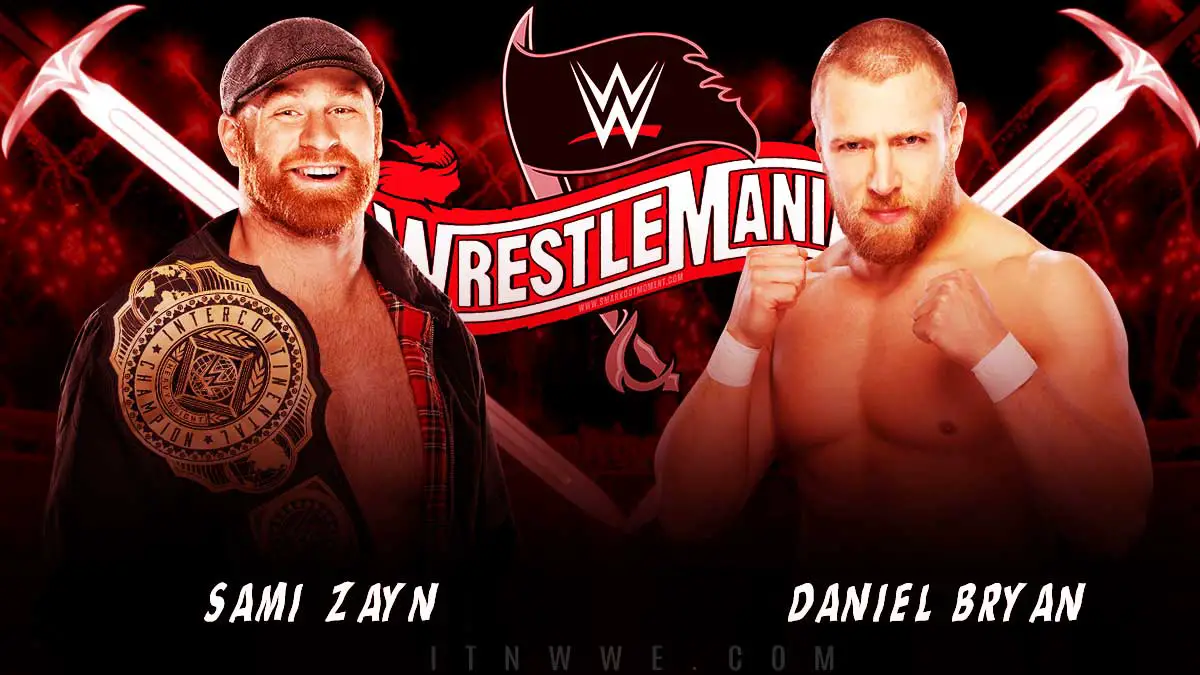 Sami Zayn's next WrestleMania match was also against Daniel Bryan. But this time, it was a singles match for the Intercontinental Championship. Daniel Bryan & Drew Gulak have been feuding with Sami Zayn, Cesaro, and Shinsuke Nakamura. For Bryan to face Sami for the title at the grandest stage of them all, the latter set a stipulation that Drew Gulak has to beat Shinsuke Nakamura in a singles match. Gulak successfully defeated Nakamura, and the match was set for the first night of WrestleMania 36. 
At that time Sami Zayn was playing the role of a cowardly heel, and hence he spent the first half of the message running away from Bryan. This match had a lot of potential on paper, but it didn't deliver. Bryan chased Zayn, but Nakamura and Cesaro got in his way every time. Soon, Gulak got involved and attacked Cesaro and Nakamura. It allowed Bryan to get Sami inside the ring and begin his offense. However, soon the duo recovered and took out Drew Gulak. It distracted Bryan momentarily and allowed Sami to catch him mid-air with a helluva kick. It was enough for Sami to pin Bryan and retain the title. This was the first win for Sami Zayn at WrestleMania.
Winner – Sami Zayn(Wins – 1, Losses – 3)
5- Sami Zayn vs Kevin Owens – WrestleMania 37 Night 2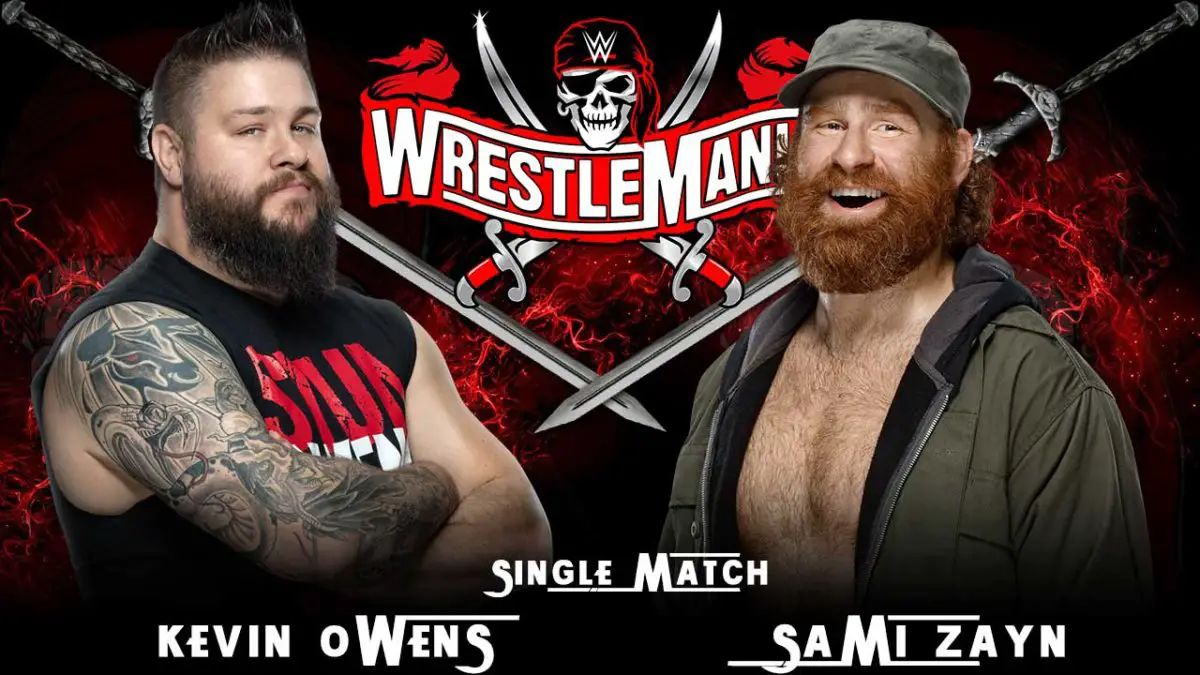 The rivalry between Sami Zayn and Kevin Owens is always a treat. The two had a feud in 2021 as well. It started when Kevin Owens eliminated Sami Zayn from SmackDown's Elimination Chamber match. Sami asked Owens to be a part of his conspiracy documentary, but the latter refused. Later the same night, Zayn lost and hit Kevin Owens with the Helluva kick. The following week, Kevin Owens hosted the KO Show with Sami Zayn as his guest. Initially, Zayn begged Owens to join his conspiracy documentary, but he challenged Zayn to a match at WrestleMania 37. Later, Sami Zayn revealed that Logan Paul would be in his corner during his match against Kevin Owens at WrestleMania.
Kevin Owens began without wasting any time and performed a pop-up powerbomb early in the match. However, Zayn kicked out of it. Soon, Sami Zayn got the grip of the match as he hit Owens with the brainbuster on the apron. He didn't stop there and performed a blue thunder bomb for a near fall. In the final moments of the match, Sami Zayn managed to connect the Helluva kick. However, he tried and went for another one, but Owens countered it with two superkicks followed by a stunner to get the pinfall. After that match, Logan Paul tried to congratulate Kevin Owens, but Kevin Owens hit him with a stunner too.
Winner – Kevin Owens(Wins – 1, Losses – 4)
6- Sami Zayn vs Johnny Knoxville – WrestleMania 38 Night 2
Sami Zayn and Johnny Knoxville produced one of WrestleMania's most bizarre and hilarious matches. It was a pretty fun feud and a fun match that will be remembered for years. Johnny Knoxville appeared at WWE Day 1 and announced that he would enter the Royal Rumble match. Sami Zayn didn't like this and stated that he was not qualified to be in Royal Rumble. During an episode of SmackDown, Knoxville threw Zayn over the top rope to show off his credentials for a Royal Rumble match.
Sami Zayn eliminated Johnny Knoxville from the men's Royal Rumble match in 2022. Later, Johnny crashed Sami's celebration for his Intercontinenal title win. Knoxville even interfered and cost Sami Zayn the IC title after some weeks in the match against Ricochet. As a result, Sami Zayn challenged Knoxville to a match at WrestleMania 38. Later Sami Zayn revealed that it would be an Anything Goes Match. 
Anything Goes stipulation actually worked in the favor of Johnny Knoxville. Sami started off the match with a Helluva kick. He dominated Johnny and even sent him through a table. However, soon Johnny's Jackass co-actors Party Boy & Weeman interfered in the match. Not only these, but Johnny also used traps like pyro, mousetraps, a giant hand, etc., to get the upper hand in the match. In the ending moments of the match, Johnny and his allies brought a gigantic mouse trap and trapped Sami Zayn under it to get the pinfall. 
Winner – Johnny Knoxville(Wins – 1, Losses – 5)
7- Sami Zayn & Kevin Owens vs The Usos – Undisputed WWE Tag Team Titles – WrestleMania 39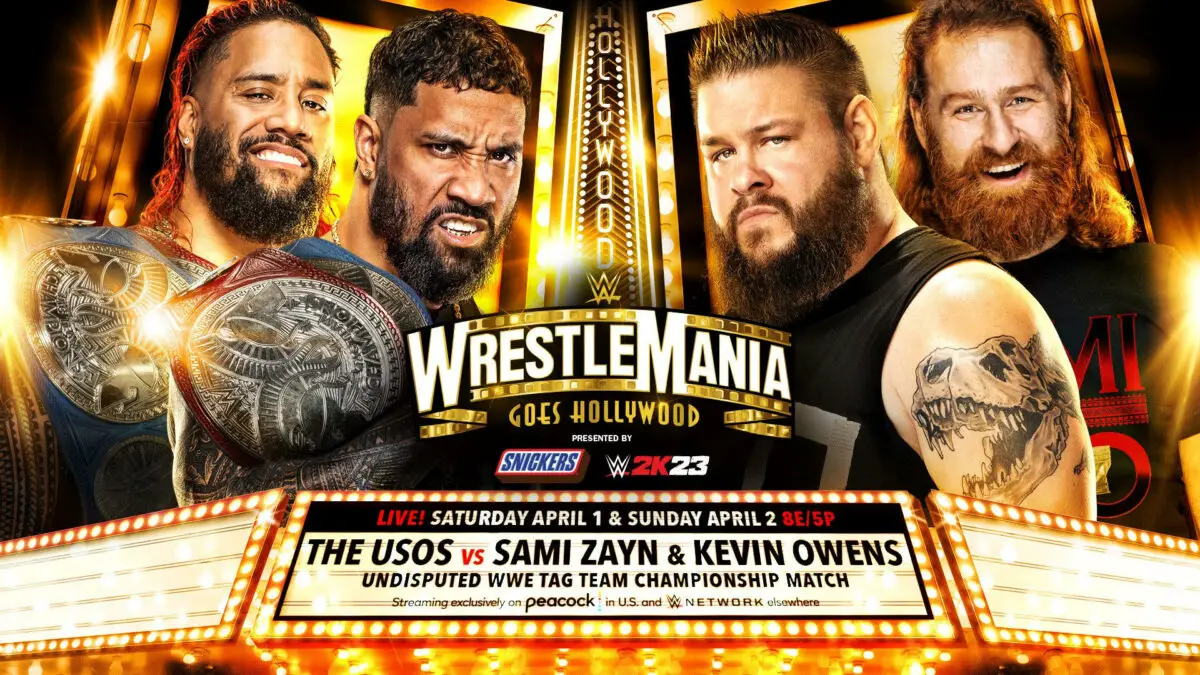 This match has one of the longest builds entering WrestleMania Goes Hollywood. Sami Zayn was living in his dream world as he was honored with the tag of the Honorary Uce by the Bloodline. However, At Royal Rumble 2023, when Roman forced Sami to brutalize his long-time friend Kevin Owens, Sami decided to betray him. Sami even challenged Roman for the titles at Elimination Chamber but failed.
After a few weeks, Jey Uso finally attacked Sami Zayn and stated that family always comes first for him. Meanwhile, Sami tried to reunite with Owens, but the latter refused. Cody Rhodes became the catalyst and sparked Owens & Zayn's reunion. The duo hugged it out and challenged The Usos for the Undisputed tag team titles at WWE WrestleMania 39. Jey Uso stated that they would get rid of the Sami & KO problem simultaneously and accepted the challenge.
Winner – Sami Zayn & Kevin Owens(Wins – 2, Losses – 5)