WWE RAW Live Results- 28 October 2019: Crown Jewel Go-Home
Welcome to ITN's Live Results and Updates blog for the WWE Monday Night RAW episode of 28 October 2019 (10/28/2019).
Date- 28 October 2019
Time- 8 PM EST(29 October 2019 12 AM GMT/5:30 AM IST)
Location- Enterprise Arena, St. Loius, MO, US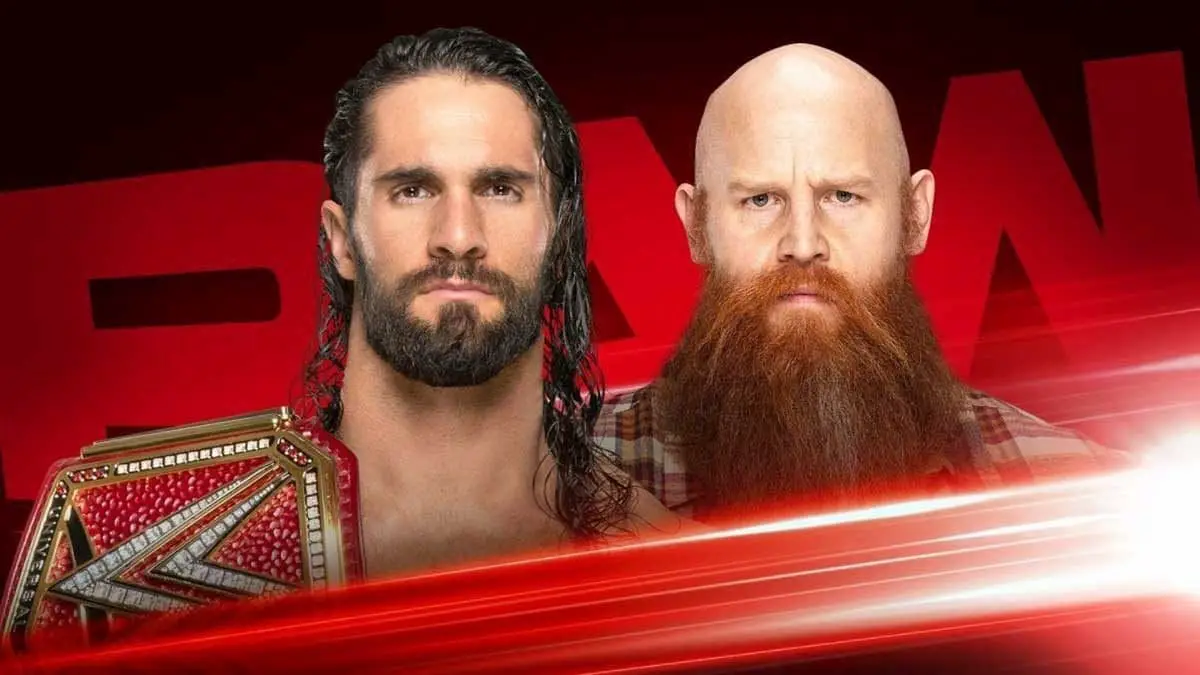 Another week and another iteration of Monday Night RAW. And this one is the go-home show for WWE Crown Jewel 2019. So, Ric Flair and Hulk Hogan will appear to hype the event. Becky Lynch will continue her rivalry with Asuka and Kairi Sane and Seth Rollins will practice for Crown Jewel 2019 with a Falls Count Anywhere match against Erick Rowan. McIntyre and Ricochet will fight once again and Lana and Rusev will head to a divorce.
Kabuki Warriors and Paige!!
Paige comes out and reminds us of her association with the Kabuki Warriors. She announces Asuka and Kairi Sane to come out. All three of them head to the ring. Paige reminds us how Kairi Sane is the former NXT Women's Champion and the first-ever winner of the Mae Young Classics and also introducing Asuka as the former SmackDown Women's Champion. Asuka snatches the mic away from Paige and says something in Japanese. Paige takes the mic back but Sane snatches it then. Sane drops the mic when Paige asks it back and Paige is trying to keep her composure. Paige grabs the mic but Asuka spits the green mist on her face. Paige is screaming and some referees attend her at the ring side.
Becky Lynch's music hits and she runs into the ring. Becky tackles Sane and beats her into the mat until Asuka helps her out of the ring. She goes after both women at ringside but they get the better of her. Becky fights back and throws Asuka over the barricade and chases Kairi back into the ring. The referee John Cone stops Becky from continuing with the brawl and their match will start when we return from the break.
Becky Lynch vs Kairi Sane
Becky corners Sane to hit some punches to the head. Kairi rolls out of the ring to recover and hits a kick on her way back. She beats Becky down in the corner and stands on her until the referee makes her get down. She takes Becky from turnbuckle to turnbuckle, slamming her head into them. Becky counters at one corner but Sane trips Becky on the middle rope and gets a two count. She nails some palm strikes before Becky hits a few arm drags.
Becky locks the arm stretch and bridges it to put more pressure on it. She breaks the hold before they fight in the corner for a bit. Becky continues to work on Sane's left arm and goes for the DisArmHer. But Sane was quick to roll out of the ring. Asuka tries to get engage but to no avail. Sane tries a leapfrog but Becky kicks her in the face for a two count. They fight at the ringside for a while until Kairi sends her into the steel steps. We head to the break.
Sane holding Lynch in a side surfboard submission. Becky escapes but Kairi hits a knee to the face to put her back down. Becky lands a few forearms and hits a Bexploder suplex to get two-count. She goes for the DisArmHer again but Sane pushes her to the rope and locks in the leg lock. Becky is in pain but counters the lock to get two-count. Becky runs the ropes and takes Sane down with a flying shoulder tackle. Both women are down and Sane tries to roll up Becky when they get up.
Becky goes for the suplex but Sane counters it to hit a DDT for a nearfall. Sane goes to the top and Becky takes her down, slamming her on the floor. She hits a leg drop from the middle rope to get a nearfall. Becky fights her off at the apron and also hits a jumps on Asuka with the forearm when she tries to interfere. Back in the ring, Sane hits the rapid back elbow to get a near fall. Becky grabs her arm for the DisArmHer finally and Sane taps out quickly.
Winner- Becky Lynch
After the match, Becky continues to taunt Asuka and Sane. Asuka is not coming into the ring and Becky nudges Sane with some kicks. The commentary team talks about the Divorce Court segment later tonight.