Mercedes Mone' Beats KAIRI, Wins IWGP Title at NJPW Battle in the Valley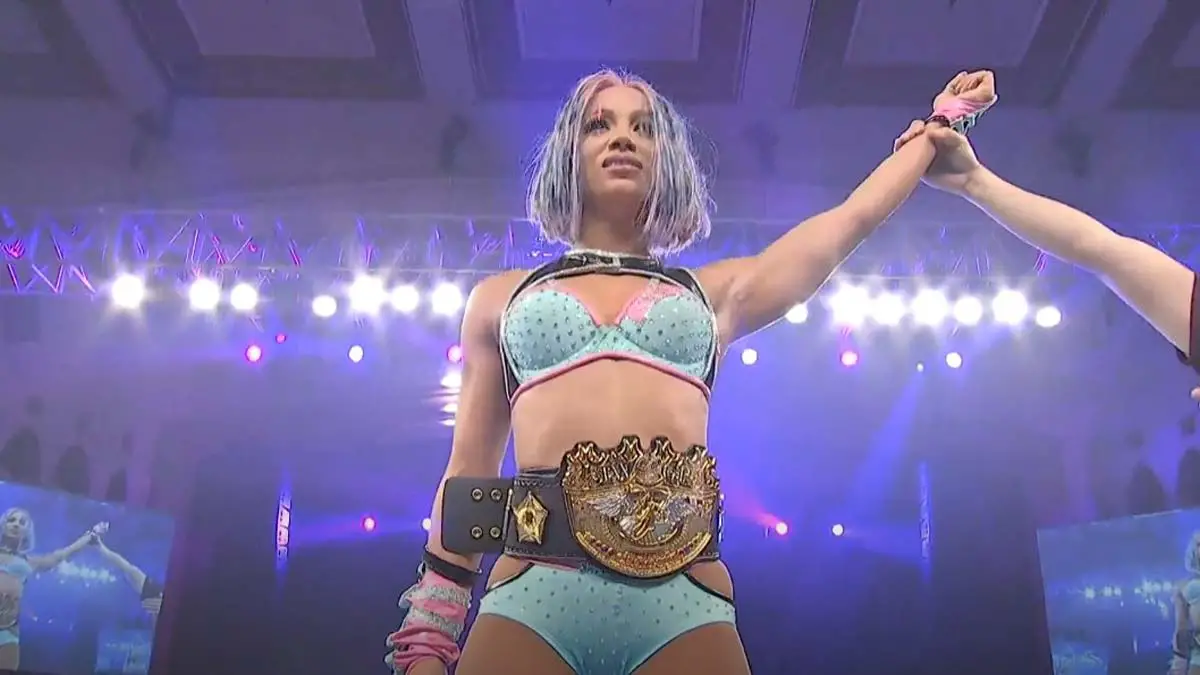 Mercedes Mone', formerly known as Sasha Banks, has won IWGP Women's Championship at NJPW Battle in the Valley 2023 by beating KAIRI in the co-main event.
KAIRI became the first ever IWGP Women's Champion in November last year when she defeated Mayu Itawani in a tournament final for the inaugural title. She defended the title for the first time at NJPW Wrestle Kingdom 17 at Tokyo Dome against Tam Nakano.
After her successful defense, KAIRI was confronted by Mercedes Mone' who made her first appearance for NJPW that night. Mercedes called her shot and challenged KAIRI for a match for IWGP Women's title, which KAIRI quickly accepted. After half an hour long match, it finally came down to Mone's new Money Maker finisher to get the win. Check the complete match description below.
Live Updates
Dancers come out on the stage first to dance to Mercedes' theme song. She comes through them to make her entrance. Her gear is giving tribute to Hana Kimura. The Pirate Princess KAIRI comes out next with her title. The announcements are done and we are ready to go.
They take their time to soak in the atmosphere. Huge cheers for Kairi also as they lock up. Mone puts Kairi in the corner. The referee calls for a stalemate. Kairi puts on an arm wringer as they lock up again. Mone counters it with a side headlock. Kairi throws her to the ropes and hits an arm drag. Mone rolls over and puts on the Bank Statement. Kairi gets to the ropes quickly.
They lock in Greco-Roman knuckle lock in a show of strength. Mone breaks it with a kick and puts on a side headlock. Kairi hits a hurricanrana and a dropkick to send Mone to the floor. She hits a flying elbow from the apron to drop Mone on the floor. Kairi nails her with few open palm strikes. Mone strikes back with the same after counter in the corner. Mone hits an elevated armdrag and double knee strikes in the corner for a two-count.
Mone starts to work on Kairi's arm now. She goes for another lucha armdrag but Kairi trips her on the turnbuckle. Kairi goes to the top now. Mone recovers and hits a knee to her face to drop her to the top. Mone slams her hand into the turnbuckle and a knee strike. Mone slams her hand on the apron before driving it on the ring post. Back to the ring, Mone gets a two-count.
Mone hits a big slap across the face to drop Kairi off her knees. Kairi fires back with chops before Mone hits a DDT. Mone puts on the armbar as she continues to work on that arm. Mercedes hits a low clothesline for another two-count. Mone works on Kairi against the ropes. Mone hits an armbreaker next to get another two-count.
Mone hits repeated kicks at Kairi's arm against the turnbuckle pad. Kairi turns it around when Mone was going to drive her shoulder into the ring post and slams Mone instead. Kairi slams Mone into the barricade. Mone then slams Kairi's face into the ringpost. Both women are down on the floor but manages to beat the countdown.
Kairi hits a kick as they return to the ring. Mone puts Kairi on the top rope now. Kairi fights back to put her in a Tree of Woe. Kairi nails Mone with a double stomp. Kairi hits a jumping neckbreaker and a spear. She stomps on the mat as she signals and hits the running elbow. She hits a flying forearm from the top to get another two-count. Kairi hits a snap mare before putting on an armbar. Mone rolls over to reach the ropes to break the submission.
They fight on the apron. Mone hits a knee strike to drop Kairi to the floor. Mone then his Meteora on the floor. Mone quickly throws Kairi back to the ring and hits another Meteora from the top rope. Kairi somehow kicks out of the pin. Kairi counters with a roll-up. Mone hits a single leg dropkick.
Kairi misses a backfist and Mone hits a cutter to get a two-count. Kairi counters to put on a leg lock. Mone was dragging towards the ropes. Kairi brings her back to the middle. Mone counters with a crossface. Kairi gets her feet on the ropes to break it.
Mone nails some elbows to the back of the head. Kairi cuts off her off the ropes with a back fist to get a two-count. Kairi slams her to the mat now to set up InSane elbow. Mone traps her leg to block her move. Mone hits a Bayley-to-belly suplex for a near fall. Mone could not believe it. She goes for three amigos suplex as a tribute to Eddie Guerrero but Kairi blocks the third suplex and hits a DDT.
They trade shots while they are still on their knees. Kairi hits a kick to midsection but Mone pulls the referee in to block a back fist. Kairi gets enraged and starts nailing Mone with clubbing blows. She throws Mone down the ramp. She goes for a flying forearm but Mone counters and drops her on some production crates. Mone brings out and sets up a table.
Kairi slips out of move and puts Mone through the table with powerbomb. Kairi takes Mone back into the ring. She goes for Insane elbows but Mone gets her boots up to counter it. Kairi has hurt her shoulder. Mone goes for the frog splash but Kairi also gets her knees up. Kairi puts on a crossface now. Mone breaks free by biting it. They try to pin each other with a backslide but Mone transitions it into the Money Maker to get the pinfall.
Mercedes Mone won via pinfall after hitting The Money Maker.