All Appearances on RAW Legends Night- 4 Jan 2021
WWE hosted the Legends Night on WWE RAW 4 January 2021 episode which saw appearances from many WWE Hall of Famers and stars of the past years. Here is the list of all the Legends that appeared on tonight's RAW episode.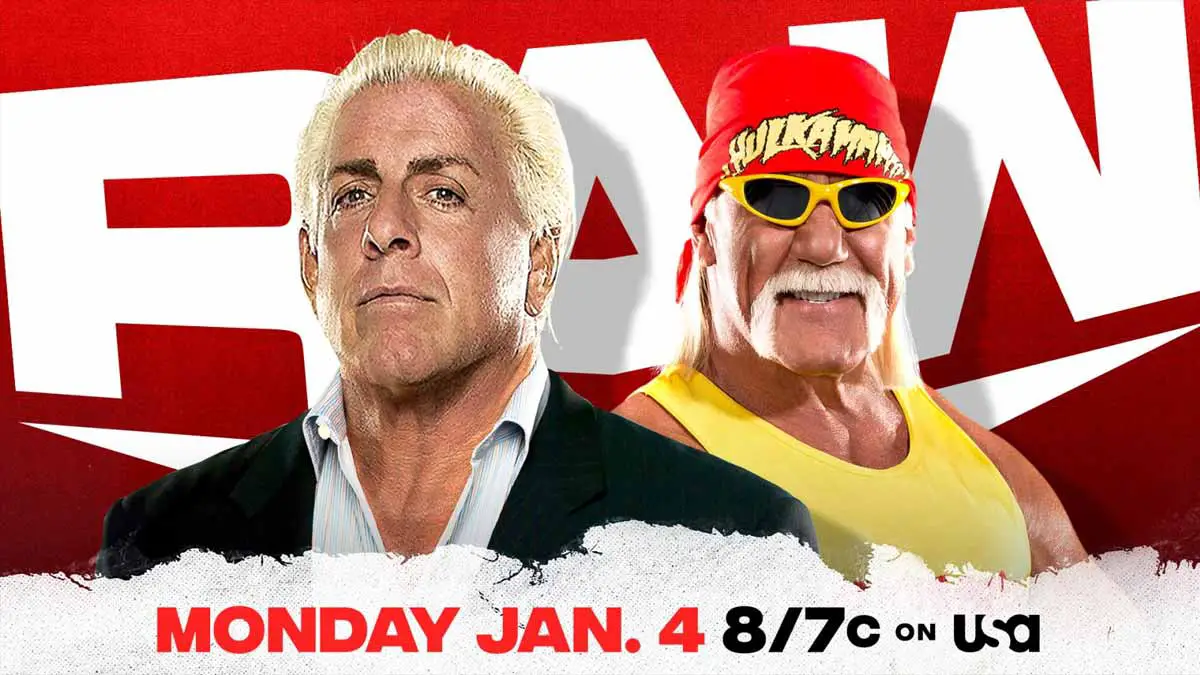 Former SmackDown Manager Teddy Long came out in the Miz TV segment to announce that Miz & Morrison will face Kofi Kingston & Xavier Woods.
Alicia Fox was seen backstage with Angel Garza.
Tatanka was seen backstage with Mickie James, Sgt. Slaughter and Angel Garza.
Mickie James was seen backstage with Angel Garza, Tatanka and Sgt. Slaughter.
Sgt. Slaughter was backstage and shouted "Maggot" at Angel Garza as he was flirting with Mickie James.
Ric Flair accompanied Charlotte Flair for her tag team match. Lacey Evans ended up flirting with Flair and Flair tripped Charlotte and cost her the match. Later in the night, Randy Orton asked Flair to accompany him to the ring, which Flair refused.
Big Show appeared backstage talking to Riddle. Randy Orton walked up to him and talked trash.
Hulk Hogan talked with WWE Champion Drew McIntyre and Sheamus. He appericiated the way McIntyre has carried WWE title during the pandemic. McIntyre ended up doing Hogan's signature poses with him.
Jimmy Hart appeared alongside Hulk Hogan in the segment with Drew McIntyre and Shaemus.
Mark Henry was seen talking to Ricochet. He was having assistance from a medical scooter for his left leg, suggesting some sort of surgery. He was the second legend of the night to be berated by Randy Orton.
Molly Holly was seen backstage talking to IRS and Ric Flair.
Irwyn R. Schyster(Mike Rotunda) was seen backstage talking to Molly Holly and Ric Flair.
Melina was seen backstage as Lucha House Party was going for their match. She joined them for a "Lucha" chant.
Torrie Wilson was with Nikki Cross when Angel Garza approached her. Wilson told Garza that she has brought Cardi B and Kylie Jenner to party and they are in the locker room.
Boogeyman was in the room which Wilson pointed to Garza. He was disguised in a wig, which he then removed to spooke Garza. This led to R-Truth catching Garza for a pin to win the WWE 24/7 Championship.
Booker T was at the commentary for the main event match between Drew McIntyre and Keith Lee to call the action.
Goldberg appeared after the main event match to challenge WWE Champion Drew McIntyre for a match at Royal Rumble 2021.