WWE RAW 4 January 2020: Live Results, Updates, Winners, Grades
Welcome to ITN's Live blog for WWE Monday Night RAW episode of 4 January 2021(1/4/2021) as we bring you the Live Results, Updates and Grades from the show featuring Legends Night, WWE Championship Match between Drew McIntyre and Keith Lee, and buildup for WWE Royal Rumble 2021.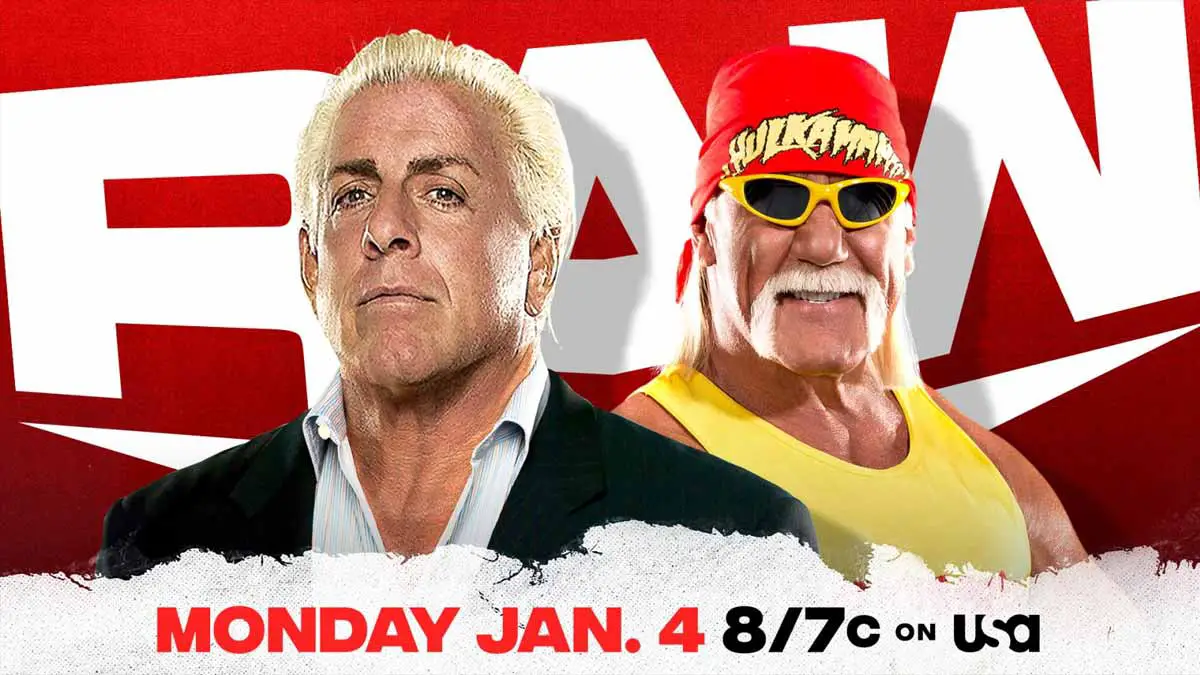 Check preview for the show here.
Miz TV/New Day Talks
Miz and Morrison start the night with The Miz TV. Miz says he is excited because WWE officials came to their senses and reinstated the Money In the Bank briefcase to him. They agree that 2021 will be the year of Miz and Morrison. New Day comes out as the guests. They hijack the talk show and behave like it's their show, naming it "New Day Talks."
Kofi and Woods continue to do comedy until The Miz snaps and starts shouting at them. The music hits and it's former SmackDown General Manager Teddy Long. Long says he has the perfect solution for this issue and announces that Miz & Morrison will face the Undertaker. WWE Official Adam Pearce comes out and says something to Long. Long then announces New Day vs Miz & Morrison next. Long dances around as his music hits one more time.
Miz & John Morrison vs New Day(Kofi Kingston & Xavier Woods)
Woods and Morrison start. Woods gets the first kick and double teams with Kofi. Kofi with some quick moves before more double team. Morrison decks Woods and tags in the Miz. Miz keeps Woods under control breifly before Woods takes him to his corner and tags in Kofi. Kofi puts him in a headlock, which is followed by a sequence where both men counter each other's finishers.
Woods takes down Miz with a dropkick but Morrison had already tagged in. He attacks Woods' knees. Woods gets Kofi in, who dropkicks Morrison. Kofi taunts Morrison before taking him down once again. Morrison and Miz are sent out to the floor and Kofi hits a suicide dive to take us to the break.
After the break, Miz distracts Kofi for Morrison to take advantage. Miz and Morrison continue to tag in and out. Kofi counters after a while with SOS. Woods runs in and runs riot. Miz tries to interfere but gets thrown out. Kofi takes him out with a flying clothesline on the floor. Woods hits a running knee/last shot to get the pin on Morrison.
Winners- Kofi Kingston & Xavier Woods
Grade- B+. The comedy segment before the match was a hit and a miss. The match action was good as always by both teams. Not sure what they wanted to achieve with this segment though.
We get a recap of what happened between Randy Orton and Alexa Bliss last week. Orton is backstage with Kayla Braxton who asks him what went around in his head last week when he was about to lit up Bliss. He replies that the voices in his head were saying do it. But as everybody says, facing the Fiend changes something inside and he could not put Bliss on fire.
We see how Angel Garza won the WWE 24/7 Title from R-Truth on New Year's Eve during the TikTok livestream. Garza is backstage flirting with Alicia Fox. Garza approaches Tatanka, Mickie James and WWE Hall of Famer Sgt. Slaughter now. After some brief dialogue, Garza says he's honored to meet Mickie, and then offers a rose to her but Slaughter intercepts it and calls Garza a maggot. Garza runs off.
AJ Styles vs Elias
AJ Styles comes out with Omos. Elias is out with Jaxson Ryker. AJ takes control at the start and puts Elias in a headlock. Elias fights out but punching AJ in the jaw. Elias unloads in the corner now with punches and chops. A big clothesline grounds AJ. Elias drops AJ over the top rope and then launches him ribs-first onto the top turnbuckle. Elias stands tall in the ring as we go back to the break.
Elias goes for the superplex but AJ slips out and takes out his leg. AJ fights back now but Elias stays on him with right hands. Elias climbs up for a superplex but AJ slides under him and drops him face-first into the top turnbuckle. AJ runs into a big boot in the corner. They trade shots out of the corner now.
AJ with lightning attacks but Elias dodges the back elbow and hits chokeslam on AJ to get a two-count. Elias goes to the top turnbuckle but had to come down after AJ goes into the corner. AJ goes for the phenomenal forearm but gets caught with a high knee. AJ fights out of an Electric Chair and sends Elias face-first into the corner. He follows it up with a Brainbuster and then the the Styles Clash to get the win.
Winner – AJ Styles
After the match, Jaxson Ryker comes in with a guitar to attack Styles. Omos kicks the guitar as Ryker swings. Ryker is shocked and quickly moves out of the ring.
Grade- B+. This match was an upgrade from the one between them last week. Elias dominated for the most part but Styles was able to turn it around at the end. Post match sequence saw Omos' character as the giant being solidified.
Riddle is backstage with Big Show, or The Big Bro. Riddle says he's going to get ready for his huge match with WWE United States Champion Bobby Lashley, but he will reconnect with Show later. Riddle walks off. Randy Orton walks up and have a threatning session with Big Show, ridiculing him to be happy sitting as a Legend, and reminding him what happened last time they were in the ring.
WWE Champion Drew McIntyre is getting ready backstage when Sheamus walks in. They talk for a while until WWE Hall of Famers Hulk Hogan and Jimmy Hart walk in. Hogan says he is fans of both. Hogan tells McIntyre that he is proud of the way Drew has been carrying the WWE Title through these trying times of COVID-19 pandemic. Drew thanks Hogan and jokes around asking if Sheamus reminds Hogan of Jimmy Hart in the way that he runs him mouth. Sheamus goes away after wishing Drew good luck again. Drew and Hogan then deliver some Hulk Hogan signature moves and dialogues until we cut to the ring.
Riddle vs Bobby Lashley
This is a non-title match. Riddle attacks the United States match before the bell rings and attacks his ribs. Lashley is angry. Riddle still gets a few more strikes going, until Lashley catches him and drops him into the turnbuckle. Riddle counters in the corner to send Lashley over the ropes. Lashley catches him as he jumps and runs him into the ring post. We cut to the break.
Lashley keeps Riddle grounded as we return. Riddle fights back with punches and kicks. Lashley runs him with a lariat. Riddle tries to fight back again but gets sent into the corner for more strikes.
Riddle comes back with a Pele kick. He continues with quick strikes and kicks in the corner. V-trigger gets him a two-count. Lashley catches him and drops him with the dominator. Lashley poses for a bit before getting Riddle in the Hurt lock. The referee had to duck as Riddle tries to use the ropes as a springboard. Riddle taps out but the referee did not see it. MVP and Lashley argue with the referee and Riddle catches Lashley with a roll-up for the pin.
Winner – Riddle
Riddle runs at the ramp immediately after the match. Lashley and MVP are still arguing with the referee about the tap out as we go to the replay. Riddle is celebrating at the ramp while Lashley is reeling in anger in the ring.
Grade- B. Riddle gets the win with comes clever maneuver and Lashley still looks strong coming out of this. Their title match is impending, and might possibly come next week.
Ricochet is backstage with WWE Hall of Famer Mark Henry. Henry is using a medical mobile scooter for his knee. Randy Orton walks up and taunts Henry. Orton also declares his entry into the 30-Man Royal Rumble Match. Henry goes to leave but Orton stops him to remind him of how many times he hit Orton with the World's Strongest Slam. He will give Henry a pass only if Henry get out of here. Henry starts pushing his scooter as Orton yells at him and taunts him.
Shayna Baszler vs Mandy Rose Dana Brooke
Mandy Rose enters for what was looking like a singles match against Shayna Baszler. Baszler attacks her on the ramp and sends her into the barricade a few times. Baszler wanted to do more damage but Dana Brooke runs in and challenges Baszler for a match.
Baszler enters the ring and the bell goes off. Baszler with big palm strikes to start. Brooke manages to send her out to the floor. Baszler comes back in and applies the Kirifuda Clutch. Dana rolls her over into a pin and gets three counts.
Winner – Dana Brooke
Baszler never left the Kirifuda clutch. She continues to hurt Dana until Mandy Rose runs in with a knee to break the hold. Rose and Brooke dumps Baszler out of the ring and stand tall.
Backstage, Ric Flair is with Irwin R. Shyster and Molly Holly. Randy Orton walks in and asks him if he wants to walk down to the ring with him as long as he doesn't screw up like he did with Charlotte earlier tonight. Flair says he'll never walk Randy down the aisle again after Orton brings hit him with Punt kick last year. Randy says he sees a man that looks like and talks like Ric Flair, but is not the man that taught him damn near everything he knows.
Drew McIntyre(c) vs Keith Lee – WWE Championship
Drew McIntyre enters before the break. Keith Lee enters after the break and all the Legends present are at the stage to watch the match.
They lock up to start and McIntyre takes Lee to the ropes for a break. Lee then takes McIntyre to the corner for a break. McIntyre tries to bring Lee down but fails. Lee no-sells a sholder taackle. He botches a dodge but recovers quickly. McIntyre with a kick but Lee hits a forearm smash to send McIntyre out of the ring.
McIntyre comes back in and gets some strikes going. He takes Lee to the corner to hit a few chops. Lee whips him to the ropes and clotheslines him out to the floor. McIntyre hits a big boot on Lee at the floor. Lee charges and sends McIntyre flying over the barricade. Lee roars and goes back to the ring as we go to the break.
Lee hits a sholder in the corner as we return. Lee continue to be in control. McIntyre hits a few kicks in his leg but Lee hits a big punch to keep control. Lee scoops and slams him in the middle of the ring a couple of times. He fails to get the pin though. McIntyre counters in the corner and they go back and forth for a while. McIntyre counters another slam, sends Lee into the turnbuckle and hits the German Suplex.
McIntyre gets up and hits the neckbreaker. He kips up and getting ready for the Claymore. Lee dodges but McIntyre rolls him up for a pin. Lee hits a slam to get a close two-count. McIntyre goes out. Lee was going after him when McIntyre picks him up from the apron and powerbombs him into the announce table. Another commercial.
McIntyre hits a clothesline from the top turnbuckle for two-count as we return from the break. Lee stops the DDT and hits a clothesline to get a two-count. McIntyre tries to counter clothesline with a backslide, but Lee hulks up. McIntyre hits the futureshock DDT to get a near fall. McIntyre goes to the top, Lee meets him there and hits the Spanish fly. Lee covers but McIntyre kicks out at two and a half.
Both get back to their feet. Lee was looking for the Spirit bomb but McIntyre counters to hit a spinebuster. Lee catches Claymore and once again tries to hit the Spirit bomb. McIntyre avoids it, runs the ropes and hits the Claymore kick for the pin and the win.
Winner – Drew McIntyre(retains WWE Championship)
Drew McIntyre and Keith Lee share a moment in the ring before Lee moves out and McIntyre takes the mic. He was starting his promo when Goldberg's music hits and he comes out to the ring. McIntyre goes to shake his hands but he denies. Goldberg takes the mic and tells McIntyre that while he has got size, power and moves, one thing he does not have is the respect. Goldberg continues that he thinks of all the WWE Legends as washed up guys. He goes on and challenges McIntyre for the WWE Championship match at Royal Rumble.
McIntyre replies that whatever Goldberg said is not true and he respects each and every legend. He tells Goldberg that while he has respect, fighting him will be like fighting his own dad. Goldberg pushes him to the mat but McIntyre gets back up quickly and gets in his face. RAW goes off the air.