Brock Lesnar vs Bobby Lashley Announced for WWE Crown Jewel 2022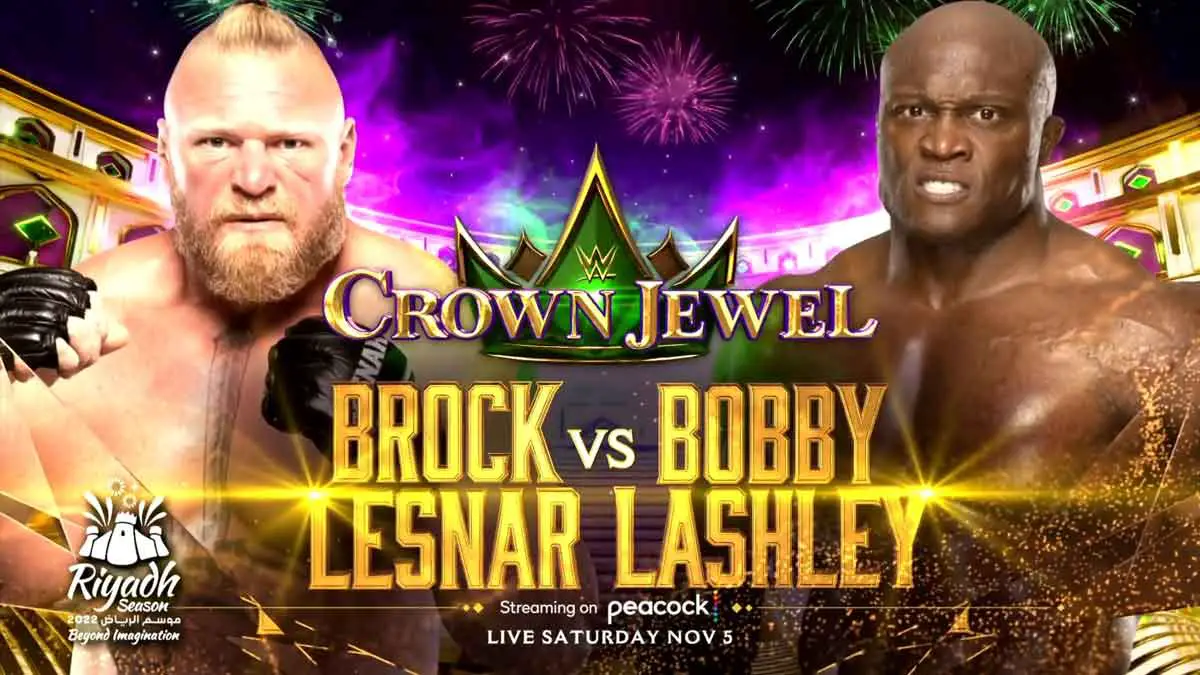 Brock Lesnar and Bobby Lashley will clash at WWE Crown Jewel 2022 in a rematch from Royal Rumble earlier this year.
Brock Lesnar returned to RAW last week and launched an attack on then WWE United States Champion Bobby Lashley. Lesnar laid out Lashley with a couple of F5s and German suplexes before hurting Lashley's arm with Kimura lock.
Seth Rollins was supposed to challenge Lashley for United States title before any of this happened. Despite Lashley being hurt, Rollins came out and hurled insults toward Lashley to goad him into a title match. Lashley kicked out of a pedigree and was able to hit Rollins with a spear. However, Rollins capitalized on Lashley's injured arm to escape Hurt lock and hits two back to back stomps to win the title.
This week on RAW, Lashley was out in the ring calling out Lesnar. Lesnar answered the call but Lashley was able to send him through the barricade with a spear. Although security and other WWE officials came out to take the situation under control, Lashley was able to launch more attack on Lesnar and put him through the announce table with a spinebuster. As Lashley was escorted backstage, Lesnar recovered with a grin on his face.
Later, WWE confirmed that Bobby Lashley and Brock Lesnar will clash at WWE Crown Jewel 2022 event on November 5 in Riyadh, Saudi Arabia.
Lashley challenged Lesnar for WWE Championship at Royal Rumble 2022 in January this year. Following an attack from Roman Reigns, Lashley capitalized to hit a spear on Lesnar to win the title. Lesnar later won the men's Royal Rumble match later that night. He also won the WWE Championship back at Elimination Chamber after Lashley was eliminated from the match due to an injury.
Will Lashley get another win over Lesnar at Crown Jewel?