List of Cody Rhodes WrestleMania Matches, Win-Loss Record
Cody Rhodes is currently one of the hottest names in the wrestling industry. The American Nightmare returned to WWE at WrestleMania 38 and became the top star of the promotion. However, that was not Cody's first WrestleMania match as he took part in as many as 6 matches in his first run in WWE and several of them were under his Stardust persona.
So, who has Cody Rhodes faced at WrestleMania so far? Below is the complete list of Cody Rhodes WWE WrestleMania matches along with his win-loss record. 
Cody Rhodes' WrestleMania Win-Loss Record
Cody Rhodes has featured in 8 WrestleMania matches so far and has a record of 2 wins and 6 losses. In 4 singles matches, Cody has 2 wins and 2 loss. He has also worked 2 ladder matches, a triple threat match and 1 battle royal.
| Match Type | Matches | Wins(%) | Losses(%) |
| --- | --- | --- | --- |
| Overall | 8 | 2(25%) | 6(75%) |
| Singles Matches | 4 | 2(50%) | 2(50%) |
List of WrestleMania Matches
1. Pre-Show Battle Royal for ECW Title Shot- WrestleMania 24
Cody Rhodes made his WrestleMania debut at WWE WrestleMania 24 when he participated in a pre-show battle royal where the winner would recieve a shot at ECW World Championship. Cody was relatively new to the promotion, and it was an uneventful outing for him. Rhodes lasted almost half-time in this inter-promotional battle royal before getting eliminated. Kane went on to win this match. However, this remains Cody Rhodes' first experience on the biggest stage. 
Winner – Kane
2. Cody Rhodes vs Ted DiBiase vs Randy Orton – WrestleMania 26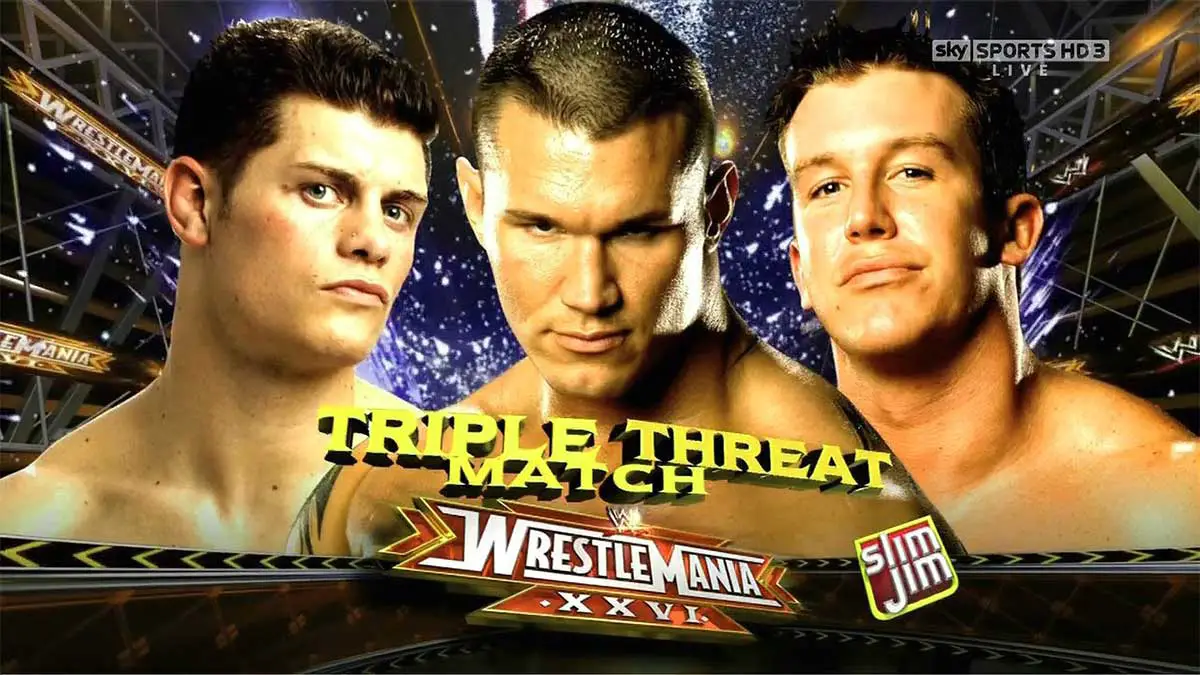 Cody Rhodes' second WrestleMania appearance took place at WWE WrestleMania 26 in 2010. Back in 2009, Randy Orton formed a faction named "The Legacy" along with Ted DiBiase and Cody Rhodes. With time however, Randy Orton grew frustrated with his group. During Royal Rumble 2010, Cody attacked Sheamus during his match against Randy and caused a disqualification. Orton then attacked Cody and later attacked Dibiase.
Later at Elimination Chamber, Rhodes tried to aid Orton but DiBiase caught the pipe thrown in by Cody and hit Orton with it, leading to Orton's elimination from the chamber match. The following night on RAW, Randy Orton turned on Cody Rhodes and Ted DiBiase which led to a triple-threat match at WWE WrestleMania 26. 
The match started a bit slow with Rhodes and Orton double-teaming against Orton. However, DiBiase attempted to pin Randy Orton, but he was stopped by Cody himself. It led to a brawl between Ted DiBiase and Cody Rhodes, and Randy Orton took advantage of it. Soon, Randy got the upper hand in the match, and he eventually hit punt kick on Rhodes and RKO on Ted DiBiase to get the pin and the win.
Winner – Randy Orton
3. Cody Rhodes vs Rey Mysterio – WrestleMania 27
Cody Rhodes' face-off against Mysterio was regarded as one of his best WrestleMania matches. Cody has started a new dashing gimmick after he was drafted to SmackDown in April 2010 where he used to be very protective of his face. On the January 21, 2010 SmackDown, Rey Mysterio hit Rhodes with 619 which broke his nose. Rhode underwent surgery and then got obsessed with the fact that Mysterio broke his nose and tarnished his looks, giving way to his undashing gimmick.
On February 25's SmackDown, Dusty Rhodes appeared on SmackDown and talked with Rey Mysterio. He even called Rhodes to come out and apologize to Myterio. However, it turned out to be a setup as Cody attacked Mysterio. To add to the insult, Cody also went on to unmask Rey Mysterio after the beatdown. The following week, Cody Rhodes challenged Rey Mysterio to a match at the show of the shows which was accepted by Rey Mysterio. 
This match featured Rey Mysterio's one of the most iconic outfits in Captain America. The match started slow, and Rhodes dominated most of the match. Rey Mysterio gained control of the match in the second half and even removed Cody's protective face mask. Mysterio was hitting Rhodes with headbutts and then went for a dive, but Rhodes countered it by removing Mysterio's knee brace. Cody Rhodes eventually knocked out Mysterio with the same knee brace and then hit him with Cross Rhodes to get the pinfall. 
Winner – Cody Rhodes
4. Cody Rhodes(c) vs Big Show – WWE Intercontinental Championship – WrestleMania 28
WWE WrestleMania 28 was the first time when Cody Rhodes walked at the show of the shows as a champion. The feud started when Cody eliminated Big Show from the World Heavyweight Championship Elimination Chamber match before being eliminated. In the following weeks, Rhodes kept showing Big Show's embarrassing WrestleMania moments and even called him the "reverse Undertaker." After Cody cost Big Show an opportunity to face the WWE champion, SmackDown's General Manager announced that Cody would defend the Intercontinental title against the giant at The Showcase of Immortals. 
The match lasted only for five minutes with Big Show dominating Cody for the most part. The latter tried to gain some momentum by hitting Big Show with the disaster kick. However, when he went for another disaster kick, Big Show caught him with a spear in mid-air. After that Big Show knocked him out with a knockout punch and got the pinfall to end Cody's 233 days Intercontinental title reign.
Winner: Big Show
5. Bad News Barrett(c) vs Stardust vs Dolph Ziggler vs Luke Harper vs R-Truth vs Daniel Bryan vs Dean Ambrose – WWE Intercontinental Championship Ladder Match – WrestleMania 31
By this time WrestleMania 31 came around, Cody Rhodes had turned into Stardust. Bad News Barrett was holding the Intercontinental Champion. On the February 26 episode of SmackDown, it was announced that Barrett would defend his title in a ladder match at WrestleMania. In the following weeks, Stardust, Dolph Ziggler, Luke Harper, Dean Ambrose, R-Truth, and Daniel Bryan were added as participants in this match. 
The match received critical acclaim as it was filled with several jaw-dropping moments. The seven men brawled till the very end of this high-risk opening match. However, Stardust wasn't able to make much of an impression in this match. He played a comedic role alongside R-Truth. Rhodes hit some beautiful disaster kicks, but they were overshadowed by other highly risky moves. In the end, Daniel Bryan knocked Dolph Ziggler off the top of the ladder to win the match.
Winner – Daniel Bryan
6. Kevin Owens(c) vs Stardust vs Sami Zayn vs Dolph Ziggler vs Sin Cara vs Zack Ryder vs The Miz – WWE Intercontinental Championship Ladder Match – WrestleMania 32
This was Cody Rhodes' last WrestleMania match before he was released from WWE in 2016. The buildup to this match started when the Miz, Sami Zayn, and Dolph Ziggler confronted the Intercontinental Champion Kevin Owens for a title match at WrestleMania. Kevin Owens agreed to talk to the authority in order to set up a #1 contender triple threat match. However, the match featured Sin Cara, Stardust, and Zack Ryder instead. The former three superstars interfered in this match which led to Stephanie McMahon announcing a seven-way ladder match for the title. 
Stardust paid a tribute to his late father Dusty Rhodes by using a black ladder with yellow polka dots. However, Kevin Owens disposed of the ladder later in the match. It was a fast-paced ladder match where every superstar got a chance to showcase their abilities. The Miz almost won this match, but his pre-celebration allowed Zack Ryder to shove him off the ladder and win the match.
Winner – Zack Ryder
7. Cody Rhodes vs Seth Rollins – WrestleMania 38
WWE WrestleMania 38 featured the introduction of the American Nightmare to the promotion. Cody Rhodes left AEW after failing to come to a new deal. In March several reports surfaced online that he signed a contract with WWE. Meanwhile, Seth Rollins was frustrated as he didn't get a spot at the show of the shows. Rollins even tried to steal Kevin Owens and AJ Styles' spots but failed. When Seth Rollins decided to hijack RAW, Vince McMahon summoned him to his office and revealed that he had chosen an opponent for him at WrestleMania 38. However, Rollins would not know about the opponent until he is in the ring.
As Rollins awaited his opponent on night 1 of WrestleMania 38, The American Nightmare came out to a huge pop. Cody Rhodes and Seth Rollins put on one of the best matches of the night filled with back-and-forth action with several near-falls. Neither Rollins nor Rhodes was ready to lose. Cody Rhodes survived pedigree whereas Rollins survived Cody-cutter and Cross Rhoades. In the ending moments of the match, Cody Rhodes performed two Cross Rhoades followed by a Bionic Elbow and another Cross Rhodes to pick up the win. 
Winner – Cody Rhodes
8. Cody Rhodes vs Roman Reigns – Undisputed WWE Universal Championship – WrestleMania 39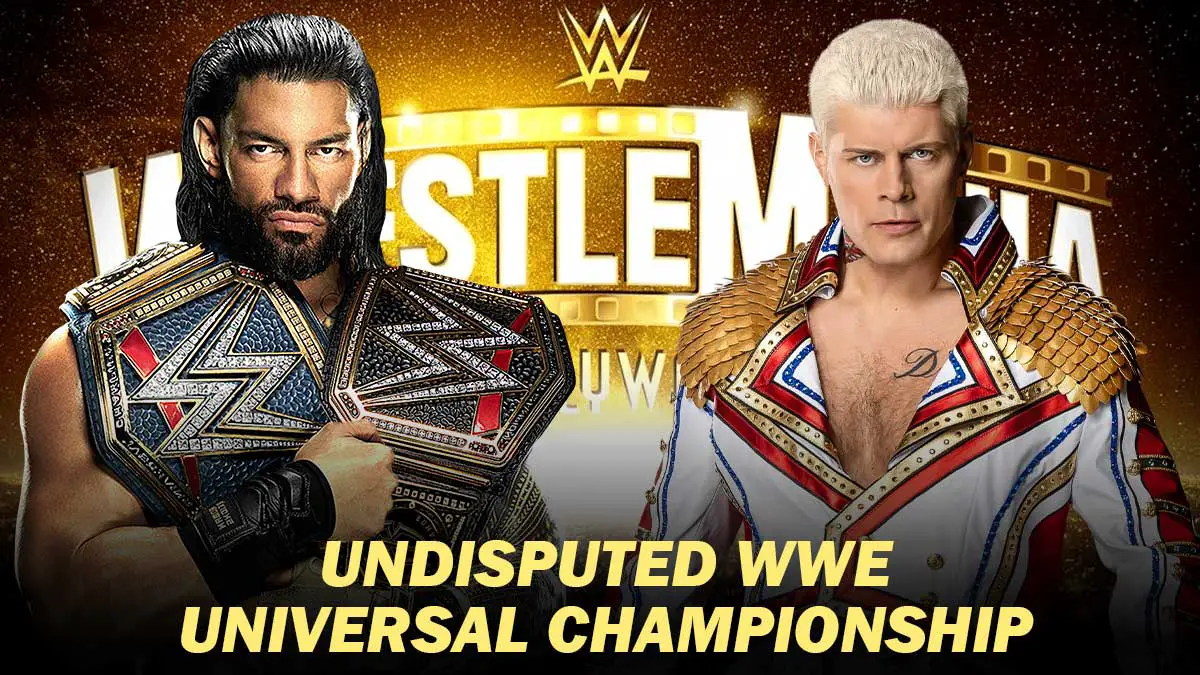 WWE WrestleMania 39 featured the most important match of Cody Rhodes' WWE career so far. After missing several months of action due to injury, Cody Rhodes returned at the Royal Rumble 2023 and won the Royal Rumble match after entering the match at number 30. On the January 30 episode of RAW, Cody Rhodes challenged Roman Reigns for the Undisputed WWE Universal title. Roman and Heyman played mind games with Cody and referenced Dusty Rhodes many times with Heyman claiming that Dusty considered Roman a son that he never had. Cody claimed that he would finish the story of a Rhodes becoming a World Champion in WWE.
Winner – Roman Reigns