List of SuperStars Who Unmasked Rey Mysterio
Here is the list of all the superstars who have unmasked Rey Mysterio during his career in WWE and WCW- Kane, Chris Jericho, Cody Rhodes, Eddie Guerrero
Rey Mysterio is the most famous masked Superstar in WWE history while also being the most famous luchador in modern wrestling. The mask has a very important place in Lucha Libre wrestling and is considered sacred. It is considered a big insult for a luchador to have his mask removed during or after the match. Sometimes, it is also used as a stipulation or wager where luchadors put their mask on the line.
The gimmick(or stipulation matches) is generally used for creating heat for the wrestlers playing heel during the storylines. But the tactic is very rarely used due to the emotions associated with it. However, WWE has done it with Rey Mysterio quite a few times. And that exactly is the topic of this article where we are going to list all the Superstars who have unmasked Rey Mysterio on live television and the show & dates of all those events.
What is Luchador?
Lucha libre is the term used for professional wrestling in Mexico, basically Lucha libre is a form of wrestling. Lucha libre wrestlers are known as a luchador and it is necessary for luchadors to wrestle in the mask.
9. The Miz- WWE RAW, 21 March 2022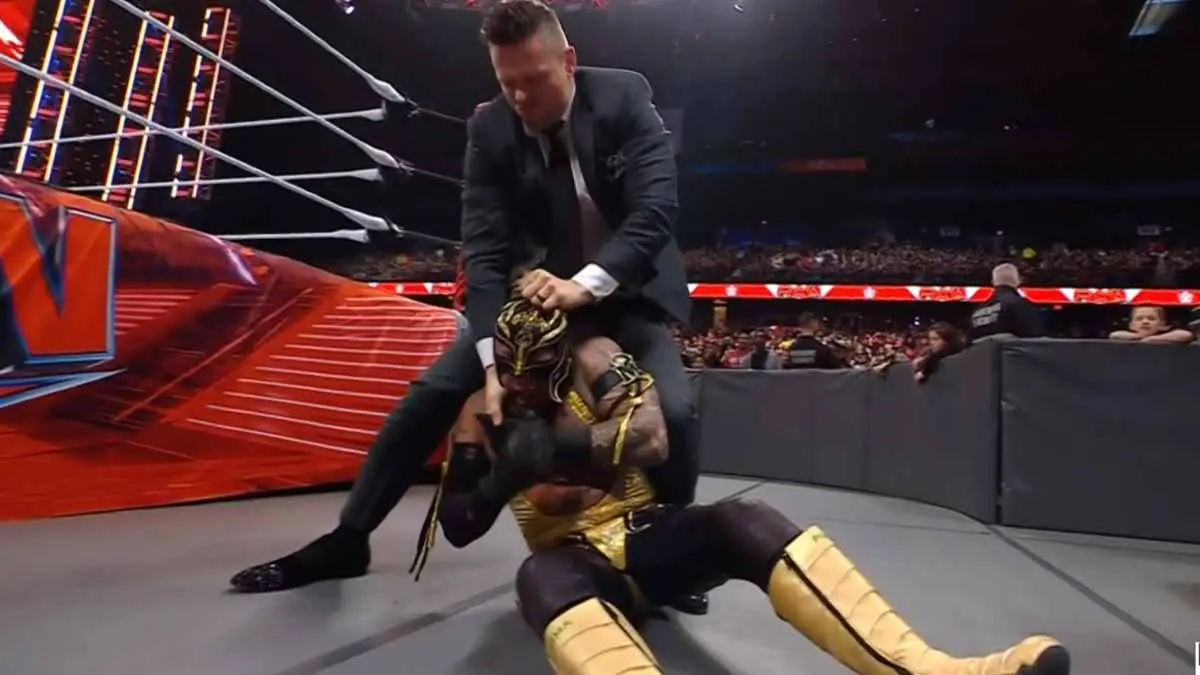 On the road to WrestleMania 38, Rey Mysterio and Dominik were feuding with The Miz and Dominik Mysterio. On RAW episode of March 21, 2022, the Mysterios defeated The Dirty Dawgs in a tag team match. Ziggler dropped Dominik after the match and The Miz caught Rey off-gaurd to hit him with a Skull Crushing Finale. After this, Miz removed Rey's mask and ran away with it. Later, he explained that Logan Paul wanted the mask since childhood and he will present it to Paul.
8. Andrade- WWE RAW, 6 January 2020
Andrade is one of the most recent wrestler to have unmasekd Rey Mysterio. On 6 January 2020, Rey Mysterio faced Andrade for the United States Championship at the Raw episode, where Andrade successfully defeated Rey Mysterio to retain the title. After the match, Andrade dug more into his heel persona as he ripped Mysterio's mask right off his head.
---
7. Randy Orton- WWE SmackDown, 20 November 2018
In November 2018, Orton and Mysterio had a rivalry and they had one of their matches during the episode of WWE Friday Night SmackDown. Orton beat Mysterio in the match and attacked him afterward by put his head into a steel chair. Even after throwing Mysterio around the ring, Orton only got satisfied when he took off Mysterio's mask and took it away with him.
---
6. Cody Rhodes- WWE SmackDown, 25 February 2011
In February 2011, Cody Rhodes and Rey Mysterio Rivalry had an excellent rivalry. During a segment on 25 February 2011, Mysterio came down to shake hands with Dusty Rhodes in the ring. Cody Rhodes got an opportunity to attack Rey Mysterio and went on to unmask him on live television.
---
5. Chris Jericho – WWE Extreme Rules, 7 June 2009
Rey Mysterio faced Chris Jericho at Extreme Rules 2009 to defend his WWE Intercontinental Championship. Jericho announced during the buildup of the match that he would not only win the IC title but will unmask Rey as well. During the climax of the match, as Mysterio was about to hit 619, Jericho countered, grabbed Mysterio's mask and ripped it off his head.
Jericho also won the Intercontinental title that night. However, Mysterio won the title back from Jericho at "The Bash" show where he tricked Jericho with a second mask.
---
4. Kane- WWE RAW, July 2008
In 2008, Kane started carrying a mysterious sack with him. During a segment at WWE RAW episode, Raw General Manager Mike Adamle asked Kane to reveal what is inside this mysterious sack. Kane then revealed he had attacked Rey Mysterio & unmasked him. Kane also kept on making claims that he has ended Mysterio's career. However, Mysterio returned a few weeks later to attack Kane.
---
3. Eddie Guerrero- WWE SmackDown, 2005
This was actually the second time that Eddie Guerrero did the ultimate insulting thing to Rey Mysterio by ripping off his mask. At an episode of WWE SmackDown in 2005, the tag team MNM attacked Mysterio. Eddie Guerrero first came to rescue Mysterio. But then he turned on Mysterio and unmasked him.
---
2. Kevin Nash & Scott Hall- WCW Superbrawl IX, 1999
Rey Mysterio teamed up with Konan to face Kevin Nash and Scott Hall in a mask vs hair match at WCW Superbrawl IX in February 1999. As per the stipulation, Rey Mysterio had to unmask himself after the loss in that match. This is his most famous unmasking on Live Television as it took place on a Pay-Per-View(PPV) show.
---
1. Eddie Guerrero- WCW Nitro 1997
Rey Mysterio & Eddie Guerrero were good friends in real life but they had on and off relationship on the screen. And Mysterio's friend unmasked him not once but twice. The first occurrence came in 1997 after Rey Mysterio was defeated by Dean Malenko in their first-ever singles match. After Mysterio's loss, Guerrero ran in and pulled the mask right off Mysterio's head.
---
About Rey Mysterio Mask & Unmasked FAQ:
When was Rey Mysterio unmasked first time?
Rey Mysterio was unmasked for the first time on WCW Nitro in 1997 by Eddie Guerrero. After Rey was defeated by Dean Malenko, Guerrero came out and snatched Rey's mask off his face.
Why does Rey Mysterio wear a mask?
Rey Mysterio is a lucha libre wrestler where the mask is considered sacred and an important part of a wrestler himself.
Was Rey Mysterio unmasked in 2020?
Rey Mysterio was unmasked in 2020 by Andrade on the WWE RAW episode of 6 January 2020 after Andrade defeated Rey Mysterio to retain WWE United States Championship.
Has Rey Mysterio been unmasked?
Rey Mysterio has been unmasked several times during his career in WCW and WWE at various occasion from 1997 to 2020.
Was Rey Mysterio unmasked in WCW?
Rey Mysterio was unmasked 2 times in WCW- by Eddie Guerrero in 1997 and by Kevin Nash in 1999.