WWE SmackDown Live Results & Updates – 14 May 2021: WrestleMania Backlash Go-Home Show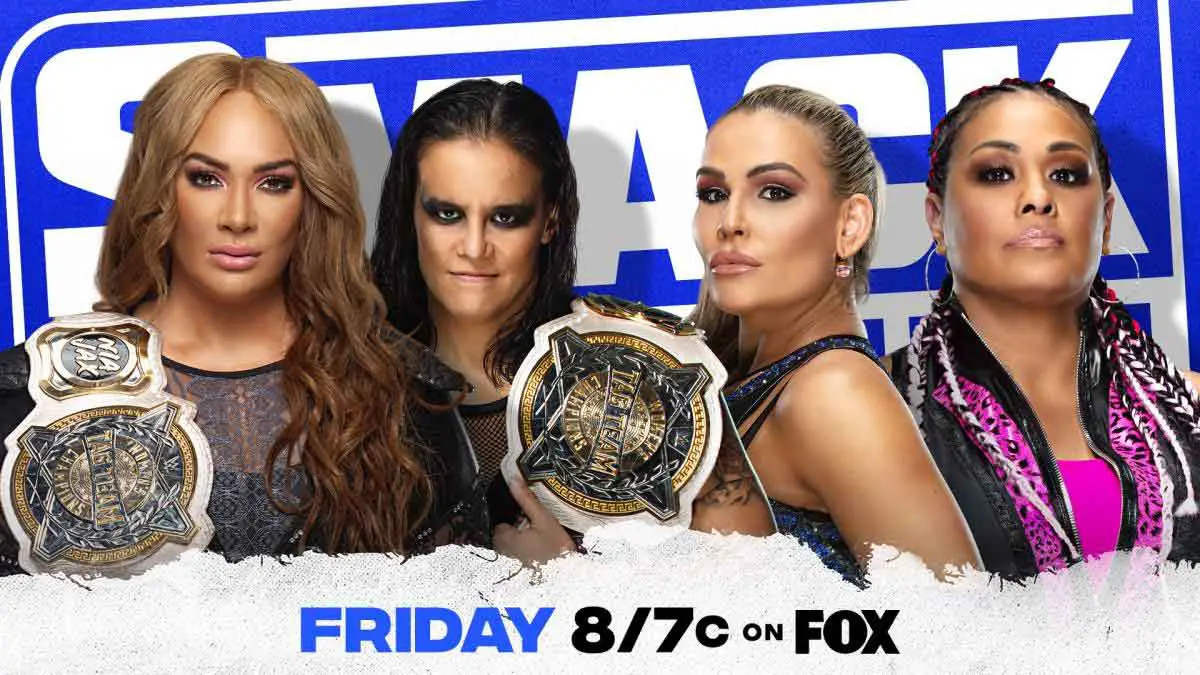 WWE SmackDown episode of 14 May 2021 will be the go-home edition for WrestleMania Backlash 2021 PPV. The show will feature the final build-up for the matches at PPV like the Universal Championship match between Roman Reigns and Cesaro, Bayley vs SmackDown Women's Champion Bianca Belair and more matches that will be announced.(Check the preview here).
Join us as we bring you the live results, updates, winners and video highlights from WWE Friday Night SmackDown episode of 14 May 2021.
Event Name – WWE Friday Night SmackDown
Date– 14 May 2021
Location – Yuengling Center, Tampa, FL, US
Start Time – 8 PM EST(15 May 2021 12 AM GMT/5:30 AM IST)
WWE SmackDown 14 May 2021 Quick Results
Tamina Snuka & Natalya defeated Nia Jax & Shayna Baszler(c) in a tag team match via pinfall to win the WWE Women's Tag Team Championship.
Rey Mysterio defeated Dolph Ziggler in a singles match via pinfall.
King Corbin defeated Shinsuke Nakamura in a singles match via pinfall.
Cesaro defeated Jimmy Uso in a singles match via Disqualification
Will Jimmy Uso fall in line?
Jey Uso is in the ring to open the show. He talks about Jimmy Uso disrespecting Roman Reigns last week, and that they have to handle some family business now. He then introduces WWE Universal Champion Roman Reigns. Roman comes out with Paul Heyman. We get the replay of Roman's situation with Cesaro and how Jey refused to follow Roman.
Huge "you suck" chants as Roman takes the mic. He says they will address Cesaro first. He respects Cesaro since he is a top-tier talent, and maybe one of the best wrestlers. But he is so much more than a wrestler. So, with everything he does, Cesaro will never be able to fulfill his role and no one wants that. Roman also brings up how Cesaro does not have a world title match yet while he has been in 39.
They move on to Jimmy now. Roman starts to talk when the music hits and Jimmy comes out. Jimmy is wearing a shirt that has "Nobody's Bth" written on it. He says Tribal Chief has been just sitting while Jey runs down like his bth. Jey tells him that they are all about Family. Jimmy says he is also all about Family. Roman points to Universal Championship and says he has done so much for the Family.
Roman asks Jimmy if he thinks he can't beat Cesaro. Jimmy says yes, he thinks so and says if they win the SmackDown Tag Team Championship, they can also be the head of the table. Roman snaps at Jimmy and tells him this is not how he works. Roman asks if Jimmy thinks he can do this all. Jimmy agrees and puts out a challenge for Cesaro for a match later tonight. Cesaro comes out and accepts the challenge while also telling Roman that he will beat him at WrestleMania Backlash. The segment ends as Roman shouts at him off the mic.
Nia Jax & Shayna Baszler(c) vs Tamina Snuka & Natalya – WWE Women's Championship Match
Both teams make their entrance. The commentators mention Bret Hart's tweet that he put out earlier today in Natalya's support. Tamina and Nia start the match. Reginald comes to the apron right away to distract. Nia decks Tamina to get an advantage. She takes Tamina to her corner and tags in Shayna. Tamina starts to unload on Shayna ands tags in Natalya. Natalya hits a dropkick on Shayna. Tamina tags in to whip Shayna into a clothesline from Natalya. Tamina hits a Samoan drop. Natalya tags in and takes down Shayna and goes for the cover.
Reginald tries to distract and the referee boots him out from the ringside. Reginald goes to backstage now. Nia attacks Tamina at the ringside and ends up hitting her with a Samoan drop into the barricade. Shayna hits ripcord's knee to Natalya in the ring to get the control back.. We cut to the break.
Nia and Shayna are keeping Natalya in their corner. Nia is still down at the ramp. Shayna stomps on Natalya's arm now. Nia tags in to hold Natalya so that Shayna hits her with a running knee. Nia covers Natalya when Tamina runs in and body slams Shayna to break the pin. Hot tags to Tamina and Shayna. Shayna ducks Tamina and goes for the Kirafuda clutch but Tamina hits her with a crossbody. Shayna catches her leg for an ankle lock. Tamina kicks her away and drops her.
Tamina goes to the top now. Shayna decks her and tags in Nia. Nia goes for the superplex, but it gets blocked but Tamina. Tamina manages to drop Nia to the mat with a headbutt. Natalya attacks Shayna on the ringside and sends her into the barricade with a German suplex. Natalya goes to distract Nia now. Nia hits a Samoan drop on Natalya, but Tamina immediately hits the superfly splash on Nia to get the pin and the win.
Winners- Tamina Snuka & Natalya(new WWE Women's Tag Team Champions)
After the match, Tamina & Natalya celebrate in the ring. McKenzie comes into the ring for an interview. Natalya says Tamina has made history. Tamina thanks her for believing in her and also thanks her family and the WWE Universe for their support.
Kayla Braxton catches up with Paul Heyman backstage. Braxton asks Heyman if The Usos win Tag Team titles and Roman Reigns loses Universal Championship, will the Usos be the Head of the Table? Heyman says Roman is not losing the title to Cesaro.
Nigerian Medal of Honor
WWE Intercontinental Champion Apollo Crews is in the ring. Commander Azeez is standing on a podium to get the Medal of Honor. Apollo explains how Azeez has helped him to win and to hold onto the IC title week after week. Apollo says he may be an Intercontinental Champion for life, and for his service, Azeez is getting a Medal of Honor. Apollo goes to put a medal on Azeez.
Big E interrupts from the big screen and says he is not done with Apollo Crews yet. Sami Zayn enters on the stage now and asks Apollo to reinstate as the Champion of People. Kevin Owens comes out as his music hits. Azeez throws the podium out of the ring as Owens enters the ring. Apollo & Azeez double team on Owens and beat him up. Big E also runs in. Owens manages to send Azeez out to the floor. He goes to superkick Apollo but catches Big E with it. A superkick to Apollo now. Sami Zayn comes in and hits Helluva kick on Owens. Big E hits the big ending on Sami Zayn. Apollo runs away from the ring with Azeez as the segment comes to an end.
Rey Mysterio vs Dolph Ziggler
We get the replay of how Dominik defeated Dolph Ziggler last week. Rey & Dominik come out for the match. We cut to the break.
They start the match after the break. Ziggler takes Rey to the corner to come to a stalemate. Rey goes for the waist lock, and Ziggler has to go to the ropes to force a break. They start again, and Ziggler puts on a headlock before slamming Rey down. Ziggler puts on a headlock once again. Rey hits a few elbows, but Ziggler takes him down with a big shoulder tackle after running the ropes. Ziggler rakes his face as he shouts at Rey, "You don't have it anymore." Rey manages to send Ziggler out of the ring and hits the baseball slide on him on the floor.
Rey takes Ziggler back to the ring and unloads with punches in the corner. Rey hits a basement dropkick in the midsection. Robert Roode argues with the referee that it was a low blow. Mysterio says it was on the quads. Ziggler gets to his feet while still complaining to the referee. Ziggler beat Rey around. Rey fights with punches of his own but misses a springboard crossbody. Ziggler hits a body slam to get a two-count. Ziggler keeps Rey grounded for a while.
Rey gets back to his feet and hits some blows to Ziggler's back. Ziggler catches him with an uppercut to get a two-count. Ziggler stretches Rey with bow and arrow submission. Ziggler whips Rey into the corner. Rey hits an uppercut and then hits a Tornado DDT. Rey gets to the top and Ziggler decks him to set up for the superplex. Rey blocks it and drops Ziggler with a big punch. Rey hits a senton from the top. Rey hits a kick to get a two-count. Rey sets up for 619 but Ziggler ducks and hits the fameasser for a near fall.
Rey drops Ziggler again with a low dropkick but Ziggler immediately catches him with a superkick for another near fall. Ziggler hits a body slam now. Rey turns around the second body slam into a cradle to get the pin.
Winner – Rey Mysterio
After the match, Robert Roode hits the ring to attack Rey. Dominik also runs in to make the save. Roode and Ziggler run away to the ramp and taunt the Mysterios.
Cesaro is with Megan Morrant backstage. Cesaro says he dreamt of winning a world title when he was a kid back in Switzerland and did not let the "no" voices affect him. He always kept thinking that he can do it. Cesaro also says Jimmy has to decide what he would be known for – a Tag Team champion or Roman's bi**h like his brother Jey. And about beating Roman Reigns for the Universal title, Cesaro thinks he can do it.
Bianca Belair & Bayley
Bianca Belair is in the ring now with Michael Cole. Cole tells her how she will defend the title against Bayley, who held the title for 380 days. Bianca plays down Bayley and asks where she is. Cole takes us to the replay from last week where Bayley took down Bianca after a promo segment. Bayley appears on the big screen now. Bayley laughs at her and tells Bianca that she is a long way away from her, and they will be in the same ring only at WrestleMania Backlash now.
Bianca hypes herself up to retain the title this Sunday. Bayley laughs at her more and more. Bianca takes a shot at Bayley as she brings up Bayley being thrown down the ramp by the Bella Twins. Bayley turns serious now and tells Bianca that she sees her older self in Bianca. Bayley claims she will win the title from Bianca at Backlash.
Shinsuke Nakamura vs King Corbin
They lock up to start, and Corbin takes Nakamura to the corner to hit him with a knee. Nakamura avoids a suplex and hits a spinning heel kick. Nakamura unloads in the corner now. Corbin avoids a charge and hits a big punch on Nakamura. Corbin drops Nakamura. Nakamura hits a few punches. Corbin halts his charge with a tackle. Corbin unloads with some elbow before trying for a crucifix pin. Nakamura hits a dropkick and continues to attack Corbin for a while.
Corbin charges at him. Nakamura manages to put an armbar on Corbin. Corbin powers up and get Nakamura's shoulders down to get the three counts. Corbin wins the match out of nowhere.
Winner – King Corbin
After the match, Corbin beats up Nakamura. Corbin asks for his crown and wears it. Nakamura hits Kinshasa on Corbin and beats him down. Then, Nakamura goes to pick the crown and wears it.
We cut to backstage, where Apollo Crews comes to Adam Pearce and Sonya Deville, asking them what they will do about Kevin Owens, Big E and Sami Zayn. Pearce says they are figuring out who Apollo would face next week. Sonya asks Apollo not to argue with Pearce; otherwise, he will let Apollo face all of them at once, just like he did it with Roman Reigns at WrestleMania. Pearce says it is a good idea and announces a fatal 4-way match next week for the Intercontinental title. Apollo gets angry and leaves. Pearce tells Sonya not to undermine him in front of superstars.
After the break, we see Shinsuke Nakamura looking at himself in the mirror wearing King Corbin's crown.
We get another vignette from Aleister Black. He reads another chapter from his book – Tales from The Dark Father. The Lesson chapter talks about trial by fire and how it can consume or cleanse you. His father taught him of the cruelties of life and how he was wronged. Black goes on and says it is easier to take a seat to watch life than it is to take a stand against it. The vignette ends saying one should be a participant and not a spectator.
Cesaro vs Jimmy Uso
Jimmy Uso is backstage with Kayla Braxton now. Kayla asks about his first match in over a year. Jimmy says he saw his first match back being with his brother because they're the hottest tag team in WWE. But he is not even sure if that is the case anymore. Jimmy asks what is wrong with he and Jey being SmackDown Tag Team Champions while Reigns is the Universal Champion. He goes on and says if Reigns wants to see what he can do with Cesaro, let's get it.
Jimmy Uso enters for the match after the break. Cesaro also makes his entrance. We cut to a break.
Collar and elbow to start the match. Cesaro hits a dropkick to come to a stalemate. They lock up again. Cesaro hits a shoulder tackle and a body slam to get a two-count. Jimmy leap frogs over Cesaro and fakes an injury. Cesaro is caught off gaurd with a superkick. Jimmy hits a Samoan drop to get a two-count. Jimmy puts on the headlock, but Cesaro turns it into a vertical suplex.
Jimmy hits an enziguiri to get a two-count. Jimmy misses a corner splash and Cesaro hits an uppercut. Cesaro also misses a tackle in the corner. Jimmy sends him to the floor and hits a suicide dive. We cut to the break.
Cesaro hits a few uppercuts and body shots. He takes down Jimmy to get a two-count. Jimmy counters Neutralizer into a back body drop before catching him with a superkick to get another two-count. Jimmy goes to the top and Cesaro catches him with a superplex. Jimmy goes to the floor and Cesaro goes out to hit a big tackle. Jimmy is thrown back into the ring. Roman Reigns attacks Cesaro from behind and throws him over the announce table to cause a DQ.
Winner – Cesaro(by Disqualification)
Jimmy is shouting at Roman that he always makes it about himself. Roman and Jey enter the ring. Roman starts arguing to Jimmy and Jimmy leaves the ring. Roman follows him to the ramp. Cesaro attacks Jey Uso and Roman has to save him. Roman and Jey beat down Cesaro now. Jey shouts at Jimmy to come in and help them. Cesaro goes and hits Jey and Roman with uppercuts. Jimmy finally runs in but eat a superkick at the apron.
Reigns runs away from the ring now. Cesaro picks up Jey and points at Roman before hitting the Neutralizer. Cesaro taunts Roman and hits another Neutralizer. Roman raises his title in the air from the ramp. Cesaro stands tall in the ring. Roman and Cesaro are shouting at each other as the show goes off the air.