Brock Lesnar Shatters Cody's Dream & Arm at WWE Night of Champions 2023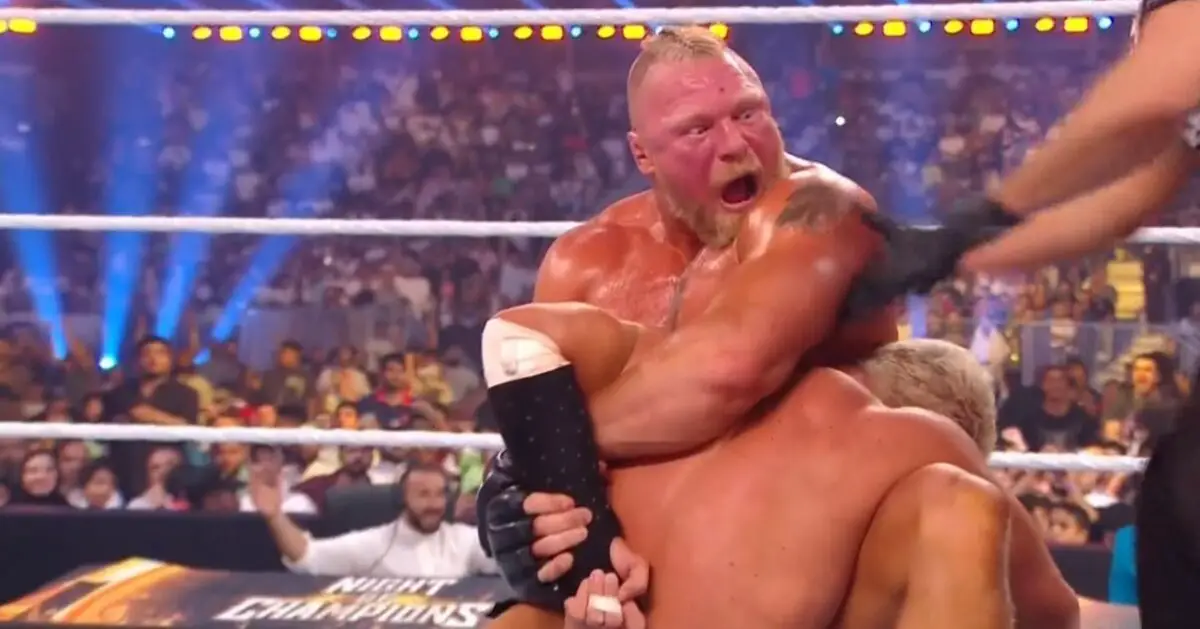 Brock Lesnar manhandled Cody Rhodes as he used Kimura Lock to beat the American Nightmare in a rematch at WWE Night of Champions 2023 event.
Storyline
Cody Rhodes defeated Brock Lesnar at WWE Backlash 2023 even after getting punished by the Beast Incarnate. Cody surprised Lesnar by turning Kimura lock into a pinfall. Lesnar was not happy with the way he lost, and hence he attacked Cody the following night on Raw. 
Brock Lesnar challenged Cody for a rematch as he stated that this time he wants a fight against the American Nightmare. Cody accepted the challenge and said he would give Lesnar what he wished for. Lesnar then Cody on May 22 RAW episode before breaking his arm with kimura lock. WWE management tried to check on Cody but he managed to convince Triple H to allow him to compete at WWE Night of Champions 2023.
Live Update
The Beast Incarnate Brock Lesnar is the first one to make his entrance followed by the American Nightmare Cody Rhodes. 
Brock moves towards Cody but the latter ducks him. He gets outside the ring and invites Lesnar there too. Cody catches Brock with a kick when they get back inside. Brock takes Cody in the corner and hit him with the shoulder tackles before hitting him with multiple German suplexes.
Cody hits Brock with the titanium exos cast on his hand and realizes that he can get the better of Brock Lesnar. He sends Lesnar outside the ring before hitting him with the suicide dive. The two get inside the ring and Cody hits Brock with the disaster kick. 
Cody finally manages to hit Brock Lesnar with a Crossrhodes. He then hits it for the second time and then was about to the third one before Brock Lesnar puts him into the Kimura lock. 
Cody is screaming in pain as he tries to hang in. Cody attempts a pinfall, but Brock Lesnar is now aware of that move. Brock puts all his body weight on Cody and puts more pressure on the Kimura lock. 
Cody starts to fade but is somehow still conscious. Cody moves a little and manages to grab the bottom rope and forces Lesnar to break the hold. Cody counters Lesnar's attack and hit him with another Crossrhodes for a near fall. 
Lesnar now overpowers Cody and picks him up to hit the F5. Brock covers but Cody breaks the pin at two. Brock Lesnar targets Cody's broken arm and puts him into the Kimura lock again in the middle of the ring. Cody fades out and the official stops the match. 
Brock Lesnar didn't break the move for a while even after winning the match.