Bianca Belair Beats Iyo Sky to Kick Off WWE Backlash 2023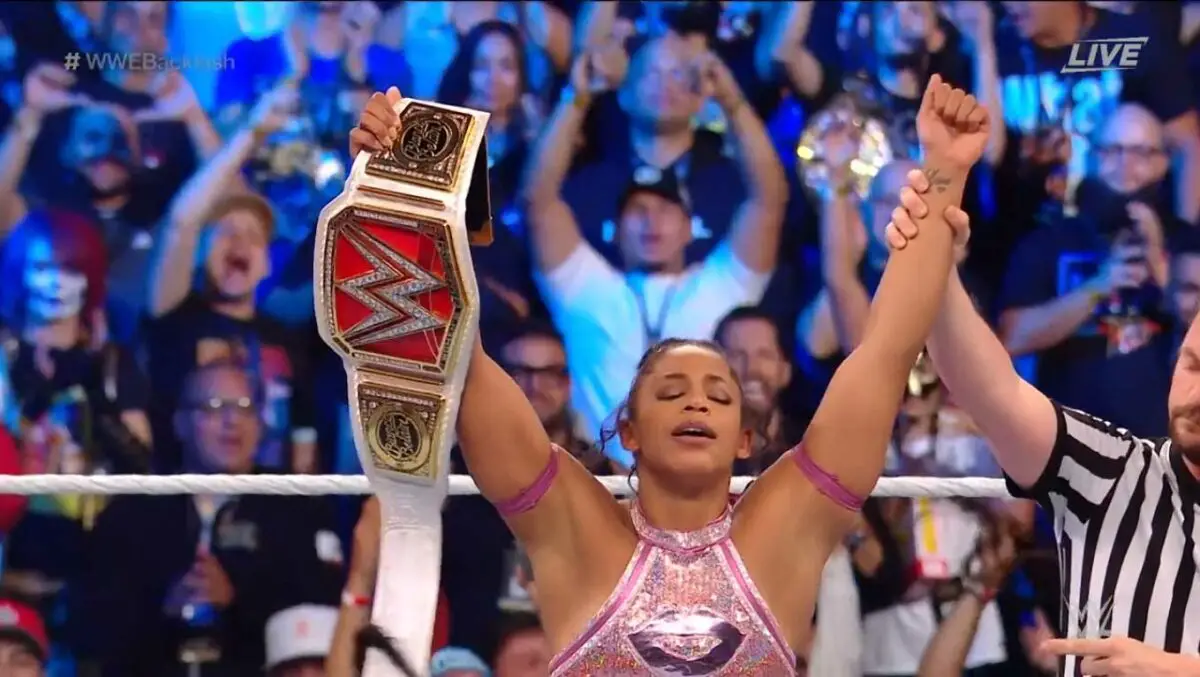 Bianca Belair defeated Iyo Sky at WWE Backlash 2023 event and became the longest WWE RAW Women's Champion of the modern era.
Storyline
Damage CTRL has had a long rivalry with Bianca Belair. The rivalry was resumed in the aftermath of WrestleMania where Bianca defended RAW Women's Championship against Asuka. Bayley was set to feature in the #1 contender match but Iyo Sky and Dakota Kai told her that she had enough title shots and now it should their turn.
Sky then competed in a triple threat match against Michin and Piper Niven and won it to become the #1 contender for the Raw Women's Title. On the April 24 episode of Raw, it was officially confirmed that the Raw Women's Championship match between Iyo Sky and Bianca Belair would take place at WWE Backlash 2023.
Live Updates
Damage CTRL's IYO Sky is the first one to make her entrance whereas the Raw women's champion walks down the aisle second. 
These two start things off by locking their hands. Bianca Belair shows her power and takes down Iyo Sky with a headlock. Sky replies with the same. The two display their athleticism which is followed by a dropkick from Bianca. 
Belair hits Iyo Sky with two back-to-back power slams. She tries to hit the third one but Iyo counters it. She then goes to the top rope and starts targeting Bianca's left arm. 
Iyo Sky is now in control of the match. 
Bianca tries to fight back, but Iyo put Bianca's hand behind her back and then drives her through the turnbuckle. Iyo continues to attack Bianca's left arm. Bianca dodges Iyo's knee strikes and tries to fight back, but Iyo takes control again with a stomp. Iyo covers for the two-count. 
The two trade strikes, Bianca gets charged up and hits Iyo with continuous punches. The latter tries to go for hurricanrana, but Biana catches her and hits a backbreaker. Belair hits a dropkick followed by a vertical suplex to Iyo. 
Bianca then climbs to the second rope and hits Iyo with ten punches in a corner. Bianca picks up Iyo for a one-arm military press and face-first Iyo into the mat followed by a moonsault for a near fall. 
Iyo tries to fight back by targeting that arm again. Sky hits Bianca with a missile drop kick driving the champion out of the ring. Iyo gets to the top rope, but Bianca drops her in the ring. Bianca tries to hit 450 splashes but Iyo lifts her knees. 
Iyo locks the crossface, Bianca picks her up and then Iyo counters her with a face first. Iyo hits the knee strikes followed by some back and forth. Bianca tries to hit KOD and picks Iyo but the latter drives her out of the ring. 
Iyo follows her outside before going to the top ropes and hitting Bianca with the moonsault on the floor. 
Both these women are on the second rope as Iyo tries to hit the hurricanrana, she is stopped by Bianca who hits a powerbomb from the second rope. Bianca covers Iyo for a nearfall. 
Bayley and Dakota Kai are here to cause the distraction. Bianca picks up Iyo for the KOD, but Dakota distracts her and then Iyo rolls her up for a near fall. Bayley enters the ring and is pushed to the corner by Bianca. The referee is dealing with Bayley when Dakota hits Bianca with a kick. 
Iyo goes for the moonsault, Bayler holds Bianca's braid but the referee sees it and asks her to let go of it. Bianca slides down and dodges the moonsault, and then hits Iyo Sky with a KOD to get the pinfall.