Bianca Belair on Power of Her Braid, Mental Health Issues, Mae Young Classic & More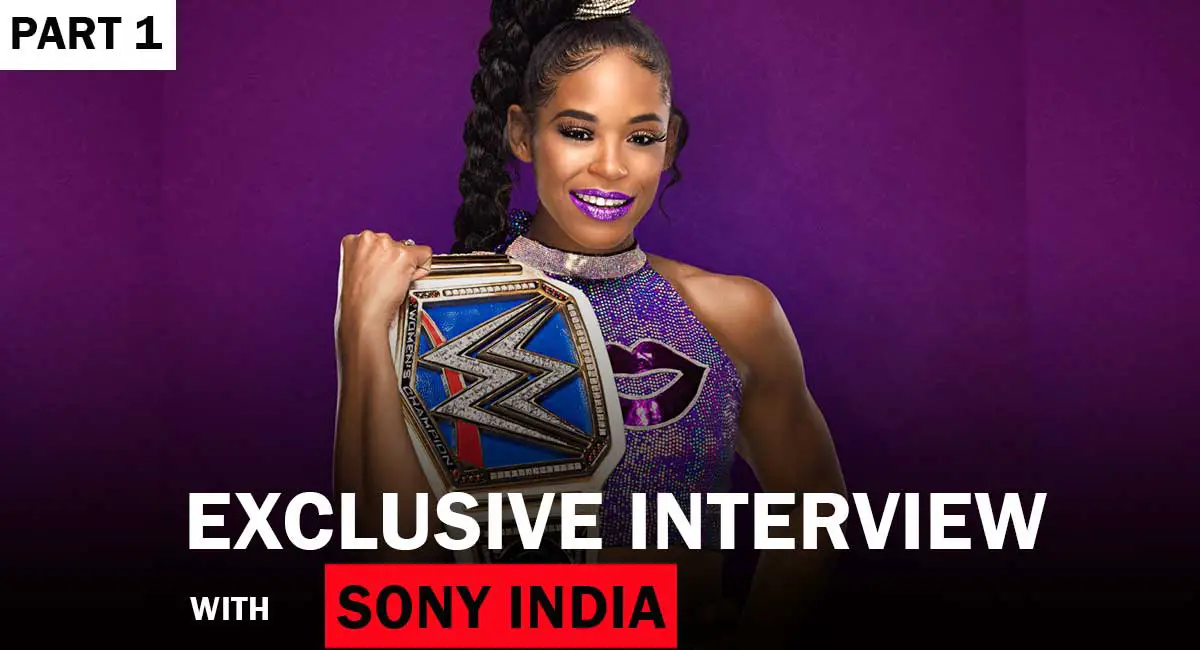 Bianca Belair joined Sony Sports India for a live interview where she talked about mental health issues, getting ready for being a champion on the main roster while in NXT, Simone Biles, how good the year 2021 has been for her and the power of her braids.
If you use any quotes from this article, please credit Sony Sports India with an h/t to this article.
Bianca was first asked about the recently concluded Summer Olympics games and how other sports helped her in her professional wrestling career.
"I play almost every sport in the books since the age of 5. I have done tracks, gymnastic, cheerleading, soccer, and then CrossFit and powerlifting right before I got into WWE. So, I always say that all of those things like really lead up to where I am today and I was able to pull a little bit from each one to help contribute to success here. Just athleticism, being coachable, being able to pick things quickly and I try to really translate some of that into the ring. So, when I was powerlifting, or pressing weight over my head, now I am trying to power clean press with girls over my head. So, it really helped my success. And really being the EST of WWE, I call myself the strongest, the fastest, the toughest, the roughest, and the best. It all comes from my athletic background and all the sports that I played."
Bianca was part of the very first Mae Young Classic in what were her early days in her professional wrestling career. Bianca said she was so excited to be part of the tournament because it gave her a platform to showcase herself.
"So, when I first heard about Mae Young Classic, I was so excited to be part of the first one. It was an all-women tournament. It was really my first big moment in WWE. I was pretty new at that point. I think I was maybe a couple of months in, or almost a year in, something like at that point. I was super excited to be introduced to a bigger audience and a bigger crowd. It was my first taste to what it feels like to be on a big stage. To be part of Mae Young Classic is – it was women competing and trying to win, and showcase themselves. It was really good opportunity, not just for women inside of WWE, but also for women around the world at that point of time."
Bianca also added that she was nervous initially but it turned into excitement when she found out that she will get to work with Kairi Sane.
"But for me, I was nervous, I was anxious. But I was super excited because I got to be in the ring with Kairi Sane. Once I found out that she is going to be my next round. I just know that I got to be in the ring with someone that's so talented like Kairi and had so much experience like her. As an athlete, I've always wanted to get the ring with someone that's the best because it makes me the best. So, going out there and showcasing who I was and giving it a taste of who I was."
The SmackDown Women's champion also revealed that she realized that professional wrestling is her true calling after competing in the Mae Young Classic.
"And that was the first moment when I really felt like I am good at this. I had a moment backstage with Triple H. He pulled me aside and we had a conversation. I was just so emotional because I realized that this is what I've been looking for my whole life. And it took to be 26, 27 years old to find it. And it felt like a perfect fit and I was overwhelmed with emotion. So, Mae Young Classic is something I hold dear to my heart. I was in it for the first year. May be I could be in it again in future. I don't know we'll see."
The discussion then moved towards how 2021 has been turning out to be a great year for her with winning the Women's Royal Rumble match and then winning SmackDown Women's title at WrestleMania 37. The EST replied that it has been like a kid waking up to Christmas day every day this year for her.
"This year has been amazing. And it's not over yet. I keep saying that it's not over yet. I want to see how good and how great it can be. And after this year is over, I wanna have another good year the next year. But it has been a great jump start. It has been amazing. Winning the Royal Rumble – to be in the ring with 29 women across all three brands, RAW, SmackDown, NXT and legends. And then come at WrestleMania where we had the fans again, which was amazing. Being able to main event with Sasha Banks, make history and walk out of there as the SmackDown Women's Champion. It's like being a kid and waking up as Christmas day every day, or having your birthday party every day. But I know that SummerSlam is coming up and Sasha is trying to end this streak for me. I am trying to hold onto this as long as possible and she is coming after what she feels I took from her. It is going to be a party for the fans at Summerslam. But for me, it is going to be a competition."
Bianca was then asked about how her time in and facing Shayna Baszler for the NXT Women's title prepared her for being at WrestleMania. Bianca replied that the nervousness in NXT prepared her to be mentally tough when it came to main event WrestleMania.
"In NXT, I ran for the title a couple of times against Shayna Baszler. She was my first TakeOver match, king of breaking into NXT. So, I was super nervous at the time. I embraced this nervousness. I went after the title so many times in NXT. And it was hard mentally. Now that I have this SmackDown women's title, it all makes sense now. It really was just preparing me and shaping me and building me mentally. So that really just prepared me to be the Smackdown Women's champion and all the women I face before this and Shayna Baszler and everything they put me through and how tough it was, because it prepared me for main eventing with Sasha banks and be able to walk out as Smackdown Women's Champion. I am not just physically tough and strong, I am mentally tough and strong as well. So that's helping me for being the Smackdown Women's champion."
Bianca has been very vocal about mental health issues since she herself went through them earlier in her life. She was also all praise for US Gymnast and the winner of 7 Olympic medals Simone Biles for bringing out mental health on the grand stage of the Olympics.
"I admire Simone Biles for what she did because to be on that grand stage and to put her mental health first is hard. And she was surrounded by people that supported that and I think that's very very important. Her coaches and teammates, they all supported that. And even athletes around, I was reading the article about she was saying athletes in the Olympic village were coming up to he and say they understood. Because as an athlete we all understand how mental it is. We all have been through times where we knew something was not right but we just got to push through. We go out there and our performance reflects that. People from the outside understand but we have to go home with that in our head. So, for me it was really the same thing with Simone Biles. It was really just putting my mental health for my performance. But what I admire about Simone Biles is that she did it herself."
Bianca also revealed that it was her coach who pushed her to deal with her mental health issues. She also added that she now wants to play similar roles for other people and help them deal with their mental health issues.
"For me, it was my coach who did that to me. I was there trying to push through but he pulled me out. He said you have to go to talk to someone. You have to get help. And until they clear you for mental health, you cannot be cleared to perform. So, he took me off the track. I didn't understand completely about it. I was angry about it. But it helped me as a person, as an individual, and as an athlete. And it has helped me to this day. It has helped to be so comfortable talking about it. He did that for me and I want to do it for other people. I am so glad that we are in this environment that more people are talking about it. Simone doing that on the Olympic level, globally for the world to see. Athletes are comfortable with being vulnerable about their mental health."
The way Bianca Belair has used her braids in her matches has been a fascinating watch. She was also asked about the power she posses in her braid and the EST revealed that she would never bring the braid in the match until someone touches it.
"My braid is very powerful and I do have a lot of power in my braid. But I can't store all of that in my braid. My whole rule is if you don't touch my braid, I won't use it. I always say don't touch my braid because you are never gonna win that fight. So when they touch it, that is when the power comes out. I think everyone heard it at WrestleMania. It was like the loudest hair whip that I've ever heard before. There's a lot of power in there. But I can't put all of it in there because I have to put it inside my body and everything I do as well. But I can say there is enough power in there that if somebody touches it, they are never gonna win that game."
If you use any quotes from this article, please credit Sony Sports India with an h/t to this article. Keep tuned in for part two of this interview.