UFC 292: Zhang Weili vs Amanda Lemos Live Blog, Play by Play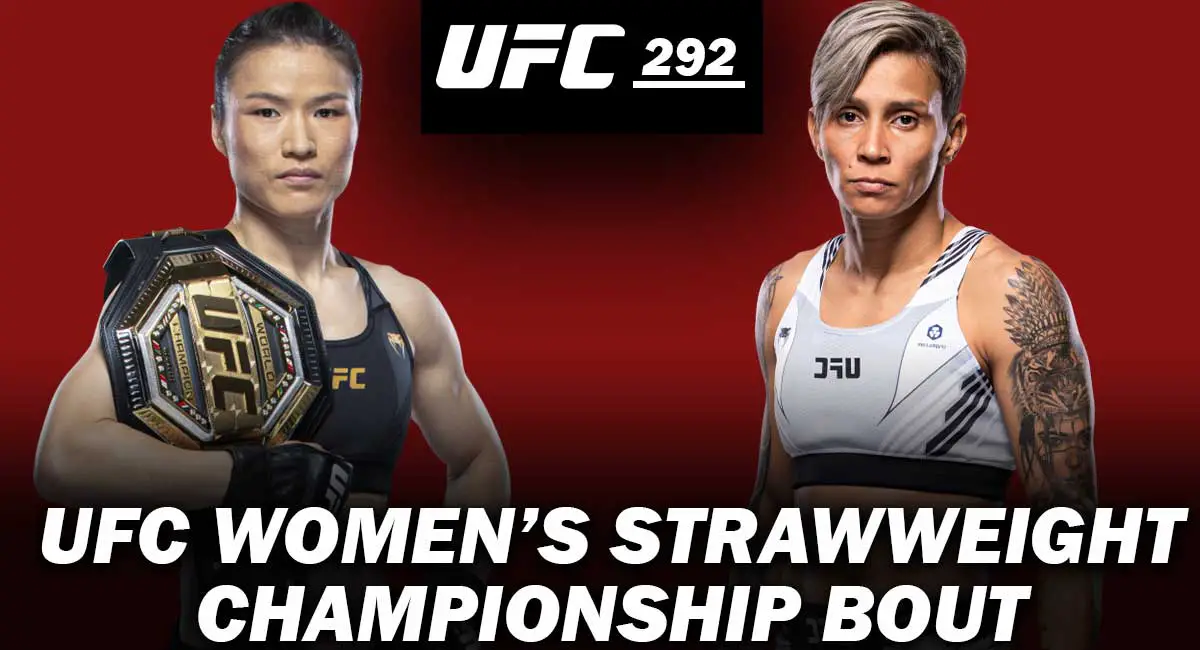 Welcome to the live blog as Zhang Weili vs Amanda Lemos bout in the co-main event of UFC 292 PPV for UFC Women's Strawweight Championship.
Zhang Weili was defending her title for the first time in her second title reign. She won the title back after beating Carla Esparza at UFC 281 in November last year. Before that, she defeated Joanna Jędrzejczyk after back-to-back losses to Rosa Namajunas.
Amanda Lemos was 5-1 since the start of 2021. She had beaten Michelle Waterson and Marina Rodriguez in her last two bouts after a loss to Jessica Andrade. Was she able to dethrone Weili once again?
ZHANG vs LEMOS! #UFC292 is LIVE TOMORROW on @ESPNPlus PPV at 10pmET/7pmPT pic.twitter.com/yWcrt9FiRN

— danawhite (@danawhite) August 18, 2023
Tune in below as we post live updates for Zhang Weili vs Amanda Lemos UFC Women's Strawweight Championship bout from UFC 292 co-main event with live play-by-play and round-by-round updates.
Live Updates
Round 1: Weili fients a low kick to start. She counters a high kick with a calf kick which trips Lemos. Weili is quickly on her legs and tries to get Lemos under control. Weili is in crossbody over Lemos and keeps her down on the mat for more than one minute. The action is slowly moving toward the corner and Weili takes the half guard before starting to unload with shots. She hits elbows when Lemos tries to control her wrist. Big lefts from Weili. Lemos tries to get up but Weili take her down once again. Lemos suddenly turns it into D'Arce choke. Weili gets her legs free and comes out of the choke. Lemos still has the arm trapped. Weili works well to get out of that too. Lemos turns around and Weili starts unloading on the back of her neck. Lemos turns to her back to avoid those shots. She starts to get up but Weili takes her down once again as the round comes to close.
Round 2: Lemos throws her arms and kicks around to keep Weili away. She lands a big right after Weili tries to counter with left. She hits a high kick next. Weili also lands a high left. Lemos lands a hard right. Weili takes her down after this and pins her to the mat. Weili adjusts her position for the next minute with punches in between. Weili is shutting down Lemos' attempts to get out. Lemos gets to her knees but Weili has the front lock on. She then rotates her over and tries to choke her from behind. Weili gets to the top position and hits some elbows. Lemos gets up as the final minute starts but Weili gets her down to the mat once again. Weili rolls over and attempts a choke but Lemos manages to defend it.
Round 3: Weili attempts kicks to start. Lemos is keeping her distance. She lands a couple of jabs but Weili quickly counters with her own punches. Weili tries to get another takedown but Lemos manages to defend it for a while. Weili trips her after 30 seconds and goes back to control her on the mat. Weili gets up and hits some kicks to her body before getting back to the mat. Lemos keeps changing her position and is not giving Weili a chance to put on the choke. They are back to their feet as the final minute starts. Weili hits more shots to close the round.
Round 4: Weili hits side kicks to the ribs. Lemos is not throwing anything now. Weili keeps attacking the body with kicks for the first 90 seconds of this round. Lemos throws some punches but only one of them lands. They trade more punches. Weili hits an inside calf kick. Lemos counters with a big right. She lands another right and Weili gets unbalanced. Weili gets up quickly. Lemos lands an elbow. Weili lands a right before getting a takedown again. Lemos attempts a D'Arce choke but Weili pushes her into the cage. Lemos has to get up and they reset in the middle of the cage. The last minute starts with few punches and counters from both sides. They hug in the corner before Weili lands a high kick.
Round 5: Weili lands a high kick and a low kick. A big right drops Lemos to the mat. Weili is on Lemos now and unloading relentlessly with punches. Lemos goes for her leg. Weili keeps throwing her punches wherever she finds an opening. Weili goes for crucifix while keep throwing her shots. She finally has to slow down near the cage. She gets into a crucifix and keeps hitting her punches. Lemos gets one arm free but Weili keeps punishing her. Weili pins her to the cage for a while before getting a takedown. Weili is not giving her anything and keeps her under control. Lemos gets up with 30 seconds to go and attempts to get on a guillotine. Weili is quick to block that attempt. They end the fight standing up.
Official Decision: Zhang Weili won via unanimous decision(50-43, 50-44, 49-45).