Seniesa Estrada vs Leonela Paola Yudica Results Live, Card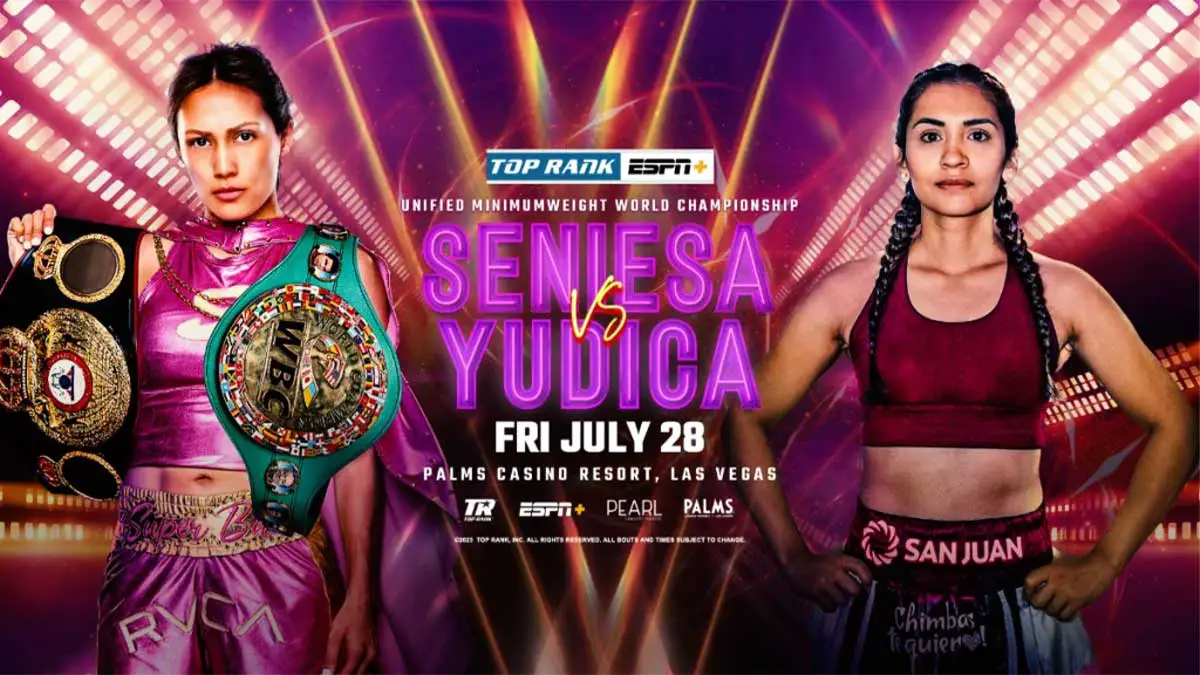 Seniesa Estrada and Leonela Paola Yudica were set to clash on July 28, 2023, at Palms Casino Resort in Las Vegas, NV.
Estrada defended her WBA & WBC Women's Minimumweight titles in this bout. She remained unbeaten in her 24 bouts, including one in March this year where Estrada beat Tina Rupprecht to add WBC title. She won WBA title by beating Tenkai Tsunami in December 2021.
Yudica was also in action earlier this year where she beat Tamara Elisabet Demarco to bounce back from her loss against Arely Mucino. However, this was her first fight at minimumweight. Was she able to pose any challenge to Estrada?
The co-main event featured a bout for WBC USA Silver Super Featherweight title between Andres Cortes vs Xavier Martinez. The event started at 7:30 PM EST. Check below for the results from Seniesa Estrada vs Leonela Paola Yudica event with complete fight card, and more details.
RESULTS
Charlie Sheehy def. Kaylyn Alfred via TKO at 0:31 in round 3 – 6 rounds, Lightweight Bout
Dante Benjamin vs William Langston ended in a majority draw(57-57, 57-57, 56-58) – 6 rounds, Light Heavyweight Bout
Subaru Murata def. Juan Centeno via TKO at 3:00 in round 3 – 6 rounds, Junior Featherweight Bout
Abraham Nova def. Jonathan Romero via KO at 2:47 in round 3 – 10 rounds, Junior Lightweight Bout
Rohan Polanco def. Cesar Francis via TKO at 1:05 in round 5 – 8 rounds, Junior Welterweight Bout
Nahir Albright def. Carlos Balderas via majority decision (77-75, 77-75, 76-76), 8 rounds, Lightweight Bout
Andres Cortes def. Xavier Martinez via TKO at 3:00 of round 7, 10 rounds, WBC USA Silver Super Featherweight Championship Bout
Main Event: Seniesa Estrada def. Leonela Paola Yudica via unanimous decision (97-93, 97-93, 97-93), 10 rounds, WBC & WBA minimumweight Championship Bout