Harlem Eubank vs Miguel Antin Results Live, Fight Card, Time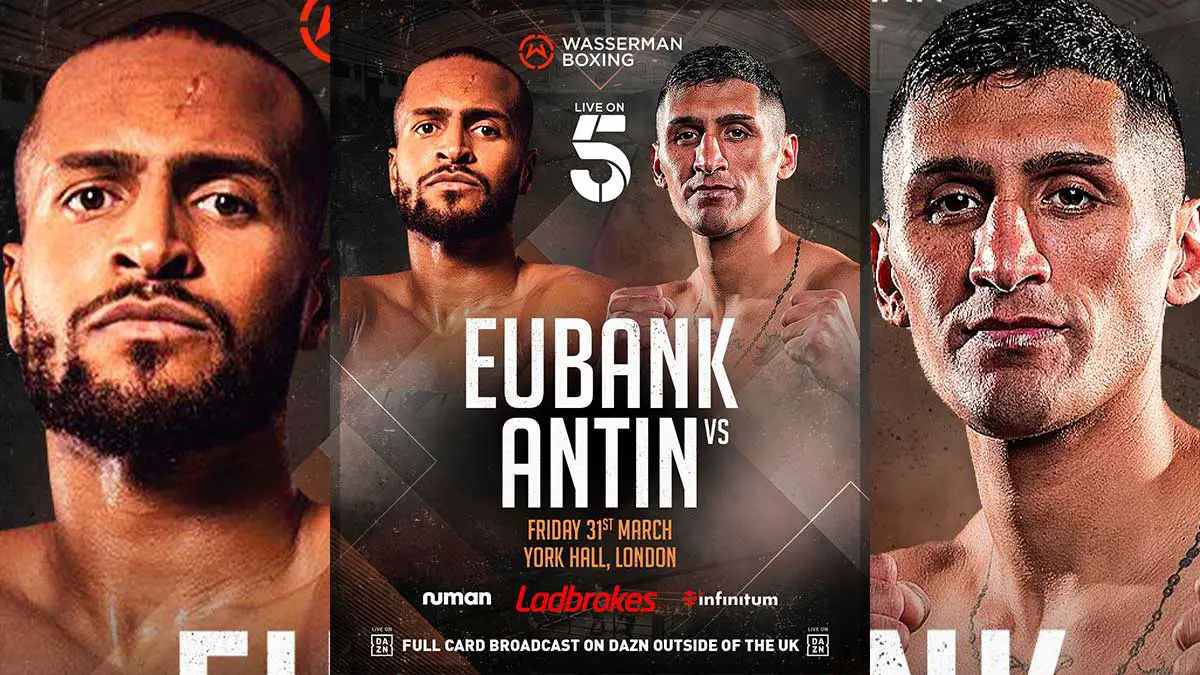 Wasserman Boxing will be presenting its second event in as many weeks with Harlem Eubank vs Miguel Antin as the headliner on March 31, 2023.
Harlem Eubank remains undefeated in 16 bouts and was in action 4 times in 2022. He defeated Tom Farrell in his last showdown via unanimous decision after stoppage wins over Viorel Simion, Sean Dodd and Eliot Chavez in 2022.
His opponent Miguel Antin has been on a losing streak rarely seen for main-event fighters. Since the start of 2020, he has had 6 losses in a row before draw in April 2022 and a win over Miguel Correa before another loss to Kane Gardner in his last outing. Should we expect miracles from him?
Harry Scarff will defend the British Welterweight title as he is on 3 fights winning streak. He won the vacant title in his lone outing in 2022 against Louis Greene. Jordan Dujon would definitely fancy spoiling his party with his own 4 fights winning streak. Who will prevail?
The event is set to air on Channel 5 in UK and on Dazn Streaming outside of UK from 2 PM ET. Check the results live from Harlem Eubank vs Miguel Antin event with a complete fight card, start time, and other information.
RESULTS
Jurrell Patterson vs Vasif Mamedov (technical draw)– 4 rounds, Super Welterweight Bout
Lorenzo Grasso def. Charlie Sheldon via points (40-36) – 4 Rounds, Super Welterweight Bout
Jake Henty def. Petar Aleksandrov via points (59-55) – 6 Rounds, Super Welterweight Bout
Sophie Alisch def. Gemma Ruegg via points (60-54) – 6 Rounds, Featherweight Bout
Abass Baraou def. Ferenc Katona via TKO 0:25 of round 3 – 8 Rounds, Super Welterweight Bout
Codie Smith def. Luca Genovese via points (40-36)- 4 Rounds, Featherweight Bout
Jesse Brandon def. Borja Lopez via KO at 1:44 of round 1- 4 Rounds, Super Lightweight Bout
Matty Harris def. Milos Veletic via TKO at 0:23 of round 1 – 6 Rounds, Heavyweight Bout
Harlem Eubank def. Miguel Antin via unanimous decision (99-89, 98-90, 97-91) – 10 Rounds, Super Lightweight Bout
Harry Scarff def. Jordan Dujon via unanimous decision (79-73 78-74 77-75) – 10 Rounds, Super Welterweight Bout for European Super Welterweight Championship