Chris Eubank Jr. vs Liam Smith Results LIVE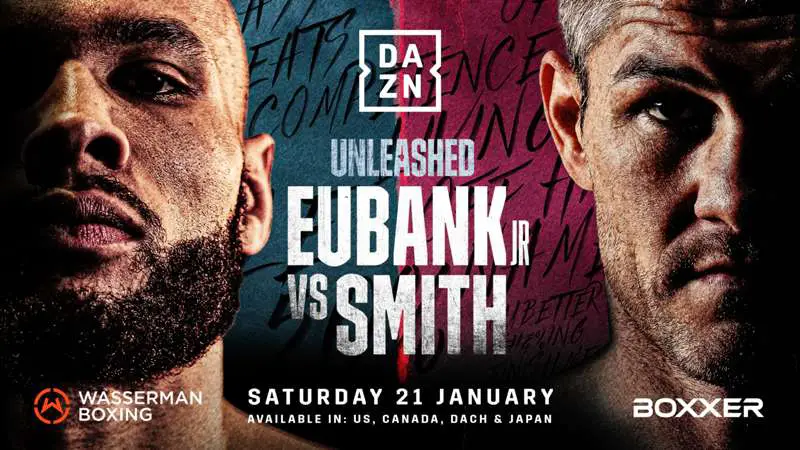 Chris Eubank Jr. and Liam Smith headlined UK's first PPV event on January 21, 2023, from Manchester, UK.
No titles were on the line but a win would likely set up either fighter for bigger and better things. Both men have considerable winning streaks behind them. Eubank is on a 5-fights winning streak while Smith also has 3 wins in a row. The presser had some tense moments with both men taking shots at each other but the weigh-in went on without any incident.
Richard Riakporhe was in the co-main event against Krzysztof Glowack as he tried to build up on his two finishes in 2022. Heavyweight Joseph Parker also tred to get back on track after losing to Joy Joyce in his previous bout. Ekow Essuman took on Chris Kongo with several regional welterweight titles on the line.
Check below for the results from Chris Eubank Jr. vs Liam Smith boxing event with results from prelims and undercard also.
RESULTS
Frankie Stringer def. Cristian Narvaez via unanimous decision, 6 rounds, Lightweight Bout
Scott Forrest def. Amine Boucetta via unanimous decision, 6 rounds, Cruiserweight Bout
Matty Harris def. Jiri Surmaj via TKO at 1:16 of round 1, 6 rounds, Heavyweight Bout (Watch Video)
Frazer Clarke def. Kevin Nicolas Espindola via RTD at 3:00 of round 4, 8 rounds, Heavyweight Bout
Joseph Parker def. Jack Massey via unanimous decision (96-93, 97-92, 97-93), 10 rounds, Heavyweight Bout
Ekow Essuman def. Chris Kongo via majority draw (114-114, 115-114, 116-113), 12 rounds, British, Commonwealth, IBF European, WBC International Silver Welterweight Championship Bout
Co-Main Event: Richard Riakporhe def. Krzysztof Glowacki via TKO at 2:44 of round 4, 10 rounds, Cruiserweight Bout
Main Event: Liam Smith def. Chris Eubank Jr via TKO in round 4, 12 rounds, Middleweight Bout