David Avanesyan vs Oskari Metz Boxing Results, Undercard, Time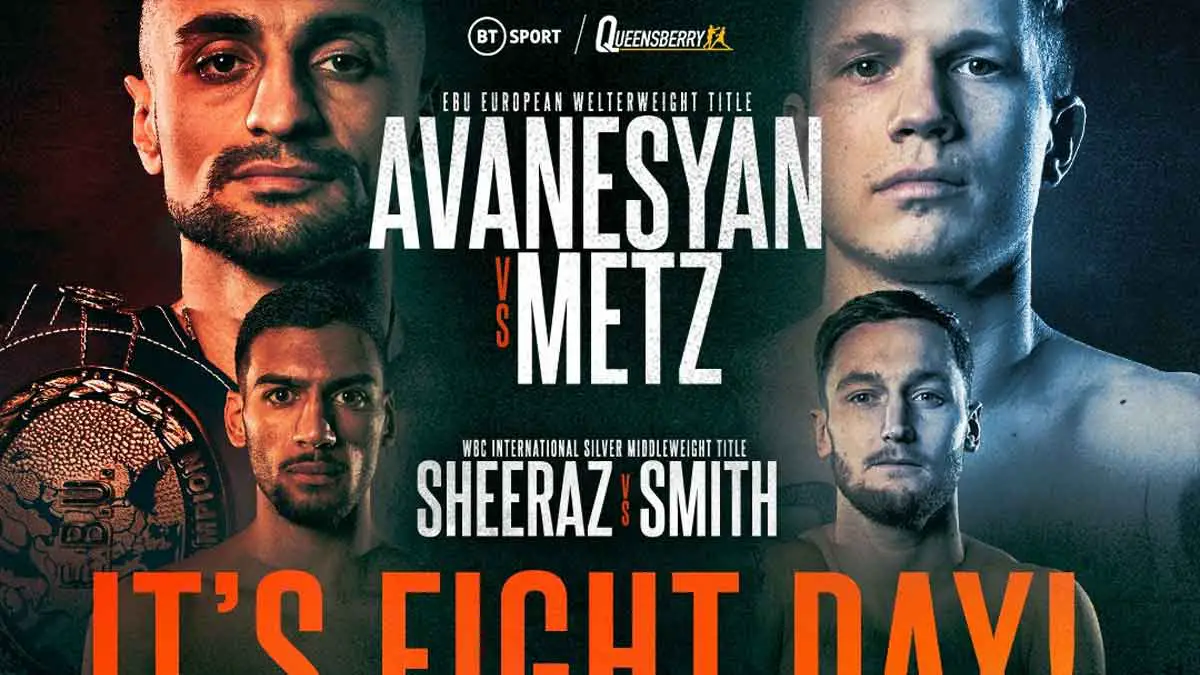 Queensberry Promotions will present a boxing event on March 19, 2022. The show will air from OVO Arena in London, England from 3:30 PM EST onwards. David Avanesyan vs Oskari Metz bout will headline the event.
David Avanesyan is making his sixth defence of his EBU European title against Oskari Metz. Metz will be appearing in his first professional title fight. A win here would make either fighter a contender for a potential future world title fight.
The event will air on BT Sports 3 in UK.
Keep tuned in for results from David Avanesyan vs Oskari Metz boxing event from Queensberry Promotions.
Event Info
Event Name- David Avanesyan vs Oskari Metz
Date – March 19, 2022
Start Time – 3:30 PM EST
Results
David Avanesyan defeated Oskari Metz via TKO in round 1 – 12 rounds EBU European Welterweight Title Bout
Hamzah Sheeraz defeated Jez Smith via KO in round 2
Royston Barney Smith defeated Adan Martinez via unanimous decision – 4 rounds Super Featherweight Bout
Sam Noakes defeated Vincenzo Finiello via KO in round 4 – 10 rounds WBC International Silver Lightweight
Dennis McCann defeated Charles Tondo via unanimous decision – 8 rounds WBO Youth Bantamweight Title Bout
Mark Chamberlain defeated Jeff Ofori via TKO in round 5 – 10 rounds Lightweight Bout
Masood Abdulah defeated Sandeep Singh Bhatti via TKO in round 6 – 6 rounds Super Featherweight Bout
Henry Turner defeated Ivan Njegac via TKO in round 3 – 6 rounds Super Lightweight Bout
Sonny Liston Ali defeated Lee Glover via unanimous decision- 6 rounds Super Lightweight Bout
Khalid Ali defeated Kris Pilkington via unanimous decision – 4 rounds Welterweight Bout