Bianca Belair Beats Asuka & Retains Raw Women's Title at WWE WrestleMania 39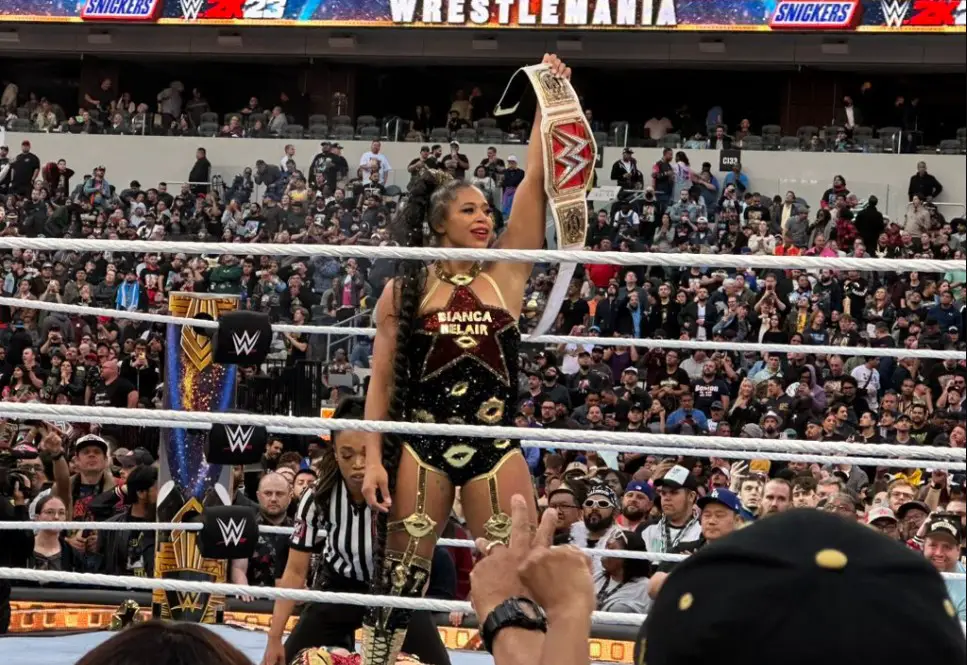 The EST Bianca Belair was ready for Asuka as she defeated the Empress of Tomorrow and retained the WWE RAW Women's Championship at WWE WrestleMania 39.
Storyline
WWE announced an Elimination Chamber match to determine the #1 contender for the RAW Women's title. Asuka last eliminated Carmella to win that match, and earned an opportunity to face Bianca Belair at the Showcase of the Immortals. 
Bianca Belair has defeated almost every woman on Raw's roster during her title reign. However, she hasn't locked horns with Asuka in a one-on-one contest. Now, Asuka is determined to prove that the EST of WWE isn't ready for the Empress of Tomorrow.
Live Update
The Empress of Tomorrow Asuka is the first one to make her entrance. A group of girls put on a dance performance before the Raw women's champion Bianca Belair makes her entrance. 
Bianca Belair kicks things off with back-to-back kicks. Bianca is going aggressive since the beginning. She takes Asuka to the corner, gets on the second rope, and hits her with a flurry of punches. Bianca hits her with a suplex and then goes for another one but Asuka counters it. 
Asuka hits her with a sliding knee and covers her for a two-count. Asuka gets on the second rope, and Bianca gets there as well, Asuka slides and tries to hit with a powerbomb but fails. Bianca hits Asuka with a spine buster for a two-count. 
Asuka counters Biancas's moves into Asuka lock, but Bianca escapes. Asuka then tries to convert it into an arm bar and triangle, but Bianca slides outside the ring. Asuka goes for the crossface outside the ring, but Bianca overpowers her and hits a powerbomb outside the ring. 
They get back inside and Asuka dodges Bianca and the former goes shoulder-first into the turnbuckle. Asuka puts Bianca into an ankle lock, but Bianca breaks it with her power. Asuka puts her in an ankle lock again before she goes to the second rope and hits a missile dropkick. She covers Bianca but the latter kicks out. 
Both women are on the apron as Asuka kicks Bianca followed by a running dropkick to send Bianca into the ring post. Soon, Bianca returns the favor by driving Asuka to the ring post. She climbs to the second rope and hits Asuka with a suplex all the way from outside the ropes for a near fall. 
Asuka tries to gain momentum, but Bianca stops her. Several roll-ups and pinfall attempts from both sides but none of them are successful. Asuka goes for the Asuka lock, but Bianca blocks it. She hits Asuka with a running blockbuster followed by a springboard moonsault for a near fall. 
Asuka hits Bianca with a knee, and then the latter comes with a shoulder tackle. Bianca climbs to the top rope, and Asuka joins her there too, but it backfires as Bianca picks her up. Asuka comes down using Bianca's braid and then hits her with a code breaker for a two-count. 
Bianca sends Asuka face-first into the turnbuckle. Bianca goes for the KOD, but Asuka counters it. She spits the mist but Bianca dodges it too. Bianca Belair goes for another KOD, but Asuka rolls her through and puts her in an arm bar. Belair picks up Asuka and hits her with the KOD to get the pinfall.