WWE SmackDown Sept 15, 2023 Results, Live Updates, Winners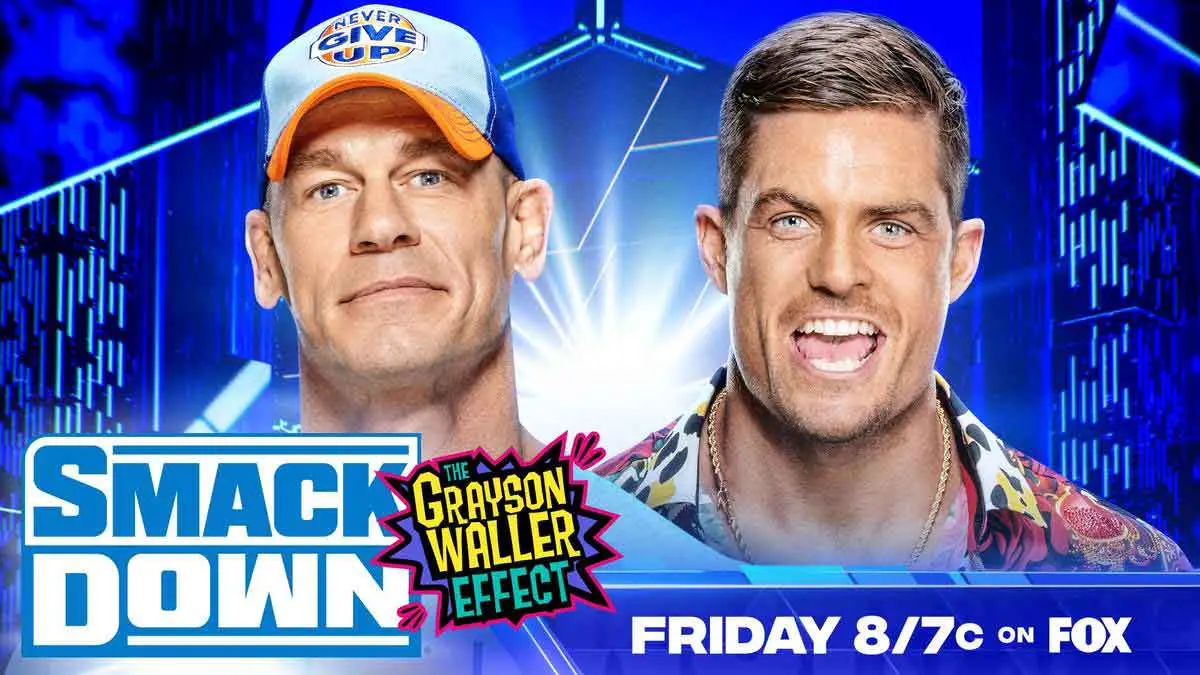 Welcome to the live results blog for WWE SmackDown September 15, 2023, with live updates from Bell Arena in Denver, CO.
The build-up for WWE Fastlane 2023 PLE was expected to fasten up. John Cena was another star who featured as a guest on Grayson Waller Effect segment. What did Waller have in store for the legend? We also had a rematch between LA Knight and The Miz, but there was be no special referee like their contest at Payback.
Bobby Lashley and The Street Profits' domination continued as they targetted LWO this tune. AJ Styles' rivalry with The Bloodline also continued. The Rock and Pat McAfee made surprise appearances to open the show with a segment also featuring Austin Theory.
Tune in below as we post results from WWE SmackDown September 15, 2023 episode, with live updates, winners, highlights and complete action.
QUICK RESULTS
Finn Balor defeated AJ Styles in a singles match via pinfall.
The Street Profits(Montez Ford & Angelo Dawkins) defeated LWO(Cruz Del Toro & Joaquin Wilde) in a tag team match via pinfall.
LA Knight defeated The Miz in a singles match via pinfall.
Asuka defeated Bayley in a singles match via pinfall.
LIVE UPDATES
Pat Returns with The People's Champ!
Pat McAfee makes a surprise entrance to kick-off the show. He says the show in Colorado, and he did not want to miss the greatest universe in the world. Austin Theory comes out to interrupt him. He takes a shot at the crowd and says how he is just 26 years old and is on everything. Theory says he has something special for McAfee. He will drop McAfee and send him back. They continue to argue for a while. McAfee says Theory is disrespectful to the business and the fans here in Colorado. McAfee says this is not his show, but it is People's show. McAfee says Theory should know what this means.
The music hits and The Rock makes his entrance. He lets the moment sink in as he stands on the stage. He makes a slow walk towards the ring, hits the corners once he does and poses. Theory tries to insinuate that this is not his time. The Rock tells him to shut up as he does not how this thing works. Finally, The Rock has come back to Denver. Theory tries to mock him and says finally the people are getting to see Austin and The Rock in the ring, but this time, it is Austin Theory and it will be the last time. Theory then hits back at Rock by using his catchphrase, "it doesn't matter what The Rock thinks".
The Rock says if Stone Cold was here he would have asked the fans if they want to see him beat this zabroni. He says Theory is from A-Town, but he is an a-hole. He gets the chants for "You are an A-Hole" chants going. Theory gets frustrated and tells the crowd to shut up, but they don't. When the chants does not stop, Pat McAfee tries to intervene saying that the show is just two hours. The Rock replies that he and the fans are having too much fun. When things get more insulting for him, Theory fires at the Rock with punches. Rock hits a spinebuster before hitting The People's elbow. The Rock then tells McAfee to hit it. McAfee also hits The People's elbow on Theory.
Finn Balor vs AJ Styles
Balor starts with some shots. AJ counters a hip toss. AJ hits a backbreaker. Balor rolls over a sunset flip and hits a dropkick. Balor puts on a chinlock. AJ hits some elbows to the midsection and a dropkick. AJ hits an armdrag which forces Balor to move to the floor to take us to a break.
AJ and Balor collide in crossbody as we return. AJ fires quick strikes before hitting a sliding forearm. He hits a forearm in the corner. Balor rakes his eyes while Dominik distracted the referee. AJ drops Balor face first into the mat. AJ sets up Balor on the top rope but Balor hangs onto the ropes to block a hurricanrana. AJ trips him on the top rope. Balor blocks The Styles Clash but AJ manages to slam him to the mat. Balor rolls to the floor. AJ hits Balor with a jumping forearm on the floor in front of Judgment Day. The referee catches Priest while inteferring and boots them to the back. Balor ducks the Phenomenal Forearm. Jimmy Uso runs out from the crowd and gets to the apron to take a shot at AJ. Balor rolls up AJ to get the pinfall.
Winner – Finn Balor
The Rock and Pat McAfee are talking backstage. John Cena comes is standing them. Rock and Cena stare down before they start to smile. They hug before Cena makes his exit.
---
Jimmy Uso is backstage when Finn Balor comes in and thanks him to help him out. Jimmy says he was just returning the favor last week. Balor says he talked about Jey joining Judgment Day and he did not deny. Balor offers Jimmy to join him. Balor says there are no leaders in Judgment Day and that means no Roman also . He leaves and we see Paul Heyman entering the scene in shock over this comment.
LWO Lovefest!
All 5 members of LWO are in the ring. Rey Mysterio says the act of his son Dominik disheartened him, but then LWO reminded him of what a family is supposed to be. He thanks the group. Santos Escobar talks about how Mysterio took out Theory and won the title when Theory sidelined him. Escobar says he always wanted to face his idol Rey Mysterio, and asks him to face him for United States Championship. Rey shows some concerns asks if he wants to fight him after all they have went through. He suddenly changes tone and says he will love to defend the title against him.
Bobby Lashley and The Street Profits come out. They mock the love fest happening in the ring. Cruz Del Toro cuts him off and tells them LWO are always ready for action.
The Street Profits(Montez Ford & Angelo Dawkins) vs LWO(Cruz Del Toro & Joaquin Wilde)
We return to see the match already started. LWO duo try to keep control with some quick action. Dawkins hip tosses Del Toro to the floor. Wilde jumps from the top but Dawkins ducks it. Ford tags in and The Street Profits hit their double team neckbreaker finisher to get the pinfall.
Winners – The Street Profits
After the match, Lashley tells the Profits to attack Del Toro and Wilde. Escobar and Mysterio get into the ring to save them. Lashley drops Escobar from behind. Mysterio tries to fight him but Ford grabs his leg, allowing Lashley to nail him with a big punch.
LA Knight vs The Miz
They lock up and Knight hits a tackle when Miz comes off the ropes. Miz ducks swing. Knight hits another tackle after avoiding a German suplex. Miz counters in the corner with a shot and hits a few stomps. He hits some chops in the corner. He goes to argue with the referee, and allows Knight to hit back. Knight hits a shoulder tackle off the ropes. Miz hits a knee to midsection. He hits a running boot next. Knight ducks a swing, pushes Miz into the turnbuckle and hits a neckbreaker. He hits a hook and single leg dropkick to get a two-count. Miz uses the apron for distraction and drops Knight. He hits a STO off the ropes to get a two-count. We cut to a break.
Miz hits a knee to midsection. He follows up with a series of kicks and a running boot. He hits a dropkick to get a two-count. Knight hits a back elbow in the corner but Miz hits a couple of kicks. Knight hits a big clothesline, side Russian Leg Sweep and a DDT before some stomps in the corner and running boot. Some quick back and forth action. Miz goes for the DDT but Knight hangs onto the ropes to avoid the impact. Miz hits a boot as Knight tries to hit a move. Miz hits a DDT in his next try to get a near fall. Knight rolls him up before they trade punches. Knight drops Miz on the ropes with a back body drop. Knight hits Blunt Force Trauma to get the pinfall.
Winner – LA Knight
Knight takes the mic after the match and says he already told us that he is coming for the gold. It does not matter if it is Rey Mysterio, Gunther, Seth Rollins or Roman Reigns, he is coming for the title. He is definitely top 2, and he ain't number 2.
---
Paul Heyman and Solo Sikoa are watching this promo from backstage. Solo says he should take down Knight. Heyman tells him that the order has not come from Roman Reigns yet. He asks Solo to focus on his brother Jimmy who is cutting deals with Judgment Day and fighting John Cena. Solo says he will finish the task tonight. Solo leaves Heyman frustrated as he asks who gave him the order.
---
Pretty Deadly go to Adam Pearce who tells them that they might be on their way back soon looking at Elton Prince's recovery. They play as if the injury is still so horrible. Pearce asks them why is Prince in a wheel chair when he has a shoulder injury. They argue that some scars are much horrific.
---
Dakota Kai and Bayley are talking backstage. Bayley wonders why Iyo Sky has challenged Asuka when she is not ready for her. Kai asks Bayley is she is ready for Asuka as she is so distracted by Shotzi.
Bayley vs Asuka
They shove each other to start the match. Bayley hits a couple of forearms. Asuka hits her with a back heel kick. Bayley trips her and gets a two-count with a roll-up. Asuka gets to the top rope after a counter and hits a missile dropkick. Bayley trips Asuka on the apron and drives her into the ring post. We cut to a break.
Bayley has Asuka in a chinlock. Asuka hits shots to midsection. Bayley hits a headbutt before setting her up on the rope to hit a running boot to get a two-count. Asuka avoids a sunset flip and counters with an armbar to get a two-count. Asuka hits a big boot and a German suplex. Asuka sends Bayley into the corner to hit a running knee. She drops Bayley's face on her knee and follows up with a running boot to get a two-count. Bayley blocks double knees but Asuka gets her in an ankle lock.
Asuka hits Codebreaker from the second rope for a two-count and tranisitions into an ankle lock. Bayley rolls over her to the floor. Bayley sends Asuka into the barricade. She clear the announce table. Shotzi comes out from the crowd. Bayley gets back to the ring in fear. Asuka gets her in a backslide to get a pinfall.
Winner – Asuka
Grayson Waller Effect with John Cena
Waller is in the ring for the segment. He says many legends have come to his talkshow, but there is only one GOAT and that is his guest tonight. Waller claims that he is trying to revive his in-ring career just like his receeding hairline. Waller says Cena needs some help as a host. If Cena needs to steal the spotlight, he needs to be more like Waller – sitting back and let the stars shine. Cena tries to talk but Waller cuts him off and brings up becoming the special guest referee.
Waller cuts him off again and says Cena is not looking for in-ring action anymore. He claims that Cena is not the same anymore since Austin Theory defeated him at WrestleMania. Cena throws off his shirt into the crowd, signalling a fight. Waller tells him that this is a talk show and its his turn to speak. Before Cena can say anything Jimmy Uso's music hits. Jimmy takes the mic from Cena and says Kangaroo Jack is right when he says nobody wants to hear from Cena as they are here to see him. Jimmy tells Cena to leave the ring.
Solo Sikoa's music hits and he comes out with Paul Heyman. Solo gets into Cena's face but they grabs Jimmy. It turns out to be a ruse to set up a superkick on Cena. Jimmy tries to shake his hands but Solo ignores him. Jimmy joins him in beating up Cena. AJ Styles runs out and start a fight back. They force Solo to get out. Cena goes for Attitude Adjustment but Paul Heyman tells Solo to save Jimmy. Solo pulls Jimmy off Cena's shoulder to safety on the floor. AJ and Cena shake hands to close the show.