WWE SmackDown Live Results March 3, 2023: Roman-Cody Face Off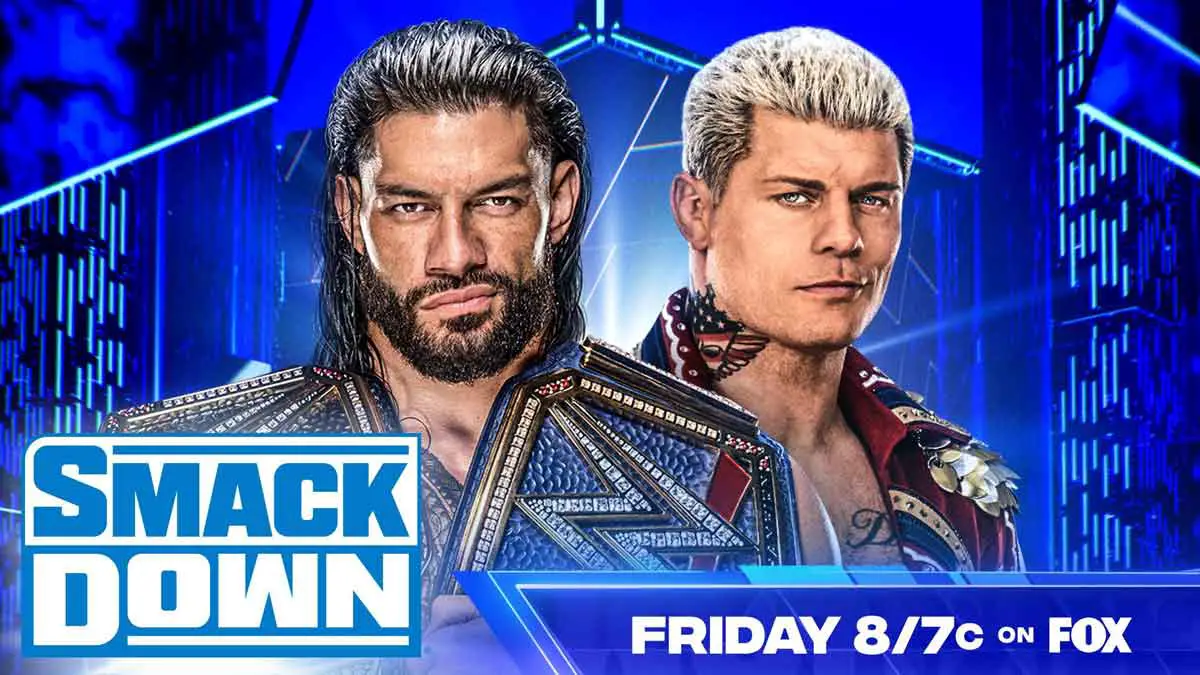 Welcome to the live results blog for WWE Smackdown March 3, 2023 episode where Roman Reigns and Cody Rhodes will face-off for the first time on the Road to WrestleMania 39.
The pair will headline night 2 of WrestleMania 39 over Undisputed WWE Universal Championship. While Roman has to deal with Cody, he also has to face the cracks in The Bloodine where Jey Uso seems to be distant from the group and siding with Sami Zayn. How will Roman deal with Jey?
Rhea Ripley will face Liv Morgan in a singles match as she prepare for a showdown with Charlotte Flair . Rhea also brings Dominik Mysterio with him who will look to continue his rivalry with his father Rey Mysterio.
Ronda Rousey and Shayna Baszler will face Natalya and Tegan Nox in another tag team match. Expect to hear from Intercontinental Champion Gunther as we await his challenger for Wrestlemania this year. What will be the likes of New Day, Sheamus, Drew McIntyre, and other stars do at WrestleMania 39?
Tune in below as we post results from WWE Friday Night SmackDown March 3, 2023 episode, with live updates, winners, highlights, and complete action.
RESULTS
Rhea Ripley defeated Liv Morgan in a singles match via pinfall.
Dominik Mysterio defeated Santos Escobar in a singles match via pinfall.
Shayna Baszler defeated Tegan Nox in a singles match via pinfall.
Solo Sikoa defeated Sami Zayn in a singles match via pinfall.
LIVE UPDATES
Roman & Cody Face to Face
Roman Reigns makes his grand entrance with Paul Heyman, Solo Sikoa and Jimmy Uso with him. Roman stands in the middle of the ring for awhile before Heyman hands him the mic. He smirks at the crowd as they boo him. The boos turn in cheers when he asks the crowd to acknowledge him. Cody Rhodes' music hits immediately after this, and he makes his entrance for the first time in 7 years.
He gets into the ring and Solo takes a couple of steps forward to intimidate him. Huge cheers for Cody as he takes the mic. He says contrary to what Heyman might have told Roman, he is not here for any contract negotiations. He is just here for a face to face with his WrestleMania opponent. Roman smirks and orders Heyman, Jimmy and Solo to leave the ring. Heyman puts both the titles on Roman's shoulders before leaving.
Roman asks Cody if that makes him more comfortable. He then puts both his titles down on the mat and asks Cody what he wants to talk about. Cody says lets talk about Roman. For 915 days, Roman has been Undisputed Champion. The reality has become legandary enough. Cody says lets talk about Cody himself. He talks about being called Randy's understudy, being doomed as Stardust, and selling tickets for All In. Cody says the goalpost has been moved quite a lot for him.
Roman says Cody is good and he wants to switch gears. He asks Cody if he has ever won any of these titles, even competed for any of WWE World titles or main event WrestleMania. Roman says he has been groomed for all that not only by his father, but by Cody's father too. "Dusty" chants start and Roman says his story is not finished yet.
Roman says Dusty Rhodes has done so much for him that he will not degrade him. He credits Dusty to install confidence in him and being the one to call all titles and WrestleMania main events for him before anyone else. But, Dusty never talked about Cody at all. Roman says he knows Cody misses him, and he misses him too. Roman says if there is anything Dusty did not teach Cody, Roman will. Roman puts out his hand for handshake.
Cody ignores this and says he is not at this level. Cody says Roman is playing chess and sent Heyman to RAW to get inside his mind. The story is now about Dusty's fabbled son taking on Dusty's actual son. So, Cody has to win at any cost. Cody shakes Roman's hand and says, "may the best man win". Roman leaves the ring with his titles. The segment ends as Cody looks around while standing in the middle of the ring.
Rhea Ripley vs Liv Morgan
Liv starts with a dropkick to catch Rhea off guard. Liv fires some shots. Rhea pushes her away. Liv hits some quick kicks. Rhea tries to go for a powerslam but Liv counters with an armdrag. Rhea throws her in the air and then hits a ripcord knee strike. Rhea hits some blows on Liv's back. Liv tries for sunset flip but Rhea is too big for her.
Liv counters from the corner with uppercuts and chops. She hits a missile dropkick. Rhea moves to the floor. Liv goes for a suicide dive but Rhea catches her with an uppercut mid-air.
Rhea is in control as we return. Liv ducks a swing and hits double knees to her back. Liv hits a hurricanrana to drop Rhea to the ropes. Another double knee attack before a flurry of strikes and a codebreaker from Liv. Rhea kicks out of the pin after this. Liv goes for Oblivion but Rhea blocks it. Liv blocks Riptide before hitting a running knee in the corner.
Liv goes for Codebreaker from the top but Rhea counters it and hits Riptide. Rhea then brings back the inverted cloverleaf and puts her knees on Liv's head to put more pressure. Liv taps out.
Winner – Rhea Ripley
Dominik joins Rhea in celebrating her win as we cut to a break. We are reminded of John Cena's return to RAW on Monday and Logan Paul coming face-to-face with Seth Rollins.
---
The Bloodline, minus Jey Uso, are backstage in Roman's locker room. Roman asks Jimmy if he talked to Jey. Jimmy replies that Jey is a hot head and just needs time. Jimmy says he is better today then the days before. Roman says he is running out of patience with Jey. Jimmy says he will let Jey know.
---
We get a recap on how Dominik interfered in Rey Mysterio's match last week to cost him and then dared him to hit back at him. Rhea and Dominik are walking backstage when they encounter Santos Escobar. Escobar says Rey should have punched Dominik in his face, but he will teach Dominik a lesson tonight. Escobar says he is going into the ring and if Dominik is half the man he claims to be, he will come and face him.
Santos Escobar vs Dominik Mysterio
Santos Escobar makes his entrance after the break. Santos is carrying Rey Mysterio's mask that he gifted him last month. Dominik comes out with Rhea by his side. Rhea runs her mouth from the floor as the bell rings. Dominik takes advantage as he starts with a dropkick. Escobar breaks free of a side headlock and hits a dropkick.
Escobar follows up with forearm shots in the corner. Escobar asks Dominik if he respects Rey's legacy as he chokes Dominik in the corner. Dominik replies with a "no." Escobar puts him in Romero Special. Dominik pulls Escobar face-first into the turnbuckles. Dominik hits a crossbody to take us to a break.
Dominik is unloading with punches in the corner as we return. Dominik sends Santos to the ropes and hits double knees. Santos snaps and fires back with quick punches. Dominik hits punches in the corner. He follows up with a corner clothesline. Dominik looks at Rey's mask that he put on the ringpost. Dominik slaps him a couple of times.
Escobar ducks underneath a couple of swings as he runs the ropes. He hit a running forearm to drop Dominik before countering a backbreaker with a kick. They collide in the middle with headbutts. Dominik pulls out brass knuckles to distract the referee. Rhea pulls Escobar out of the ring, hits him with Riptide and puts him back into the ring. Dominik hits a frog splash and gets the pinfall.
Winner – Dominik Mysterio
Dominik takes Rey's mask and tears it apart as he joins Rhea on the ramp. Rey Mysterio's music hit and he comes out on the stage. He asks Dominik to give him his mask back. Dominik says he will give it to him if he hits him. Rey says he will not hit him. Dominik drops the mask. Rey goes to pick it up and Dominik nails him with a forearm shot on his back.
---
We see Sami Zayn earlier in the day. Sami says The Bloodline is crumbling and Roman is feeling the pressure. That is the reason that he suddenly has a match against the enforcer Solo Sikoa. Sami says it's not about wins and losses with the Bloodline and he will send Sikoa a message himself tonight. The message is that The Sami Zayn Problem will not go away until he sees the Bloodline destroyed.
Drew McIntyre Wants Intercontinental Title
Drew McIntyre makes his entrance as we head to a break. As we return, Drew takes a mic and says there are just 4 weeks left to WrestleMania and he does not have a match yet. He says there is a man he wants to beat. He calls out Gunther. Sheamus' music hits instead and he comes out. He asks Drew how he can stab him in his back as he knows how much he wants that Intercontinental Championship.
Drew asks him to calm down. He frustatingly says Sheamus is not his parent and he does not need to ask permission. Sheamus says he thought they are brothers. Drew tells him that he had his chance twice and lost. LA Knight's music hits and he comes out. Knight starts to talk about the title shot while Drew and Sheamus continue to argue in the middle of the ring. Knight reaches the apron when New Day's music hits.
Xavier Woods and Kofi Kingston come down the ramp. They apologize on behalf of Knight for his crying due to not being on WrestleMania card. Kofi mocks Knight for being able to win a match at SmackDown. Karrion Kross' music hits and he comes out.
Knight attacks New Day as they get distracted. Knight throws Woods into Drew before Woods throws Knight to the floor. Sheamus throws Woods to the floor. Drew and Sheamus have a staredown before Drew hits a plancha on the men on the floor. Kross drops Sheamus in the ring and stands tall with Scarlett.
Shayna Baszler vs Tegan Nox
Earlier today, we saw Ronda being attacked backstage. Shayna Baszler retaliated by attacking Natalya. Ronda will not be able to compete tonight. The tag team match is now changed to a singles match. Shayna makes her entrance with Ronda, who arm is in a sling. Natalya comes out with Tegan Nox.
Tegan ducks Shayna and hits a dropkick. Another dropkick follows before Tegan hits some punches. Shayna tries to counter but Tegan nails her with a roundhouse kick. Shayna takes her down and stomps on her arm. Tegan avoids a knee strikes in the corner and fires some shots with her other arm. Shayna continues to target the arm. Tegan goes for a headbutt but Shayna snaps her arm to the mat. Shayna hits a knee strike to her face. Shayna puts on an armbar and Tegan taps out quickly.
Winner – Shayna Baszler
Kayla Braxton gets Intercontinental Champion Gunther and his Imperium buddies. Gunther says it is lack of leadership from Adam Pearce that he does not have an opponent for WrestleMania. Kayla asks if he is concerned. Gunther says he is only concerned for continuing the legacy of the Intercontinental Championship.
Bobby Didn't Run
Bobby Lashley is in the ring as he made his entrance before the break. Bobby says Wyatt asked him to run, but since he did not run, Wyatt pulled out the mind games with Muscle Man dance. He has come to Bray's show and and if Wyatt is man enough, he should come see him face to face. Lashley waits for Wyatt to come out. Wyatt's picture takes over the big screen. Lashley watches toward the stage when Uncle Howdy attacks him from behind. Howdy unloads with punches. Lashley fights back with spinebuster. He gets ready for a spear when the lights go off. Howdy was gone when the lights come back.
---
Roman is backstage with Paul Heyman when Jimmy gets in. Jimmy says Jey asked leave him alone. Roman says how could Jey talk like that after all what he… or what they have done of Jey. Roman blames Sami for all this. He tells Jimmy to get rid of Sami. Jimmy goes away. Heyman tells Roman that it was good thinking on his part. Roman says if Jey does not come back in one week, he will not blame Sami for it, but will blame Jimmy.
Solo Sikoa vs Sami Zayn
Solo Sikoa comes out with Jimmy Uso by his side. Sami makes his entrance to a big pop. Jimmy tries to attack Sami on the floor but Sami fights back. Sami uses a low-bridge to take down Solo to the floor. He hits a suicide dive on Solo and Jimmy on the floor. Sami gets back to the ring and waits for the match to start.
Solo hits a headbutt to start. Sami ducks a swing and clotheslines Solo to the floor. Jimmy distracts Sami with some trash talk. Solo hits a clothesline on Sami as he turns around. Solo sends him into the ringpost a few times before throwing Sami into the timekeeper's area. We cut to a break as Roman watches this on the screen from his room.
Solo continues to beat up Sami as we return. Solo hits a headbutt when Sami tries to punch him. Sami springboards over him and hits a clothesline. Sami ducks Solo's clotheslines as he runs the ropes but Solo hits him with Samoan drop. Solo hits a hip attack in the corner.
Solo puts Sami to the top. Sami fires back with punches and hits a tornado DDT to get just one count. Sami hits a crossbody from the top to get a two-count. He tries to hit a blue thunderbomb but he is unable to pick up Solo. Solo fires some shots but Sami counters by sending him to the corner and manages to hit blue thunderbomb to get a two-count. Solo fires back with a Samoan spike out of nowhere. Solo covers Sami to get the pinfall.
Winner – Solo Sikoa
Jimmy joins Solo in the ring to continue the beat down on Sami. They set up Sami in the corner with a chair around his neck. Solo was going for a hip attack but Jimmy stops him and wants to do it himself. Sami recovers during this time and throws the chair at Solo's face. Sami hits Jimmy with a Helluva kick. He was going for a chair shot when Solo recovers. Sami throws the chair at Solo and runs away into the crowd. Jimmy is distraught that Sami has gone away. Roman looks at this in dissappointment and is tense. The show goes off the air.