WWE SmackDown June 23, 2023 Results & Live Updates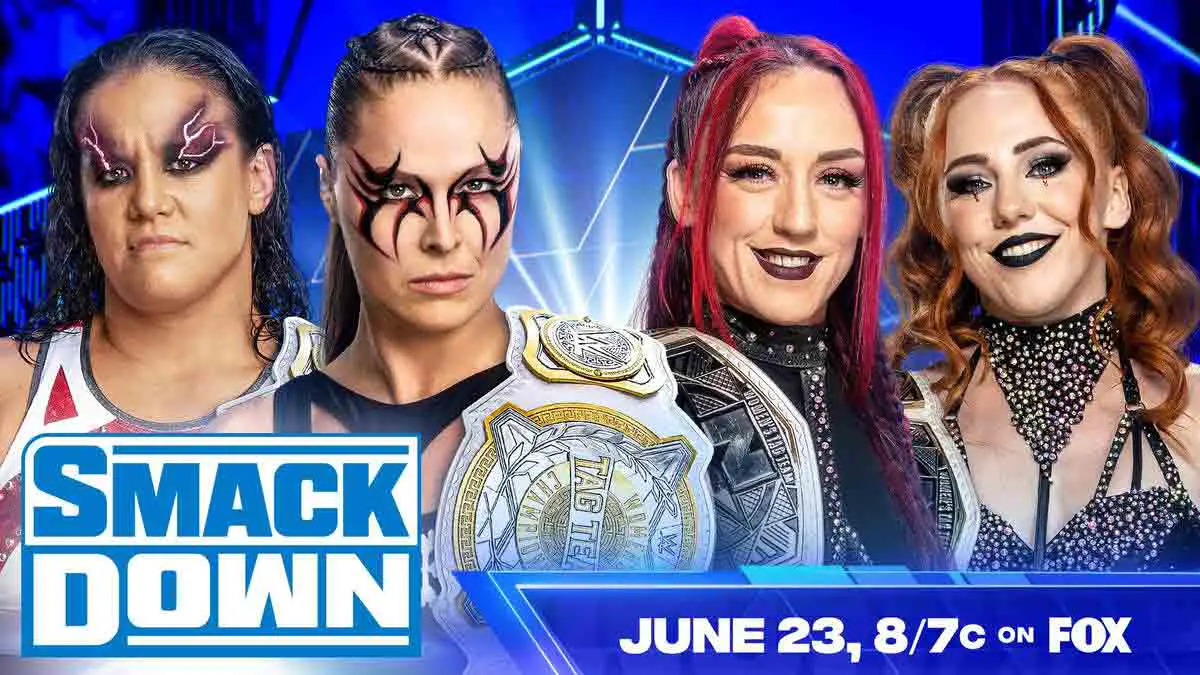 Welcome to the live results blog for WWE SmackDown June 23, 2023 episode which was live from Lafayette, LA.
The show featured a women's tag team title unification match where WWE Women's Tag Team Champion Ronda Rousey & Shayna Baszler took on NXT Women's Tag Team Champions Alba Fyre & Isla Dawn.
Other storylines for matches at Money in the Bank 2023 continued including the Civil War within the Bloodline. With two title matches set for next week, WWE Women's title and Undisputed Tag Team titles, what progression did we see in those storylines?
Tune in below as we post results live from WWE Friday Night SmackDown June 23, 2023 episode with live updates, winners, highlights and complete details.
Quick Results
LA Knight defeated Rey Mysterio in a singles match via pinfall.
Ronda Rousey & Shayna Baszler defeated Alba Fyre & Isla Dawn in a tag team match via pinfall to become unified WWE Women's Tag Team Champions.
Pretty Deadly(Elton Prince & Kit Wilson) defeated The Street Profits(Montez Ford & Angelo Dawkins) in a tag team match via pinfall.
Charlotte Flair defeated Lacey Evans in a singles match via pinfall.
Solo Sikoa defeated Sheamus in a singles match via the referee's stoppage.
Live Updates
The show starts with a recap with the segment between Roman Reigns and Jey Uso from last week and how Jey turned on Roman Reigns.
The Usos will Get Them All!
The Usos come out to the ring. The crowd is firmly behind them. Jey starts to address them as the Bloodline but Jimmy stops him. He then refers themselves as the Usos. Jimmy says he is feeling real good. Jey says they have to fight their family and are supposed to support each and have each other's back. Jimmy says Jey has made the absolute perfect choice. They say they love each other. Jey says they also love Roman Reigns and followed him for the last 3 years, but Roman disrespected his brother.
Jimmy says they fell in line when asked by Roman, and then became the most dominating tag team of all time, but the disrespect was so much. Jey says Paul Heyman is the biggest snake of them all. Jimmy says Heyman claims to be their family for 40 years but how can he try to drive a wedge between the brothers. They claim they need to take all of them down.
---
We see how LA Knight attacked Santos Escobar post-match last week and Rey Mysterio coming to Escobar's aid. Rey makes his entrance for the match.
Rey Mysterio vs LA Knight
Knight starts with a kick to midsection and tackles Rey into the corner quickly. He hits a hard whip from corner to corner. Rey hits back with a dropkick. Knight pushes him into the ropes and then drives a knee to his face. Knight hits a flying shoulder tackle next. Rey hits a kick to the face before a hurricanrana sends him into the corner. He hits some punches from the second rope. Knight picks him up but Rey grabs hold of the ropes. Rey drops him on the ropes and hits 619. Knight rolls under the ropes to avoid 619. Rey hits him with a slide to drop him to the floor. He hits a basement slide on the floor to take us to a break.
Knight hits a neckbreaker as we return to see him in full control. Rey fights back in electric chair position and hits a hurricanrana to send him into the corner. Rey hits a crossbody from the top before a springboard crossbody to get a two-count. Knight hits him with a body slam. Knight hits an elbow drop to get a two-count. Rey comes back with a DDT after jumping from the ropes to get a two-count. Rey hits a step-up enzuigiri to set up 619. Knight blocks it and takes Rey to the middle. Rey blocks a couple of Knight's moves before Knight is able to hit BFT to get the pinfall.
Winner – LA Knight
Knight tries to remove Mysterio's mask but Santos Escobar runs out to Mysterio's aid.
---
Solo Sikoa is walking backstage with Paul Heyman when Ridge Holland runs into him. Holland tries to pass it as nothing but Solo hits him with Samoan Spike. He says he is not in the mood tonight. Heyman calls Roman Reigns.
After the break, we see Sheamus checking on Ridge with Adam Pearce. Sheamus tells Pearce to get him Solo. Pearce says he is trying to get things under control. Sheamus comes out to the stage and calls out Solo to meet him in the ring later tonight.
Ronda Rousey & Shayna Baszler vs Alba Fyre & Isla Dawn – WWE Women's Tag Team Championship Unification Match
Shayna starts with a kick to the knee to get Fyre down to her knees. She hits quick blows. Fyre comes back with her shots and kicks at Shayna's leg. Dawn tags in and continues with the attack. Ronda tags in and throws Dawn over thrice with Judo throws. Dawn catches her with a boot to block an armbar. Fyre gets a blind tag and trips Ronda from the floor. Dawn knocks off Shayna before Fyre hits a suplex on Ronda. Fyre and Dawn hits a double-team move and Shayna has to break up the pin. Shayna is sent to the floor once again. Dawn goes to the top while Fyre holds Ronda in electric chair. Shayna pushes Dawn off the top and Ronda counters Fyre with a sunset flip and takes control as we cut to a break.
Fyre is in control as we return. Ronda get a takedown and puts on an ankle lock on Fyre. Fyre counters with an enzuigiri. Baszler gets the tag and blocks Fyre's tag out. Shayna hits a knee strike to get a two-count. Shayna is kicked away by Fyre before she tags in Dawn. Dawn knocks off Ronda before running tackles on Baszler. She hits an overthrow before she hits a Meteora to get a near fall. Ronda kicks at Dawn's midsection from the apron. Shayna puts on a kirifuda clutch on Dawn. Fyre jumps off the top with an elbow drop to break the pin. Ronda is sent to the floor. Ronda tags in off Shayna who has put Fyre in kirifuda clutch. Ronda puts on an armbar on Dawn simultaneously to get submission.
Winners – Ronda Rousey & Shayna Baszler
After the match. Ronda calls out Raquel Rodriguez who was on the commentary and asks her what she was doing out here. Raquel says they need a rematch for the titles they never lost. Shayna asks who are "they"? Liv Morgan's music hits and she comes out to stand with Raquel.
Grayson Waller Effect with Pretty Deadly
Grayson Waller is out in the ring for his talk show. He calls his talk show the hottest, and that's why he is bringing out the hottest tag team in SmackDown. Pretty Deadly make their entrance. Both sides complement each other. Waller talks about Pretty Deadly being on SmackDown and already challenging for tag team championships. Wilson says they are taking the title match next week in London very seriously. Prince says they feel that Owens and Sami are taking them equally seriously though. Pretty Deadly get frustrated due to this, but get their composure back.
Prince takes shots at Owens and Sami, and says they will be running tag team division for the next 10 years. Waller says he does not see any lies. Waller brings up their win last week in a Gauntlet match. Pretty Deadly boasts that they defeated all the teams in the Gauntlet match. When they name the Street Profits, they come out and trash-talk Pretty Deadly.
The Street Profits(Montez Ford & Angelo Dawkins) vs Pretty Deadly(Elton Prince & Kit Wilson)
Ford starts with a side headlock takeover and keeps Wilson on the mat. Wilson gets up and reverses the headlock. Dawkins tags in and tackles Wilson after a dropdown from Ford. Prince tags in and takes down Dawkins with Wilson. They hit a double leg drop. Prince continues with more shots in the corner. Dawkins comes back with quick shots. Ford tags in for some double-team work from The Profits. Ford takes off Wilson's top before throwing him to the floor. The Profits hit suicide dives on Pretty Deadly on the floor to take us to a break.
Wilson is in control against Ford on the top rope. He hits some shots and a headbutt. Ford shifts his balance on a suplex and lands on top of Wilson. Prince and Dawkins tag in. Dawkins hits a clothesline, a dropkick, a corkscrew uppercut, a corner clothesline and a neckbreaker to get a two-count. Dawkins tackles Prince into a German suplex from Ford. Wilson breaks the pin. Dawkins tackles Wilson on the floor. Ford hits an Urinage to get a near fall. Ford goes to the top after tagging in Dawkins. Wilson pushes Ford off the top before Prince counters Dawkins with a sunset flip. He gets his legs on the ropes for the pin and gets 3 counts with Wilson holding down his legs on the ropes.
Winners – Pretty Deadly
We see a recap of the argument between Bianca Belair and Charlotte Flair.
Charlotte Flair vs Lacey Evans
Flair starts strong with a shoulder tackle before countering a dropdown. She nails a roundhouse kick next. She hits several chops to keep control. Evans blocks a body slam, hits a blow to the back and throws Flair into the corner. She poses on the top ropes and ends up missing a moonsault. Flair drives her into the turnbuckle before hitting a suplex. Flair hits a big boot before putting on a figure four leg-lock. Flair changes it to figure eight and gets the submission.
Winner – Charlotte Flair
Flair refuses to let go of the figure eight bridge after the bell. Asuka catches her with a low dropkick after coming out of nowhere. Asuka dances around Flair in jubilation before walking back.
---
Adam Pearce is backstage on a call talking about WWE Women's Championship. Bianca Belair walks in and Pearce tells her that she will be barred from ringside as he does not want any interruption during Women's title match next week. He assures that Bianca will get her chance to have a face-off with the winner and she should trust Pearce. Bianca questions if she should trust him just like two weeks back.
Sheamus vs Solo Sikoa
They trade shots to start the match. Sheamus hits uppercuts in the corner. Solo turns it around and hits body shots. Sheamus hits a kick before more uppercuts. Solo ducks a pump kick and rolls to the floor. Sheamus hits a clothesline on the floor. Solo catches him with a kick on their way back into the ring. Solo hits shots at the kidney. Sheamus hits back elbows before a big boot in the corner. He hits a clothesline from the second rope to get one count.
Solo fires back with punches and chops. Sheamus hits a clothesline to drop Solo. He goes for 10 Beats of Bothran but Solo blocks and hits back elbows. Sheamus gets Solo on her shoulders on the apron. Solo slips out and drives Sheamus into the ring post. Solo hits a Samoan Drop on the floor.
Solo hits a hip attack in the corner as we return. Solo hits more punches before Sheamus starts to fight back. He hits a clothesline, followed by a couple of corner clotheslines. He hits a body slam and an Irish Curse backbreaker while selling a back injury. Solo gets on the apron and Sheamus hits him with 10 Beats of Bothran. Sheamus gets ready for The Brogue kick but Solo counters with a superkick. Sheamus quickly hits back with a driving knee strike to get a near fall.
Sheamus tries to get Solo up on his shoulder with some difficulty but manages to hit White Noise to get a near fall. Sheamus goes for Celtic Cross but his back gives out. Solo slips away and hits some punches before hitting The Samoan Spike. Sheamus rolls to the floor where Solo hits an Urinage on the announce table. He sets up Sheamus against the barricade and hits him with a running hip attack. The referee checks on Sheamus and calls the match off.
Winner – Solo Sikoa(referee's stoppage)
The medical team is out quickly but Solo starts beating them up. Adam Pearce is also out but Solo does not listen to him. The Usos' music hits and they come out. They hit punches on Solo before a series of superkicks drops Solo. They hit the Usos Splash on Solo to close the show.