WWE SmackDown June 17, 2022 Results & Live Updates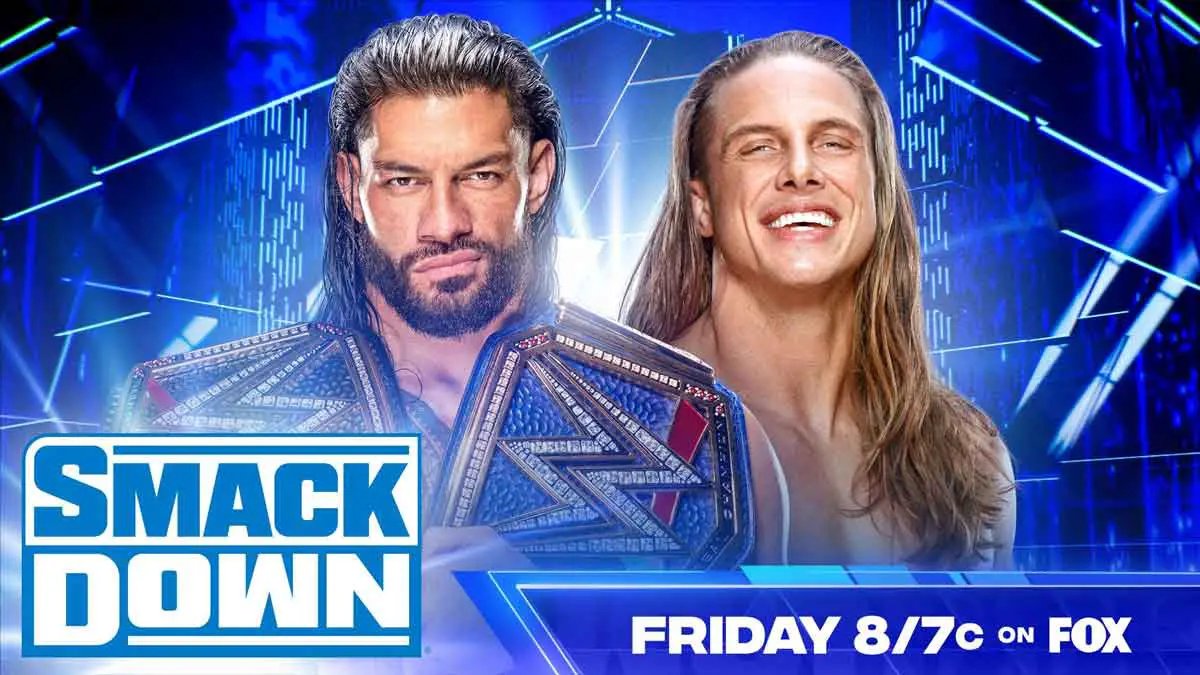 WWE SmackDown episode of June 17, 2022, will feature the Undisputed WWE Universal Championship bout and Vince McMahon's address to the fans. The event will air from the Target Center in Minneapolis, Minnesota and will continue the build-up towards Money in the Bank 2022 PPV.
The Undisputed WWE Universal Champion Roman Reigns will return to the blue brand to defend his title against Riddle. Happy Corbin and Madcap Moss will collide once again in the last laugh match. Max Dupree will debut his first client of Maximum Male Models this week. Vince McMahon will speak to fans after stepping down from CEO role amid the misconduct investigation.
Read below to check the results from WWE Friday Night SmackDown June 17, 2022 episode with live updates, winners, video highlights, preview and match card.
Live Updates
Mr. McMahon opens the show with his entrance amid a mix of cheers and boos. McMahon takes the mic and says it is a privilege for him to stand before fans tonight. He is here to remind everyone WWE's tag line – Then. Now. Forever. Together. He says, "Welcome to SmackDown," and goes back.
---
Riddle makes his entrance and takes us to a recap of his rivalry with The Bloodline. HE says he is waiting for a long time for the opportunity for a shot at the Universal title. Riddle talks about Randy Orton for a while and says he misses him and wants him back. He says he is dedicating this match to Randy. He gets Orton's music started and hypes the crowd to end the segment.
Madcap Moss vs Happy Corbin – Last Laugh Match
Madcap drops Corbin with an elbow. Corbin puts him in corner but misses a big swing. He hits some good shots. Moss hits a knee to the face, a punch and knees to the ribs. Moss whips him hard to the corner. Corbin hits back with punches and drops Moss to the mat. He puts on a chinlock. Moss gets out of it but Corbin throws him to the corner.
Corbin misses a tackle in the corner. Moss runs the ropes and hits a shoulder tackle to drop Corbin. He goes on to hit a fallaway slam. Corbin stops a neackbreaker and pushes Moss into the ringpost. Moss lands on the floor. Corbin clotheslines him over the barricade and into the timekeeper's area. We cut to a break.
Moss is fighting back at the apron as we return. Corbin hits a knee to get the control back and clotheslines him back to the ring. Moss hits a sunset flip. Corbin hits back with Deep Six to get a near fall. Moss slips out of powerbomb but Corbin still manage to hit a chokeslam. Moss lands on the floor.
Corbin goes to send him into the announce table but Moss turns it around. Moss gets back to the ring and Corbin barely beats the referee's count. Moss hits the Punch Line as Corbin gets into the ring. Moss hypes up and hits another Punch Line to get the pin.
Winner – Madcap Moss
Moss takes the mic and gives out a big laugh at Corbin.
The Street Profits are backstage with a quick promo where they claim that they will win the unified tag team titles from Street Profits.
Corbin is at the commentary table and talks to Pat McAfee over his constant criticism of him and calling him "Bum A**". McAfee gets a "Bum A**" chant started and then asks the crowd to laugh Corbin out of the arena. Corbin walks back. New Day meet him on the stage and they also laugh at him.
---
We get a recap of a short rivalry between Ronda Rousey and Natalya. Natalya is backstage with Megan Morant. Natalya says she will beat the respect out of Ronda at Money in the Bank. She brings up Ronda screaming at Sharpshooter and brings up how Ronda is at home licking her wounds. She says Sharpshooter breaks limbs and tendons and compares it with Ronda's armbar. Natalya says she will become the first woman to tap Ronda out.
New Day(Kofi Kingston & Xavier Woods) vs Jinder Mahal & Shanky
Mahal starts with scoop and slam on Woods. He unloads in the corner. Woods hits back with a dropkick. Kofi tags in to hits a double team facebuster. Mahal tags in Shanky who goes to throw Kofi around. Woods starts to play his trombone and Shanky starts to dance on it. Mahal gets frustarted and gets into the ring. Kofi catches him with a pin attempt to get the pin.
Winner – New Day
Drew McIntyre makes his entrance before the break. Sheamus tells Ridge Holland and Butch to hand back as he comes out. Adam Pearce is in the ring with both of them and talks about the statistics around Money in the Bank contract winner. Drew cuts him off and tells Pearce that nobody likes statistics. Sheamus says Drew bottles his every opportunity and that he has cashed in the contract successfully, unlike Drew who was beaten by MITB holder last year.
Pearce intervenes and brings up their match which ended in a double DQ last week. Pearce says they have decided that Sheamus is going to Money in the Bank. Sheamus cheers and takes shots at Drew. Drew attacks him and sends him to the apron. Pearce then says he is not done yet. Pearce reveals that Drew will also be in Money in the Bank ladder match. Drew cheers. Sheamus gets into the ring and Drew hits him with a Claymore kick. Drew hits the corner and mocks Sheamus' celebration.
Shayna Baszler vs Raquel Rodriguez – Money in the Bank Qualifier
Raquel sends Shanya to the corner and unloads on her. Baszler goes for a heel hook but Raquel brings her down with more shots. Baszler is sent to the apron. Raquel goes for a big boot, which gets caught by Baszler. Baszler works on Raquel's leg for a while. Raquel hits back with a back elbow. Raquel walks gingerly and goes on to drop Baszler with a forearm shot. Baszler hits her with a chop block. She gets a two-count after a running knee strike. Baszler goes for a sleeper hold. Raquel slams her back into the corner. Raquel hits the Gigoda bomb to get the pin.
Winner – Raquel Rodriguez
Max Dupri is backstage with Adam Pearce backstage and is not happy with the lighting and he is not bringing out his client in this condition.
---
Gunther and Ludwig Kaiser are backstage. Kaiser brings up how wrestlers from different countries have won the Intercontinental Championship. Kaiser says an American will never win the title again.
Roman Reigns(c) vs Riddle – Undisputed WWE Universal Championship Match
A big fight feel as both men get introduced after their entrances. Riddle unloads in speed by taking Roman to the corner. Roman hits him back with an uppercut. Roman hits more punches as Riddle moves around the ring. Riddle comes back with a leapfrog and a big sidekick. He hits a suplex and Roman rolls to the floor. Riddle hits a moonsault on the floor to take us to the break.
Roman has taken control during the break. Riddle is trying to fight back. Roman decks him with a big shot and unloads with some ground and pound. Riddle is on the ropes and Roman hits him with drive-by. Riddle gets back up while Roman has a chinlock on and drops Roman. They trade strikes and Riddle gets better of it with a Pele kick.
Riddle hits running forearms in the corner but Roman gets his knees up on the senton. Riddle hits him with the floating bro to get a close two-count. Roman hits him with an Urinage to get a near fall of his own. Riddle gets to the floor and Roman drops him on the announce table. Roman talks trash in the camera to take us to a break.
Roman is still in control as we return. Riddle counters Superman punch with a jumping knee. He counters a spear attempt with a powerslam. Reigns avoids a draping DDT but Riddle drops him on the announce table with a side suplex. Roman pushes him into the ringpost. Roman sends Riddle back to the ring and Riddle catches him with a draping DDT. Roman blocks the RKO and nails Riddle with a Superman punch. Riddle kicks out of the pin.
Roman hypes up and gets ready for spear. Riddle counters it with an RKO. Reigns kicks out of a near fall. Heyman is thanking God for it. Riddle hits floating bro before Roman blocks another RKO. They run the ropes and Roman counters a springboard moonsault with a spear to get the pin.
Winner – Roman Reigns
The Usos hit the ring immediately after the match to celebrate with Roman. Riddle is recovering on the floor and clearly has disappointment on his face over this loss. Roman raises both his titles before he takes the mic. Roman says there is no one left to challenge him. He says he promised that he will wreck everyone and he has done so. Before he can go, there is one more thing left to do. Roman asks the crowd to acknowledge him. The crowd boos him.
Roman gets ready to go back. Brock Lesnar's music hits and he comes out amid a lot of cheers. The Usos exit the ring on Roman's orders. Lesnar enters the ring and have a face off with Lesnar. Lesnar offers Roman a handshake and Roman takes it. Lesnar picks up Roman and hits him with F5. The Usos also attack Lesnar but suffer the same fate. Lesnar stands tall as the show goes off the air.
---
Preview
Roman Reigns vs Riddle: Last week, Riddle defeated Sami Zayn to earn an opportunity to face the Tribal Chief. Now, the Super King of Bros will finally get a chance to take vengeance on Roman Reigns and win his Undisputed WWE Universal title.
Happy Corbin vs Madcap Moss: Madcap Moss defeated Happy Corbin twice but their feud is still far from over. Now, they will collide once again on SmackDown and this time it will be the last laugh match. It remains unclear though what are the rules in this last laugh match.
Maximum Male Models: Max Dupri said that he would reveal his first client last week, but he got stuck in Europe. That new client will be revealed this week on SmackDown. Who will it be?
Vince McMahon To Speak: Wrestling World was shocked on Wednesday when Wall Street Journal revealed that Vince McMahon is under investigation from WWE Board for settlements due to misconduct. He has since stepped down from his CEO role and as Chairman of the Board. Additionally, he will speak with the crowd tonight. What will he have to say for himself?