WWE SmackDown June 16, 2023 Results, Live Updates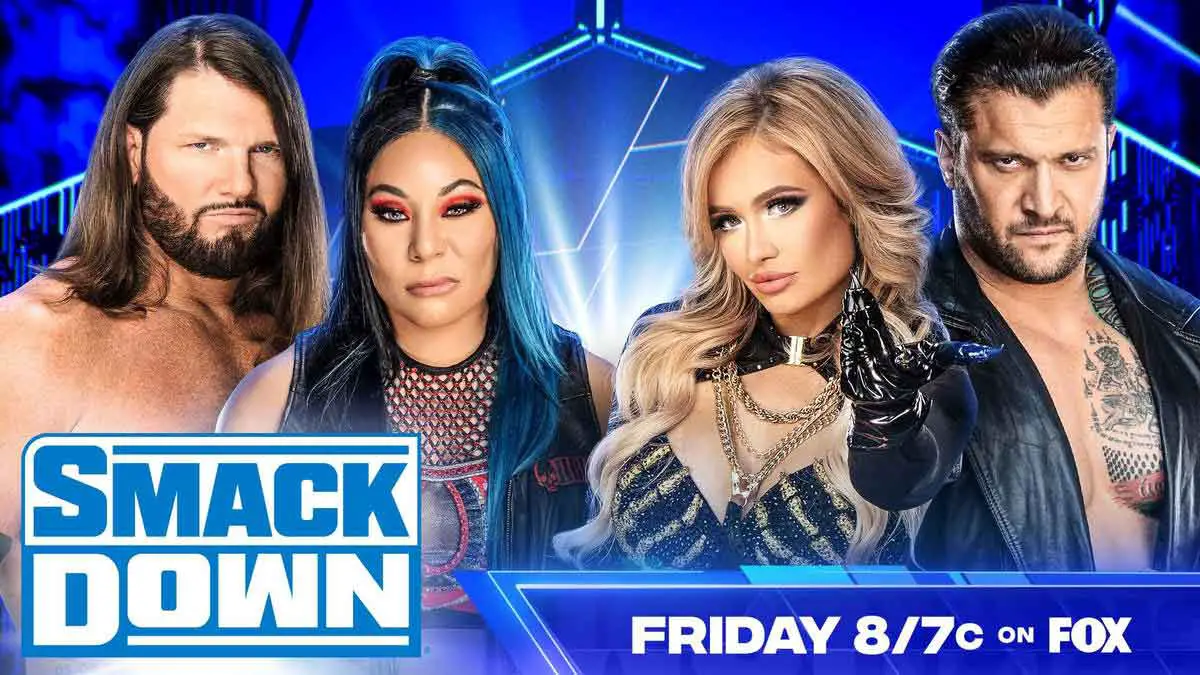 Welcome to the live results blog for WWE SmackDown June 16, 2023, which was be live from Rupp Arena in Lexington, KY.
The build-up for WWE Money in the Bank 2023 event continued with the focus now turning towards other matches to fill up the match card. Undisputed WWE Universal Champion Roman Reigns returned for the next step in the dispute with the Usos. Was he able to force Jey Uso to side with him?
A mixed tag match was also announced with AJ Styles and Michin continuing their rivalry with Scarlett and Karrion Kross. Zelina Vega tried to shut up Damage CTRL as she took on Iyo Sky in a singles match. Additionally, Charlotte Flair was set to be a special guest on the Grayson Waller Effect.
A #1 contender gauntlet match was also set for tag team championship. The Street Profits, The Brawling Brutes, Pretty Deadly, The OC and LWO were part for this gauntlet match to vie for a shot at the tag team titles. Check below for results from WWE Friday Night SmackDown episode on June 16, 2023, with live updates, winners, and complete action.
Quick Results
Pretty Deadly won the Gauntlet Match for #1 Contender for Tag Team Championship.

The Brawling Brutes(Sheamus & Ridge Holland) eliminated The Street Profits(Angelo Dawkins & Montez Ford).
The Brawling Brutes(Sheamus & Ridge Holland) eliminated The OC(Karl Anderson & Luke Gallows)
The Brawling Brutes(Sheamus & Ridge Holland) eliminated LWO(Cruz Del Toro & Joaquin Wilde)
The Brawling Brutes(Sheamus & Ridge Holland) eliminated Hit-Row(Top Dolla & Ashante Adonis)
Pretty Deadly(Kit Wilson & Elton Prince) eliminated The Brawling Brutes(Sheamus & Ridge Holland).

Zelina Vega defeated Iyo Sky in a singles match via pinfall.
Karrion Kross & Scarlett defeated AJ Styles & Michin in a mixed tag match via technical submission(referee stoppage).
Santos Escobar defeated LA Knight in a singles match via pinfall.
Live Updates
The show opens with a recap of the Bloodline storyline from last week. Roman's SUV enters the parking lot. Kayla Braxton calls for his comments on Jey Uso but he leaves it to The Wiseman Paul Heyman and leaves. Heyman just looks down on Kayla and leaves without talking anything.
Gauntlet Match for #1 Contender for Tag Team Championship
Other teams are surrounding the ring and any random team can enter the match right after one of the team is eliminated.
The Street Profits(Angelo Dawkins & Montez Ford) vs The Brawling Brutes(Sheamus & Ridge Holland)
Sheamus starts with a big tackle. Ford hits a dropkick. Sheamus hits an Irish Curse backbreaker before tagging in Holland. Holland keeps control and hits modified suplex. Ford lands on his feet on a back suplex. He hits a few punches and an enzuigiri. Dawkins tags in and hits quick shots coming off the ropes. Holland hits a headbutt on Dawkins before Sheamus gets a blind tag to come in and hit a Brogue kick to get the pinfall. The Street Profits are eliminated.
The Brawling Brutes(Sheamus & Ridge Holland) vs The OC(Karl Anderson & Luke Gallows)
The OC enter the ring immediately and Gallows hits a clothesline on Sheamus. Holland is knocked off to the floor. We cut to a break.
Sheamus hits back with elbows in the opposition corner as we return. Gallows slams him to the mat to keep control. Anderson hits some shots as he tags in. Sheamus fights back with upper cuts. Anderson hits more punches to keep control. Gallows tags in and hits a big right before hitting a suplex. Sheamus hits punches to midsection. He hits a powerslam on Gallows. Anderson gets the tag first and knocks off Holland to block a tag. Sheamus hits a Brogue kick when he turns back and gets the pinfall to eliminate The OC.
The Brawling Brutes(Sheamus & Ridge Holland) vs LWO(Cruz Del Toro & Joaquin Wilde)
LWO duo gets in and hits a double dropkick on Sheamus to send him to the floor. They hit stereo top cone hilo on their opponents on the floor. Del Toro hits a splash back in the ring but Sheamus kicks out of the pin. Sheamus hits a pump kick on Del Toro. Holland tags in and hits a powerslam on Wilde. He hits a powerslam on Del Toro to get the pinfall to eliminate LWO.
The Brawling Brutes(Sheamus & Ridge Holland) vs Hit-Row(Top Dolla & Ashante Adonis)
Hit-Row try to rush The Brutes but Holland sends Adonis to the floor and Sheamus hits a Brogue kick on Top Dolla. Holland covers Top Dolla to get the pinfall to eliminate Hit-Row.
The Brawling Brutes(Sheamus & Ridge Holland) vs Pretty Deadly(Kit Wilson & Elton Prince)
Wilson is in control against Holland as we return. He hits a neckbreaker before bringing in Prince. Prince hits shots to midsection before some corner clotheslines. Holland tries to hit back with some punches but Prince whips him hard from corner to corner. Holland blocks a move as he gets down to his knee. Prince hits kicks on him and drops an elbow on his neck. He puts on a chinlock. Holland gets back to his feet but Prince hits a chop block to keep control. Holland drops down to his knee to avoid a double suplex. Holland hits a back body drop on both opponents. He drags to the corner and tags in Sheamus.
Sheamus hits tackles before corner clotheslines and Irish Curse backbreakers on both opponents. He hits a rolling senton on Prince before dropping Wilson on top of him with a powerslam. Wilson ducks a Brogue kick but Sheamus hits him with a fallaway slam. Prince breaks the pin. Holland takes Prince to the floor where Prince sends him into the steel steps. Sheamus goes on to hit 10 Beats of Battering on both opponents. He hits Celtic Cross on Wilson but Prince gets a blind tag and hits Sheamus with a leg drop to get the pinfall and win the Gauntlet match.
Winner – Pretty Deadly
Pretty Deadly are still in the ring after the break as they are in celebration mood. Sami Zayn and Kevin Owens come out to the stage. Sami congratulates the winners and tells them that they have overstayed their welcome by 5 minutes already. Pretty Deadly retort by asking how they still look better than Owens after taking part in the match. They add that they will stay out even longer to celebate when they win the tag team titles. Owens snaps after some provocation from Sami and says they should beat up Pretty Deadly. They hit the ring but Pretty Deadly run out.
---
Roman Reigns is in the locker room with Paul Heyman and Solo Sikoa. He tells Heyman to go and talk to Jey Uso. Heyman runs out quickly.
Iyo Sky vs Zelina Vega
Iyo starts with a forearm shot. Zelina hits back with a punch. Some back and forth action until Iyo lands on her feet from a hurricanrana. Iyo nails some shots. She hits a stomp on Zelina's arm from the top rope before working on it on the ropes. Iyo puts on a hammerlock. Zelina hits a snapmare to break free. A distraction from Bayley delays the referee count when Iyo rolls up Zelina. Iyo goes to argue with Bayley near the ropes. Zelina Vega hits 619 to get the pinfall.
Winner – Zelina Vega
We see a recap from last week to see how Bianca Belair was asked to hang back during the unveiling of new Women's Championship but Charlotte Flair cut the line and got a match against Asuka.
Bianca comes to Adam Pearce and asks him how has he take care of the issue. Pearce says he is working on it but he does not have an answer tonight. Bianca says she tried to get her rematch the right way, but now, she will get it her way.
---
Iyo and Bayley are arguing backstage and Bayley tries to get her onboard for some plan for Money in the Bank as it is every women for herself in that match. Iyo asks her if she does not believe her. Shotzi comes in asks Bayley where was "every women for herself" when she cost her in the qualifier. Shotzi asks Bayley to put her spot on the line in a match next week. Iyo accepts the challenge. Bayley is miffed but Iyo says she was just trying to help.
Grayson Waller Effect with Charlotte Flair
Grayson Waller is out for the show. He brings out Charlotte Flair and brings up her matche with Asuka in the past like when Charlotte ended Asuka's unbeaten streak at WrestleMania 34. Waller then asks how will Charlotte handle this new version of Asuka? Before Flair answers, Bianca Belair's music hits and she comes out.
Bianca takes the mic and asks how Flair cut the line to rematch ahead of her. Flair says she lost to Rhea at WrestleMania but she did not get a rematch also. So, they both are owed a rematch. Bianca says that she stayed after losing, and tried to get a rematch the right way, while Flair ran away. Flair says she did not run away and has picked up herself 14 times. Bianca says she is the longest reigning women's champion in the modern times. She says if she does not get her rematch, she will be ringside during Flair vs Asuka in London. Bianca throws away the mic and goes away.
---
Paul Heyman goes to Jey Uso and says he is sorry for telling him the truth last week, and he is sorry for Jimmy hitting him with a kick. Heyman claims Jimmy and Jey have the most accurate kicks in WWE. Heyman says Jimmy targetted Roman at Night of Champions and he targetted Jey last week to cost him US title. Jey says he is sorry too, as Paul Heyman will not be the Bloodline if he is in it.
AJ Styles & Michin vs Karrion Kross & Scarlett
Kross and AJ start. AJ hits some shots and a clothesline. He brings in Michin who hits a DDT from AJ's shoulders. Scarlett comes in and takes down Michin. Michin hits back with some calf kicks and more shots. Kross and AJ get the tags again while Michin and Scarlett get to the floor.
AJ hits Styles Clash on Kross but Scarlett breaks the pin. Scarlett distracts AJ with some flirting. Michin pulls her down to the floor and they end hitting each with a slingblade at the same time. AJ is watching all this when Kross puts him in Kross Jacket from behind to put him to sleep.
Winner – Karrion Kross & Scarlett
Paul Heyman gets back to Roman Reigns in his locker room. Heyman can not say anything to Roman. He runs away after getting intimidated by Solo.
LWO!
Rey Mysterio makes his entrance. Rey says it was his honor to reform LWO. He brings out Santos Escobar, who he terms as the essense of his LWO. Escobar makes his entrance. He says timing is everything and he has worked hard to get an opportunity for Money in the Bank briefcase. He embraces Rey Mysterio and says he is fighting for Rey, for his community and for every one who has a dream.
LA Knight's music hits and he comes out. Knight pushes Rey away and hits instigates Escobar to start a brawl. Escobar sets up 619 but Knight ducks Mysterio as he rolls to the floor. We cut to a break.
Santos Escobar vs LA Knight
Knight has Escobar down on the mat in a headlock. Escobar gets up and starts to fight back. Escobar hits flying tackles before a backbreaker. He hits an enzuigiri and a crossbody from the top. Escobar hits running knee but Knight blocks a move to hit a tilt-a-whirl body slam. He hits an elbow drop to get a two-count. Escobar hits a ripcord knee. Knight counters with sunset flip and tries to use the ropes to get the pinfall but Escobar counters it and holds onto Knight's legs to get the pinfall.
Winner – Santos Escobar
Knight attacks Escobar after the match and stomps on him until Rey Mysterio runs out to make the save.
---
Jey Usos is walking backstage when Sami Uso walks past him.
Jey's Decision!
Roman Reigns makes his entrance with Solo Sikoa and Paul Heyman. We cut to a break.
After the break, Roman asks the fans to acknowledge him. The Usos music hits and Jey Uso comes out. He paces in front of Roman after taking the mic while the crowd chants, "Usos". Roman says he knows what they want – they want to know if Jey is in or out? Jey says it is upto Roman and it is either going to be Paul Heyman or him in the Bloodline. Roman says when Jey becomes the Tribal Cheif, he can pick anyone as the Wiseman, but Heyman is his Wiseman.
Roman says he was meant to take The Bloodline to the top but Jey needs to keep them here. Heyman may have said that Jey will be groomed but he was groomed for the last 3 years, and that's why he has been the right-hand man. Roman says the problem here is his brother Jimmy. Jimmy comes out and says the actual problem is Roman. Jimmy says Roman was not grooming him but using him, and he asks if Jey believes Roman.
Roman says the Usos are in WWE for 10 years but they headlined WrestleMania for the first time this year, and it is due to Roman. Roman claims Jey would have main evented WrestleMania every year if he was with Roman. Roman then says there was only one person who had a problem with Jey being named the right hand man, and it was Jimmy.
Jey asks Jimmy if it is correct. Jimmy says yes. Jey snaps on Jimmy and says Jimmy was always selfish. Jey then brings up the time when Jimmy was the hurt and he was main eventing SmackDown and PPVs. So, Jimmy is out… Roman is laughing standing behind Jey. Jey then says he is out too. Jey nails Roman with a superkick. Solo tries to attack him but he ducks and Jimmy hits Solo with a superkick. The Usos hit double superkick on Solo. Heyman leaves the ring. Roman is throwing a tantrum. Jey nails him with another superkick to close the show.