WWE RAW January 30, 2023, Preview & Match Card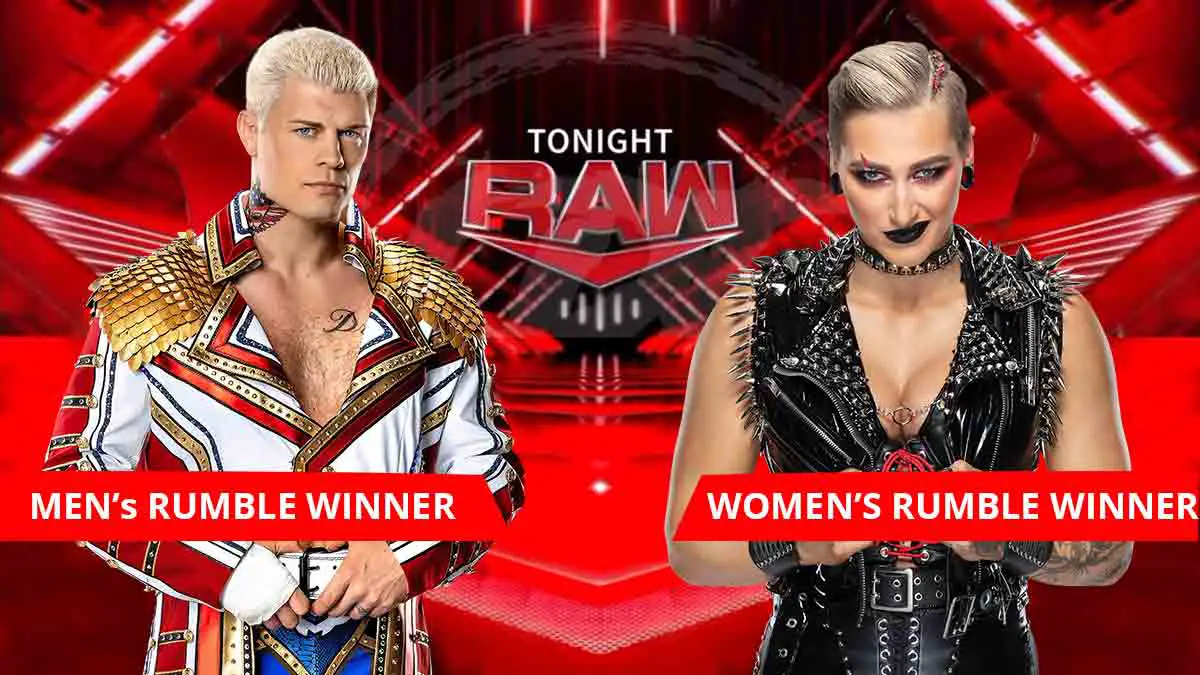 WWE RAW episode of January 30, 2023, will be the fallout episode of Royal Rumble 2023 event, as well as start Road to WrestleMania 39 and Elimination Chamber 2023 events.
Cody Rhodes and Rhea Ripley, the winners of Royal Rumble matches, will feature on the show. We will also see two Elimination Chamber qualifier matches which will be for United Stats Championship. Check below for a complete preview and match card for WWE RAW January 30, 2023 episode.
Rhodes to WrestleMania!
The last time we saw Cody Rhodes on Monday Night, he got injured during a brawl with Seth Rollins. That did not deter him from participating in a Hell in a Cell match and defeat Seth Rollins. That image lasted with the fans through the next 7 months he was away from the ring. Now, as soon as he was back, Cody has created another memory by winning the Royal Rumble match and, in the process, got a step closer to realizing his dream to win the WWE World title.
But, will it be that straightforward? Cody himself acknowledged Roman Reigns as the greatest wrestler in the world at this point in time at the press conference. Is Cody ready for him? How will the ongoing storyline with Sami Zayn affect Rhodes to WrestleMania? And, will Seth Rollins just let Cody take away his spotlight just like that?
Rhea Ripley Decides
Rhea Ripley made history at the women's Royal Rumble match as she broke two records. She went the longest in a women's Rumble match with 61 minutes along with Liv Morgan. The second record that she broke was the most cumulative eliminations in the women's Rumble and is now on 20 eliminations in 4 matches. Also, she has become the first woman to win the Royal Rumble from number 1 position.
Now, the bigger question is who will she choose to challenge at WrestleMania 39? RAW Women's Champion Bianca Belair or SmackDown Women's Champion Charlotte Flair? Rhea herself said in the press conference that she could become a Grand Slam champion if she wins SmackDown title. So, is the choice clear for her?
Elimination Chamber Qualifiers
United States Championship will be defended inside the Elimination Chamber this year. Seth Rollin will face Chad Gable in the qualifier. Johnny Gargano takes on Baron Corbin in the other qualifier.
What Else to Expect?
Edge returned fo WWE after 4 months and restarted his rivalry with Judgment Day. Who will he face at WrestleMania 39?
Bianca Belair took care of Alexa Bliss comfortably. Who will be her next challenger? And what will be next for Alexa Bliss? Will she give into what she is as Uncle Howdy said?
And finally, will we see some fallout from Sami Zayn and The Bloodline's storyline or do we have to wait until SmackDown.
Check here for our live results blog from this week's RAW.