WWE RAW January 30, 2023 Live Results & Updates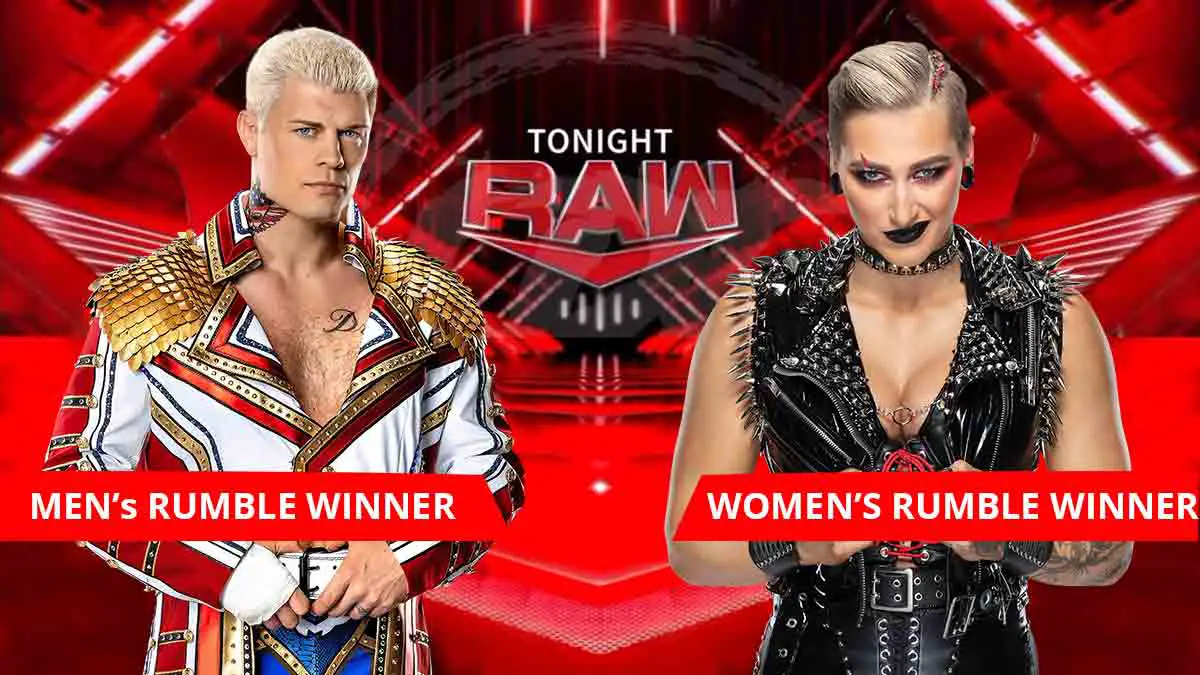 Welcome to the live results blog for WWE RAW episode of January 30, 2023, which dealt with the fallout from Royal Rumble 2023 event.
The show also started the 2-month-long Road to WrestleMania 39 as well as the build-up for Elimination Chamber 2023 event. We heard from both Royal Rumble winners Cody Rhodes and Rhea Ripley. Check the preview for RAW January 30 episode here.
Rhea Ripley had a choice to make whether she would face RAW Women's Champion Bianca Belair or SmackDown Women's Champion Charlotte Flair at WrestleMania 39. On the other hand, Cody Rhodes now has a clear target in front of him in Roman Reigns. But, with Roman's storyline with Sami also continuing, would we see any twists and turns Cody's title shot at WrestleMania 39 as well?
Two Elimination Chamber qualifier matches were announced for United States Championship. Seth Rollins battled Chad Gable while Johnny Gargano faced Baron Corbin. Becky Lynch and Bayley also came to agreement for a steel cage match next week.
Check below for results and live updates from WWE Monday Night RAW episode of January 30, 2023, with winners, highlights and complete action.
RESULTS
Seth Rollins defeated Chad Gable in Elimination Chamber Qualifier match via pinfall.
Iyo Sky defeated Candice LeRae in a singles match via pinfall.
Johnny Gargano defeated Baron Corbin in Elimination Chamber Qualifier match via pinfall.
Rick Boogs defeated The Miz in a singles match via pinfall.
Bronson Reed defeated Dolph Ziggler in Elimination Chamber Qualifier match via pinfall.
Cody Rhodes defeated Finn Balor in a singles match via pinfall.
LIVE UPDATES
Rhodes to WrestleMania Starts
The show opens with a video package showing how Cody Rhodes returned from injury at Royal Rumble and won the match. Cody then makes his entrance which cheers from the crowd. Pyro kicks off behind him as he gets on the ramp. Pyro hits one more time as he poses on the ring post. Cody takes the mic now with some smoke still around him. "You Deserve It" chants from the crowd.
Cody asks what do we wanna talk about. He says he is not the same person that he was 15 years ago when he was 19 years ago and came to OVW, and wanted to be the WWE Champion in the next two years. He wanted to be the next John Cena. If he would have to write a letter, he would tell him what has happened during these 15 years and how on January 28, 2023, he punched the ticket to WrestleMania.
Cody says, truth be told, he would not tell his 19 years old self anything because everything that has happened during this time is worth it. Cody says wrestling has more than one royal family and he now has to stand against the Lebron James of this generation, Roman Reigns. "Roman S##ks" chants. Cody says in 62 days, Roman can be the Tribal Cheif or Head of the Table, but he won't be the Undisputed WWE Universal Champion.
Judgment Day interrupts Cody as they enter to the stage. Finn Balor asks him if he gonna do something original this time or will continue to rip off his things. Dominik says Cody ripped off their Judgment Day's plans by eliminating him. Damian Priest says Dominik should be the only multi-generational superstar to main event WrestleMania and that Cody does not deserve it unlike Rhea Ripley who won the match after entering at #1.
Cody interrupts Dominik and says he respects his father Rey Mysterio so much. Dominik cuts him off and says he does not respect Rey and does not even respect Cody's father Dusty Rhodes. The crowd starts to chant, "Kick his A##". Cody says he can rest until WrestleMania to take on Roman, or he can be himself and take on any one of them tonight. Any of them three that wants to take on him.
Cody ends his promo and we get to know about the three qualifying matches for Elimination Chamber tonight. Edge's music hits and attacks Judgment Day on the stage. WWE Crew runs out and tries to get things under control. Cody joins Edge in attacking Judgment Day as we cut to a break.
Seth Rollins vs Chad Gable – Elimination Chamber Qualifier
They start with some grappling and Gable puts on an ankle lock. Rollins quickly gets to the ropes to break it. Gable hits a German suplex. Rollins slips to the floor for a breather but Gable hits him with a senton. Gable quickly brings him back to the ring and runs him over with an axe handle to get a two-count. We cut to a break.
Rollins fires back with chops as we return. Gable reverses a whip and puts Rollins on the second rope to hit a dragon screw leg. Gable goes for a moonsault but Rollins dodges it and rolls him up for a two-count. Rollins picks him up and hits a buckle bomb. Rollins creates some momentum with quick kicks, a superkick and a falcon arrow, but Gable kicks out.
Gable counters a pedigree with a pin attempt. Quick reversals see both men getting two-count in succession. Gable hits a cliffhanger DDT to get another two-count. Gable goes for a deadlift German suplex but Rollins breaks free with back elbows. Gable puts him in an ankle lock. Rollins breaks it but Gable puts it on again quickly.
Rollins rolls him up after some struggle to get a two-count. Gable puts on the lock once again but Rollins now counters it by hitting a Pedigree. Rolins sells a knee injury but covers Gable in time to get the pinfall.
Winner – Seth Rollins
Candice LeRae vs Iyo Sky
Michin' Mia Yim comes out with Candice. Bayley and Dakota Kai are in Iyo's corner. They duck each other in the early seconds of the match. Candice gets a jackknife cover for a two-count. She hits a senton quickly to get another two-count. Iyo comes back with a German suplex.
Iyo hits a body slam next while we get a movie trailer inset. Candice throws Iyo over and hits a dropkick. Iyo goes to the floor and Candice hits a basement slide dropkick. Iyo comes back with a suicide crossbody dive. Candice kicks Iyo off the apron and hits a springboard crossbody. We cut to a break.
Candice hits a missile dropkick as we return from the break. Iyo comes back with a backbreaker. She hits running double knees in the corner. Candice stops the moonsault and hits her with a German suplex from the second rope. Iyo kicks out of the pin though. They trade forearm shots now.
Candice gets to the second rope but Iyo picks her up on her shoulders. Candice hits Poisonrana for a two-count. Iyo knocks her off the top but Candice gets her knees up on the moonsault. Candice gets her in an inside cradle but Dakota Kai distracts the referee. Candice fights off Bayley at the apron. Iyo gets her shoulder down via sunset flip and gets the pinfall.
Winner – Iyo Sky
Rhea Ripley Makes a Decision
We see a recap of women's Royal Rumble match. The winner Rhea Ripley comes out to the ring now. Rhea Ripley takes the mic and says it has been a while since she is out alone here without his Dum dum Latino Heat Dominik Mysterio and Judgment Day. She talks about distrupting the status quo and winning Royal Rumble match, having a chance to choose her opponent for WrestleMania.
Rhea starts to talk about how she came to RAW 3 years ago as NXT Champion and challenged the winner of Royal Rumble to face her. That year, the winner was Charlotte Flair who put her in her place at WrestleMania 36. And the thing is, Charlotte kept getting better and better. And since Rhea is a disruptor, she chooses Charlotte Flair for WrestleMania 39.
---
Seth Rollins is interviewed by Cathey Kelly backstage and is pumped after his win. He gives the crowd a pop. Kelly asks him about his elimination from Royal Rumble match by Logan Paul. Rollins goes silent and leaves.
Johnny Gargano vs Baron Corbin – Elimination Chamber Qualifier
Dexter Lumis comes out with Johnny Gargano. Corbin picks up Gargano and tackles him to the corner. Gargano ducks his shot and hits chops. He hits a dropkick and a hurricanrana. Corbin cuts him off with a big boot. Corbin beats him up before hitting a backbreaker.
Gargano hits a back elbow to cut off Corbin's momentum. He sends Corbin to the floor. Corbin avoids a suicide dive before decking Gargano with a big punch on the apron to send him down to the floor. Corbin drops him on the barricade to take us to a break.
Corbin is in control as we return. Gargano hits back elbow to break free. Corbin gets on him quickly to hit several punches. Gargano hits a slingshot spear as Corbin charges at him and gets a two-count. Gargano hits a boot from the top before hitting a superkick to get another two-count.
They trade shots before Gargano hits a step-up enzuigiri. Corbin comes back with Deep Six for a near fall. Corbin pummels Gargano with more punches on the mat. Gargano blocks his finisher and sends him into the ring post. Corbin goes down to the floor and Gargano hits him with a suicide dive.
JBL tries to interfere but Lumis intimidates him by his ax. Lumis puts the ax through JBL's hat on the announce table. Gargano hits a gamengiri from the apron and gets Corbin in an inside cradle to get the pin.
Winner – Johnny Gargano
VIP Lounge with MVP
MVP takes shots at the crowd before bringing out Austin Theory. Theory sits down on the couch before saying that he used to watch this show when he was a kid. So, he wants to make MVP relevant once again. He pitches the name VIP Lounge with ATL or Austin Theory Lounge. MVP retorts by pitching VIP Lounge presents Austin Theory Live.
MVP then starts to talk about Elimination Chamber and says Theory might not be "the champ" after that event. Theory stresses on "The Champ" part a few times. Theory says he survived the chamber last year when Brock Lesnar hit him with F5 from the top of the cage. MVP says he was also chokeslammed by The Undertaker inside the Chamber.
MVP hypes Bobby Lashley. Theory asks him if he is comparing Lashley to The Undertaker. MVP says Lashley is more dangerous than Undertaker. Theory takes shots at Lashley and says Lashley is not gonna be in the Chamber and that he is already taken care of by Brock Lesnar.
Lashley's music hits and he comes out. Lashley gets into the ring. MVP stops him but lets him go and attack Theory. Lashley drops Theory with a spinebuster. Lashley goes for a spear but Theory gets MVP into the spear.
---
Finn Balor is with Judgment Day backstage. He wants to tell Edge that he is not hard to find and he works Mondays. Balor then says Cody Rhodes is stealing from him for a long time and he will put a stop to it tonight.
---
The Miz is out in the ring and rants about being disrespected at RAW 30 last week. He says he should be getting a qualifier match for Elimination Chamber and he will not leave the ring until he does. Adam Pearce comes out and says someone is knocking at his door tonight for a chance. He introduces the newest member of RAW, Rick Boogs. Miz protests that he is in a suit and can't participate right away. Pearce waives off the protest.
The Miz vs Rick Boogs
Boogs enters the ring and attacks Miz. Miz asks for a timeout and Boogs goes on to get fired up and do air drums. Miz jabs at Boogs which leads to Boogs tossing Miz around with Karelin lifts before hitting him with a Fallaway slam. He hits a Military Press to get the pinfall.
Winner – Rick Boogs
Alpha Academy are walking backstage and Otis motivates Chad Gable to get going. They walk past Maximum Male Models. Mace and Mansoor call Otis disgusting and grotesque, but Maxxine Dupri says he is perfect.
Steel Cage Next Week!
Bayley comes out to the ring and says talks about how Damage CTRL beat up Becky Lynch last week. She next talks about domination in the women's Rumble match as they eliminated woman after woman(they actually just eliminated 3). Bayley says she single-handedly threw out Becky Lynch also and brags about it.
Becky's music hits and she comes out. Becky says she did not need to win Royal Rumble. She has done that already. Becky says she wanted to make sure none of Damage CTRL win the match. Bayley says these are all excuses. Becky retorts that excuse is to rob these people of a steel cage match, attacking her before the bell and ganging up on her.
Bayley calls Becky by her real name Rebecca and says she knows her better than anyone else. Bayley says Becky is not good enough to be in WWE and not even good enough for his husband Seth Rollins who only married her because he knocked her up. Becky says all this time she thought they were just fighting in the wrestling ring.
Becky asks why not they end their story in Orlando, where it all started with NXT 10 years ago. Becky asks for the return of Steel Cage match. Bayley refuses. Becky goes back and drags out Dakota Kai with a steel chair wrapped around his ankle.
Becky threatens to stomp on the chair and injure Dakota. Bayley begrudingly agrees to the steel cage match next week. Becky says we should worry about Damage CTRL destroying the match next week and Bayley should go and check on Iyo Sky backstage.
---
Adam Pearce is backstage with Cathey Kelly and confirms that the second Elimination Chamber match will be for #1 contender for RAW Women's Championship. He announced Liv Morgan Raquel Rodriguez, Asuka and Liv Morgan, last 4 of Royal Rumble match before Rhea, will be in that match. Another qualifier is announced where Candice LeRae, Piper Niven, Carmella and Mia Yim will clash in a fatal 4-way.
Chelsea Green comes in and asks Pearce about lapses in arrangements for her.
Dolph Ziggler vs Bronson Reed – Elimination Chamber Qualifier
Reed throws Ziggler to the corner. Ziggler ducks him and hits running forearms in the corner. Reed runs him over with a tackle. Reed hits a body slam before a senton. Reed puts on a chin lock. Ziggler gets up and tries to hit a headbutt but Reed puts him back to the mat in another chinlock.
Ziggler hits a jawbreaker and a DDT but Reed kicks out at two. Reed drops him again. Ziggler hits Zig Zag but Reed kicks out again. Reed blocks a superkick and drops Ziggler in the middle again. He hits a Tsunami(splash from the top) to get the pinfall.
Winner – Bronson Reed
Cody Rhodes vs Finn Balor
They lock up to start the match and come to a stalemate. Cody drops down and hits his signature jab. Cody hits a delayed vertical suplex. Balor moves to the floor for a breather. We cut to a break.
Cody hits a tackle as they return but Balor works on his arm to take advantage of his torn pectoral injury. Balor works the arm against the ropes before hitting a penalty kick on it. Balor stomps on the arm a few times. Balor goes to the apron and works the crowd.
Balor hits a knees to Cody's arm. Cody hits a dragon screw leg on Balor on the ropes before knocking him off with a disaster kick. Cody hits a suicide dive next. He sidesteps on Damian Priest and sends him over the barricade. He throws Dominik over the announce table next.
Back to the ring, Cody sets up for Cody Cutter but Balor blocks it. Rhea checks on Dominik on the announce table. Balor counters to hit inverted DDT into an elbow drop. We cut to another break.
Cody and Balor are fighting on the top and Cody manages to hit a superplex. They trade strikes in the middle. Cody hits a Cody Cutter to get a close two-count. Cody goes for a cross-rhodes but Balor blocks it. Cody hits an upkick before Balor hits him with a slingblade for another two-count.
Cody cuts off a shotgun dropkick with a superkick. Balor sends Cody to the floor. Cody is cornered by the rest of Judgment Day. Edge runs out through the crowd and attacks Dominik and Priest. Edge hits a spear on Dominik. Rhea starts to beat up Edge but Beth Pheonix runs out to hit Rhea with a spear.
Balor hits a double stomp in the middle before a shotgun dropkick. Balor goes to the top but Edge comes on the apron to distract him. Cody recovers and avoids Coupe de Grace. Cody takes Roman in position for Cross-Rhoades and hits three in a row to get the pinfall.
Winner – Cody Rhodes
Cody acknowledges Edge as the show goes off the air.