WWE RAW June 26, 2023 Live Results & Updates – MITB Go-Home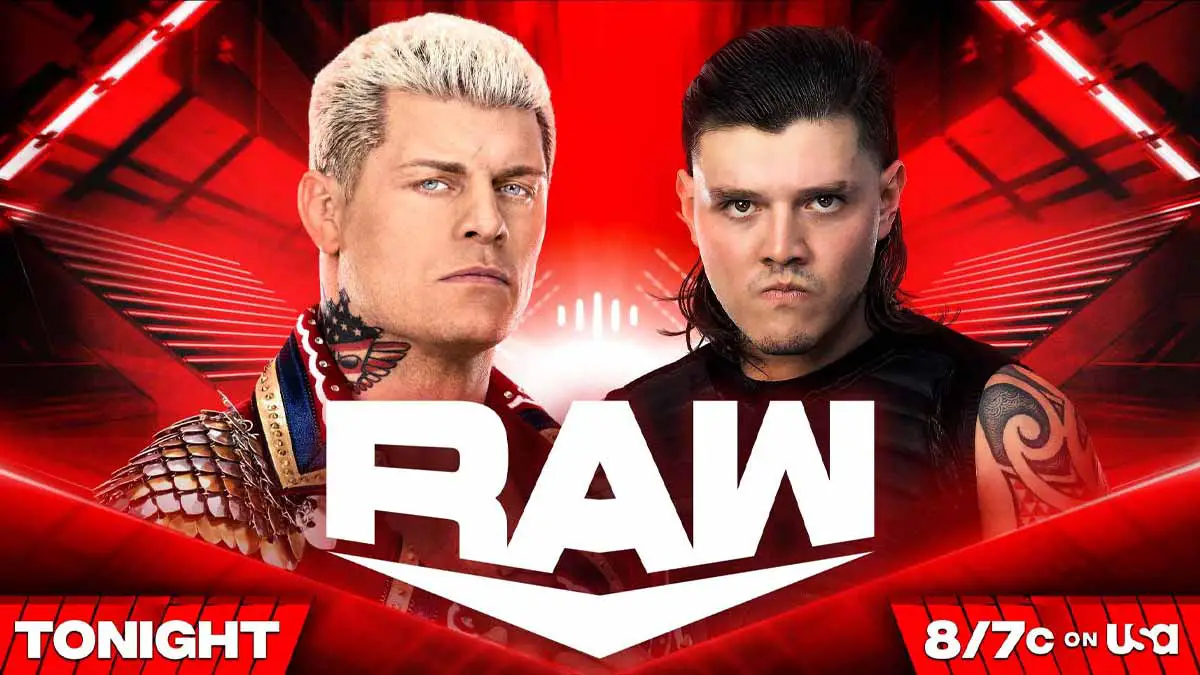 Welcome to the live results blog for WWE RAW June 26, 2023, which was the go-home RAW episode for Money in the Bank 2023 PLE.
Seth Rollins was set to address attacks from Finn Balor last week, along with informing us on his health condition. Dominik Mysterio also addressed Cody Rhodes before their match at Money in the Bank.
Women's Money in the Bank Summit was set with all the participants from the match taking part in the show. Raquel Rodriguez vs Ronda Rousey match was the only match announced in advance.
Tune in below as we post results live from WWE Monday Night RAW June 26, 2023 episode with live updates, winners, highlights and complete action.
Quick Results
Ricochet defeated Shinsuke Nakamura in a singles match via pinfall.
Ronda Rousey defeated Raquel Rodriguez in a singles match via pinfall.
Dominik Mysterio defeated Akira Tozawa in a singles match via pinfall.
Gunther defeated Sami Zayn in a singles match via pinfall.
Finn Balor defeated Carmelo Hayes in a singles match via pinfall.
Cody Rhodes defeated Damian Priest in a singles match via pinfall.
Live Updates
Cody & Dom
We get a recap of the storyline between Cody Rhodes and Dominik so far. Dominik is in the ring with Rhea Ripley and the crowd is booing him hard. Rhea takes the mic and says Cody is a wannabe and a loser, and Dominik will end him at Money in the Bank. Cody Rhodes' music hits and he comes out. Cody says Dominik should be who he is and say how he feels, because the ones who mind about other's perceptions don't matter, and if they matter, they don't mind.
Dominik walks out of the ring after hearing this. Rhea goes back with him. Cody mocks him and and Dominik almost gets back in but then says he will fight on hi time. Rhodes says these Dirty Dom cheapshots are dangerous, but at Money in the Bank, it will be an entirely different body of water and he wants to know if he is half the man his dad is, or just mami's little boy.
Shinsuke Nakamura vs Ricochet
Bronson Reed is ringside for the match. Nakamura starts quick strikes. He hits a snapmare and a knee drop to get a two-count. They get to the apron and kick each other to the floor at the same time. Reed mock them both with claps. Ricochet and Nakamura hit him with kicks. Back in the ring, Ricochet ducks a lariat and hits a dropkick on Reed as he comes in. Nakamura also kicks him before the referee sends him back. We cut to break.
Nakamura is in control as we return. Nakamura hits an enzuigiri. Ricochet blocks a move and hits a springboard clothesline. Ricochet hits a handspring elbow and a standing shooting star press to get a two-count. Nakamura gets his knees up when Ricochet hits a moonsault from the top. Nakamura hits knees and stomps to midsection. Nakamura hits an inverted exploder. Ricochet ducks Kinshasa and hits recoil. Ricochet gets to the top and Nakamura hits him with enzuigiri on the top rope. Nakamura goes for Kinshasa again but Ricochet counters and hits sliced bread. Ricochet hits shooting star press from the top to get the pinfall.
Winner – Ricochet
Earlier today, Matt Riddle challenged Gunther for Intercontinental title match at Money in the Bank. Byron Saxton interviews Riddle now. Riddle says his his ankle is injured up but he is tired of Gunther and his goons. Ludwig Kaiser comes in and asks what makes Riddle think he is talented enough to compete against Gunther. Riddle says he beat Kaiser last week. Kaiser replies it will never happen again. Riddle attacks him but Kaiser gets him down. Gunther appears and says he accepts the challenge. Gunther stomps at Riddle's leg.
---
Dominik gets to Adam Pearce's room and asks him for a match tonight to show Cody what he is in for at Money in the Bank. Dominik says he wants someone of his caliber, big, and strong. Pearce asks who that is? Rhea whispers in Dominik's ear and says they will get back to him later tonight. Pearce is confused.
---
We get a video of By The Numbers for Money in the Bank ladder match.
Ronda Rousey vs Raquel Rodriguez
Ronda fails to get Raquel down so she goes for guillotine and makes Raquel carry her. Raquel counters it with a suplex. Ronda dodges her in the corner and puts an armbar on the ropes until the referee calls for the break. Some back and forth action as Raquel continues to overpower Ronda to get out of peril. Raquel throws Ronda over her head. She hits a one-handed powerbomb next. Shayna runs a distraction which allows Ronda to get out of Raquel's charge to the corner. Liv attacks Shayna on the floor and unloads with punches. In the ring, Ronda uses an innovative pin attempt to get three counts.
Winner – Ronda Rousey
We get a video package from Finn Balor who discusses the claim from Seth Rollins that Balor became bitter after getting injured at Summerslam 7 years ago. Balor says he was not even able to get his hands up in the air after the win. He then shows us how Rollins laughed at him at the stage the next night after he relinquished the title. Balor concludes that he did not become bitter, but Rollins made his turn bitter.
Best of Balor vs Best of Rollins!
World Heavyweight Champion Seth Rollins makes his entrance. The crowd serenades him by singing his theme song. Rollins plugs in NXT Champion Carmelo Hayes and thanks him for having his back last week. Rollins also plugs in NXT title match tomorrow night at Gold Rush tomorrow. He then says how he is defending the title at MITB against Balor. Rollins says Balor tried to turn his ribs to dust last week, but he is still standing and he is tired of talking. So, he asks Balor to come out and finish the job right away.
The crowd starts singing once again. Balor does not come out though. Rollins says this singing is not gonna draw out Balor. Rollins says Balor is most dangerous he has ever been and surrounded himself with dangerous people, and thinks he owes everything and will take the title away from him. Rollins says he is not 100% heading into MITB. But, he can promise that the best version of Finn Balor is not as good as the best version of Seth Rollins. And that's a bitter pill for Balor to swallow.
Balor enters the ring with a steel chair but Rollins gets a whim of it in time. Rollins ducks a chair shot and takes down Balor with double legs. Balor gets hold of the chair once again but Rollins avoids it again and they rolls to the floor. Balor drives Rollins into the steel steps. Balor gets the chair but Carmelo Hayes snatches it away from him. Rollins clotheslines him him into the timekeeper's area. Balor runs away.
---
We see a recap of Tommaso Ciampa's return last week where he beat The Miz. He is interviewed backstage and says he attacked Miz last week because he has not heard a singles time from the Miz while he was in rehab. People warned him about the Miz being a user and a manipulator, and the injury was a blessing and disguise and gave him clarity. Ciampa says this time around, he will not follow Miz around but will make his own decisions.
Tommaso Ciampa vs The Miz
Ciampa makes his entrance for the match. Miz runs him over from behind. Miz attacks Ciampa's leg before hitting a suplex into the barricade. He goes on and hits more punches until the referee pulls him away. Ciampa gets up but Miz hits him with a Skull Crushing Finale on the floor. Miz walks back.
---
Gunther and Ludwig Kaiser are backstage. Kaiser says Gunther vs Riddle is official now. Tag Team Champions Sami Zayn and Kevin Owens come in. Kaiser says they do not have time for them and they should walk away. Owens snaps and says they said the same thing last week but Kaiser did not listen. Gunther asks them what they want. Sami says they attacked Riddle. Owens asks Sami if they care. Sami tells him they do. Owens then screams at Imperium duo how could they attack Riddle. Their argument continues until Gunther accepts to face Sami tonight.
Dominik Mysterio vs Akira Tozawa
Dominik gets on Tozawa in the corner and stomps on him a few times. Dominik poses in the corner and this allows Tozawa to fire back with quick punches. Dominik trips him to the mat. Tozawa counters a powerbomb with a hurricanrana. Tozawa hits the shining wizard before a dropkick sends Dominik to the floor. Tozawa hits a suicide dive next. Rhea Ripley gets up from the commentary table and is ringside. Dominik catches Tozawa off guard on the top rope. Dominik hits a frog splash to get the pinfall.
Winner – Dominik Mysterio
We get a video package from The Viking Raiders. Valhalla says she has not heard from gods in week, and they will only hear from Gods when they punish Alpha Academy, and it will be sweet.
Women's MITB Summit
After everyone is in the ring. Corey Graves starts to give us a preview but Bayley interrupts him and says she is the only one in this match to win MITB before. Bayley says she has the best chance of winning his MITB match. Bayley then realizes Iyo is also there and changes his statement that Iyo also has an equal chance. Iyo says its every woman for herself in the match. Zelina intervenes and says she has a lot of respect for Becky, but she has not won this match at all. She mocks others before saying she calls herself the future Ms. MITB.
Bayley and Zelina bicker until Trish intervenes and starts her own promo. Trish says this may be her first ladder match, but making history is all she does. Trish asks Becky when all is said and done, will she be man enough to say "Thank You, Trish". Becky gets closer to Trish and nails her with a punch. This starts a brawl and Becky manages to throw Zoey and Trish to the floor. Bayley attacks her from behind. Zelina attacks Bayley and sends her to the floor. Iyo hits a dropkick to send Zelina to the floor. She fights Becky in the ring before hitting a moonsault to take everyone down on the floor. Becky is still in the ring. She sets up the ladder and climbs to the top to pull down the title.
---
NXT Champion Carmelo Hayes is interviewed backstage. He says he admires Seth Rollins and aspires to be a champion like him, and that's why he has got a match against Finn Balor tonight and then will go on to face Baron Corbin tomorrow.
---
Becky Lynch runs into Rhea Ripley backstage. Rhea says Becky better hope she doesn't win the briefcase, because if she tries to cash in on her, that would be the last thing she would do in WWE. Lynch says when she was champion she was the main event in every town, but Rhea's title is a main event sidepiece. Becky says she wants to win the briefcase just to see Ripley squirm.
Sami Zayn vs Gunther
They lock up and Gunther gets a side headlock takeover. Sami gets up to his feet but Gunther does not let go of the hold and takes Sami down again. Gunther hits a shoulder tackle before another headlock takeover. Sami comes back with an armdrag. Gunther hits uppercuts and whips Sami corner to corner. Sami hits a big boot and a couple of punches. Gunther catches Sami as he comes off the ropes and hits a German suplex. Giovanni Vinci has walked down the ramp in crutches. We cut to a break.
Sami tries to rally as we return but Gunther hits a big chop. A few punches and uppercuts follow. Gunther hits a big chop to drop Sami to the mat. Gunther keeps Sami in the corner for more chops. Gunther argues with Owens on the commentary. Sami blocks a chop with a boot before hitting some more boots. Gunther blocks a DDT and hits a big chop. He joins Sami on the top rope. Sami hits punches to the ribs to block a superplex. Sami hits a sunset flip powerbomb for a near fall.
Sami hits punches. Gunther hits back with an uppercut. Sami fires more punches before a clothesline drops Gunther. Gunther blocks blue thunder bomb and puts on a sleeper choke. Sami starts to fade but gets second wind to get on his feet to hit a blue thunder bomb for another near fall. Sami gets to the top now but Gunther counters his dive with a chop. Sami kicks out of the pin. Gunther hits some stomps before hitting a splash from the top rope. Sami kicks out again.
Kaiser gets to the apron and Owens comes in to counter him. Owens hits quick punches on Kaiser but Gunther comes out and hits him with a big boot. Sami hits a suicide dive on Gunther. Back to the ring, Sami hits an exploder suplex. Kaiser tries to get into the ring and the referee gets busy with him. Vinci hits Sami with his crutch. Gunther then hits a lariat to get the pinfall.
Winner – Gunther
After the match, Owens attacks Gunther and Kaiser. They get the upper hand though. Matt Riddle runs out with a taped ankle. Riddle takes the crutch from Vinci and hits everyone from Imperium with it. Owens hits a stunner on Kaiser to end the segment.
---
Chad Gable comes into Alpha Academy training and hypes his team. Maxinne Dupri says she has got better of Valhalla every time thanks to Gable's training. Gable says he has left it to Otis to plan to take down The Viking Raiders. Otis says his plan is pure carnage.
Finn Balor vs Carmelo Hayes
Balor takes down Hayes with double leg to start. Balor puts a chinlock after some punches. Hayes comes back with a dropkick. He hits some kicks to Balor's back before setting him up on the ropes and to hit a leg drop. Balor rolls to the floor and Hayes hits a suicide dive. He poses in the corner to take us to a break.
Balor is in control as we return. He whips Hayes from corner to corner and hits chops. Hayes hits a back elbow but Balor ducks a crossbody. Hayes fires some big rights, a clothesline and a springboard clothesline to get a two-count. Balor answers with a lariat. He kicks at Hayes' ribs before some stomps to his face. Balor hits a slingblade next. He signals for shotgun drop kick but Hayes cuts him off with a superkick. Hayes hits a springboard DDT to get a two-count. Balor ducks him next but Hayes rolls him up for a two-count. Balor counters with a gutbuster. Balor hits shotgun dropkick next. He goes to the top to hit Coupe de Grace to get the pinfall.
Winner – Finn Balor
We get a recap of The Bloodline storyline from last week's SmackDown.
Cody Rhodes vs Damian Priest
They lock up and push each other to different parts of the ring. Priest hits a shoulder tackle. Cody puts on a side headlock but Priest blocks his tackle and knocks him off. Priest blocks Cody's backslide but Cody manages to hit his signature drop down uppercut. Cody snaps his arm. Cody htis somes punches from the second rope. Priest nails a big right after getting Cody down from the top. Cody hits a delayed gaordbuster. Dominik and Rhea walk and Priest takes advantage of a distracted Cody to take him down. Priest looks to smash Cody's leg into the ring post but Cody pulls him into the post. Cody hits a suicide dive next. After Cody gets distracted a bit, Priest hits a suplex to take us to a break.
Priest hits a broken arrow as we return from the break. Cody hits back elbows. Priest hits him with a back body drop. Priest hits a lariat to get a two-count. Priest gets to the top and Cody jumps up to hit bring down. they trade punches now. Priest hits some calf kicks before Cody hits signature Rhodes jabs. Cody hits a snap powerslam and a disaster kick. More jabs from Cody before a bionic elbow to get a two-count. Cody stomps on Priest's leg. Priest blocks a figure four and sends him into the corner. Priest hits a headlock driver for a two-count.
Cody avoids a chokeslam but Priest also blocks Crossrhodes. Cody counters to hit a pedigree. Priest rolls to the floor. Cody gets to the top and Priest returns to the ring. Priest hits a thrust kick to get a two-count. Priest nails a big punch before Rhodes hits a superkick. Rhea gets to the apron to distract the referee. Dominik blocks Cody Cutter. Priest hits a chokeslam but Cody kicks out of the pin. Dominik gets to the apron once and Cody slips out of a rack bomb and pushes Priest to knock off Dominik. Cody hits Cody Cutter and Crossrhodes to get the pinfall.
Winner – Cody Rhodes
After the match, Dominik runs over Cody from behind before running away.