WWE RAW August 14, 2023 Results, Live Updates, Highlights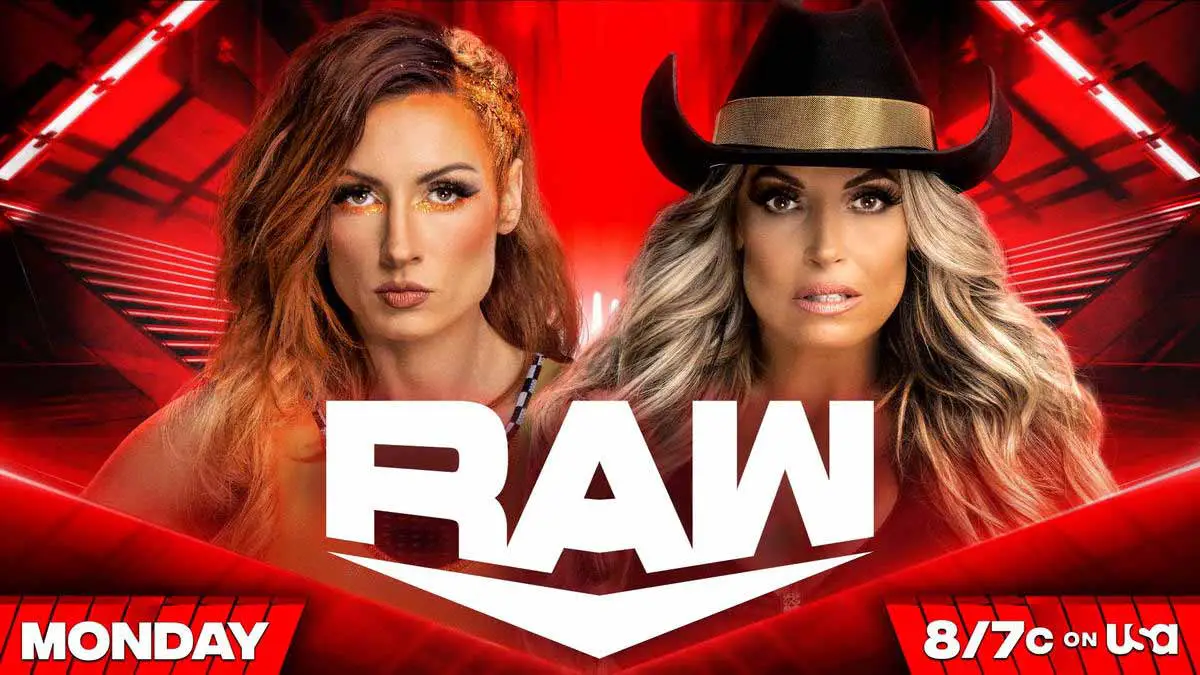 Welcome to the live results blog for WWE RAW August 14, 2023 episode, live from Canada Life Center in Winnipeg, Canada, on the road to Payback 2023.
Becky Lynch got her rematch against Trish Stratus on this episode. Zoey Stark was banned from the arena during the match. Additionally, Shinsuke Nakamura was set to address his attack on Seth Rollins from last week.
Judgment Day was also likely to hit back at Rollins and Cody Rhodes, and possibly against Sami Zayn as well. The rivalry between Imperium and Alpha Academy was also expected to continue as well. Tune in below as we post results from WWE Monday Night RAW August 14, 2023, with live updates, winners, highlights and complete action.
RESULTS
Sami Zayn defeated JD McDonagh in a singles match via pinfall.
Chad Gable defeated Giovanni Vinci in a singles match via pinfall.
Gunther defeated Otis in a singles match via pinfall.
Matt Riddle & Drew McIntyre defeated The Viking Raiders(Erik & Ivar) in a tag team match via pinfall.
Rhea Ripley defeated Indi Hartwell in a singles match via pinfall.
Becky Lynch vs Trish Stratus singles match ended in a double countout.
Cody Rhodes defeated Finn Balor in a singles match via pinfall.
LIVE UPDATES
The commentary team opens the show with an announcement for Cody Rhodes vs Finn Balor.
Judgment Day & JD McDonagh
Judgment Day come out without Finn Balor. We see how Balor was screwed by MITB breifcase at SummerSlam and last week on RAW. Rhea Ripley says that thing have not gone their way for the last few week. Damian Priest says communication is an issue, but Judgment Day will continue to dictate things until he is the Senor Money in the Bank. Priest says that he and Balor are smart enough not to break up Judgment Day. Priest then goes on ask where is Balor though. Rhea tells him to shut up and that it is not the time to fight.
JD McDonagh comes out. He says he has a message from Balor, who told them to not worry about him and worry about targets- Sami Zayn and Cody Rhodes. Rhea tells him that they do not take orders from anyone, and especially not from someone who is not part of Judgment Day. Dominik takes the mic and booing start immediately. Dominik says since Canada comes in North America, he is the champion of this dump. JD says he was just delivering the message from Balor. Rhea tells him to now relay their message to Balor that they need to talk.
Sami Zayn's music hits and JD goes to attack him but Sami lights him up with punches. JD hopes for help from Judgment Day, but they just stand aside. JD ends up sending Sami into the ring post. He takes control of the brawl as we cut to a break.
Sami Zayn vs JD McDonagh
Sami ducks a boot and hits punches. He is not using his left arm that much. He hits an elbow from the second rope before a back body drop. JD runs the ropes but Sami sends him flying with monkey flop. JD targets his injured arm and punches at it viciously. He drops Sami's arm on the ropes. He slams it to the mat next. Sami fires back with chops and punches. He hits a back body drop to send JD to the floor. Sami follows up with a clothesline on the floor. JD drops the injured arm on the barricade before a knee drop on it on the announce table. We cut to a break.
Sami drops JD from the top as we return. JD catches him with a dropkick mid air as Sami jumps for an elbow drop. JD hits kicks to the face. Sami hits him with a clothesline. Sami hits punches before a Michinoku Driver to get a two-count. Sami cannot hit Blue Thunderbomb due to injured arm. JD hits him with a standing Spanish fly for a two-count. JD puts on crossface next with the injured arm trapped. Sami rolls over to get to the ropes to force a break. JD hits kicks to the arm before Sami hits an exploder suplex.
Sami gets ready for Helluva kick but Balor comes out to distract him. Balor teases an attack but stops short before JD gets a two-count with a victory roll. JD hits a headbutt next. Sami gets his knees up on a moonsault from the top rope. Sami drops Balor off the apron next. Sami finishes off with Helluva kick to get the pinfall.
Winner – Sami Zayn
Sami runs out of the ring immediately to get away from an attack from Balor.
---
Chelsea Green is arguing with Adam Pearce over relinquishing women's tag team titles due to Sonya Deville's injury. She threatens Adam to call his manager and human resources. Pearce asks her what should be done. Green tells him that she would hold auditions to find her new tag team partner. Kayden Carter and Katana Chance come in and challenge her as soon as she finds a new partner. Piper Niven attacks Carter and Chance from behind. She tells Chelsea that she is her new partner, takes one of the titles and takes her away.
---
Cody Rhodes is interviewed backstage about Finn Balor. Cody says Balor has been a leader in Ireland, Japan and now in Judgment Day. He says Balor is a leader despite being Judgment Day having Priest, Rhea and Dominik. He hypes up fighting in Winnipeg after so long.
Imperium
Before the break, we got a video package for Imperium as they made their entrance. After the break, Gunther is standing on top of announce table with a mic. He says to continue his journey as the best-ever Intercontinental Champion has brought him to Canada. He takes some shots at Winnipeg and the crowd. But, he is here to address the #1 contender Chad Gable. He puts Gable over as the best athlete in WWE, but Gunther has already surpassed his achievements in one year. Gable shooshes him as he comes out with Otis and Maxxine Dupri.
Gable brings up how he lasted more than 5 minute as per his challenge, and beat him at his own game. Gable brings how Gunther can become the longest reigning Intercontinental Champion in a few days, but he stands in between him and the record to take away the title. Gable inform that tonight he will take on Giovanni Vinci though. Ludwig Kaiser takes over the response and says Vinci is the cream of the cream of WWE and he will embarass Gable just like he did Otis last week. Kaiser tells Maxxine that she should surround herself with some European talents. He offers his services to Maxxine, otherwise, a 360-lbs anchor i Otis will take her down. Maxxine slaps Kaiser. We cut to a break.
Giovanni Vinci vs Chad Gable
Back and forth start before Vinci hits a shoulder tackle. He goes for an arm twist. Gable counters with his twists and turns before getting him down with a drop toe hold. Vinci catches him and slams him to the match with a body slam. Vinci hits a back suplex to get a two-count. Vinci hits chops before a clothesline. He hits a neckbreaker next to get a two-count. They trade chops before Vinci hits an overhead chop. Gable comes back with an armbar on the ropes. Gable hits a German suplex. Vinci hits more chops but this enrages Gable who hits punches and a back heel kick. He hits a rolling neckbreaker. Vinci avoids a moonsault and hits a rolling senton. He hits a moonsault to get a two-count. Gable avoids a powerbomb and hits Chaos Theory to get the pinfall.
Winner – Chad Gable
Gunther says this is not how it ends tonight. He takes shots at Otis and challenges him for a match right away. Otis is pumped.
Gunther vs Otis
Otis hypes the crowd before they lock up. Otis pushes Gunther back but he quickly turns it around. Otis hits him with slaps at the chest. Gunther hits him with punches. Otis hits a shoulder tackle but Gunther hits him back with a clothesline and a dropkick. Gunther is in control now and hits somes punches. Otis fires back with punches and a shoulder tackle. Gunther hits an elbow to the face. Gunther boots him to the mat. He hits more kicks and chops to take Otis to the corner. Otis starts to hulk up and fires quick shots. Otis hits a back elbow. Gunther fires punches but Otis blocks him with a clotheslines. Gunther blocks the catterpillar with a big boot and hits a powerbomb to get the pinfall.
Winner – Gunther
Gable hits Gunther with a German suplex right after the match. Gunther gets out of the ring.
---
Damian Priest is arguing with Finn Balor backstage. Rhea tells them to stop and says nobody is fearing them because they keep fighting each other. JD McDonagh comes in and apologizes to Balor. Balor tells him that he will talk to him later. Balor tells his buddies that they are right and they should show everyone to fear them by taking out Cody.
---
Drew McIntyre is interviewed backstage but gets interrupted by Matt Riddle quickly. He talks about starting a new tag team. McIntyre tells him he will consider it.
The Viking Raiders(Erik & Ivar) vs Matt Riddle & Drew McIntyre
Riddle makes his entrance as he has accepted the open challenge from The Viking Raiders. Drew comes out to team with him. Riddle starts with quick shots but Ivar knocks down Riddle. Erik tags in for some double team work. Riddle fights back from the corner to hit quick shots before a Pele kick to Erik. Riddle sends both his opponents to the floor. Erik trips him on the apron and sends him tumbling to the floor. Erik sends Riddle into Ivar for a senton on the floor.
Riddle is trying to fight back but Erik blocks a tag and hits an Urinage. Ivar hits him with rapod back elbow in the corner. Ivar drags Riddle across the ring by his hair. Erik comes in to hit a ripcord knee. Riddle hits a brainbuster on Erik. McIntyre gets a hot tag and hits clotheslines and shoulder tackles on both men. He hits neckbreakers on both opponents one by one. Ivar takcles him to the corner. McIntyre hits a Michinoku Driver to get a two-count. He clotheslines Ivar to the floor and pulls Erik into the ring. He looks for the Claymore but Ivar distracts him. Erik hits him with a knee.
Riddle tags in. The Viking Raiders hit Riddle with a double team springboard clothesline into a German suplex. Riddle tags in McIntyre who hits Glasgow kiss on Ivar to send him to the floor. Riddle kicks Erik to the floor and hits Floating bro on the floor. McIntyre hits Claymore kick on Erik to get the pinfall.
Winners – Drew McIntyre & Matt Riddle
McIntyre and Riddle hug after the match and celebrate.
---
We get a recap of Rhea Ripley's brawl with Raquel Rodriguez, Candice LeRae and Indi Hartwell. Indi is warming up backstage when Raquel comes in and tells her that she is not cleared tonight. Raquel has a cast on her knee.
---
Riddle and McIntyre are backstage and Riddle proposes going after the tag team titles. New Day interrupt them quickly and start to argue that they have just become a tag team. They quickly summarize the state of tag teams in WWE before proposing a tag team match between them next week. McIntyre and Riddle are calling themselves Glass-Bros.
Rhea Ripley vs Indi Hartwell
Rhea rushes Indi to the corner and throws her around a couple of times. More shots from Rhea follows. Rhea whips Indi to the corner and hits a spear. She hits some chops. Indi avoids another spear in the corner. She starts to fire punches before hitting a spinebuster. She sends Rhea to the floor and kicks her away. Rhea counters to drive Indi into the ring post. She slams Indi's ribs into the post. Rhea runs over Candice on the floor before getting back to the ring. Indi catches her with a cradle for a two-count. Rhea nails her with a headbutt and hits Riptide to get the pinfall.
Winner – Rhea Ripley
Candice attacks Rhea after the match. Indi hits Rhea with a back body drop and Candice hits a senton before they get out of the ring.
Why Nakamura, Why?
We see a recap of Shinsuke Nakamura attacking World Heavyweight Champion Seth Rollins last week. Nakamura makes his entrance before we cut to the break. Michael Cole is in the ring with him after the break. Cole asks him about his attack on Rollins last week. Nakamura talks in Japanese before saying that he wants the World title. Cole asks him did he really needed to kick Rollins in the head. Nakamura talks more in Japanese before saying that he will win the World title. Seth Rollins' music hits and he comes out. Rollins tells Nakamura that he set him up and knocked him out, and it was all in the name of World title.
Rollins says Nakamura is hiding something because he is not hard to find as he is here every week with his title and the crowd singing his song. He had utmost respect for Nakamura until last week as a fighting champion. But Nakamura hit him and now everyone is asking for the reason. But, Rollins is more concerned how can they get even. So, he accepts the challenge for a title match. He tells Nakamura to shake his hands. Nakamura shakes hands, but then tells him something in his ears. Rollins is tense hearing that and Nakamura catches him with a Kinshasa to drop him.
---
We see a recap of the altercation between The Miz and LA Knight last week. Miz is interviewed backstage with Byron Saxton. Miz brags about taking care of Knight. Byron tries to correct him. Miz asks Byron if he is also on Knight's bandwagon after he beat Top Dolla. Miz then claims that next week, he will beat someone stronger, faster and better than Knight has ever beaten. And he might also show up on SmackDown, or not.
Becky Lynch vs Trish Stratus
Becky fires shots and drives Trish to the corner to hit shoulder tackles. Becky slams her face into the turnbuckle, taking her to every corner one by one. Trish hits back with a headbutt with her masked face. Trish hits chops in the corner. Becky blocks one and hits back with punches. She hits a bexploder suplex. Trish rolls to the floor. Becky hits her with a baseball slide. Trish runs around the ring. Becky chases her and runs into a clothesline from her. Trish drives her into the barricade.
Becky slams her face into the apron a few times. She hits some kicks from the apron. Becky gets to the top rope. She blocks a hurricanrana but Trish hits her with punches and hits hurricanrana on the second attempt. Trish sends Becky into the steel steps on the floor. Trish removes her mask and tries to punch her with it. Becky blocks the shot but Trish manages to keep control. We cut to a break.
Becky is firing shots as we return. She hits shoulder tackles before a running forearm in the corner. Becky hits uppercuts and a back heel kick. She hits a dropkick on the ropes to get a two-count. Trish rolls through for a two-count. She hits a spear for another two-count. Becky blocks Stratusfaction but Trish nails a big right. Becky counter Stratusfaction once again and puts Trish on the top rope. She hits a superplex to get a two-count. Trish runs away to the floor. Becky chases her but Trish drives her into the barricade. Becky fights back but the referee has complete the countdown.
Result – Double Countout
Becky continues to beat up Trish and takes her up the stairs and into the concourse area. Trish fights back but Becky keeps control. Zoey Stark comes in and trips Becky on top of a stand. Trish and Zoey take Becky down before going away.
---
Imperium are arguing backstage. Gunther says tonight was embarrasment for them. He lays into Vinci for not winning any match since coming to RAW, and into Kaiser for his focus on Maxxine Dupri instead of the match. Vinci apologizes and says he will go to Adam Pearce. Gunther tells him that he will go to Adam Pearce and fix his match against Gable next week.
---
Trish Stratus and Zoey Stark are walking backstage when Adam Pearce comes in angry. He says Trish has wiggled out of her match again. So, next time they do it, it will be a steel cage match.
Cody Rhodes vs Finn Balor
They lock up and tussle for a while. Balor hits an armdrag. Balor goes for an arm wringer. He hits a back elbow next when Cody tries to counter. Cody hits a delayed vertical suplex. Cody gets him in a fireman's carry but Balor rakes his faces. Cody gets him down with a side Russian Leg sweep to get a two-count. Cody hits chops in the corner. Balor whips him from corner to corner before sunset flip from Cody to get a two-count. Balor hits some chops and tackles in the corner.
Balor sets up and hits a dropkick after a snapmare. He keeps Cody under control and puts on a chinlock. Balor hits chops after Cody breaks the lock. Cody hits a knee strike to midsection. He hits a kick to midsection. Balor forces Cody to the floor. Dominik and Rhea run out. Cody goes for a suplex on Dominik, which allows Balor hits him with a kick. We cut to a break.
Balor is in control as we return. He puts on a chinlock. Cody breaks it and starts to fire back with punches. Cody nails signature left jabs. Balor stops his momentum but Cody comes off the ropes with clothesline. He hits a powerslam and a disaster kick to get a two-count. Damian Priest comes out now. Balor blocks Crossrhodes and hits a slingblade. Cody blocks shogun dropkick. Balor intercepts Cody cutter and hits an inverted DDT into an elbow drop. He hits shotgun dropkick. Cody avoids Coupe de Grace. Balor counters Crossrhodes with an inside cradle. Cody hits Cody Cutter. Balor rolls to the floor. Priest grabs Cody's leg.
Cody hits send Balor to Priest and hits them both with suicide dive. Cody gets to the top. Rhea distracts the referee and Dominik trips him. Balor hits a superplex to get a two-count. Dominik throws in a steel chair into the ring. The referee catches it and takes it away. Priest throws in the MITB briefcase but Cody catches it and slams Balor with it. Cody hits Priest also with the briefcase. Cody hits Crossrhodes on Balor to get the win.
Winner – Cody Rhodes
Dominik and Priest attack Cody after the match. Balor also joins in. Sami runs out to neutralize Judgment Day. JD McDonagh hits Sami from behind. Cody is hit with South of Heaven. Sami is sent through the announce table with Razor's Edge. Judgment Day close the show standing tall.