WWE RAW September 6, 2021 Live Results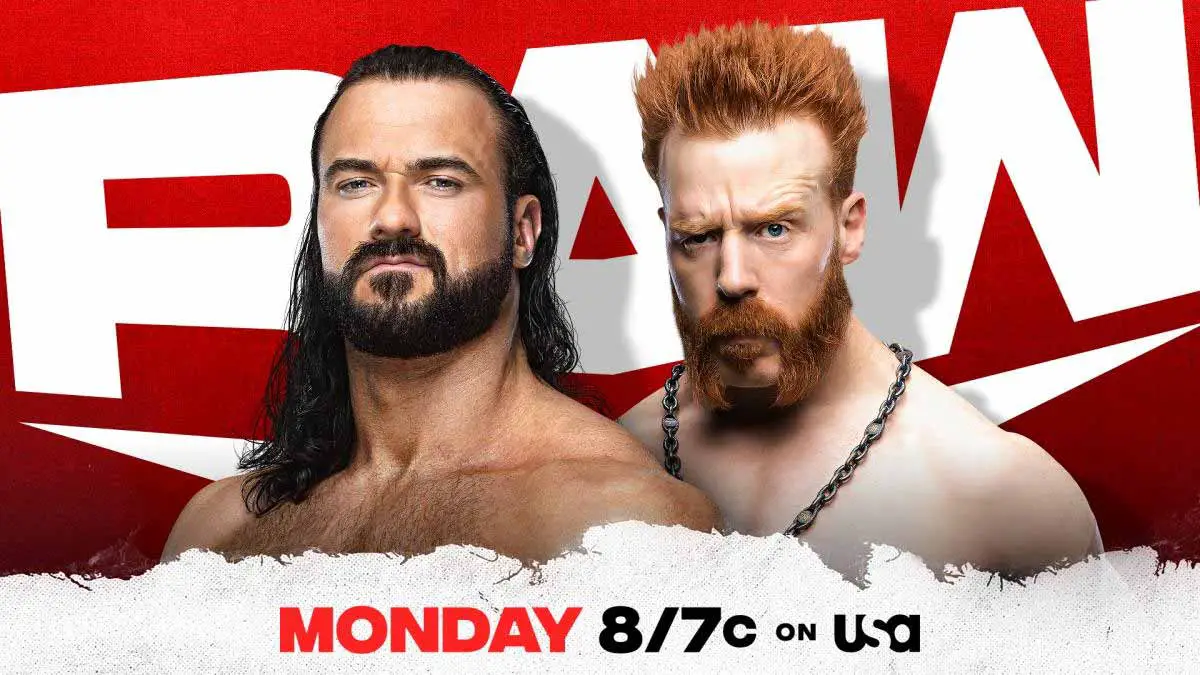 WWE RAW episode of 6 September 2021 will air from FTX Arena in Miami, FL and will look to accelerate the build-up for Extreme Rules 2021 PPV. Two big #1 contender's matches are announced for the show.
Drew McIntyre and Sheamus will run it back to try and get United States Championship title shot. A 7-team Gauntlet match is also in the line-up to crown new opponents for RK-Bro for the tag titles. In another title contender match, Nikki ASH & Rhea Ripley will take on WWE Women's Tag Team Champions Tamina & Natalya. For Charlotte Flair, it will be a straight title defense against Nia Jax who defeated her last week.
Apart from this, we may see who emerges as the new contender for WWE Championship and other storylines towards Extreme Rules. So, join us as we bring you results, live updates, winners, and highlights from WWE RAW episode of 6 September 2021.
Date – September 6, 2021
Location – FTX Arena, Miama, FL, US
Time – 8 PM EST(September 7, 2021 12 AM GMT/5:30 AM IST)
WWE RAW Results from September 6, 2021
Tag Team Turmoil Match for #1 Contender For RAW Tag Team Championship

New Day eliminated The Viking Raiders
New Day eliminated Jinder Mahal & Veer
New Day eliminated Lucha House Party
New Day eliminated Mace & T-Bar

Sheamus defeated Drew McIntyre via pinfall to become #1 Contender for United States Championship.
Nikki ASH & Rhea Ripley defeated Natalya & Tamina in a tag team match via pinfall.
Karrion Kross defeated John Morrison in a singles match via pinfall.
Charlotte Flair(c) defeated Nia Jax via pinfall to retain WWE RAW Women's Championship.
Reggie defeated Akira Tozawa via pinfall to retain WWE 24/7 Championship.
Part 2 of the Tag Team Turmoil Match for #1 Contender For RAW Tag Team Championship

New Day defeated Mansoor & Mustafa Ali
AJ Styles & Omos defeated New Day
Hurt Business defated AJ Styles & Omos(Winners)
Live Updates
Opening Promo
The show opens with brief promos from all the seven teams in Tag Team Turmoil match. Each team claims that they will be the next tag champs.
Randy Orton and Riddle come out to the ring. We get the replay of how they defeated Hurt Business last week to retain the title. Orton takes the mic and hypes the Gauntlet match to find their challenger. Riddle takes the mic and goes on a comic rant. Randy is getting frustrated but he does not react.
Bobby Lashley's music hits and he comes out with MVP. They bring up how Orton hit Lashley with an RKO last week and termed it as a cowardly act. Lashley challenges Orton for a singles match. Orton replies that he would agree to it if Lashley would put the title on the line. The crowd cheers. MVP accepts the challenge for the match at Extreme Rules. Before leaving, Lashley tells Orton that they will get themselves into the tag team turmoil match also and will take the tag titles away.
New Day's music hits and Kofi Kingston and Xavier Woods come out. New Day inform us that Tag Team Turmoil match starts now, so Lashley and MVP should hurry up. the Viking Raiders are the second team to start the match.
Tag Team Turmoil Match for #1 Contender for RAW Tag Team Championship
New Day vs The Viking Raiders
Woods rocks Eric with blows on the back. They trade clotheslines and Woods sends Eric out of the ring. Kofi gets the tag and goes for a crossbody on the floor. But Vikings catch him and throw him over to take us to the break.
Woods rocks Eric with blows on the back. They trade clotheslines and Woods sends Eric out of the ring. Kofi gets the tag and goes for a crossbody on the floor. But Vikings catch him and throw him over to take us to the break.
Kofi fights back with dropkicks and boom drop as we return. Eric tags in Ivar and they take the control back. Eric hits a backbreaker and a gutwrench suplex. Kofi skips and tags in Woods. Woods runs into a chokeslam from Eric. Ivar hits a top rope splash to get a near fall. Eric tags back and Woods gets the pin with an inside cradle.
The Viking Raiders are eliminated.
New Day vs Jinder Mahal & Veer
Jinder Mahal & Veer come out with Shanky. New Day catch them with dropkicks before the bell. Woods hits a splash from the top to get a two-count. Mahal comes back with a knee strike and tags in Veer. Veer hits a sidewalk slam and throws Woods out to the floor as we got another break.
Mahal is controlling Woods as we return. He hits a body slam before Woods kicks at him and tags in Kofi. Kofi hits some kicks and assists Woods to hit a backbreaker/splash combo to pin Mahal. Jinder Mahal & Veer are eliminated.
New Day vs Lucha House Party
New Day meet Lucha House Party on the floor but LHP skips past them and hit them with moonsaults. LHP keep control early with quick moves against Woods. Woods catches Lince Dorado with double knees as he hits a crossbody. Kofi comes in but could not get the pin.
Dorado hits Woods and Kofi with stunners. Metalik and Lince hit moonsaults on Woods and Kofi breaks the pin. LHP kicks away Kofi and hits stereo superkicks to Woods. LHP goes for the finisher but Kofi trips Lince and Woods rolls over Metalik to get the pin. Lucha House Party are eliminated.
New Day vs Mace & T-Bar
Mace is beating up Woods as we return from the break. Woods tries to fight back but gets cut off. Mace whips him to the corner and hits ripcord knee. Woods hits an enziguiri which leads to more feirce attack from Mace. Woods stops the chokeslam and hits a dropkick to the knees. T-Bar tags in and cut off Woods from tagging in Kofi. He hits an elbow after a whip.
Belly to back suplex from Mace as he comes back. Mace takes a cheap shot at Kofi at the apron. Woods counters GTS into another roll-up to eliminate T-Bar and Mace. T-Bar and Mace are angry and they beat up New Day even after the match.
New Day vs Mansoor & Mustafa Ali
Mansoor and Ali come out and Mansoor takes offense at the cheap attack. Mansoor hits the ring to attack Mace & T-Bar. Mansoor gets overpowered by them and Ali also had to get in. Ali is also beaten up and then thrown to the outside. Mace and T-Bar dismantle both the other teams. And it looks like both of them will be unable to continue by the time they are done.
After the break, we are informed by Sonya Deville and Adam Pearce that both teams will be given time to recover. Also, Lashley and MVP are added to the match. The match is put on pause for now.
Sheamus vs Drew McIntyre – #1 Contender for US Title
McIntyre starts with a big chop. Sheamus comes out of a headlock with a shoulder tackle. McIntyre comes back with a clothesline and chops. Sheamus sends him to the apron and hits chops and signature blows to the chest. McIntyre reverses it for his own blows to the chest. Sheamus drops him to the floor and hits a clothesline from the top.
Back to the ring, McIntyre hits a spine buster for a two-count. Sheamus catches him with punches as he climbs the top rope. Back and forth action on the top before Sheamus hits a superplex. We cut to a break.
Sheamus puts on a shoulder stretch as we return. McIntyre gets to his feet and fights back. He takes Sheamus' knee out with a dropkick. McIntyre hits a superplex now. McIntyre hits the Glasgow kiss, but Sheamus' mask saves him. Sheamus hits an Alabama slam for a two-count. McIntyre comes back with a clothesline and Futureshock DDT for a near fall.
McIntyre sends Sheamus into the ringpost and puts on the Kimura lock. Sheamus drags to the ropes to break the move. McIntyre drops his hands on the ropes but misses a top rope move to run into a pump knee. McIntyre hits the White Noise for another near fall. They trade strikes now while being on their knees. McIntyre ends up removing Sheamus' mask. He goes for the Claymore but Sheamus rolls him up and uses the tights to get the pin.
Winner – Sheamus
After the match, McIntyre is angry and has Sheamus' mask in his hand. He smacks Sheamus with the mask and hits Claymore to his face.
Damian Preist is backstage and is asked for comments on facing Sheamus at Extreme Rules. He loved the match between Sheamus & McIntyre but says he has got Sheamus' number and will win again at Extreme Rules.
Tamina & Natalya vs Super Brutality(Rhea Ripley & Nikki ASH)
Rhea and Nikki are at Gorilla Position and asked about their chemistry. Nikki says they do not have much in common but they are working on it. Rhea says if whatever they have works, she would be glad. Nikki gives them the name – Super Brutality, and Rhea agrees after some resistance.
After the break, we get some comments from Charlotte Flair. She is confident that the Queen will reign supreme after her match against Nia Jax.
Nikki starts against Tamina. Tamina dominates Nikki until she misses a seated senton. Nikki tags in Rhea who throws her into Tamina for an offensive move. Natalya comes in and gets a similar treatment from Nikki and Rhea. Tamina runs a diversion which gives Natalya a chance to make a comeback against Nikki. Tamina takes out Rhea on the floor with a superkick. We cut to a break.
Rhea hits short clotheslines and a headbutt to Natalya. She drops Tamina from the apron before hitting a dropkick to Natalya. A bridging German suplex gets her a two-count. Nikki hits a crossbody splash and Tamina had to break the tag. Natalya hits Rhea with German suplex. Natalya goes to put on the Sharpshooter on Nikki but Rhea has tagged in by the time. Rhea hits riptide on Natalya to get the pin.
Winner – Rhea Ripley & Nikki ASH
John Morrison vs Karrion Kross
Earlier today, John Morrison hosted Karrion Kross on Moist TV segment backstage. Kross describes himself as the person who turns a person's worst nightmares into reality. Morrison asks him what is next for him – US Title, WWE title? Kross says they are all good ideas, but right after he eliminates him. Morrison tells him that he is a few decades older than him in this field and has faced the Undertaker & Kane and other monsters. Kross says he will fall and prey.
Kross dominates Morrison early on before hitting the Saito suplex. Krossjacket is applied but Morrison falls into the ropes and forces the break. Morrison gets the Drip Stick and squirts at Kross. Kross gets angry and drops him with a big boot. Kross hits an exploder suplex on the turnbuckle to the floor. Krossjacket is applied for the win.
Winner – Karrion Kross
Charlotte Flair(c) vs Nia Jax – WWE RAW Women's Championship Match
As the bell rings, Shayna gets the mic and get on the apron to wonder whether Nia has it to beat Flair twice in a row. Nia attacks Flair in anguish and Flair gets angry over Nia pulling her hair. Flair goes to the timekeeper and grabs her title. Shayna distracts her with an argument and Nia pulls her back into the ring.
Nia beats up Flair for a while. Flair escapes and takes out Nia's knee now. Nia slams her into the turnbuckle. She puts Flair on the top turnbuckle but Flair slips out and hits a powerbomb. Nia kicks out. Flair is working on Nia's knees now. Nia slams her into the corner again to send us to the break.
Flair takes Nia down on the floor. Shayna tries to attack Flair but she ducks. Shayna avoids Nia but Nia is angry. Back to the ring, Nia stops a senset flip. Flair is put on the top and Shayna comes to the apron once again. The distraction allows Flair to hit Natural Selection on Nia to get the pin.
Winner – Charlotte Flair(retains RAW Women's title)
Alexa Bliss appears on the big screen with Lilly and invites Flair to come to her playground. Flair refuses to play the mind games and tells Alexa that she is not interested. Alexa says Lilly has a lot of energy in her today and wants some action. And if Flair won't come to playground, they will bring playground to her. The lights go off and Alexa appears in the ring when they come back. Flair asks Alexa what does she wants. Alexa points at the RAW Women's title. Flair tells her that this isn't her playground, this is is her ring. Flair exits while staring at Alexa. Alexa stares back at them.
Reggie vs Akira Tozawa – WWE 24/7 Championship
Reggie avoids some moves with his athleticism. He hits a couple of seated senton to get the win.
Winner – Reggie
R-Truth and other wrestlers from the back come out to chase down Reggie. He avoids everyone and hits a suicide dive to take them down. Drake Maverick is standing on the ramp, making his return to WWE RAW after more than 18 months. R-Truth asks him what he is doing while Reggie slips away.
Doudrop is interviewed backstage and asked whether her rivalry with Eva Marie is over. She challenges Eva for a rematch next week and this time, the beating will be far brutal than the previous week.
Tag Team Turmoil Match for #1 Contender to RAW Tag Team Championship
New Day vs Mansoor & Mustafa Ali
Tag Team Turmoil match resumes. RK-Bro is sitting at the ringside as Mansoor and Kofi start. Kofi goes for an armbar. Mansoor counters with an arm drag and a low-bridge from Ali sends Kofi to the floor. Though Kofi tags Woods in as soon as return to the ring. Mansoor and Mustafa working quick tags on Woods. Kofi comes in and takes Ali out with a superplex.
Mansoor gets two-count with roll-up. Woods' back has given up and the referee backs Mansoor off. Ali yells at him to get on him and tags himself in. Ali hits kicks to back. Kofi tags comes in and Mustafa cuts off Trouble in Paradise with a superkick. Kofi avoids 450 splash and hits Trouble in Paradise. Woods tags in and hits elbow drop for the pin.
Mansoor & Ali are eliminated.
New Day vs AJ Styles & Omos
AJ and Omos work on Woods with quick tags. They keep control for a long time. The crowd cheers Woods on but AJ hits a big blow on his back to halt the momentum again. Woods finally counters and sends AJ over the ropes. AJ comes back in time to prevent a tag, but Woods drops him again. Tags to Omos and Kofi. Kofi jumps at Omos and Omos slaps him on the chest to send him to the floor. We go to a break.
AJ is in control against Kofi. Kofi fights back in the corner and hits double knees. Back and forth action between AJ & Kofi. Kofi ends up hitting Trouble in Paradise and Omos breaks the pin. Woods is thrown out to the floor. Omos catches Kofi and hands him to AJ to hit Styles Clash. New Day are finally eliminated.
AJ Styles & Omos vs Hurt Business(Lashley & MVP)
Lashley hits a big spinebuster to start. Back elbows in the corner as Lashley continues to manhandle AJ. AJ tries to fight back with flurry of strikes and htis a Pele kick. Omos tags in and goes against Lashley. They circle and Omos invites Lashley for a show of strength. Lashley resorts to kicks in the midsection and tackles in the corner. Lashley goes for the suplex but Omos reverses it. Omos kicks Lashley to the floor.
Lashley and Orton stare down at each other. AJ takes both of them down with a crossbody. Omos throws MVP into the barricade. AJ drags Lashley back to the ring and goes for the Phenomenal Forearm. Lashley ducks and hits a spear to get the pin and the win.
Winner – Hurt Business(Lashley & MVP)
After the match, Omos comes into the ring and hits Lashley with a chokeslam. Omos picks up AJ and takes him back. Lashley stares down at them from the ring. Randy Orton comes into the ring to catch Lashley with RKO out of nowhere.