WrestleMania 37 Match Card Predicted 4 Weeks Before The Event
WrestleMania 37, the Grandest Stage of Them All in pro-wrestling, is just 4 weeks away. Unlike previous years, just two matches are announced for the show yet. Here is what we expect the match card will be for WrestleMania 37.
You can check the final match card here.
1. Roman Reigns vs Edge – Universal Championship- Confirmed
Edge vs Roman Reigns is already announced for WrestleMania 37 and will likely main event the night two of the event. The Tribal Chief going against a fan favorite legend has become an intriguing prospect.
Daniel Bryan has been currently used to take the storyline forward. This has led to many believing that the Yes Man might also be involved in the match, making it a triple threat behavior. However, this writer does not feel that this will be the case.
2. Sasha Banks vs Bianca Belair – SmackDown Women's Championship – Confirmed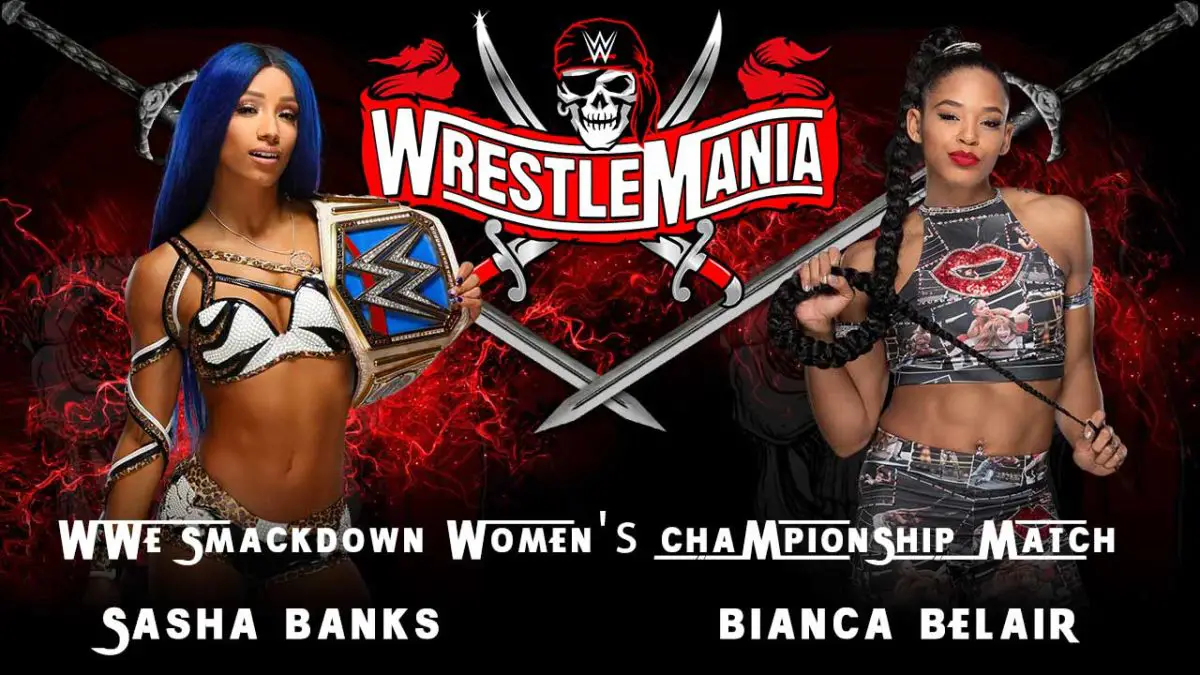 Bianca Belair's stocks were raised overnight followed by her Royal Rumble win and she will challenge the SmackDown Women's Champion Sasha Banks at the Grandest Stage of Them All. There are talks that this match might main event the night 1 of the show. But this is highly improbable given the rise of Bobby Lashley as a dominant champion.
3. Bobby Lashley vs Drew McIntyre – WWE Championship Match
The WWE title changed hands from Drew McIntyre to The Miz and then to Bobby Lashley. The way and the time when Drew McIntyre lost the title screams of McIntyre getting the title match at WrestleMania.
With the dominance that Bobby Lashley has shown this year, there are only a few names that could stand opposite to the Almighty in the ring. Apart from McIntyre, Sheamus, Keith Lee's, AJ Styles and Randy Orton are some of the names that can be considered as credible opponents. But none of them will be as good a prospect as the Scottish Psychopath.
Also, WWE might want to give McIntyre the special title-winning moment with the fans that he missed last year.
4. Asuka vs Charlotte Flair vs Peyton Royce vs Dana Brooke – WWE RAW Women's Championship
Asuka is absent from WWE TV for now due to a concussion. But she has also been absent as the RAW Women's Champion from October itself. That was the last time Asuka had defended that title.
WWE was almost ready to dethrone Asuka, but Lacey Evans' pregnancy caught them off-guard. Now, the lack of credible challengers for Asuka is coming to haunt them. This is exactly the reason why WWE might have to go the fatal 4-way route.
And they have already started to work towards it. This week, Dana Brooke stood up to Charlotte over wanting the title shot. Peyton Royce cut a good promo on RAW Talk. Flair is an ever-present name in the title scene. There will be no surprise if Mandy Rose also gets added to the conversation.
5. Big E vs Apollo Crews – Last Man Standing/Street Fight For Intercontinental Championship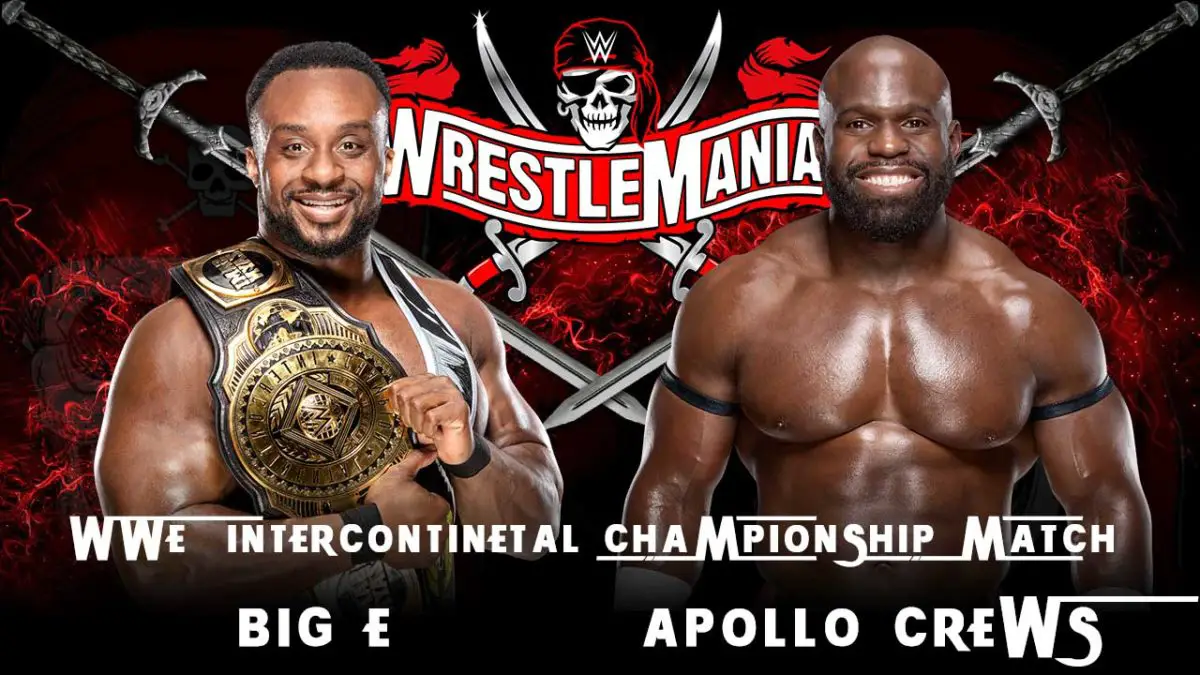 Big E's first feud after leaving Sami Zayn in the rearview was with Apollo Crews. And this feud might well continue until WrestleMania. Currently, Big E and Crews will face-off for the title at Fastlane. But one can expect that match to be ended in a controversial manner to take the storyline forward till WrestleMania.
The non-ending ending will also give WWE the chance to add some sort of stipulation to the match. A Last man standing or No Disqualification match or a Street Fight is a viable option.
6. Riddle vs Keith Lee – WWE United States Championship
Riddle may have won the United States Championship, but it is largely believed that Keith Lee was the one in line to dethrone Lashley. Lee has been absent from WWE due to reasons unknown. But if he returns in time for WrestleMania, Lee will definitely be the one to challenge Riddle.
In case Lee remains absent, Riddle's current feud with Mustafa Ali can be taken forward till April's event. Or the likes of AJ Styles or Kofi Kingston can be easily added to the US title scene.
7. Dolph Ziggler & Robert Roode vs Street Profits – WWE Smackdown Tag Team Championship
The Street Profits' SmackDown Tag Team titles loss came on the back of them winning two Slammy Awards. What can be the reason for such an odd booking?
Simple!! Vince McMahon thinks Street Profits winning the titles back in front of the fans will add so much to their popularity. Profits are one such team who are heavily over with the fans. One that feeds on the crowd! Them winning the titles back at Mania will be one of the best moments of the night.
8. Hurt Business vs New Day – RAW Tag Team Championship
Unlike their counterpart on SmackDown, the RAW Tag Team titles do not seem to be getting much of a spotlight on the WrestleMania 37 card. I won't be surprised if this match gets shifted to the pre-show on either night.
9. Nia Jax & Shayna Baszler vs Lana & Noami vs Tamina Snuka & Natalya – WWE Women's Tag Team Championship Match
Just like RAW Tag titles, Women's Tag Team titles' status is also not very good, to say the least. Nia Jax and Shayna Baszler are holding the titles but they are mostly to take forward other singles feud. Right now they are taking forward Sasha vs Bianca story. For the same reason, WWE might not waste much time developing the storyline around these titles. One team each from RAW & SmackDown will likely challenge for the titles in a three-way tag team match.
10. Seth Rollins(w/ Murphy) vs Cesaro(w/ Shinsuke Nakamura)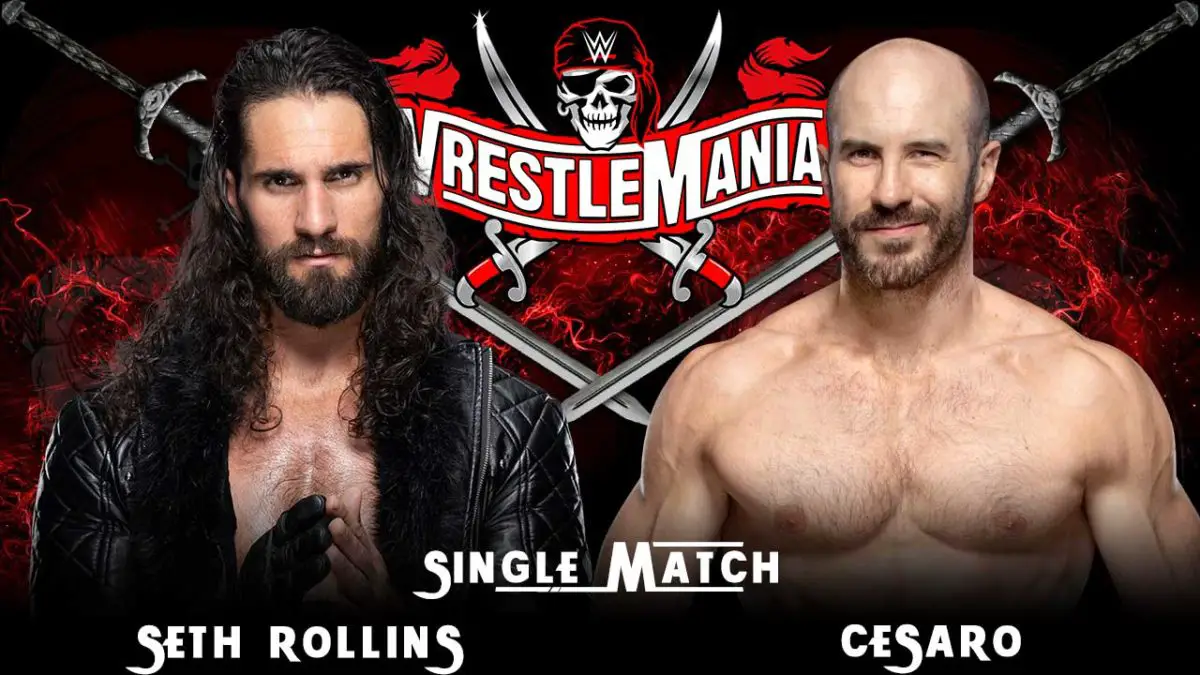 Seth Rollins started a feud with Cesaro after coming from his break. This is clearly the match for WrestleMania for both of them. However, one cannot rule out the possibility of Murphy and Nakamura getting added to either side to turn it into a tag team match.
11. Randy Orton vs The Fiend – Cinematic Match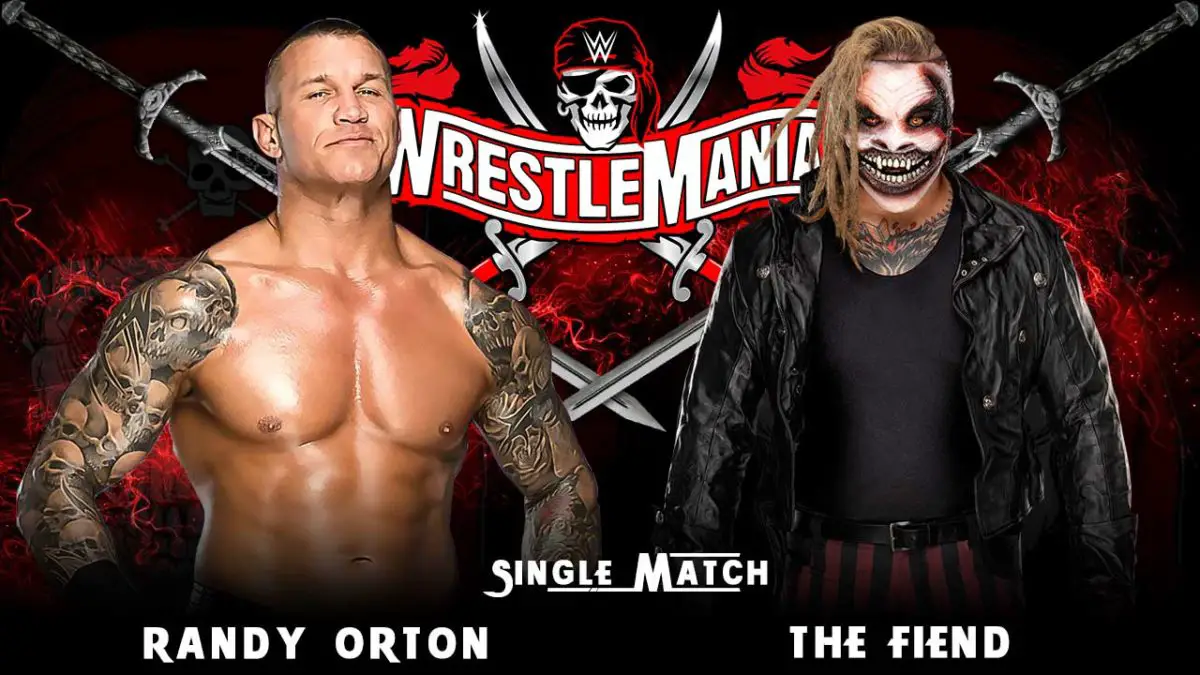 Orton vs The Fiend was earlier talked to take place at Royal Rumble. But for some reason, the lightning struck and the storyline is stretched all the way to WrestleMania now. Given all the shenanigan going around- Orton spitting black blood, Bliss on Pentagram, Orton's duplicate – this match is bound to be a cinematic match of some kind.
12. Shane McMahon vs Braun Strowman – Falls Counts Anywhere Match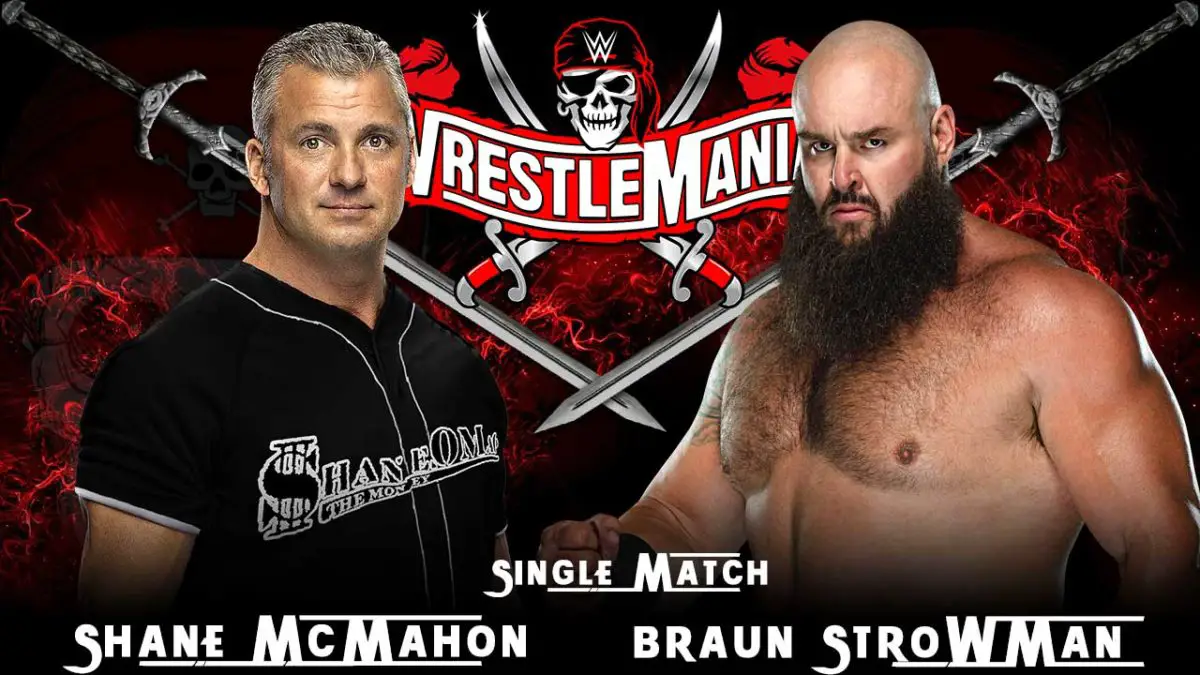 Last few weeks of RAW has made it evidently clear that Braun Strowman & Shane McMahon will face-off at WrestleMania 37. However, it is quite clear that Strowman needs props for having a good match. Shane also has a knack for pulling off extravagant spots. So, a falls count anywhere match will be a perfect platform for both of them.
13. Bad Bunny & Damian Priest vs The Miz & John Morrison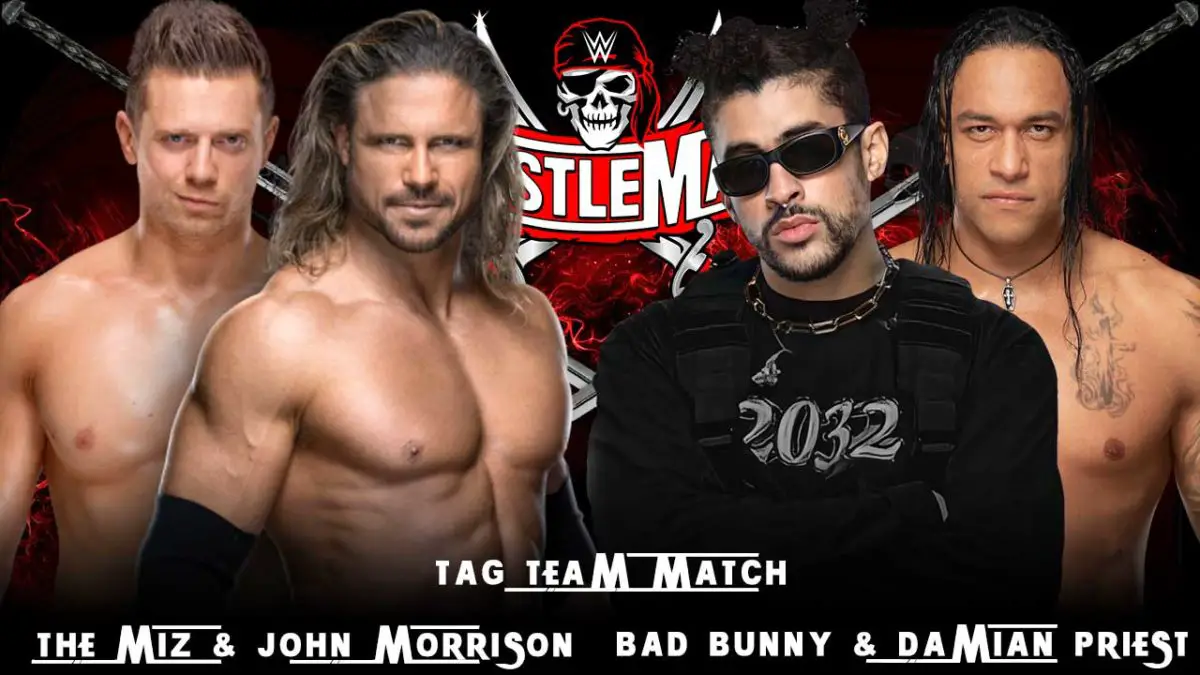 This is one of the leaked matches that got Vince McMahon angry and denied wrestlers getting to know about their WrestleMania plans. The feud was setup when Bad Bunny thwarted Miz & Morrison's advances for a music collaboration. Damian Priest is working like friend cum bodygaurd for Bad Bunny and getting the rub of his stardom. A win at WrestleMania will help him further.
14. Kevin Owens vs Sami Zayn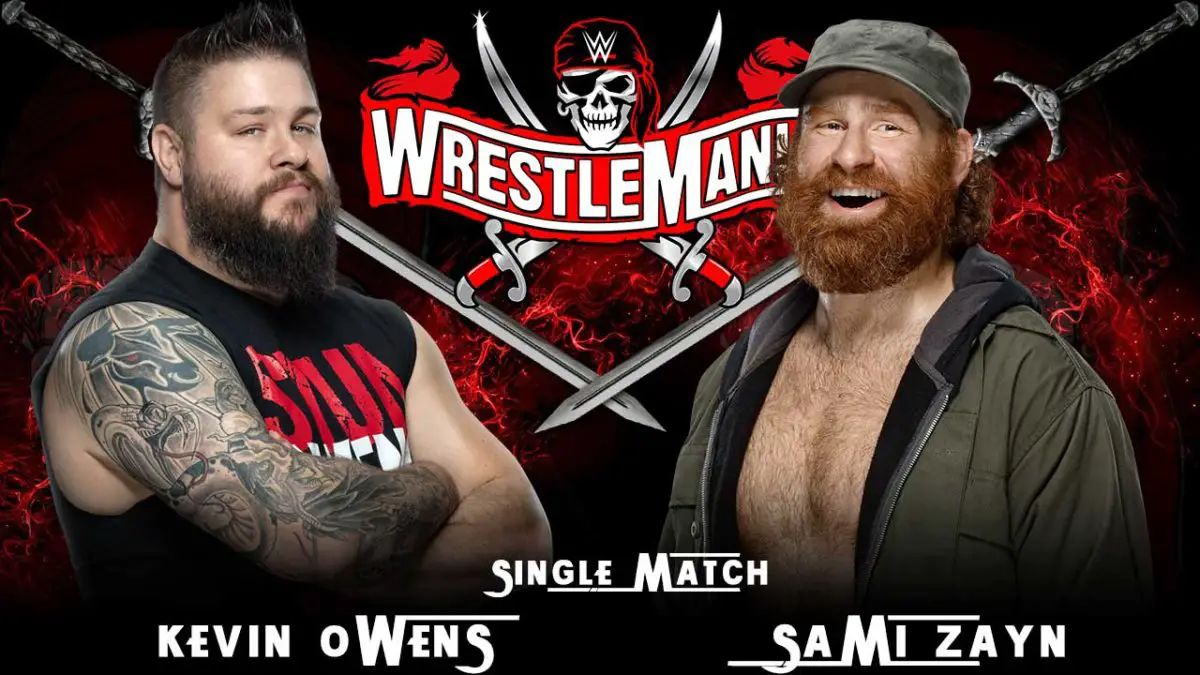 This is something that went under the radar of many fans in last few weeks. Sami Zayn tried to remind Kevin Owens of their good times together, but KO does not want anything to do with him. Will this lead to a face-off at WrestleMania. Another possibility is Corbin beating up Zayn and KO in turn face Corbin at Mania.
15. AJ Styles vs Daniel Bryan
Both men do not have any match in sight for WrestleMania. This could be one of those interbrand special matches that Vince McMahon could fancy.