What does "Forbidden Door" Means in Pro-Wrestling? Explained!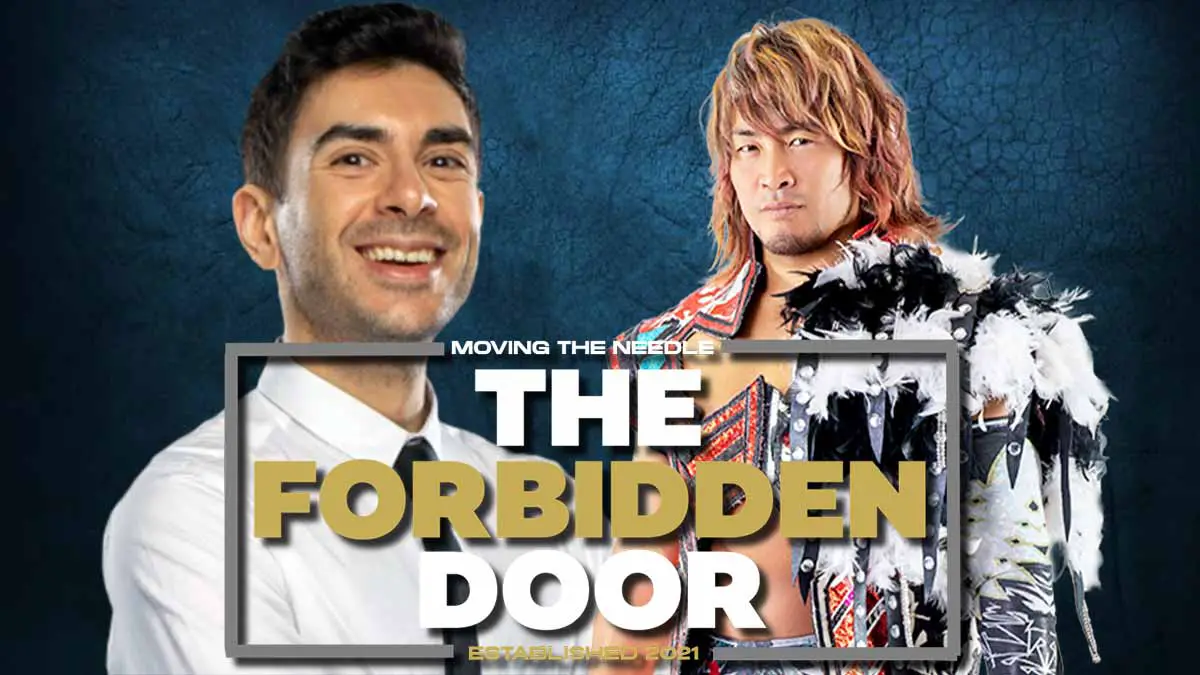 As is the case with almost every field, pro-wrestling has its own terminology for describing many different things.
Babyface, heel, work, shoot, kayfabe, etc. are all such terms that are very specific to pro-wrestling only. Another of those terms that came into use in early 2021 was – Forbidden Door.
The term is used whenever any wrestler contracted to one promotion would make an appearance in some other promotion. The term was used more and more in discussion between fans and online media when cross-promotion appearances between AEW and IMPACT, and later NJPW, became common in 2021. It became so popular that AEW and NJPW have named their joint PPV "Forbidden Door" itself.
But, what is the origin of the term Forbidden Door? Who used it first and how did it become such a popular slang? Read below to know more.
First Use
The term Forbidden Door's first use came in December 2019. NJPW's ace Hiroshi Tanahashi gave an interview to Tokyo Sports. The headline of the article, when translated from Japanese to English, reads, "Tanahashi opens the forbidden door with AEW."
Tanahashi faced Chris Jericho, who was the AEW World Champion at the time, at the Wrestle Kingdom 14. During the promotional interview, Tanahashi mentioned that if he manages to beat Jericho and is asked for a rematch, then he will open the forbidden door by asking for an AEW world title shot.
This caught a few eyes but the term did not catch up as such after this particular instance.
Tony Khan: "I am Forbidden Door"
Almost a year after Tanahashi's interview, the slang came to highlight prominently when AEW President Tony Khan used it during the paid commercial on IMPACT Wrestling. During the commercial, Khan said that people have been asking when he's going to open the forbidden door and want to know, when is New Japan going to come to AEW? He added that he had been telling people that he doesn't know where or what the forbidden door is. And then he figured it out that he is the forbidden door.
This was the start of the Forbidden Door frenzy as we now know. After this, whenever any wrestler or talent appears for another promotion, it is being said that Forbidden Door has been opened. Whether it is Kenny Omega appearing on IMPACT regularly for over six months, Jay White appearing on IMPACT and AEW, or any other talent coming to AEW, they all opened the proverbial Forbidden Door.
Forbidden Door PPV
The term became so synonymous with cross-promotion appearances that AEW and NJPW named their joint PPV Forbidden Door itself. The first PPV under this name will take place at United Center in Chicago, IL, on June 26, 2022.
It is such a coincidence that Hiroshi Tanahashi, who first used the term, will headline the first Forbidden Door event, and for the same title that he wanted to open the Door for. Tanahashi faces Jon Moxley for the interim AEW World Heavyweight Championship.