Brock Lesnar's Top 5 Biggest Losses in WWE
Brock Lesnar has always been presented as one of the biggest threats in WWE, and therefore, a loss in his record is always a big deal. To be fair, most of his losses, especially in the second run, have been used to enhance a storyline to a great deal or to make establish new stars.
You can check some of the biggest losses from Brock Lesnar's WWE career and storylines around it.
5. Brock Lesnar vs Kurt Angle (Summerslam 2003)
To say that Lesnar was dominated in this match would be an understatement. From the start itself, Kurt Angle was on the offensive and then put in the "angle lock", severely hurting Lesnar's chances to make a comeback. Mr. McMahon interfered in the match by hitting Kurt with a steel chair. Brock Lesner followed it up with an F5. As Lesnar was attempting 2nd F5, Angle countered it with Angle lock and forced Lesner to submission.
4. Brock Lesnar vs John Cena (Extreme Rulez 2012)
As Brock Lesner returned to WWE for the first time since 2004, he squared off against Cena in the main event of Extreme Rules. Lesner dominated the fight all the way and twice medics has to attend Cena to clean up the blood. But in the final few minutes, Cena made a comeback by breaking the kimura lock. Cena then hit Lesner with a metal chain and delivered an Attitude Adjustment onto steel steps to get the pin. Cena won the match but he left the match with an arm injury.
3. Brock Lesnar vs Undertaker (Summerslam 2015)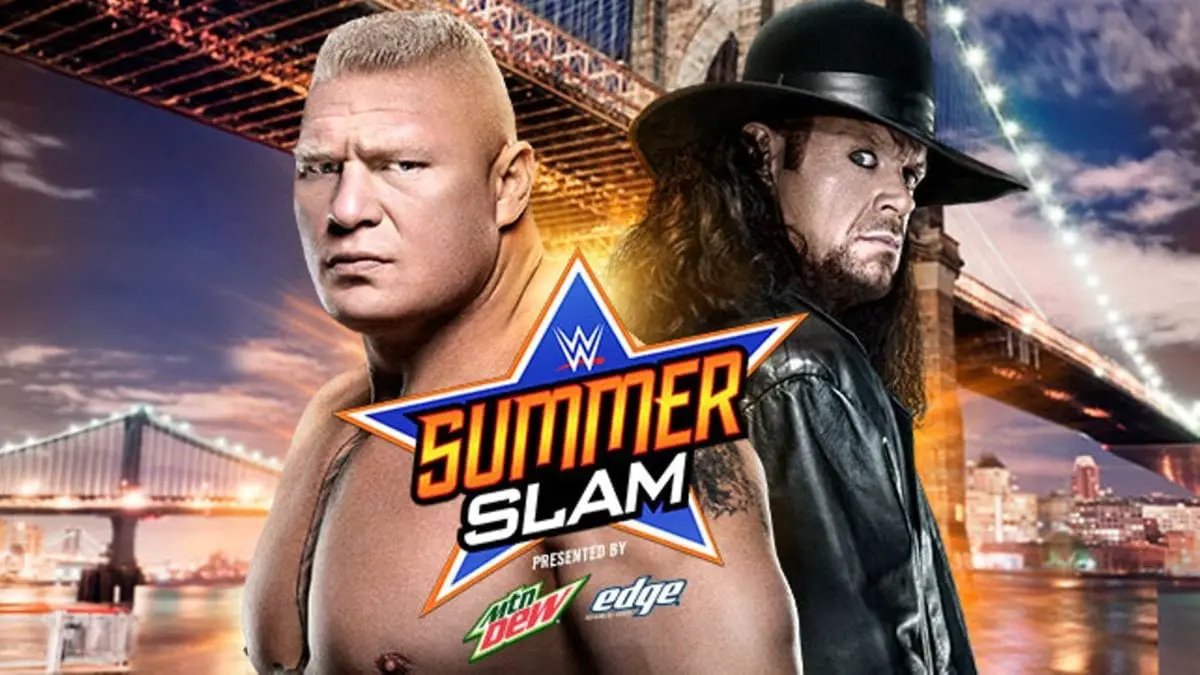 This was a match where both these men matched each other blow by blow from German Suplex to Chokeslam, from F5 to piledriver and what not. In the end, Undertaker applied Hell's Gate but Brock Lesner countered it by putting him into Kimura Lock. At that time, the timekeeper rang the bell after seeing the Undertaker supposedly indicating submission. But the referee hadn't seen a submission and never stopped the match. He got the contest restarted after Lesnar had released the hold. Whilst the referee argued with the timekeeper, Undertaker surprised Lesnar with a low blow and applied Hell's Gate again to put Lesnar to sleep. This was Undertaker's first win over Lesnar.
2. Brock Lesnar vs Roman Reigns (SummerSlam 2018)
Continuing their long feud, this was perceived as the last showdown between Roman and Lesnar. As Braun Strowman was also present at the ringside for an opportunity to cash in his "Money in the Bank" briefcase, Brock Lesner was visibly distracted. Reigns came out with signature moves which were countered by Lesner by his guillotine chokes. Reigns got Lesnar out of the ring and in attempting to take him out, he hit Strowman instead. Lesner also hit Strowman with an F5 and nailed him with MITB briefcase. Then, Lesnar went into the ring to take on Reigns with the chair, but ate a spear and was then pinned clean by Reigns.
1. Brock Lesnar VS Goldberg (Survivor Series 2016)
This was possibly the most stunning defeat of any superstar in the WWE universe. Goldberg defeated Brock Lesner in a match that lasted only 1 minute and 24 seconds. After 12 years, Goldberg returned to WWE to avenge his family after weeks of insults from Lesnar and Paul Heyman. It only took two Spears and a Jackhammer to shock Brock Lesner to defeat.
---
See Also
Brock Lesnar WrestleMania Matches History & Win-Loss Record
---