WWE SmackDown 4 October 2019: Preview & Matches
A big night for WWE's blue brand as SmackDown makes its premiere on Fox Network. And if rumors are to be believed, it will become the 'A' show for WWE instead of Monday Night RAW. Will the show rise above the level of SmackDown from the USA Network? Let's wait and watch.
Date- 4 October 2019
Location- Staples Center, Los Angeles, California, US
Start Time- 8 PM EST(5 October 2019 12 AM GMT/5:30 AM IST)
Kofi Kingston vs Brock Lesnar for WWE Championship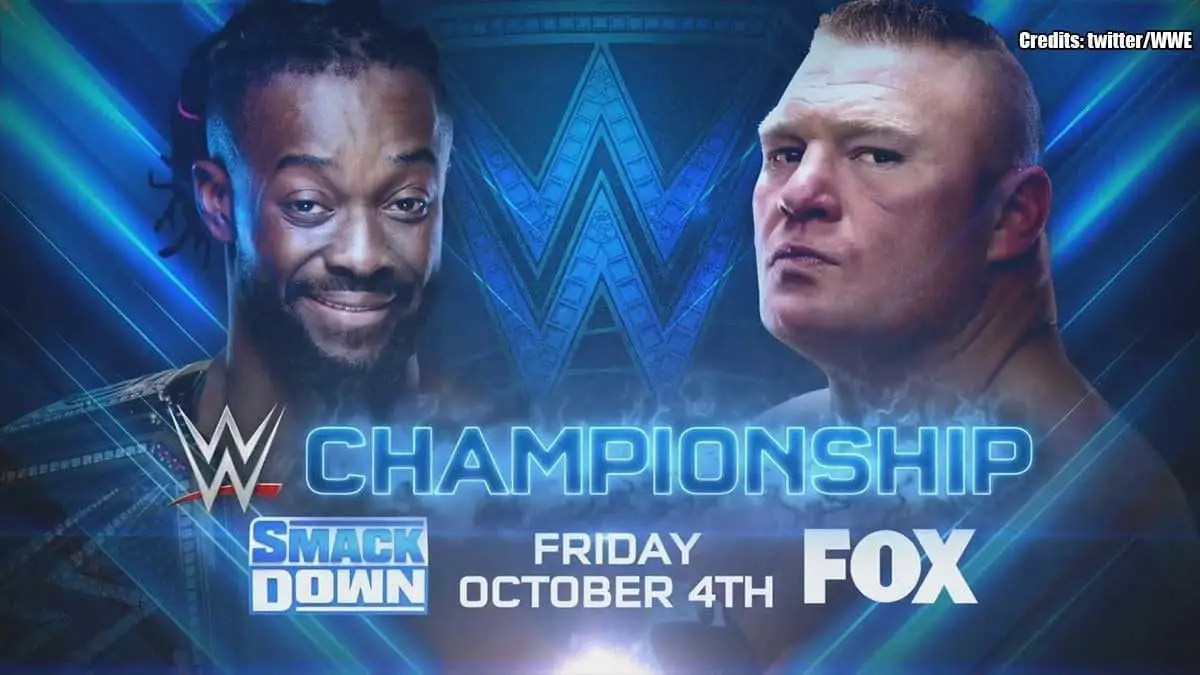 As every one of Lesnar's feuds starts, this one also started with Lesnar coming out at random and challenging a champion for a title match on a big occasion. The champion, in this case, was Kofi Kingston. The title was WWE Championship. And the big occasion is Friday Night SmackDown's premiere episode on Fox. And since Kofi has been a fighting champion, as all the babyface champions have been recent, he promptly accepted the challenge.
In WWE's eyes, there is no bigger opponent than Brock Lesnar in current times. So, either it is the end of Kofi's title reign or it will bring legitimacy towards it. Whatever it will be, it should be worthy of the big episode that WWE has been advertising.
The Rock returns for FOX premiere of Friday Night SmackDown
WWE fans have not smelled what the Rock has been cooking for a long time. His last appearance in WWE came at Royal Rumble in 2015 and he has since quite busy in churning out one movie after another. But as SmackDown gets a new home, and a big home, he will be returning to the brand which he once used to call his own. What is the Rock gonna do on the show is not announced yet, but if believe the rumors, it will be something to do with Roman Reigns. That is if Randy Orton fails to get his man.
Kevin Owens and Shane McMahon – Ladder Match, Careers on the Line
After lapping him on his return, WWE fans became fed up with him in the past few months when he began to feature heavily. The frustrations of the fans came alive via Kevin Owens who took it upon himself to end it. After various turns in the last two months, these two have one final match which will decide who will remain and who will leave SmackDown forever. KO is the clear favorite here but you can never say for sure. Especially since WWE is treating NXT as equally prominent.
Becky Lynch & Charlotte Flair vs Sasha Banks & Bayley
The four horsewomen of WWE are heavily involved with one another at the moment. And at SmackDown's big Fox premiere, they will face-off for the second time in a tag team match in the last 4 weeks. Last time, it was Flair who pinned Bayley to win the match for her team. How will it go this time around?
Roman Reigns vs Erick Rowan Rematch
Roman Reigns' accident story went on for a bit longer than it should have been and did not turn out to be any good for anyone- Roman, Bryan, creative team. Anyone other than Erick Rowan. Since being revealed as the mystery attacker, he has defeated Roman Reigns and Daniel Bryan and was rejoined by his former partner Luke Harper. However, it remains to be seen whether his run continues this week on SmackDown.