The Rock Announced for SmackDown Fox Premiere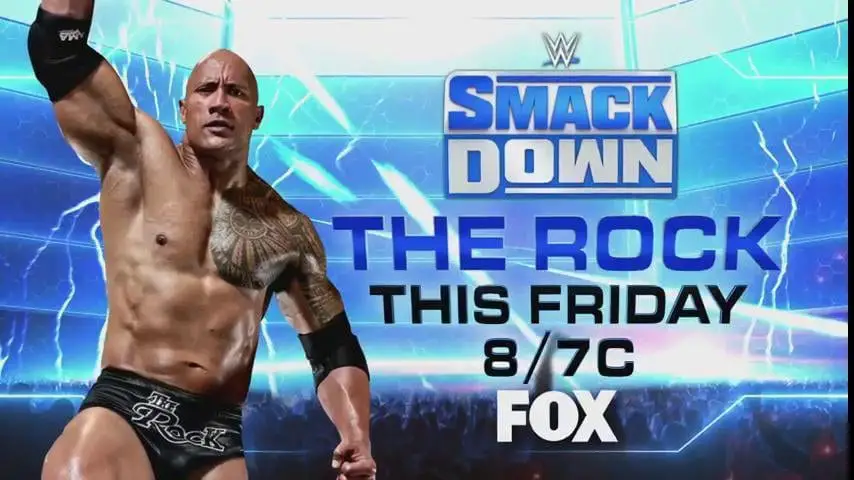 WWE has announced that Dwayne "The Rock" Johnson will appear at SmackDown's Fox Premiere episode on 4 October.
SmackDown will be celebrating its 20th Anniversary along with its move to Friday nights on Fox Network later this week. The show is set to get a makeover with new sets, new theme song, the reintroduction of pyrotechnics and some new cameras to give it a more cinematic view.
WWE is bringing many legends for the Fox premiere episode like Hulk Hogan, Ric Flair, Stone Cold Steve Austin, Jerry Lawler, and others. Another name is now added to the long list with the Rock also now being a part of the show. Johnson made the announcement over twitter yesterday.
During his time with the company, The Rock use to refer SmackDown as "the Rock's show" as the name originated with his famous catchphrase: "Lay the smack down". This will be the first time Johnson has come back to SmackDown in six years. He last appeared on the blue brand on 11 January 2013 on the route to his WWE Championship match against CM Punk and then against John Cena at WrestleMania 29.
Also, this will be his first appearance since his impromptu match against Luke Harper
The current lineup for the show is as follows:
Kofi Kingston(c) vs Brock Lesnar – WWE Championship Match
Kevin Owens vs Shane McMahon – Ladder Match, Loser Leaves WWE
Becky Lynch & Charlotte Flair vs Becky Lynch & Sasha Banks
Roman Reigns vs Erick Rowan
The Rock to appear