WWE SmackDown 26 February 2021: Live Results, Updates, Winners & Highlights
Welcome to ITN's Live blog for WWE Friday Night SmackDown episode of 26 February 2021(2/26/2021) as we bring you the Live Results, Updates, Winners and Highlights from the show.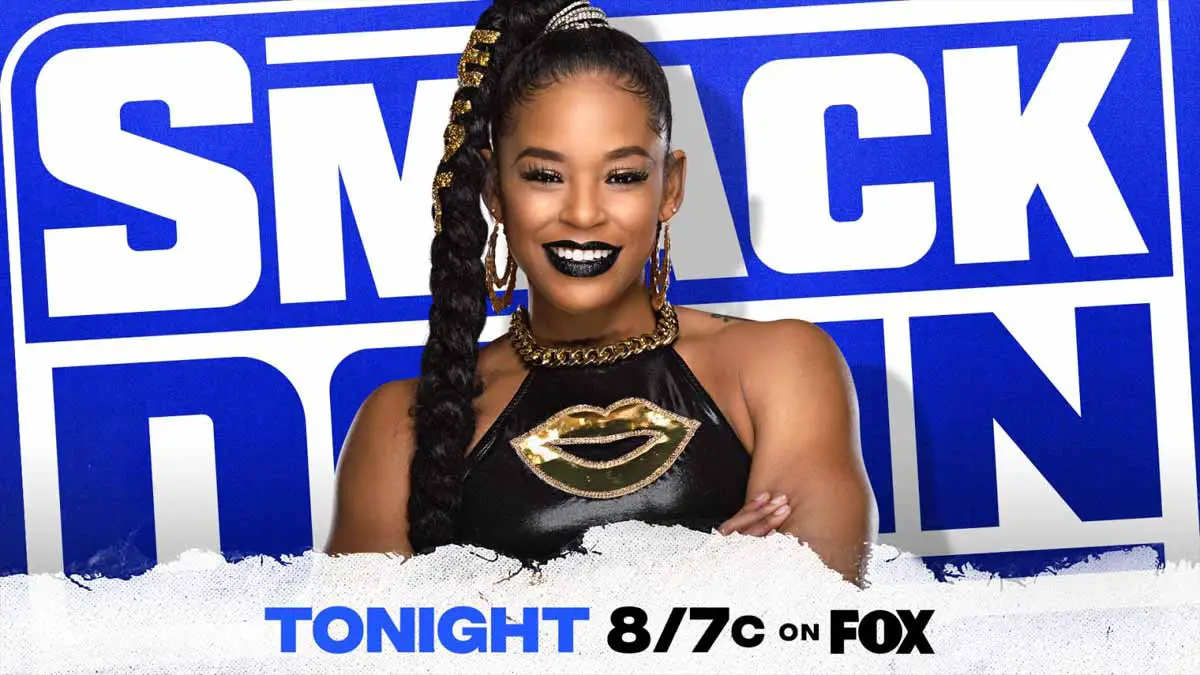 Tonight's SmackDown will deal with the fallout from WWE Elimination Chamber 2021 PPV and buildup for Fastlane 2021 & WrestleMania 37. WWE is advertising Bianca Belair to choose her WrestleMania opponent and more tag team match. You can check out complete preview here.
Roman Reigns reacts to Edge
Roman Reigns comes out to open the show with Paul Heyman and Jey Uso. The pyro goes off as he poses with the title at the stage. They all head to the ring as we go replay from Elimination Chamber. The Thunderdome crowd boo Roman as he takes the mic. Roman says SmackDown needs him just like Elimination Chamber. He credits himself for saving Elimination Chamber. But his night wasn't perfect, and it was because of one man, because of Edge. Roman then tells him to back out of his WrestleMania match and go home to be a good family man.
Daniel Bryan interrupts him. Bryan takes a shot at Roman for saying his title defense at Elimination Chamber perfect when his opponent went through Elimination Chamber. Bryan calls on Roman's legacy and tells him to put all the doubts at rest by putting his title on the line against Bryan one more time at Fastlane without any qualifiers and nothing between them. Jey Uso cuts his promo short.
Jey Uso says if you wanna go to the Head of the Table, you go through him first, but Dan ignores him and squares up with Roman. Reigns ask if he really wants him to hurt him again. Jey superkicks Bryan as he was looking at Roman. Bryan is sent over the barricade after getting beaten up. Roman & company leaves for the back.
It is annonced that Bryan will face Jey Uso and if he wins, Bryan will get the title shot at Fastlane. Backstage, Edge goes to Sonya Deville and Adam Pearce. He complains that he was told that it was going to be him and Bryan tagging against Roman and Jey but Adam Pearce says this match just fell into his lap and no disrespect, but he knows a Universal Championship match is just a bigger attraction for Fastlane. Edge picks on the no disrespect part before going away.
Rey Mysterio & Dominik Mysterio vs Otis & Chad Gable
Chad Gable cuts a short promo before the match and calls their attack on Rey Mysterio last week an Alpha Academy showcase. They head to the ring for the match.
Rey and Otis starts. Otis drops him with a shoulder tackle. He continues to throw around Rey Mysterio for a while and even hits a running tackle in the corner. Gable tas in and works on Rey. Rey turns it around and tags in Dominik. Dominik with clotheslines, an uppercut in the corner, ducks in the corner, and hits a tornado DDT to get a two-count.
Rey tags in for a splash on Gable before dropping Otis from the apron. The Mysterios hits stereo 619s. Rey with a splash on Gable but Otis breaks the pin. Otis drags Gable to the corner and tags himself in. Gable drops Rey in the middle of the ring. Dominik is also thrown out of the ring. Otis hits a splash from the top to get the pin on Rey.
Winners – Otis & Chad Gable
Apollo Crews vs Shinsuke Nakamura
Apollo Crews comes out with new ring gears. Instead of trunks, he is now sporting pants, and is also wearing a stroll. Apollo gets in the ring and starts his promo. Apollo says a lot of people are wondering what has happened to him. He has been far too humble and was not getting anything. He says he is from Nigeria and is a real African American. Crews says his grandfather controlled one of the richest lands of Nigeria and digs into his history.
Apollo recalls Big E telling him to go back to kitchen, but he went back to his root. He showed Big E his steel. He was saying something for Nakamura when Nakamura's music interrupts. Crews attacks Nakamura from behind when he was wrapping up his entrance in the ring. Crews takes him out to the floor and sends him in the steel steps. He picks up the steps but the referee stops him from hurting Nakamura.
The match is already started as we return. Crews hits a couple of clotheslines on Nakamuraas he continue to dominate. Nakamura lands on his feet after a German Suplex. Nakamura with a kick to get a two-count. Nakamura avoids Crews in the corner and hits a kick to the back of the neck. He hits a running knee to get a two-count. Nakamura puts him in the headlock which is turned into a trio of German suplex.
Nakamura hits an step-up enziguiri and a rolling German suplex. But they were too much near the ropes for a pin. Nakamura gets ready for Kinshasa but Crews rolls out. Nakamura follows and Crews sends him into the steel steps. Back in the ring, Crews goes for the Military press but Nakamura puts him in a sleeper. Crew goes and hits Nakamura's head into the top turnbuckle. Crews hits the Olympic slam to get the pin.
Winner – Apollo Crews
Roman Reigns is backstage and is informed by Paul Heyman that Bryan will face Roman if he wins tonight against Jey Uso. Roman is not pleased.
Tamina vs Liv Morgan
Tamina takes Liv to the corner to start. Liv tries to get some strikes but Tamina rocks her with more blows. Liv avoids somes strikes and hits a dropkick. Tamina ends up dropping her. Tamina with running splash in the corner. Liv hits back with a couple of strikes but Tamina drops her with a big back elbow. Tamina drives her face into the mat.
Liv tries to counter a hip toss. Liv with a step up Enziguiri and drives Tamina in the corner. A dropkick gets her a two-count. Natalya yells at Tamina to finisher Liv. Tamina counters in the corner and hits the Samoan drop. Tamina yells at Liv before hitting the tilt-a-whirl Urinagi.
Winner – Tamina
Bianca Belair Makes WrestleMania Choice
Sonya Deville & Adam Pearce are in the ring and they brings out women's Royal Rumble winner Asuka. Bianca says she won the Royal Rumble 3 weeks, 5 days, 2 hours and 6 minutes ago, and it has changed her life. Sonya cuts her off and asks she has main event match against any World champion of her choosing. We get video on WWE RAW Women's Champion Asuka and WWE SmackDown Women's Champion Sasha Banks.
Bianca was talking about making right choice when Reginald interrupts. He tries to turn Bianca against choosing Sasha Banks at WrestleMania. He says if she choose Sasha at WrestleMania, she will be a loser. Bianca gets angry but gets interrupted by Sasha's entrance. Sasha gets in the ring and reminds Reginald to never speak for her again. She then tells Bianca that she should choose her for WrestleMania as she is the best, and Bianca is second best.
Bianca says she will make eat her words when she will beat her at WrestleMania and prove that she is the smartest, strongest and the Best. Bianca makes it official. The pyro goes off. Sasha raises her title as they face-off. Reginald tries to get in the frame and but they tell him to back off.
King Corbin is backstage when Sami Zayn and his film crew appear. Corbin gets angry at crew getting in his face. Corbin wants to know why they are teaming up tonight. Sami says it was his idea and they could go on to win SmackDown Tag Team titles. Corbin does not react much.
Street Profits vs Sami Zayn & King Corbin
Montez Ford starts off with Sami. Sami works Ford over and into the corner. Ford comes back with an arm drag. Dawkins and Corbin tag in and lock up. Corbin hits a big shoulder tackle to drop Dawkins. Dawkins nails a dropkick before working on Corbin's arm. Corbin turns it around and goes to slide out, then back in but Sami's film crew is in the way.
Back and forth continue between the two teams for a few minutes. The Profits take control and run wild. Corbin gets sent to the floor and runs into Sami's crew once again. He yells at them and then at Sami. Ford jumps over the ropes and Sami to hit Corbin with a moonsault Dawkins hits a huge neckbreaker on Sami. Ford goes to the top and follows up with a big Frogsplash on Sami for the pin to win.
Winners- The Street Profits
After the match, Ford and Dawkins celebrate as the music hits. We go to replays. Corbin and Zayn are furiously yelling at each other at ringside.
Kayla Braxton is backstage with Daniel Bryan now. He talks about his chances of facing Edge at WrestleMania 37 and says they're pretty damn good, he just has to beat Jey Uso tonight and Roman Reigns at Fastlane. Edge comes up and has a little chat with Bryan. Edge asks who will win if they face each other at WrestleMania. Bryan says he will keep the answer to himself.
Seth Rollins comes out to the ring and try to get Cesaro under his wings. Cesaro snaps at him and puts him the swing and attacks him some more.
Daniel Bryan vs Jey Uso – If Bryan wins, he gets Universal Title match at Fastlane
The match ends in a double countout as both Jey & Daniel could not make inside the ring in time.
After the match, Roman Reigns hits the ring and attacks Daniel Bryan with a spear. The show ends as Roman stands tall over Daniel Bryan.