WWE SmackDown 18 December 2020: Live Results, Updates & Grades
Welcome to ITN's Live Results, Updates & Grades blog for WWE Friday Night SmackDown episode of 18 December 2020 featuring the go-home episode for WWE TLC 2020.
Check the preview for the show here.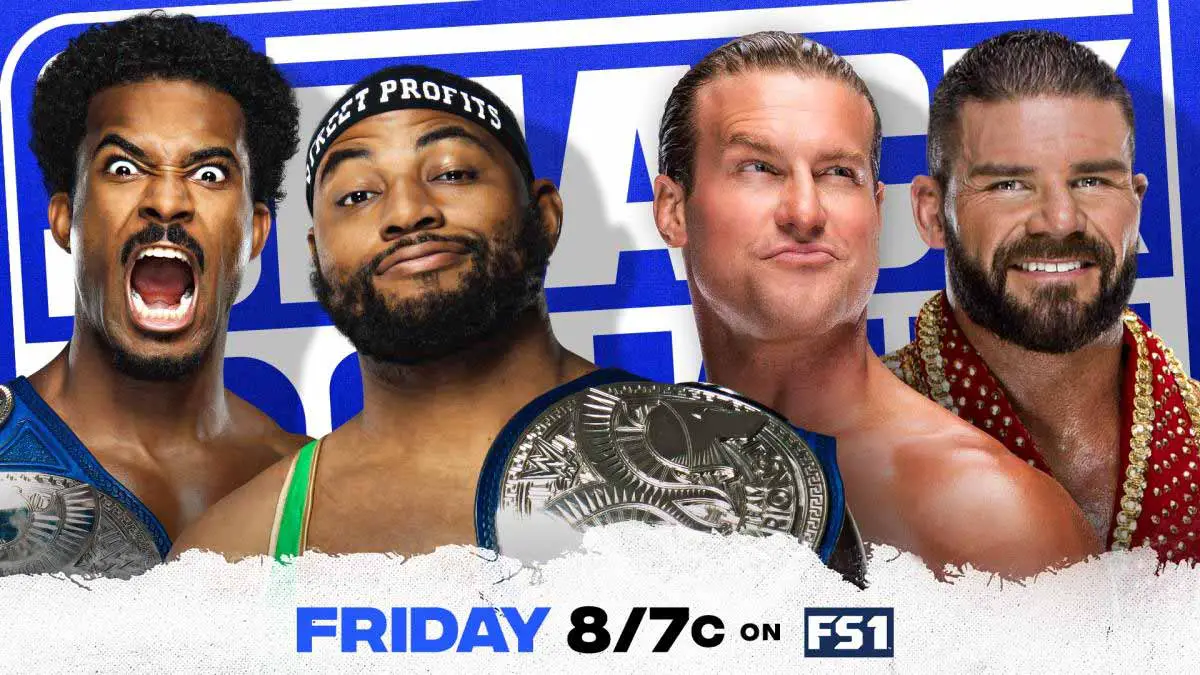 Owens Calls Out Roman
Kevin Owens is the first one to come out as we go live. He immediately calls out Roman Reigns. Owens has told his family not to watch his match against Roman at TLC because they might not like him after what he does to Roman on Sunday. He also has some bad news for Roman and Jey as he claims that their sons are not fond of their actions.
Paul Heyman appears on the screen from outside Roman's locker room. He says KO must be mad after getting beaten up by Roman last week. But that also makes him a very dangerous man as Owens is ready for any sacrifice. That's why he has to be taken down. Owens has had enough of it and leaves the ring searching for Roman.
After the break, we see Adam Pearce trying to calm down KO saying he has his match against Roman this Sunday. Owens slams at Roman's door. Roman's music hits and he makes his entrance on the ramp. Owens is now watching from the screen backstage as Roman heads to the ring. Heyman hands him the mic. Roman says he does not want to hurt him or his family, but Owens is running around saying that Roman is a bad guy.
Roman then tells KO to acknowledge him as the head of his family and he will be forgiven. But if he does not, Owens will not even be able to make it to TLC. Roman waits for KO now. KO comes out but gets attacked from Jey Uso from behind. Roman joins him soon and both men are beating up KO. WWE officials run out and are trying to stop Roman. Roman scares them away and throws KO into the barricade. Roman grabs his Universal title belt and is now heading to the back.
The Street Profits vs Dolph Ziggler & Robert Roode – WWE SmackDown Tag Team Championship Match
Dawkins and Roode start. Ziggler with an early distraction to allow Roode to tag him in. Dawkins turns it around immediately and tags in Ford. Ford with a double dropkick on both opponents. Ford continues to be in control and stops a suplex from the apron. He goes to the top for the splash but Roode pushes him into the barricade as we go to the break.
Ziggler and Roode makes quick tags and keep control over Ford for a while. Ford tries to tag out but gets cut off in between. Ford backdrops Ziggler over the ropes and cut off Roode to make an opening. Ford tags in Dawkins. Dawkins runs over Roode with a couple of clotheslines. Ziggler also runs in to get slammed to the mat.
The double team work from Roode and Ziggler results in a leg drop from the top and a near fall on Dawkins. Ford gets back into the equation as the action goes haywire. Roode tries to roll-up Ford but Ford reverses it and holds onto Roode's tights to get the pin.
Winners- The Street Profits(retains WWE SmackDown Tag Team Championship)
After the match, Roode and Ziggler are arguing with the referee over Ford using the tights to get the pin. The referee gets angry at them. We cut to the break.
Grade- C+. Typical tag team match with hardly anything that we have not seen before. The finish might mean that we are set for another title match between these two teams.
Kevin Owens is seen backstage, probably looking for Roman Reigns. Adam Pearce is still trying to calm him down. Jey Uso attacks KO with a steel chair.
Liv Morgan & Ruby Riott vs Billie Kay & Tamina
Billie Kay wants another shot at the Riott Squad and will have a new partner this week. Billie comes out to the ramp and announces her partner for tonight. The partner turns out to be Tamina.
Tamina throws Liv Morgan across the ring to start with. Liv dodges her in the corner and tags in Ruby. Ruby gets run over by Tamina with a clothesline. Ruby tries to get some punches going but Tamina drops her with a Samoan drop before tagging in Billie Kay. Kay covers but Morgan breaks the tag. Ruby turns it around and tags in Morgan. Tamina is decked at the apron. Ruby and Morgan with a double team facebuster from the top rope to get the pin on Billie Kay.
Winners- Liv Morgan & Ruby Riott
Grade- C-. This was basically a squash if we leave Tamina's part.
Carmella's Champagne Toast
Carmella comes out to the ring with an assistant for her champagne toast. She talks about her impending victory at TLC this Sunday and says Sasha Banks intentionally disqualified herself in last week's title match. Carmella says Sasha will be so frustrated with herself that she will rip herself and get disqualified again.
Carmella asks her assistant for a glass of champagne. She takes a sip and says the drink is cheap and stale, just like Sasha. Sasha's music hits and Carmella sends the assistant to the ramp to take care of Sasha. She appears from behind and throws a glass of champagne at Carmella before taking her down. The assistant distracts Sasha which gives Carmella the chance to hit Sasha with the champagne bottle again.
Kevin Owens is back in the trainer's room getting checked out. Jey Uso runs in and attacks him. They brawl and Jey drives Owens through a table with a big Spinebuster. A referee runs in and checks on Owens as Uso walks off.
Otis vs Shinsuke Nakamura
Otis with Chad Gable who has been coaching him recently. Nakamura comes out with Cesaro. The bell rings and Nakamura gets a hold on Otis. Gable tells Otis to slam him to break the hold. Nakamura lures Otis into a boot on the apron. Nakamura runs on the outside and kicks Otis in the head while down on the apron.
Nakamura goes to kick Otis while he is down. Otis hulks up and yells at Nakamura to come on. Otis unloads on Nakamura now. Otis with a running splash in the corner. Otis goes for The Caterpillar but Gable jumps on the apron and tells him not to, do a suplex instead. Otis goes to grab Nakamura but Nakamura rolls him up out of nowhere for a close 2 count. Otis fights back and hits a suplex. Otis follows up with the Vader Bomb for the pin to win.
Winner- Otis
Grade- C. Fun short match. Gable & Otis storyline is good addition for both men.
Sami Zayn is backstage in a suit. He has a crew member there with him, who has been helping him prepare for the Sami Awards. They have 5 action figure-like gold awards to hand out later. Sami yells at the crew member for not polishing them. Sami walks off to get something to polish with. Big E walks up and he's also dressed for the awards it appears. Big E just laughs like a goofy madman, apparently ready to ruin the awards ceremony.
The announcers lead us to the Happy Holidays video that features WWE Champion Drew McIntyre and others battling a 2020 Monster, then teaming with 2021 to put the 2020 Monster away.
Sami Zayn's First Annual Sami Awards
Sami Zayn holds the first ever Sami Awards. He explains how Slammy Awards will favor corporate favorites and that's why he has to hold his own awards to recognize the true stars of the year. He takes us to a vignette for the 2020 which features only his footage.
Sami goes on to announce the comeback of the year, which goes to himself. The match of the year is announced and it is Sami Zayn beating Jeff Hardy and AJ Styles at Clash of Champions. Sami is thrilled to win both awards and he was not expecting these. He goes on to announce the Superstar of the Year and it goes to ….. Big E.
Big E comes out and snatches the trophy while Sami acts all confused. Big E does some comedy until Sami tries to cut him off. Big E punches him in the gut and throws him down the ramp. Big E also throws the trophy before leaving.
Bianca Beliar vs Bayley
They start and Bayley kicks at Beliar's feet to start with. Beliar comes back with a clothesline and continues to be in control. She goes to the top and teases Bayley. Beliar with a big dropkick. Beliar goes for the cover but Bayley slips out of the ring and smashes Beliar's hand on the apron. Beliar is in pain on the floor as we go to the commercial.
Beliar throws Bayley out as we return. Bayley barely beats the count. Both women collide and are down. They get up and Beliar gets the forearms going in the corner before hitting a delayed vertical suplex. Beliar with more strikes before hitting a springboard moonsault. Bayley goes out and comes in, only to be hit by a backbreaker.
Beliar goes to the top and Bayley almost capitalizes. Beliar with another suplex as she catches Bayley. They go back and forth now. Beliar almost gets the count near the rope as they continue to tussle. Bayley goes for a chokehold but Beliar powers her into a powerbomb position. Bayley rakes her eyes and hits her with the rose facebuster to get the pin.
Winner- Bayley
Grade- B+. Fine match with Bianca Beliar looking like a star despite the upset loss.
Kevin Owens Would Not Stay Down
Roman Reigns is out in the ring with Paul Heyman and Jey Uso. Roman wonders why Owens is trying to ruin his chances of facing him at the main event of a PPV. Reigns says this is what Owens' coming generation will talk about and this is what will elevate his career. Owens comes out but is looking beaten up. Owens limps his way down the ramp and grabs a steel chair.
Owens takes out Jey Uso and heads into the ring. He unloads on Reigns and stops him from picking a chair. Uso enters from behind and superkicks Owens to save Reigns. Reigns spears Owens before delivering chair shots. Uso puts Owens through a couple of tables. They drown Owens in a pile of broken tables and chairs before leaving the ring.
Reigns, Uso and Heyman return backstage to the Gorilla Position area now. The TV screen behind them shows Owens is crawling out from the pile and sets up a chair to sit on. Owens takes the mic and says there is nothing Reigns or his family can do to keep him down. He says he's going to win the WWE Universal Title at TLC on Sunday or he's going to die trying. Roman has gone off-camera meanwhile. The show goes off the air.
---
SmackDown Results Chronology
---