WWE Backlash 2023: Rhea Ripley Retains SD Women's Title Against Zelina Vega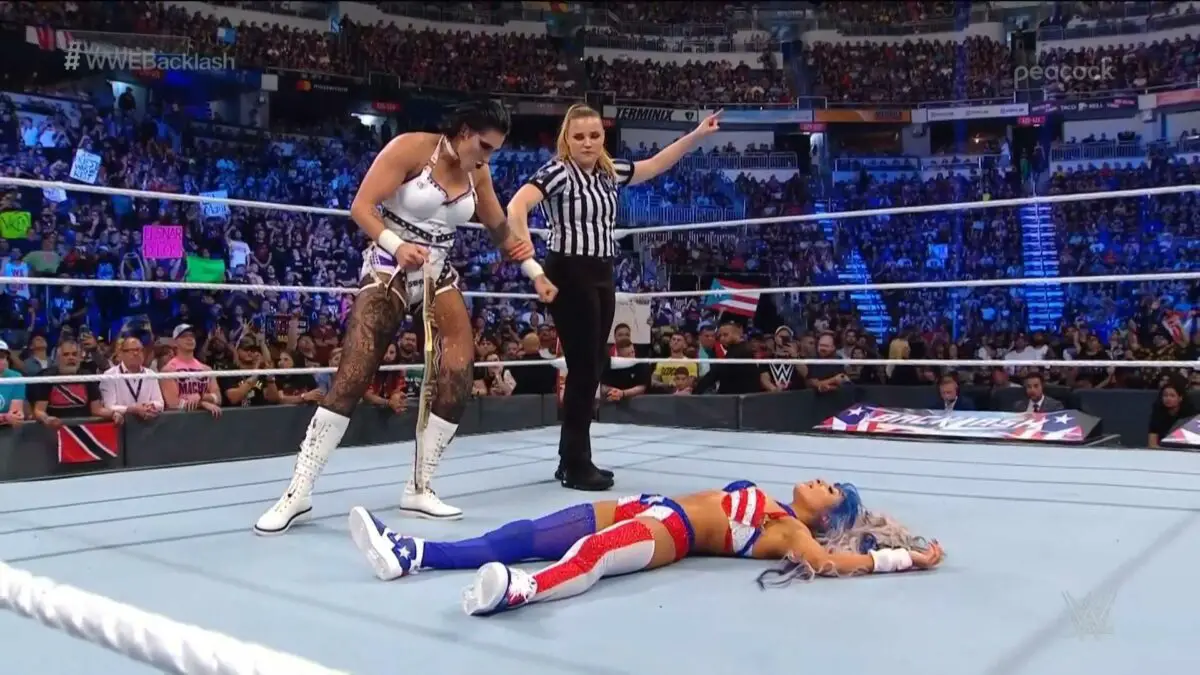 Rhea Ripley defeated Zelina Vega at WWE Backlash 2023 to retain her SmackDown Women's title in her first title defense.
Storyline
The rivalry between Judgment Day and Latino World Order(LWO) started during Rey Mysterio and Dominik's rivalry. Zelina and Rhea came to odds multiple times during the build-up to WrestleMania. After winning SmackDown Women's Championship at WWE WrestleMania 39, Rhea Ripley turned her focus back to this fued.
On the April 14 episode of SmackDown, when Ripley was about to interfere in a match between Santos Escobar and Damian Priest, she was hit by a hurricanrana by Zelina Vega. The very next week, Vega asked Adam Pearce for a title opportunity against Rhea Ripley at WWE Backlash 2023 as she is the only female wrestler of Puerto Rican descent on SmackDown. Pearce agreed to it and WWE set the match between them.
LIVE UPDATES
The SmackDown Women's Champion Rhea Ripley is the first one to make her entrance to the ring. Puerto Rican descent Zelina Vega is the second one to enter wearing a Puerto Rico-themed outfit. Zelina Vega is quite emotional as she performs in front of her family and challenges for the title.
Rhea Ripley goes for Vega but the latter rolls out of the way. Ripley puts Vega in the corner, but Zelina quickly gets out and hits Ripley with a kick. Zelina goes out of the ring, takes a slipper from her mom, and throws it to Rhea. 
It infuriates Rhea as she chases down Zelina. The two get back inside the ring as Rhea hits Zeliana with a powerbomb. Rhea starts dominating the match and hits Zelina with her shoulders to the midsection. 
Rhea mocks LWO as she keeps sending Zelina from one turnbuckle to another. Rhea hits a backbreaker and then picks Zelina on her back for a submission maneuver. Vega manages to get out of it, but Rhea sends her to the corner. 
Rhea goes for the running shoulder but Zelina gets out of her way and Rhea goes into the ring post. Zelina finally fights back and hits Rhea with two clothesline, but gets caught with a headbutt while trying for the third one. 
Rhea tries to hit the Riptide but Zelina counters it with a DDT. Zelina hits Rhea with a 619 followed by a Meteora for a near fall. Rhea drops Zelina with a kick to the face and then hits her with the Riptide to get the pinfall.