WWE RAW 5 April 2021: Live Results from WrestleMania Go-Home Show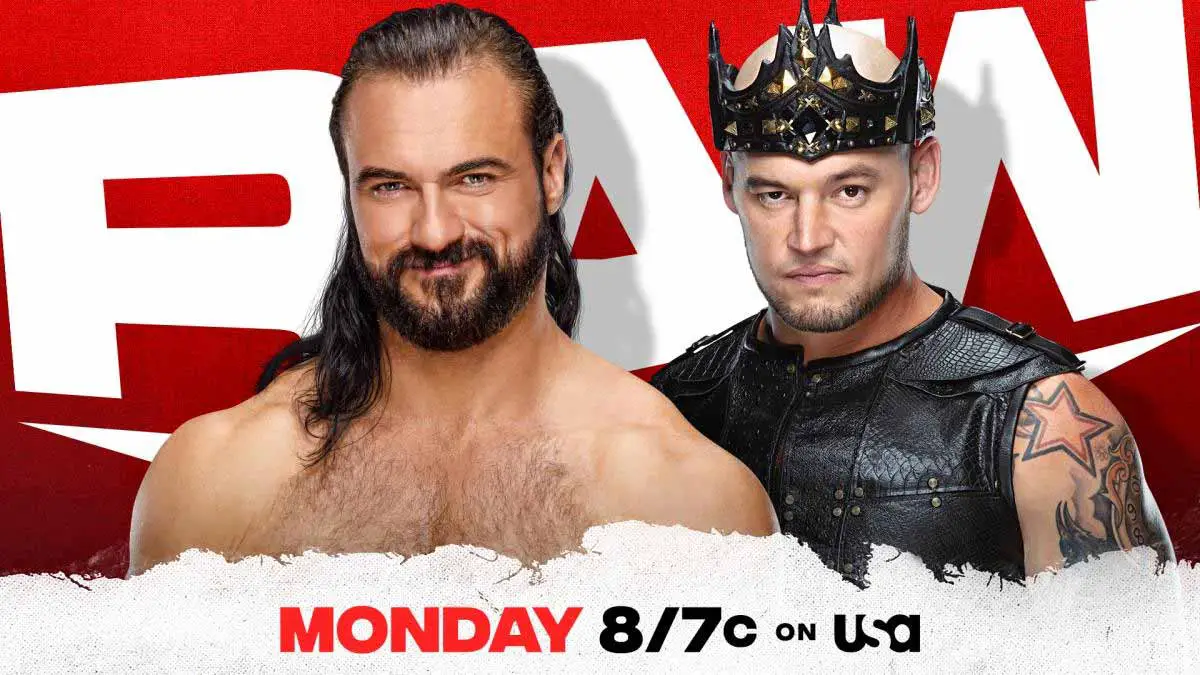 Welcome to ITN's Live blog for WWE Monday Night RAW episode of 5 April 2021(4/5/2021) as we bring you the Live Results, Updates, winners, highlights and videos from the show.
This will be a pre-taped show as WWE recorded the show last week before they change the WWE Thunderdome Location from Tropicana Field before WrestleMania. 4 matches are announced for go-home RAW episode of WrestleMania 37. Check here for the WWE RAW Preview 5 April 2021.
McIntyre vs Lashley – War of Words
Drew McIntyre comes out as we see a replay from last week where Baron Corbin attacked McIntyre. McIntyre recalls last year's WrestleMania when he won the WWE title. He goes on a monologue reminiscing his journey in an intense promo. He recalls his mom telling him not to come back home and how he missed so many important moments in his life. McIntyre asks Lashley how will he someone who has made so many sacrifices in life?
Lashley comes out and says McIntyre should stop talking about last year's WrestleMania now. He knows how it feels to be at the top after so long. Lashley says he saw fear in McIntyre's eyes last week when he put him in the Hurt Lock. McIntyre says why are they wasting time in talking and should go at it right away. MVP stops Lashley again from engaging. Corbin comes out and cuts a brief promo himself saying McIntyre will not be able to make to WrestleMania.
AJ Styles vs Xavier Woods
Riddle and New Day discuss their respective WrestleMania matches for a while at Gorilla position. New Day enters and AJ & Omos follow suit. AJ starts with punches and hits an arm drag. Woods gets some punches going before AJ rolls him for Calf Crusher. Kofi throws a mic at Omos and runs into the ring to distract Omos. Woods rolls up AJ with a small package to get the pin.
Winner – Xavier Woods
AJ is shocked as Woods & Kofi runs away. New Day celebrate below the Thunderdome screens.
Bad Bunny rolls in his Bugati with Damian Priest. Strowman is roaming backstage.
Braun Strowman vs Elias & Jaxson Ryker – Handicapped Match
Strowman enters and checks the steel cage. We see the replay of their feud. Strowman takes the mic in the ring and says men like Shane McMahon have tried to bully him his whole life. He then tells Shane that he does not know what he has got himself into. He says he will be fighting for everyone who was ever told that he was not good enough. Strowman claims that after he whoop his a**, the last thing Shane would hear would be "Here comes the body bag" for his corpse.
Shane comes out as his music hits. Shane says choosing a steel cage match for WrestleMania is not stupid. Shane claims that he is a McMahon and he will outwit him to beat him at WrestleMania and next morning Strowman will realise that he is stupid. Elias and Jaxson Ryker come out for the match.
This is a Tornado match and both Ryker & Elias will be in the ring at the same time. Strowman throws out Jaxson after roughing him up in the corner. He turns his focus on Elias before Ryker comes back. Ryker takes out Strowman's knee as he was after Elias. Double ax handle and double team move from the heels. Both Ryker and Elias hit splash from the top one by one. But Strowman kicks out.
Strowman struggles to ge to his feet and explodes. He throws both opponents in the corner and hits a running splash. Strowman hits powerslams to both opponents and covers both of them at the same time for the win.
Winner – Braun Strowman
Miz and John Morrison are backstage with paint buckets in their hands. Kevin Patrick asks them what they are doing with them. They reply that are artists and are going to create their new masterpiece. Miz & Morrison go and paint over Bad Bunny's bugati.
After the break, Bad Bunny is walking towards his car angrily. Miz and Morrison attack him from the back and beat him up for a while. Miz tells him this is WWE and this is what happens here when you disrespects someone. Adam Pearce comes up with other officials to stop Miz & Morrison. Damian Priest has also reached the spot as the medic checks on Bad Bunny.
Rhea Ripley & Asuka vs Shayna Baszler & Nia Jax
Asuka enters for the match. We see the replay from last week's contract signing segment between Asuka & Rhea Ripley with Rhea throwing a table at Asuka, and how Jax & Baszler challenged them for a tag match. We go to an earlier today segment with Rhea Ripley for a short promo as she was doing pull-ups. Ripley makes her entrance.
After the break, Nia & Baszler enter. Asuka & Rhea are not looking at each other at all. Asuka starts with Shayna Baszler. Baszler no-sells a shoulder tackle. Asuka gets hyped and bring down Baszler with a clothesline. Asuka twists her arm and goes to tag in Rhea. Rhea refuses to tag in while Baszler was in control under Asuka. Baszler comes out of the arm twist and Ripley tags in. Ripley slams Baszler into the mat.
Baszler tags in Nia. Ripley also tags Asuka and apparently Asuka did not want to tag in. Asuka avoids a Samoan drop and goes for the octopus. Nia overpowers her to avoid it. Nia with some moves to keep Asuka under control for a minute. Asuka ducks a move and tags in Rhea. Nia also tags out to Baszler. Rhea drops Baszler and Nia from the apron. Reginald distracts Rhea for Shayna to hit a chop block to her knees. Nia slams Rhea into the barricade as we go to a break.
Jax & Baszler are in control as we return. The tag champs continue to tag in and out and keep Rhea on the ground. Baszler puts on a leg lock and rough up Rhea's knee. Nia comes in and hits a leg drop on that knee. Rhea comes out of an arm lock and dropkicks Nia's knee. She goes to tag in Asuka who initially refuses but ultimately comes in. Asuka with sends both women into corner for hip attacks.
Asuka had Baszler on the floor and went to the top. Rhea bring her down and slams her face-first on the floor. She then tosses her in for Baszler to hit the ripcord knee for the pin.
Winner – Shayna Baszler & Nia Jax
Asuka is selling her jaw injury as Ripley continues to boast over her actions from the ringside.
Backstage, Cedric and Shelton confront MVP and gets his hands on his collar. Cedric tells MVP that he is a washed-up has been and his greed will cost him someday. Sarah Schrieber comes up to MVP to ask him he is worried about Lashley. MVP rants about making Cedric & Shelton relevant again and making them RAW Tag Team Champions. WWE Champion Bobby Lashley asks him what happened and says he will break Cedric in half.
Sarah Schreiber catches up with Nia Jax and Shayna Baszler backstage over the announcement for tag team title matches at WrestleMania. Lana and Naomi appears, then Dana Brooke and Mandy Rose, then Natalya and Tamina Snuka, and finally The Riott Squad. Billie Kay appears next and says Carmella is reviewing her resume. They might also get added to the #1 contender match.
Bobby Lashley vs Cedric Alexander
Bobby Lashley enters with MVP. We get the recap of his feud vs Drew McIntyre. After the break, Cedric Alexander is out with Shelton Benjamin. They attack Lashley before the bell. Lashley fight back, decks Cedric and throws Shelton out of the ring.
Lashley with a big blow and a slam. Big tackles in the corner and a neckbreaker follows. Lashley picks and tosses Cedric across the ring after a two-count. Cedric is thrown out of the ring. Lashley throws him again as he tries to lure him into an attack. A big shoulder tackle in the corner and a suplex follows. Cedric is tossed out once again. Lashley picks him up and sends into the ring post as we go to the break.
Lashley had Cedric in a chinlock as we return. Cedric with quikc kicks and a dropkick but Lashley plants him with an urinagi. Once again, Lashley takes him to the floor. Shelton saves him from an attack and distracts Lashley to give him an opening. Cedric with a few suicide dives on Lashley now. Cedric hits a springboard kick and an overhead kick from the apron followed by a missile dropkick to get a two-count.
Cedric hits a big boot before Lashley hits a big spinebuster before dropping him flat into the mat. Shelton runs him mouth from the ringside. Lashley hits another spinebuster before putting on the Hurt Lock to get the win.
Winner- Bobby Lashley
After the bell, Shelton jumps on Lashley but Lashley deals with him easily and takes him out with Hurt Lock.
Priest & Bunny's challenge for WRestleMania
Damian Priest & Bad Bunny come out to the ring. Priest says Miz & Morrison crossed a line now and he challenges them to change Bunny vs Miz match to a tag team match. Bad Bunny takes a mic and does a long promo. He talks about being in WWE as his long time dream and that he respects all the WWE Superstars. He came here to perform and do his job, and he's very grateful to perform at the Royal Rumble. He used to respect Miz, but Miz hasn't respected him since day one.
Bunny says Miz crossed a line and he doesn't care, he will show Miz how to respect him on Saturday. The Miz and Morrison interrupt from the big screen. Miz says Bunny does not belong here. This is their world and they are going to embarrass him this weekend.
Sheamus stops Mustafa Ali backstage. Ali tells him that Riddle caused the breakup of Retribution and he is not interested in the advice. Sheamus tells him to relax and they do have complete dislike for Riddle in common. Sheamus says he will be out there rooting for Ali, while on commentary. Riddle runs through in between them on his scooter. They both are upset over it.
Riddle vs Mustafa Ali
Ali gets Riddle to the ground. Riddle turns it into a triangle. Ali gets a quick two-count. Riddle with double leg takedown and hits a gutwrench move. He goes for another gutwrench but Ali turns it in a pin attempt. Ali with a headlock now. Riddle comes bout and back body drops Ali out to the floor. Riddle goes and pick Sheamus' hat. Sheamus starts arguing with him and Ali comes from behind for a leg sweep on the floor. We go to a break with Riddle selling the move.
Ali is unloading in the corner as we return. Riddle catches his leg and takes him down. Riddle with quick strikes. He goes for the sunset flip but Ali rolls out and kicks at his bare feet. Ali with a headlock and Riddle gets to his feet to take him corner to corner on his back. Riddle jumps and slams Ali to the mat. Riddle with more quick strikes.
Riddle with more quick strikes- kicks, forearm, kip-up, forearms in the corner and an exploder, misses moonsault once but hits the second time. Ali counters him into a lock. Riddle overpowers him into a suplex and puts on the triangle. Ali gets his foot to the bottom rope to break it. Ali drops him on the ropes and then drops him on his knees. Riddle turns a tornado DDT into the Bro-derek to get the pin and the win.
Winner – Riddle
We get several promos before finally get to the main event.
Drew McIntyre vs Baron Corbin
They lock up for a while until Corbin snatches out of it. Corbin gets a shoulder tackle as they come to halt again. MVP shouts at McIntyre from commentary. McIntyre puts on a headlock and the resulting whip to the ropes result in a big shoulder tackle to send Corbin out of the ring.
Corbin unloads as they return to the ring. McIntyre returns the favor and hits big elbow to drop him. McIntyre with a suplex to get a two-count. McIntyre hits a few chops. Corbin gets out and into the ring to catch McIntyre with a clothesline. He uses ropes to choke him. Corbin boots him in the corner. A big whip from corner to corner. MVP tells Corbin to finish McIntyre soon. Corbin with a side slam to get two-count.
McIntyre explodes with a tackle and hits back to back overhead belly to belly suplex. Neckbreaker followed by a kip-up. Corbin slips out of DDT and trips McIntyre at the apron. Drew manages to send him into the steel steps. We got to a break.
McIntyre hits a suplex as we return. They trade punches. McIntyre beats down Corbin as Lashley watches from the back. Corbin sends McIntyre onto the apron and then sends him into the ringpost. Corbin takes McIntyre back to the ring after slamming his face into the annouce table. McIntyre fights back with punches but Corbin counters to hit a suplex. Corbin hits a few elbows to keep control. McIntyre charges but Corbin hits a chokeslam. McIntyre hits a spinebuster and gets two with a jacknife cover.
Corbin hits a side slam for a two-count. McIntyre hits Glasgow kiss and futureshock DDT for a near fall. McIntyre gets to the top and Corbin punches him there before climbing. Corbin hits a superplex. He covers but McIntyre kicks out. Both men are down. They get back to feet after a few seconds. They trade strikes before Corbin catches him with deep six. MVP comes to the floor and tells him to take McIntyre out. He hands him the cane. Corbin charges with the cane. McIntyre ducks and hits the Claymore to get the pin.
Winner – Drew McIntyre
MVP stumbles his way to his cane and gets to the stage. McIntyre is pumped up in the stage. Lashley comes out to the stage and stares at McIntyre who is still in the ring. RAW goes off the air.