WWE NXT TakeOver 31 Live Results & Updates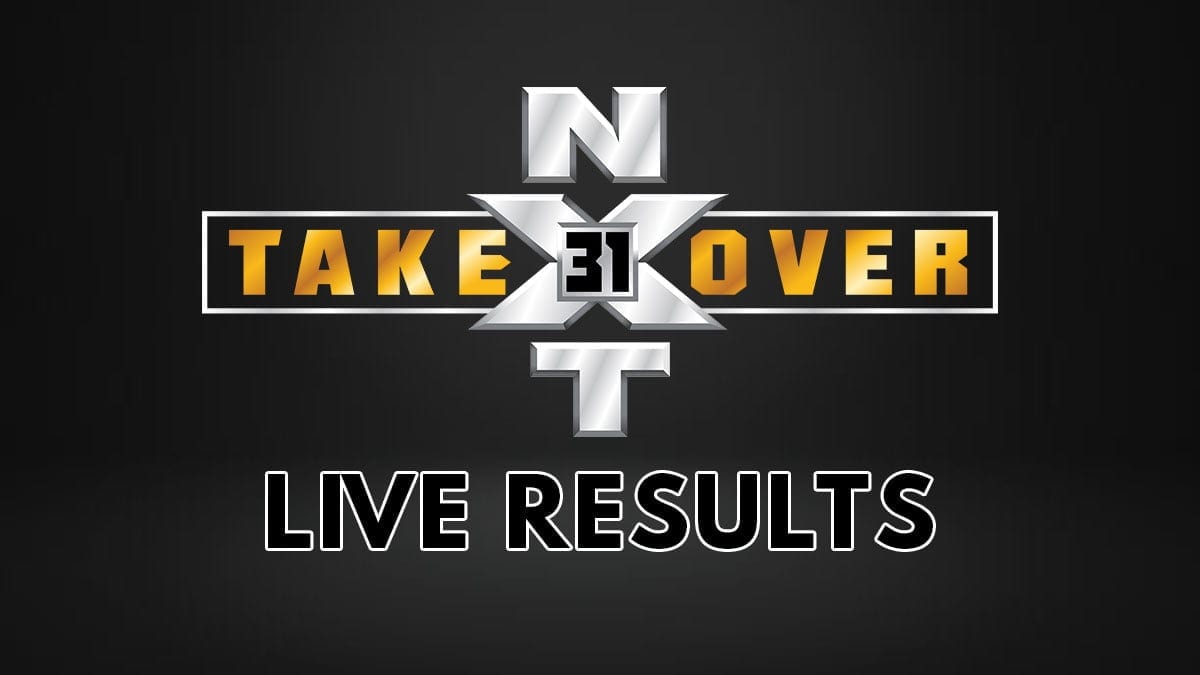 Welcome to the live results and updates blog from WWE NXT TakeOver 31 PPV which will be the first show to air from Capitol Wrestling Center, the new and modified WWE Performance Center.
Finn Balor is up to defend his NXT Championship against Kyle O' Reilly. Io Shirai will face Candice Le Rae in Women's title match while Johnny Gargano will challenge North American Champion Damian Priest. The Cruiserweight title match is also added where Santos Escober will go one-on-one against Isaiah "Swerve" Scott and the only non-title match is Kushida vs Velveteen Dream.
NXT TakeOver 31 Quick Results
Damian Priest(c) defeated Johnny Gargano to retain NXT North American Championship
KUSHIDA defeated Velveteen Dream
Santos Escobar(c) defeated Isiah Swerve Scott to retain NXT Cruiserweight Championship
Io Shirai(c) defeated Candice LeRae to retain NXT Women's Championship
Finn Balor(c) defeated Kyle O' Rielly to retain NXT Championship
NXT TakeOver 31 Pre-Show
You can watch the NXT TakeOver 31 pre-show at the below link.
During the pre-show, Rhea Ripley interrupts and asks for a NXT Women's title shot against the winner of tonight's match between Io Shirai and Candice Le Rae. We get video packages and predictions from the panel to buildup the show.
NXT TakeOver 31 Main Show
The show opens up with a video package about the history of Capitol Wrestling whose name is the inspiration for the WWE Performance Center. Triple H yells, "We are NXT!" as the crowd starts chanting. Along with fans, trainees are also in the crowd behind the fence.
Damian Priest(c) vs Johnny Gargano – NXT North American Championship Match
Gargano stalls the start a bit. They go at it and Priest takes him to the corner. Gargano decks him when he was the apron to take control. He uses the ringside barriers before hitting a missile dropkick and flying senton when Priest's leg was stuck in the ropes. Priest comes back with quick moves and hits a flatliner and the Broken Arrow. Gargano counters the Razor's edge and goes to work on Priest's knees.
The back and forth action continues. Priest hits a roundhouse kick to knock Gargano off the ring apron before hitting Razor's Edge on the apron to get a nearfall. Gargano counters the Reckonig with Sliced Bread. Priest hits Gargano with Chokeslam. Gargano sheilds himself with a couple of security guards.
Priest misses a cannonball before Gargano hits him with a low blow. He takes Priest back to the ring to hit a superkick. GargaNo Escape is locked and Priest somehow manages to get his leg on the bottom rope. Gargano charges but Preist blocks him at the apron. Priest wants to hit a suplex onto the steel steps but Gargano goes on a superkick spree. Preist counters One Final Beat and hit The Reckoning for the pin.
Winner – Damian Priest(retains NXT North American Championship)
KUSHIDA vs Velveteen Dream
Kushida attacks Velveteen Dream at the ramp during his entrance. Dream is frustrated as he throws in some chairs into the ring before the bell. Kushida gets the offense going from the start, going after Dream's leg. They continue to get in and out of the ring. Dream gets some offense going. Kushida turns his focus on his arm using armbreakers and some stiff blows.
As Dream rolled out to the floor, Kushida rams his shoulder twice into the steel post before dropkicking his hand between the steel steps and the ring. Dream makes a comeback with an eye gouge before hitting Dream Valley Driver and Purple Rainmaker. But he was unable to cover Kushida due to his injured shoulder.
Dream goes for the elbow drop and Kushida counters to lock him in the Hoverboard Lock. He slammed Dream into the mat and keeps the lock on. Dream reaches the ropes before Kushida rolls through. Dream tries to hit another Dream Valley Driver but Kushida counters it and keeps the submission to get the win.
Winner – KUSHIDA
After the match, Kushida beats up Dream some more and puts him in another submission trying to hurt his shoulder. WWE staff runs over to control him and separates them. Kushida once again attacks Dream and breaks his arm before a final running kick.
Santos Escobar vs Isiah Swerve Scott – NXT Cruiserwieght Championship Match
Winner – Santos Escobar(retains Cruiserweight title)
Io Shirai(c) vs Candice LeRae – NXT Women's Championship Match
Winner – Io Shirai(retains NXT Women's title)
Finn Balor(c) vs Kyle O' Rielly – NXT Championship Match
Winner – Finn Balor(retains NXT title)
Post match, Balor shakes hands with KOR. Ridge Holland appears at the ramp with Adam Cole hoisted on his shoulder. Holland drops Cole at the barricade and leaves before the Undisputed ERA could reach him. The show goes off the air with Undisputed ERA checking on Adam Cole.