MJF vs AEW(Tony Khan) Dispute- Complete Timeline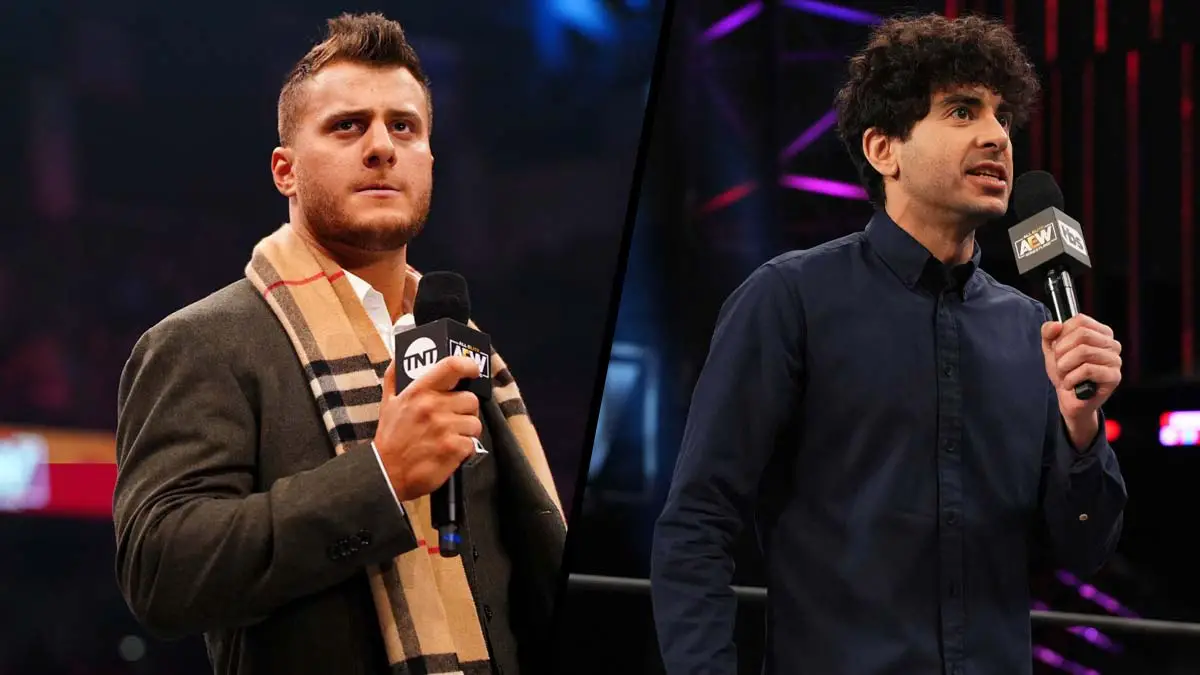 In a situation which is blurring the lines between work and reality, MJF(Maxwell Jacob Friedman) is in a tussle with AEW President Tony Khan. Disgruntled with the compensation that he is getting, MJF has asked for his release from AEW.
The situation started developing a couple of months ago when AEW was miffed with MJF giving an interview with Ariel Helwani without informing the AEW Public Relations team about it.
Tony Khan had a heated discussion with MJF, which led to a breakdown of communication between MJF and AEW. Things escalated just before AEW Double or Nothing 2022 PPV when MJF did not make an appearance in his meet and greet. Here is the complete timeline for the entire episode of the tussle between MJF and AEW.
Late 2021: In one of his promo on Dyamite's 30 September 2022 edition, MJF namedropped Bruce Prichard and told Tony Khan that if he did not start giving him the opportunities he deserved, he has Bruce Prichard on speed dial. Later in another promo, MJF talked about the "Bidding War of 2024" for his signing when his current contract with AEW will end early in that year. This was the start of some tension between AEW and MJF. During the year, several reports confirmed that WWE is interested in signing MJF.
March 23, 2022: MJF appeared in an interview with Combat Sports Reporter Ariel Helwani(video below). It is said Tony Khan was not happy with MJF for not informing AEW PR team about this interview. MJF also talked about WWE during this interview and said he loved everything WWE was doing, praising Vince McMahon, Bruce Prichard, Roman Reigns, Paul Heyman and others. He also confirmed that his AEW contract expires on January 1, 2024.
March 28, 2022: It was reported by Fightful Select that Tony Khan and MJF had a heated discussion about the aforementioned interview and both men were left frustrated after it. AEW sources told Fightful that it would not have become an issue if the interview was set up by the AEW PR team.
March 29, 2022: Fightful Select provided updates on the issue and reported that there was a follow-up discussion between Khan and MJF which went smoother than their first discussion. MJF was said to be frustrated with his contract situation while Khan does not want to set a precedent where AEW Talent could set up an interview without informing AEW PR team.
May 11, 2022: MJF once again referenced his contract situation in a promo on Dynamite May 11 episode where he said that the man at the back does not want to talk about 2024(when his deal expires). This was followed by another report of MJF leaning towards signing with WWE.
May 26, 2022: MJF tweeted on Tony Khan's interview with "F****g lol. F**k this place man!" He deleted the tweet shortly afterwards. Khan commented on MJF's contract situation and said he embraces real-life and kayfabe blending. Khan said,
"I think wrestling thrives when real life meets on screen. The real-life conflict is often just as exciting as any conflict on screen, which is one of the great things about what AEW has brought to the wrestling business.

I think for Wardlow this is a huge opportunity to officially become part of AEW, but also to shed an image that he's just MJF's heavy, MJF's thug. For MJF, it's been a great opportunity to not only air some real life grievances and air his actual status, contractually or otherwise."

Khan on MJF's Contract Situation – via Cageside Seats
May 28, 2022: MJF no-showed at AEW Meet & Greet before AEW Double or Nothing PPV. A fan tweeted that AEW Security told that MJF is not coming to his meet and greet and has stopped picking up his phone. PWInsider confirmed in their report that AEW was not able to contact MJF.
May 28, 2022: MJF was reportedly spotted gambling at the time he was supposed to be at the meet and greet.
May 28, 2022: As per a report on Fightful Select, a flight was booked for MJF out of Las Vegas which would leave late in the night. A follow-up report said that the no-show at meet and greet was not a work.
May 28, 2022: Dave Meltzer and Bryan Alvarez discussed the situation on Wrestling Observer Radio(video below). Meltzer said that MJF wants more money but he does not want to extend his contract. Meltzer said Tony Khan is ready to offer more money but he wants MJF to extend his contract.
May 28, 2022: MJF did not leave Las Vegas on the booked flight as per another report from Sean Ross Sapp.
May 29, 2022: PWInsider reported that MJF was not spotted backstage at Double or Nothing until 3 PM in the afternoon. AEW made a promotional video for the match between MJF and Wardlow private. The video was posted on Youtube once again after a few hours.
May 29, 2022: MJF appeared at Double or Nothing for his match against Wardlow and was squashed in the match.
May 30, 2022: PWInsider reported that MJF arrived at Double or Nothing at the last minute and left right after his match. The report added he would not be on the road for next several weeks.
June 1, 2022: MJF appeared on Dynamite and cut a pipebomb promo against Tony Khan. He took shot at Khan for hiring all ex-WWE guys among other things. He called Khan a f***ing mark just before his mic was cut off and the lights went out. As per the fan videos posted, CM Punk came out to talk to MJF during the commercial break but MJF left through the crowd.
June 2, 2022: Fightful Select(tweet below) reported about their talks with talent backstage at AEW. The following points were mentioned in the report:
A talent reportedly spoke to both MJF and Khan and found the issues to be legitimate.
Tony Khan had indicated in the past that working(fooling) talent was not something the locker room should expect in AEW.
MJF had been more frustrated this spring than previously but none of the talent backstage knew of MJF's frustrations.
A talent said that MJF's pipebomb promo reeked of desperation to make something happen.
June 2, 2022: MJF was removed from the official AEW Roster Page and AEWShop.com.