IMPACT or TNA Wrestling Schedule 2023-2024
IMPACT Wrestling, or TNA Wrestling, holds two different kinds of special events. One is a normal PPV event that airs through PPV carriers like FITE TV and others. PPV events usually take place once in two or three months. The other type of event is IMPACT Plus specials, which usually take place once every two to three weeks and air under an IMPACT Plus subscription. The promotion also holds separate TV taping shows once or twice every month to record their weekly TV shows.
Note: The promotion will be known by its previous name TNA Wrestling once again from January 2024.
PPV Schedule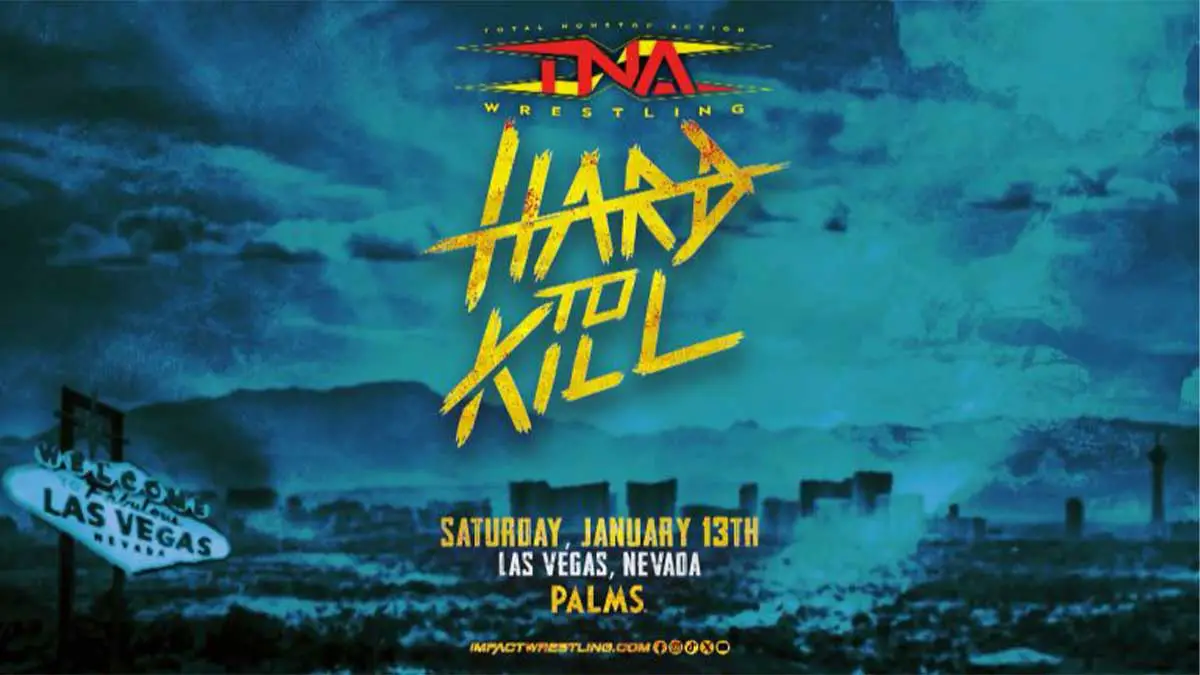 Hard to Kill
Date: January 13, 2024
Location: Palms Casino Resort, Las Vegas, US
Timing: 8:00 PM EST
TNA No Surrender
Date: February 23, 2024
Location: Alario Center, Westwego, Louisiana, US
Timing: 8:00 PM EST
Impact Plus
Final Resolution
Date: December 09, 2023
Location: Don Kolov Arena, Toronto, Canada
Timing: 8:00 PM EST
TV Tapings
IMPACT Wrestling records(tapes) their weekly episode beforehand under different TV Taping Schedule, which is as below:
TNA Wrestling: Snake Eyes
Date: January 14, 2024
Location: Palms Casino Resort, Las Vegas, US
Timing: 8:00 PM EST
TNA Wrestling: Impact
Date: January 19-20, 2024
Location: Osceola Heritage Park, Orlando, Florida, US
Timing: 8:00 PM EST
Past Event
| No. | Events | Date | Location |
| --- | --- | --- | --- |
| 1. | Impact Hard To Kill | January 13, 2023 | Center Stage, Atlanta, Georgia, US |
| 2. | Impact Hard To Kill Fallout | January 14, 2023 | Center Stage, Atlanta, Georgia, US |
| 3. | New Years Revolution 2023 | January 20, 2023 | Osceola Heritage Park, Kissimmee, FL, US |
| 4. | New Years Revolution 2023 | January 21, 2023 | Osceola Heritage Park, Kissimmee, FL, US |
| 5. | Impact No Surrender | February 24, 2023 | Sams Town Live, Las Vegas, NV, US |
| 6. | Impact No Surrender Fallout | February 25, 2023 | Sams Town Live, Las Vegas, NV, US |
| 7. | Impact No Surrender Fallout | February 25, 2023 | Sams Town Live, Las Vegas, NV, US |
| 8. | Impact Sacrifice | March 24, 2023 | St. Clair College, Windsor, ON, Canada |
| 9. | Impact Sacrifice Fallout | March 25, 2023 | St. Clair College, Windsor, ON, Canada |
| 10. | IMPACT & NJPW Multiverse United: Only The STRONG Survive | March 30, 2023 | Globe Theater, Los Angeles, CA, US |
| 11. | Impact Rebellion | April 16, 2023 | Rebel Entertainment Cente, Toronto, ON, Canada |
| 12. | Impact Rebellion Fallout | April 17, 2023 | Rebel Entertainment Complex, Toronto, ON, Canada |
| 13. | Impact Spring Slugfest | April 28 & 29, 2023 | Cicero Stadium, Chicago, IL, US |
| 14. | Impact Under Siege | May 26, 2023 | Agriplex, London, ON, Canada |
| 15. | Impact Under Siege Fallout | May 27, 2023 | Agriplex, London, ON, Canada |
| 16. | Impact Against All Odds | June 09, 2023 | Ohio Expo Center in Columbus, Ohio |
| 17. | Impact Against All Odds Fallout | June 10, 2023 | Ohio Expo Center in Columbus, Ohio |
| 18. | Impact Down Under Tour Night 1 | June 30, 2023 | Equex Center, Wagga Wagga, NSW, Australia |
| 19. | Impact Down Under Tour Night 1 | July 01, 2023 | Equex Center, Wagga Wagga, NSW, Australia |
| 20. | Impact Slammiversary | July 15, 2023 | St. Clair College, Windsor, Canada |
| 21. | Impact Chicago Heat Poster | July 28 & 29, 2023 | Cicero Stadium, Chicago, IL, US |
| 22. | ImpactxNJPW Multiverse United 2 | August 20, 2023 | 2300 Arena, Philadelphia, PA, US |
| 23. | Impact Emergence | August 27, 2023 | Rebel Entertainment Center, Toronto, ON, Canada |
| 24. | Impact Emergence Fallout | August 28, 2023 | Rebel Entertainment Center, Toronto, ON, Canada |
| 25. | Impact Victory Road | September 08, 2023 | Westchester County Center, White Plains, NY, US |
| 26. | Impact Bound For Glory | October 21, 2023 | Cicero Stadium, Chicago, IL, US |
| 27. | Turning Point | November 03, 2023 | Walker Activity Dome, Newcastle Upon Tyne, UK |
See Also: