IMPACT Wrestling PPV Calendar/Schedule for 2022
IMPACT Wrestling holds two different kinds of special events. One is a normal PPV event that airs through PPV carriers like FITE TV and others. PPV events usually air once in two months. The other type of event is IMPACT Plus specials which usually take place once in three weeks and air under an IMPACT Plus subscription.
Check the complete list of upcoming IMPACT Wrestling PPV events and IMPACT Plus special events, as well as the list of past IMPACT Wrestling events.
Bound for Glory 2022(PPV)
Date: October 7, 2022
Location: Washington Avenue Armory in Alabany, NY
Timing: 8 PM EST
Tickets – Buy Now
Impact Over Drive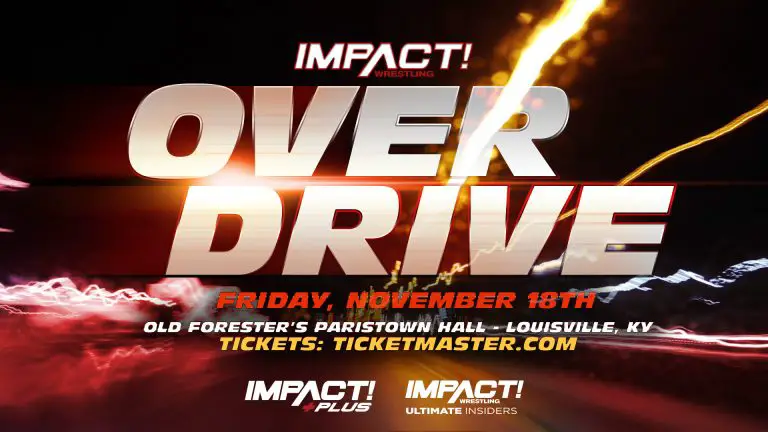 Date: November 18, 2022
Location: Old Forester's Paristown Hall, Louisville, KY, US
Timing: 8 PM EST
Tickets: Buy Now
Past Events
| NO. | Event/PPV | Date | Location |
| --- | --- | --- | --- |
| 1 | Impact Hard to Kill 2022 | January 08, 2022 | The Factory in Deep Ellum, Dallas, TX, US |
| 2 | Impact No Surrender | February 19, 2022 | Alario Center, New Orleans, LA, US |
| 3 | Impact Sacrifice 2022 | March 05, 2022 | Paris town Hall, Louisville, KY, US |
| 4 | Impact Multiverse to Matches | April 01, 2022 | Fairmont Hotel, Dallas, Texas, United States |
| 5 | Rebellion 2022 | April 23, 2022 | Mid Hudson Civic Center, Poughkeepsie, NY, US |
| 6 | Impact Under Seige | May 07, 2022 | Promowest Pavilion at Ovation, Newport, KY, US |
| 7 | Impact Slammiversary | June 19, 2022 | Nashville Fairgrounds, Nashville, TN, US |
| 8 | Impact Against All Odds 2022 | July 01, 2022 | Center Stage, Atlanta, GA, US |
| 9 | Impact Emergence | August 12, 2022 | Cicero Stadium in Chicago, IL, US |
| 10 | Impact Victory Road | September 23, 2022 | Skyway Studios, Nashville, Tennessee, US |