WWE Elimination Chamber 2023: Bobby Lashley Defeats Lesnar via DQ, Lesnar Stands Tall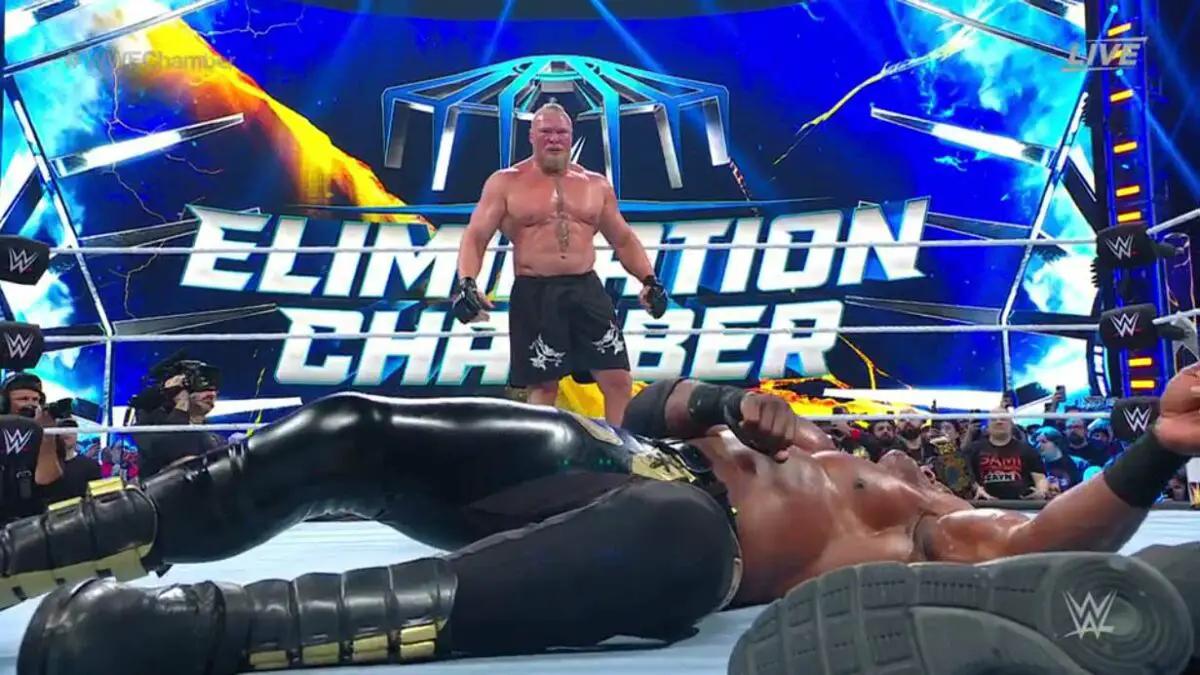 Two colossal in Brock Lesnar and Bobby Lashley clash at WWE Elimination Chamber 2023 event in their third clash in what is expected to be an exciting clash.
Storyline
A clash between Bobby Lashley and Brock Lesnar was a dream match for many when it took place for the first time at Royal Rumble 2022. Lesnar lost the match due to interference from Roman Reigns along with losing WWE Championship with it.
On October 9, 2022 RAW episode, when Lashley claimed that he had a win over Lesnar, the latter didn't like the fact and returned to attack Lashley which ended up costing Lashley the United States title. Lesnar went on to defeat Lashley at Crown Jewel 2022 after Lashley dominated the match for the most part. But, Lashley attacked Lesnar after the match and left him incapacitated. 
Brock Lesnar returned on the RAW 30th-anniversary episode and attacked Lashley again. Fast forward to the men's Royal Rumble match, Bobby Lashley eliminated Brock Lesnar in just three minutes. Brock appeared on RAW the following week and stated that he couldn't stop thinking about Lashley. He challenged Lashley to a match at Elimination Chamber 2023. The latter stated that his lawyers would take care of the contract and was attacked by Lesnar. On the February 13 episode of Raw, Lashley hit Lesnar with a spear before making their trilogy match official.
Live Updates
Brock Lesnar kicks things off in a dominative manner and hits Lashley with a belly-to-belly suplex. They take things outside the ring and when they return, Lashley hits Lesnar with two devastating spears. 
The All-Mighty goes for the Hurt Lock but the Beat Incarnate counters it and hit him with the F5. It turns out into a near-fall, and Lesnar hits him with another F5 to get another near-fall. Lesnar goes for the third F5, but Lashley counters it and hits him with the spear.
Lashley finally locks the Hurt Lock to Brock Lesnar. The latter struggles a bit and then hits a low blow to Lashley causing the disqualification. The official announces that Bobby Lashley wins the match via disqualification. 
After the match, Brock hits the ref with an F5. He also hits Lashley with an F5 inside the ring, and then he takes him outside and hits him with another F5 on the announce table. Brock takes the ref outside as well and hits him with another F5 on the same table.