Will Crown Jewel 2019 Be Better than 2018??
Better: Mansoor to be Back in Action in his Home Country
WWE's first Saudi wrestler, Mansoor, winning the 51 Men Battle Royal at Super Showdown 2019 and celebrating with the crowd in his country is probably the best moments to come from any of WWE's Saudi Arabia events. Probably, WWE has realized that they need a star to keep selling tickets in the country in the long term and are pushing a local talent. But, after his win at Super ShowDown, Mansoor has never been seen on WWE TV. How will the local fans react to him after not seeing him for 4 months? The good thing is that Mansoor will be facing WWE's utility man in Cesaro, who can bring out the best from almost everyone. Rest assured that it will be another good showing for Mansoor
Mansoor getting over in his hometown- a plus for the Crown Jewel 2019.
Worse: Only Two Titles To Be Defended
Update: United States Championship match has been added since writing this article.
Crown Jewel 2018 card had three titles defended in total- WWE Intercontinental Championship on pre-show and WWE Universal Championship & WWE Championship on the main show. That is just 3 title matches in a total of 12 matches. The rest of the title matches were sacrificed in favor of a World Cup tournament which I will discuss below.
But in 2019, it is looking like that only two titles will be defended- Universal Championship and WWE Championship. Intercontinental Champion Shinsuke Nakamura is in the 10 men tag team match. And there is no contender in sight for AJ Styles' United States Championship.
Less number of title matches lightens the weight from the card- a minus for Crown Jewel 2019.
Better: Turmoil Match for the World Cup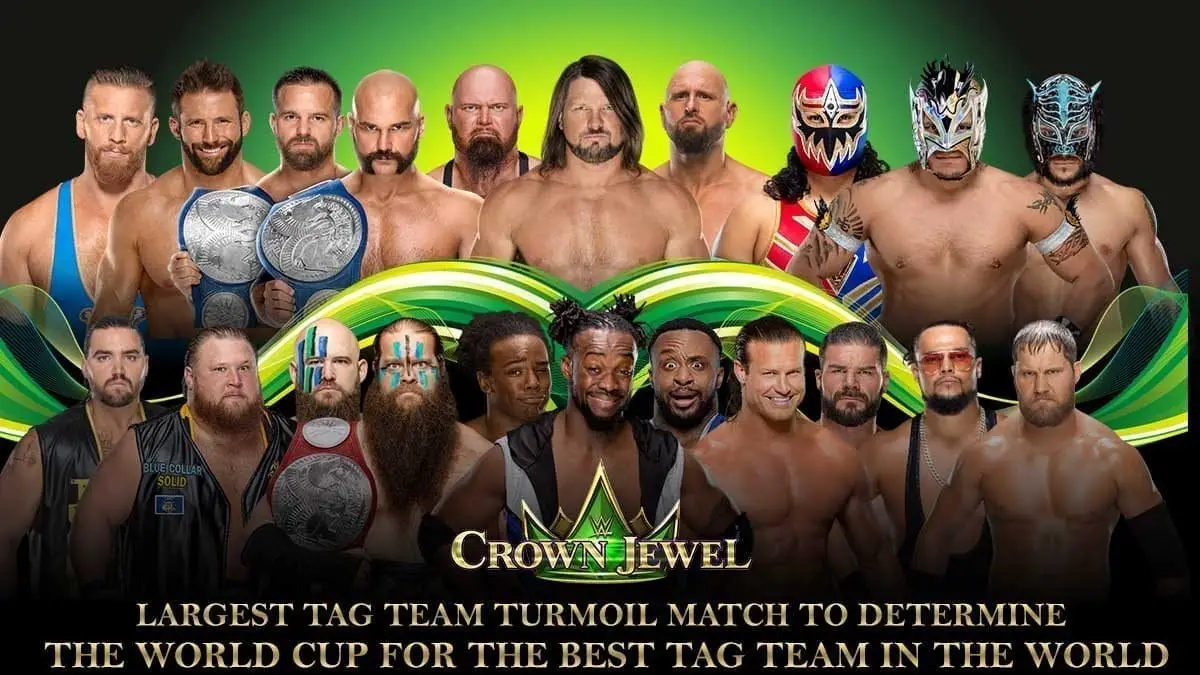 The idea to hold a complete tournament on a single PPV was doomed from the start. But WWE did not any favor by the way they booked and timed the matches of World at Crown Jewel 2018. The first-round matches of the tournament ended in around 5 minutes. The second round lasted in 11 minutes range. But the final ended in just 2 and a half minutes. The total time for all the matches was around 54 minutes while the pre and post-match activities took almost 45 minutes.
On Crown Jewel 2019, instead of singles competition, the company is holding a World Cup for tag teams. And on top of that, it will be one match only!! One Tag Team Turmoil Match!! Given that the match has 9 teams listed for it till now, it will probably last around 35-40 minutes with pre and post-match activities taking not more than 10 minutes. The idea of the World Cup might be equally ridiculous, but at least proper time could be given to other matches on the card and they will not be rushed due to the World Cup.
All the matches are looking to get proper time- a plus for the Crown Jewel 2019.
P.S.- The titles don't change hands anyway at WWE's Saudi Arabia events.
What are your early predictions for Crown Jewel 2019? Please tell us in the comments.