Will Crown Jewel 2019 Be Better than 2018??
While none of WWE's Saudi Arabia shows can be considered as good in any manner, Crown Jewel 2018 was the worst of the three till now. With 12 matches in total, only two matches passing the 11 minutes mark. Only three titles were defended. We have had crappy finishes in the two matches before the main event. And a lethargic and worn out main event match between the Brothers of Destruction and D-Generation X. Coming out of Hell in a Cell, it will again be hard to hope for a good show at Crown Jewel 2019. But let us try to see if how WWE is building the 2019 edition of Crown Jewel.
Better: Team Hogan vs Team Flair
WWE is required to bring a certain number of Legends(or past superstars) to Saudi Arabia for each of their shows. While the first time, that quota was completed by John Cena, at Crown Jewel 2019, Kane, Undertaker and Shawn Michaels were in the main event. That main event consisted of four most aged athletes on the card but it still lasted 27 minutes!! Agreed that we got to saw the chokeslam, Sweet Chin Musics and even a moonsault from Shawn Michaels. But around those moves, it was a lethargic match which itself was screaming to end as soon as possible.
This year, WWE is wisely going in another direction. Instead of getting the Legends to work a match, they are giving them a make-believe position of coaches. In this way, both Hogan and Flair will be a significant part of a match but won't have to work. At most, they would quarrel at the ringside while their teams would be going at it.
WWE's legends as the coach and not as the in-ring performers- a plus for the 2019 event.
Worse: Main Event Match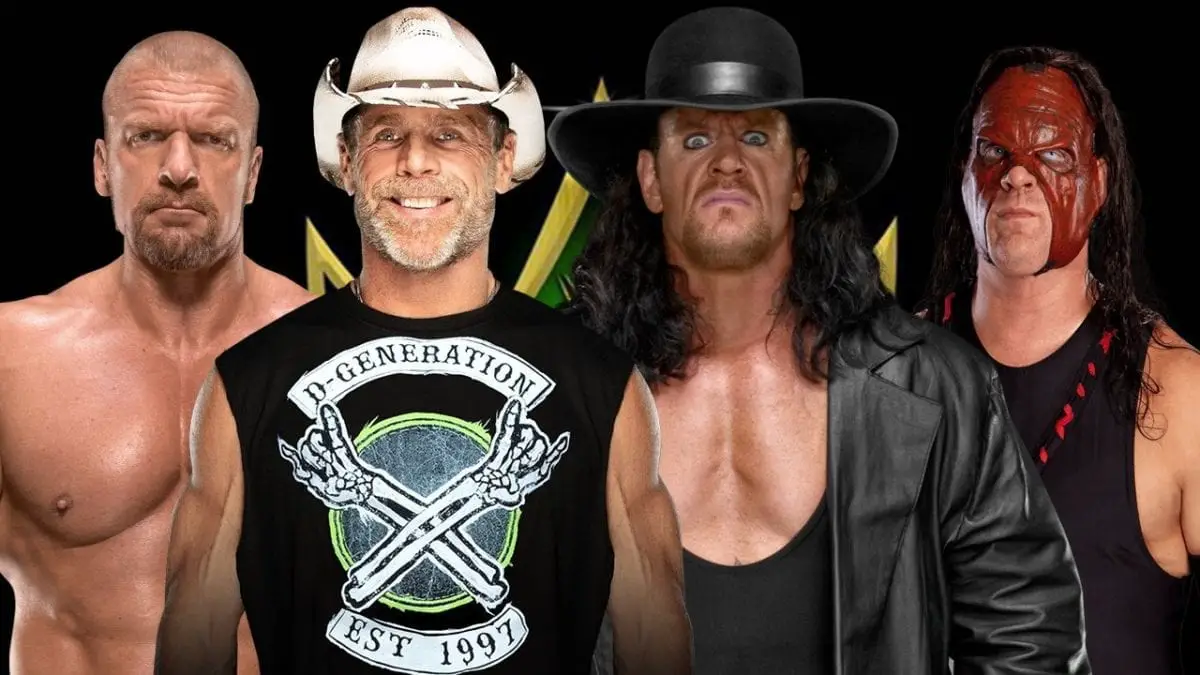 As mentioned earlier in this article, the main event of Crown Jewel 2018 was between Brothers of Destruction and D-Generation X. That match was not only the longest match of the night but also the worst match of the night which had many bad matches. What are the contenders for this year's main event matches? Either the WWE Universal Championship Match between Seth Rollins and The Fiend or the WWE Championship Match between Brock Lesnar and Cain Velasquez.
I don't think WWE can just put the title on Cain Velasquez. Nor they can just make him lose in his first outing. So, they will devise some DQ ending or Lesnar winning with some underhanded tactics. I also do not have much expectation from the match. Velasquez looked good in his pro-wrestling debut at AAA Mania show. But both Lesnar and he need a worker alongside them to produce a good match.
Bray Wyatt is drafted to SmackDown already and that's why I don't see him winning the title at Crown Jewel 2019. Wyatt can not be defeated outright here and as per WWE's own stipulation, the match can not be stopped for any reason. And any ending, other Wyatt getting demolished by the Undertaker, will meet with boos. I don't have much hope for that happening.
Both possible main event contender's looking set for crappy finishes- a minus for Crown Jewel 2019.