List of All AEW TNT Champions & Championship
TNT Championship is AEW's secondary singles male title. It is named after TNT Channel on which AEW's weekly show Dynamite used to air at first, and is considered the television championship. AEW Executive Vice President Cody Rhodes was the inaugural TNT Champion after winning the knockout tournament final at AEW Double or Nothing 2020.
Title Belt Design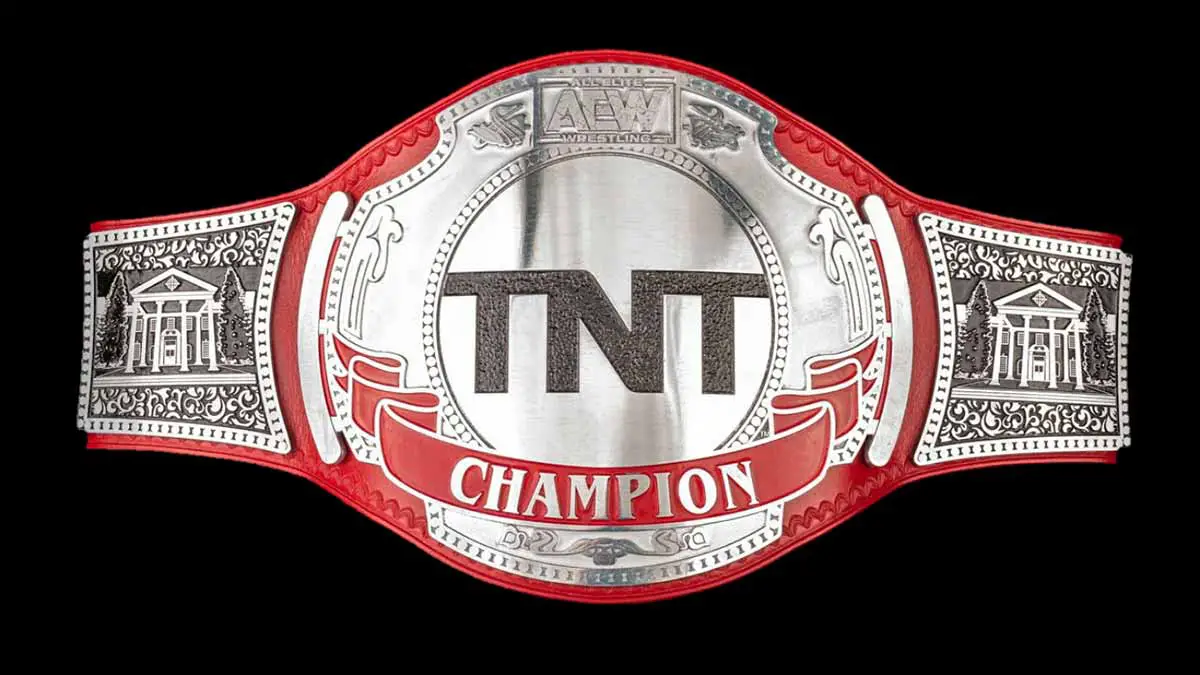 The original AEW TNT title belt is built on a red leather strap. It features six plates with the TNT logo in the middle. Inner plates on either side feature the "Tara on Techwood" building which use to be TNT Headquarters in Atlanta. The other plates have the AEW logo on them. The title belt was not complete when it was first presented to inaugural champion Cody Rhodes at AEW Double or Nothing.
After former TNT Champion Brodie Lee's death, his elder son was honored with AEW TNT title for a lifetime and the belt design was retired. A new design was unveiled on 6 January 2021 edition of AEW Dynamite.
Who is the current AEW TNT Champion?
Christian Cage is the current AEW TNT Champion. He is currently in his first reign as the champion. He won the title by beating Luchasaurus on September 23, 2023 episode of AEW Collision.
Title Reigns
| S.N. | TNT Champions | Won Date | Lost Date | Reigns Days | Reigns No. | Notes |
| --- | --- | --- | --- | --- | --- | --- |
| – | Brodie Lee Jr.(champion for a lifetime) | December 30, 2020 | – | – | – | Brodie Lee's Elder son was honored with the AEW TNT title for a lifetime after Lee's death |
| 20 | Christian Cage | September 23, 2023 | – | 6+ | 1 | Pinned Luchasaurus in a triple threat match |
| 19 | Luchasaurus | June 17, 2023 | September 23, 2023 | 98 | 1 | Beat Wardlow on Collision Debut Episode |
| 18 | Wardlow | April 19, 2023 | June 17, 2023 | 59 | 3 | Defeated Powerhouse Hobbs at Dynamite on April 19 |
| 17 | Powerhouse Hobbs | March 08, 2023 | April 19, 2023 | 42 | 1 | Defeated Wardlow at Dynamite on March 8 |
| 16 | Wardlow | March 05, 2023 | March 08, 2023 | 3 | 2 | Defeated Samoa Joe at Revolution 2023 |
| 15 | Samoa Joe | February 1, 2023 | March 05, 2023 | 32 | 2 | Defeated Darby in a No Holds Barred match |
| 14 | Darby Allin | January 4, 2023 | February 1, 2023 | 28 | 2 | Defeated Samoa Joe at Dynamite January 4 |
| 13 | Samoa Joe | November 19, 2022 | January 4, 2023 | 46 | 1 | Defeated Wardlow & Powerhouse Hobbs at Full Gear 2022 |
| 12 | Wardlow | July 06, 2022 | November 19, 2022 | 137 | 1 | Defeated Scorpio Sky at Dynamite July 6 Episode |
| 11 | Scorpio Sky | April 27, 2022 | July 06, 2022 | 70 | 2 | Sky won the Ladder match against Guevara to win the title back. |
| 10 | Sammy Guevara | April 16, 2022 | April 27, 2022 | 12 | 3 | Guevara won the title at Battle of The Belts II, taped on April 15, but aired on April 16. |
| 9 | Scorpio Sky | March 9, 2022 | April 16, 2022 | 37 | 1 | Sky won the title first time on March 9 Dynamite episode. |
| 8 | Sammy Guevara | January 26, 2022 | March 9, 2022 | 42 | 2 | Defeated Cody Rhodes in the title unification ladder match at AEW Dynamite Beach Break 2022 |
| Interim | Sammy Guevara | January 8, 2022 | January 26, 2022 | 18 | – | AEW introduced Interim title after Cody Rhodes was unable to defend title at Battle of the Belts 2022 due to medical protocol |
| 7 | Cody Rhodes | 25 December 2021 | January 26, 2022 | 31 | 3 | Defeated Sammy Guevara at AEW Rampage Christmas Special |
| 6 | Sammy Guevara  | September 29, 2021 | December 25, 2021 | 87 | 1 | Defeated Miro at AEW Dynamite episode |
| 5 | Miro | May 12, 2021 | September 29, 2021 | 140 | 1 | Defeated Darby Allin at AEW Dynamite episode |
| 4 | Darby Allin | November 7, 2020 | May 12, 2021 | 186 | 1 | Defeated Cody to win the title at AEW Full Gear 2020 |
| 3 | Cody Rhodes | October 7, 2020 | November 7, 2020 | 31 Days | 2 | Reclaimed the title from Brodie Lee upon his return to AEW Dynamite |
| 2 | Mr. Brodie Lee | August 22, 2020 | October 7, 2020 | 46 Days | 1 | Squashed Cody in a title match at AEW Dynamite |
| 1 | Cody Rhodes | May 23, 2020 | August 22, 2020 | 91 Days | 1 | Inaugural Champion after winning tournament, defeated Lance Archer in the final at AEW Double or Nothing 2020 |
---
See Also-
---