UFC 284: Islam Makhachev vs Alexander Volkanovski Live Blog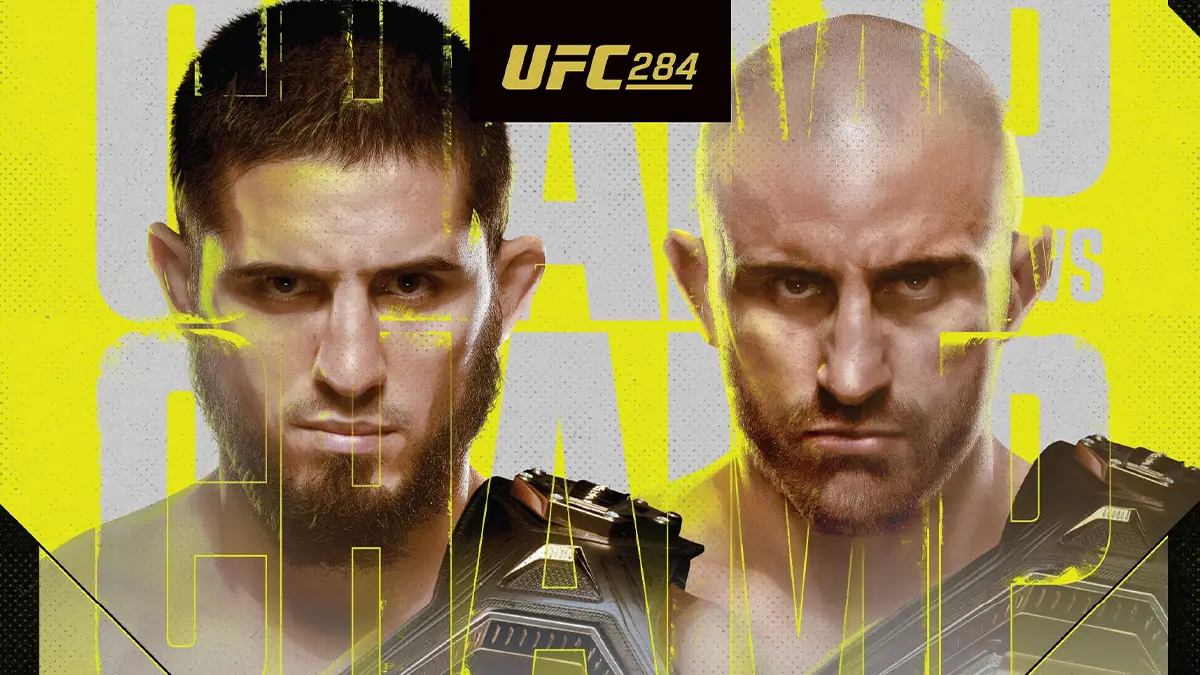 Pound for Pound #1 ranking was on the line as well as UFC Lightweight Championship as Islam Makhachev faced Alexander Volkanovski in the main event of UFC 284.
Islam Makhachev has been running riot in UFC with his record 11-fights winning streak heading into this fight. He reached the top of the division when he defeated Charles Oliveira at UFC 280 to win the vacant Lightweight title. His previous wins included the likes of Dan Hooker, Bobby Green, and Thiago Moises. The next step for him was Pound for Pound greatness. But, the task was not easy as Alexander Volkanovski stood in front of him.
"The Great" was on a similar 12 fights winning streak, but in the featherweight division. After becoming the 145 lbs champion in December 2019, Volkanovski had defended that title 5 times successfully. In 2022, he first defeated Jung Chan-sung at UFC 273 via knockout before getting a fairly comfortable unanimous decision win over Max Halloway.
Who emerged victorious and kept his winning streak intact, along with getting the 1# P4P rank? Check below for a live blog with round-by-round updates and play-by-play action from Islam Makhachev vs Alexander Volkanovski bout for UFC Lightweight Championship at UFC 284.
Live Updates
The video package starts the pre-fight for the main event. Volkanovski walks out first in front of the hometown crowd. The crowd gives him a great ovation. That turns into boos as soon as the lights go down for Makhachev's entrance. More and more boos for Makhachev, as expected. Bruce Buffer gets the main event going. Marc Goodard is the referee.
Alex keeps his distance with a lot of movement in the first 30 seconds. Islam is in a southpaw stance. He throws and lands the first kick of the bout. Volk reaches out and lands a jab. He switches his stance from orthodox to southpaw and back to orthodox swiftly. Volk lands a calf kick. He is able land a big left. Islam backs up a bit. The crowd is going berserk.Volk charges and a couple of more punches. Islam also lands punch as we get to halfway into the round.
Islam checks out the range of his kick before they exchange big shots. Islam also staggers Volk with a punch now. Islam goes for a takedown but he has to content with a waistlock for a while. Islam works against the cage and manages to complete the takedown. Islam slowly works to put on a face/neck crank. Volkanovski remains cool despite being in a bad position. Islam ends the round with the submission applied. The round goes to Makhachev.
Alex is pumped as round 2 starts. He starts with an orthodox stance while Islam is in southpaw. Much less movement from both sides though. Volk misses a punch before coming back to his position. Volk manages to push Islam back with some punches. He tries to repeat it but Islam grabs his legs and manages a takedown again. Volk tries to counter it but Islam gets on a rear body lock again. Volkanovski manages to get out of the body lock. But Islam grabs his waist one more time. Volk is able to get his arms wrapped around Islam's back now.
They return to the middle as we reach the middle of the round. Both men are careful now. Alex gets his punches going. Islam manages to stagger him with a big left. Volk gets back to keep the distance. He gets back to throw punches. He lands a calf kick next. Volk keeps looking for his shot but it is Islam how hits a knee strike. Volk tries to get a takedown and pushes Islam to the cage. They continue to tussle against the cage as the round ends. Very close round to call.
The crowd gets behind Volk before Islam hits a high kick. Nothing else happens in first minute other than continued switching of stances. Islam lands a couple of body kicks. Volk lands his punch but Islam also counters quickly. Volk hits an inside leg kick but misses the follow up punch. Islam goes for a takedown but Volk defends well for a while. They are once again at the cage as Islam continues to attempt the takedown.
Volkanoski turns it around and pins Islam against the cage as the fourth minute starts. Volk lands a couple of punches before they return to the middle. This is a less busy round. Volkanovski is able to land some good punches as we get to the final 30 seconds. He manages to trip Islam but can not get much done from there.
Volk throws an outside calf kick to start the action. Makhachev lands a jab before Volk connects twice with his own jabs. Thier knees collide as they go for kicks at the same time. Volk pushes Islam back before Islam connects a jab. Islam gets a takedown and able to get on Volk's back now. He is in full control now. Volk is managing to not get in a choke and is trying to throw punches.
Islam is happy to control the fight from that position. He tries to switch to choke or armbar but Volk has so far managed to block the choke. Volk keeps trying to throw back punches. He finally gets frustrated in the final minute and tries to throw more and more punches. The problem for him is that he can't get much power behind them.
They touch gloves before starting the round. Islam lands the first shot. Volk throws a leg kick. He pushes back Islam with some volume but Islam manages to land a knee. Volk throws his hands but Islam counters them with knee strikes. Volk is caught up with another takedown in the middle of the octogan but he manages to break it. He immediately goes on attack as he is behind. Islam is not giving him much chances though.
Islam catches his leg once again. Volkanovski defends it well and they are back on their feet. Volk pushes Islam to the cage with punches. Islam goes for a takedown but Volk defends it well again. We ate getting to the final minute when Volkanovski drops Islam with a punch to his face. Volk gets in the half guard and tries to go for ground and pound. Makhachev is doing good to block Volk. Volk loads up and fires his shots as the final few seconds arrive. Volk ends the fight on top of Islam.
Islam Makhachev won via unanimous decision(48-47, 48-47, 49-46).