UFC 280: Charles Oliveira vs Islam Makhachev Live Blog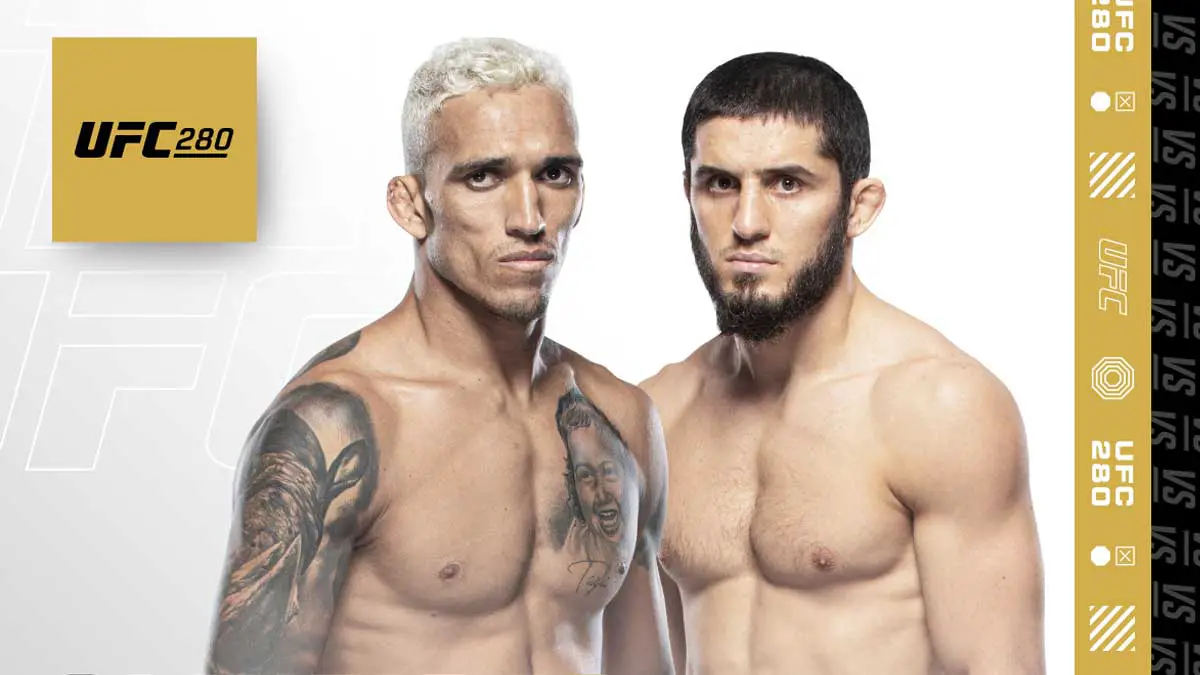 Charles Oliviera vs Islam Makhachev UFC Lightweight Championship bout headlines UFC 280 PPV which is one of the biggest card from UFC.
Charles Oliveira enters the bout as the #1 contender, but he is not a champion just because of being 1 lbs overweight at UFC 274. Oliveira still got the job done by getting a submission win over Justin Gaethje in the first round itself. That win was Oliveira's 11th win in a row which included a title win against Michael Chandler and his first defense against Dustin Poirier. Will he make tie the record of Tony Ferguson & Tony Ferguson of 12 wins in a row and win the title once again?
Islam Makhachev is no ordinary challenger himself. With 10 wins in a row, he is considered the ranking disruptor. Dubbed as Khabib 2.0, he has been a dominant presence in the octagon with 4 finishes in his most recent bouts. Will he upset Oliveira's title aspirations?
Tune in as we bring you live updates from Charles Oliveira vs Islam Makhachev UFC Lightweight Championship bout from UFC 280 PPV with play-by-play and round-by-round updates.
Live Updates
The video package for the bout has started. Islam Makhachev walks out with Khabib Nurmagomedov in tow with him.
Oliveira is a bit stoic as he starts his walkout but gets in the groove after a few seconds. Bruce Buffer tells us that it is time….
Oliveira goes for a pump kick. Makhachev lands a couple of combination punches. Oliveira is cut open. Makhachev manages to take him down to the mat. Oliveira is working well and not giving Islam much to work with. Oliveira lands a few elbows while Islam also keeps trying to land his punches. Oliveira escapes and gets on Islam's back. Oliveira lands a knee to the ribs as Makhachev is pinned to the corner. Makhachev trips him down. He is trying to get into half guard. Oliveira is trying to get on his neck. Makhachev starts to throw punches as much as he can. Islam elbows Oliveira's face to the mat. One minute is remaining. Islam is trying to take advantage of his position somehow. He lands a couple of big shots with 30 seconds left. Makhachev tries something but Oliveira catches his leg and lands some strikes.
Makhachev lands another good shot early in the round. Oliveira fires back with a kick. Oliveira goes for a takedown but Makhachev tries to counter it with a trip. Makhachev has pinned Oliveira to the wall and has double underhooks on. They spend a minute on the wall. They break free and Oliveira lands a knee. They exchange punches before a dull period of 30 seconds. Oliveira blocks a combination and a kick. Oliveira is trying to keep his distance now. Makhachev lands a big counter punch to drop Oliveira. Makhachev goes for an arm triangle and gets the submission.
Islam Makhachev won via submission(Head & Arm Choke) at 3:16 in round 2.